August is here and that means fall is just around the corner and I could not be more ready for it! (I even ordered a Pumpkin Pie Latte the other day #notsorry) I think you guys are just as excited for fall as I am because between the Nordstrom Anniversary Sale and Amazon Prime Day, y'all bought some really cute fall pieces that completely filled up this month's best sellers list! Luckily, both Amazon and Nordstrom have recently restocked and all of these items have plenty of inventory. So if you didn't grab them earlier, now is your chance!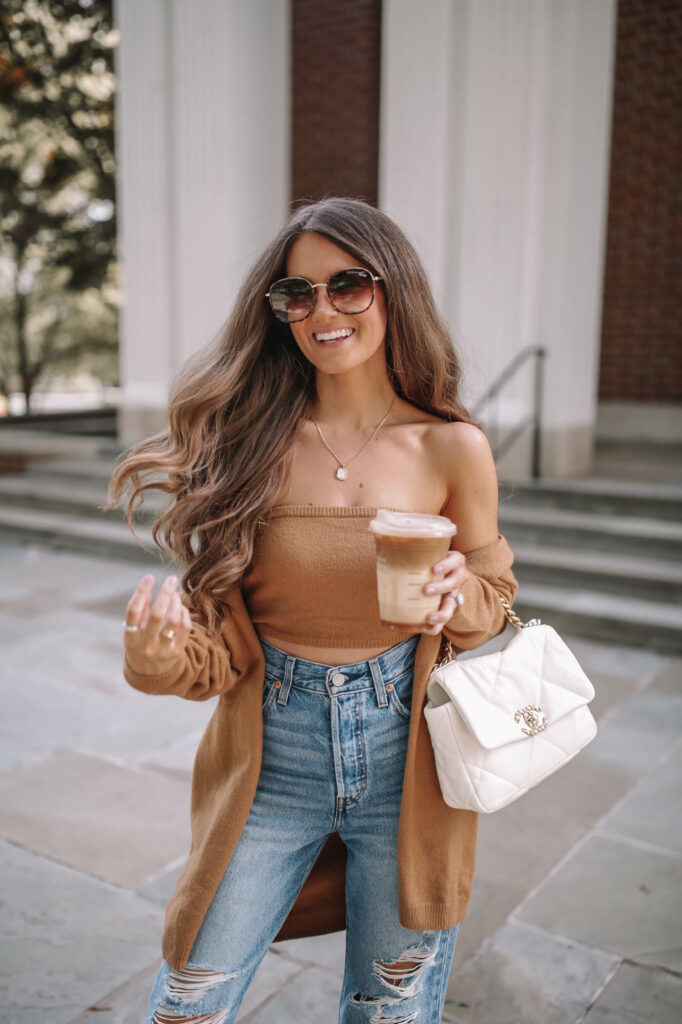 I am obsessed with these little bandeau top and cardigan sets! They come in three different colors (of course I bought all three 🙂)! They truly are amazing quality and I love that you can wear them together or separate depending on the look you're going for. The cardigan in general is just a nice cardigan, and most cardigans by themselves cost more than this set! I really like them with blue jeans, white pants, shorts, even printed pants. I will definitely be wearing them all of fall!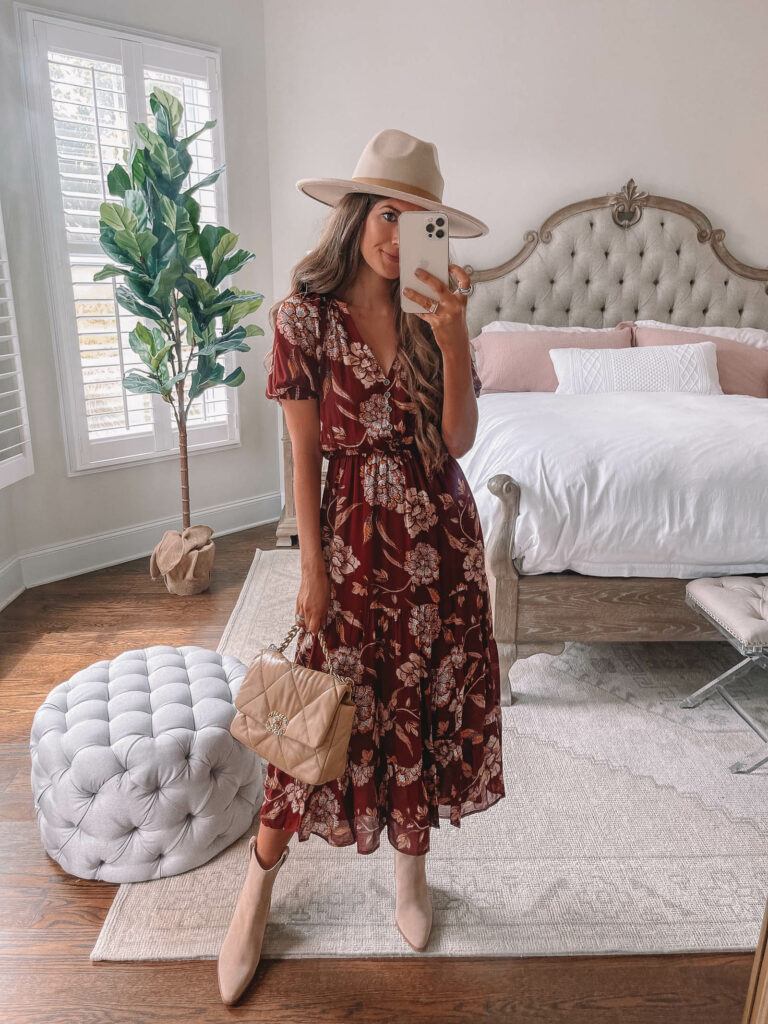 This dress was a little outside the box for me, but I love it! It looks great with a few "western" accessories like a hat and booties. It is double lined, super flowy and features a gorgeous autumn floral print. It's cool enough to wear right now and still achieve an autumnal look. Bonus- it's bump friendly, so I will be wearing it a lot this fall. I also think it would be so cute to wear for a maternity photoshoot!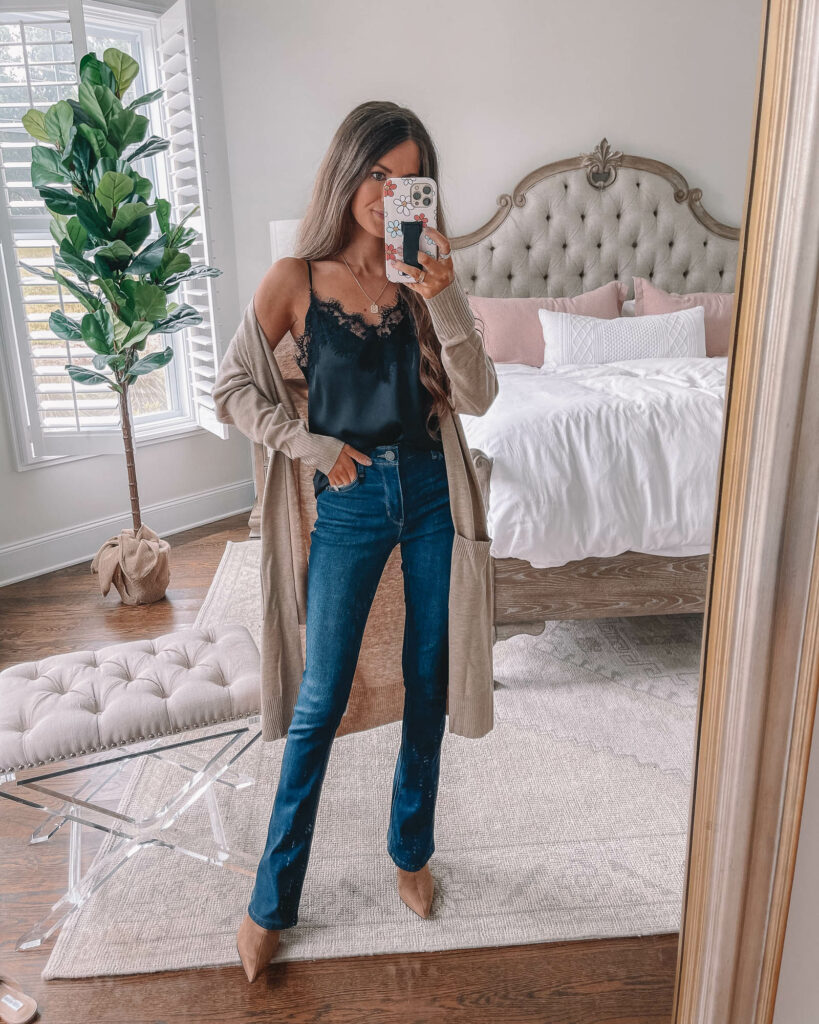 Amazon has some really great pieces for fall this year and this cardigan is one of them! It is great quality, super soft and comfortable. It's also lightweight enough to wear in early fall when the weather is hot one minute and cold the next. I styled it with a lace cami and a high-waisted jeans, but it would be so cute with a dress too. It's available in four classic colors- beige, black, grey and navy!
Everyone needs a black lace tank in their wardrobe! I snagged this one for Amazon Prime Day this year and I am so happy that I did because I LOVE it!! It is a really silky material and it has beautiful lace detailing. This is such a great piece for layering – it looks great under a cardigan and under blazers too. The straps are adjustable for a perfect fit and it's available in a ton of other colors. Plus it's a steal at just under $35!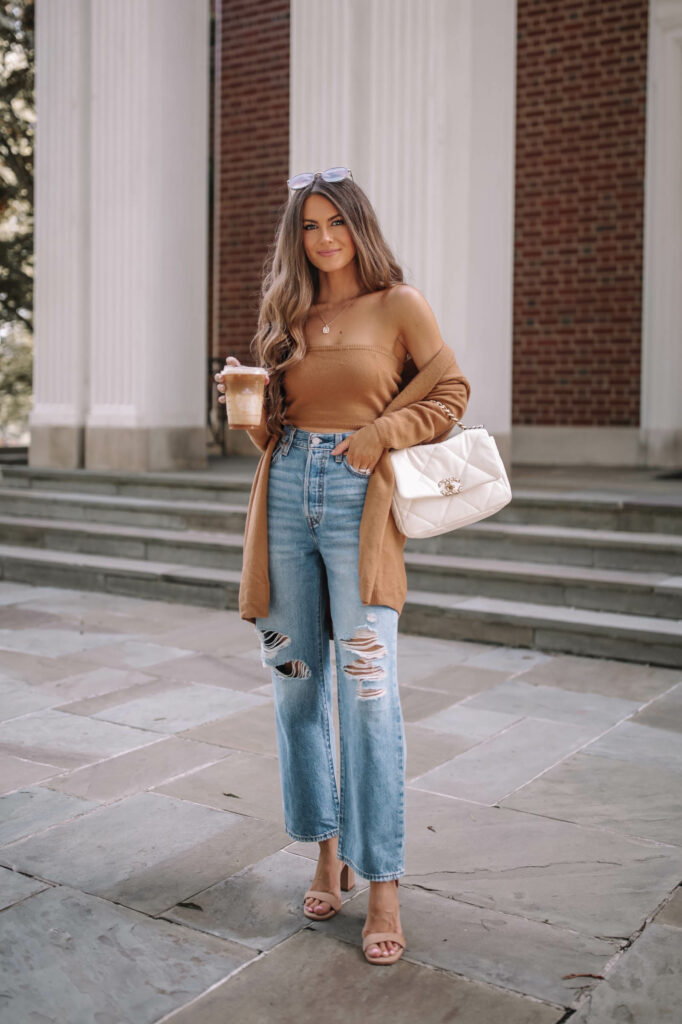 I wanted to try out some "different," trendy jeans this year, and I ended up loving these Levi's! They're high-waisted with wide, straight legs and distressing on the knees. They look great both with heels and booties. They have just been restocked and personally I like them so much better in person than on Nordstrom's website – lol. I've styled them a few different ways over on Instagram if you're curious!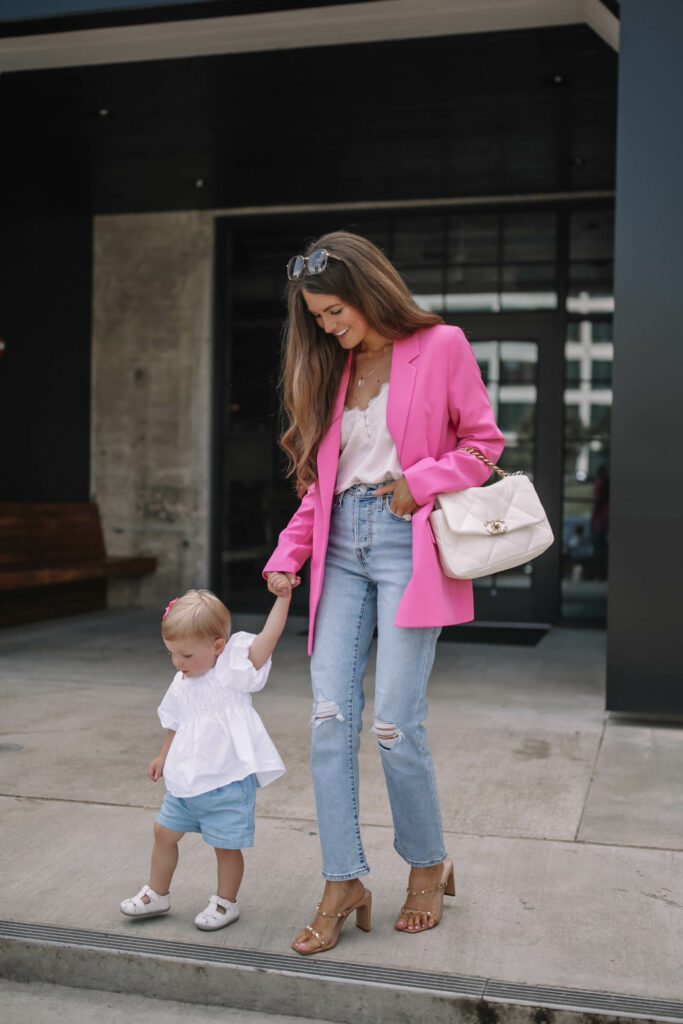 Blazers are hot right now and Amazon has some great ones! This one is so good that I bought it in three different colors – white, tan and pink! It is really high quality and it fits really well too! You can wear them over so many things like sweater tanks, Oxford shirts, lace camis, dresses – the list goes on and on. I also love how you can wear this blazer to office or out to dinner depending on how you style it!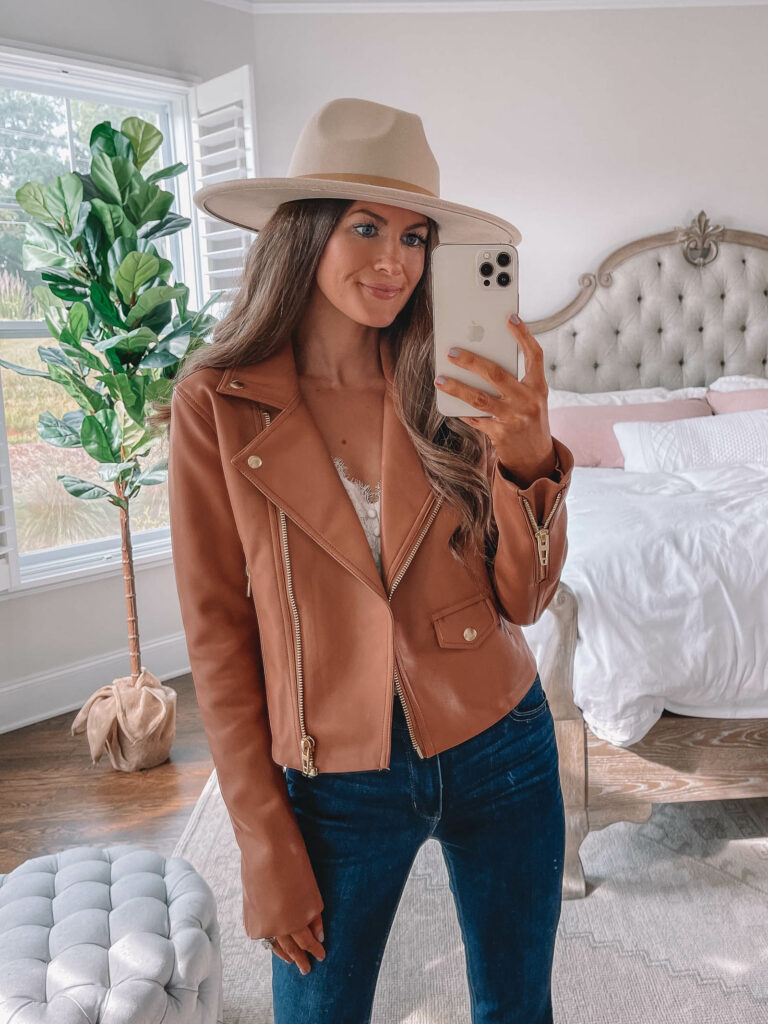 I can NOT believe the price of this faux leather moto jacket! It looks and feels like a designer jacket, and if I saw someone else wearing it out, I would think it cost at least a couple hundred dollars. It's very thick and nice quality, but the best thing about it is the fit! It is cut perfectly to be incredibly flattering to every body type. The camel color is also so pretty in person. I plan to wear this with jeans, white pants and dresses.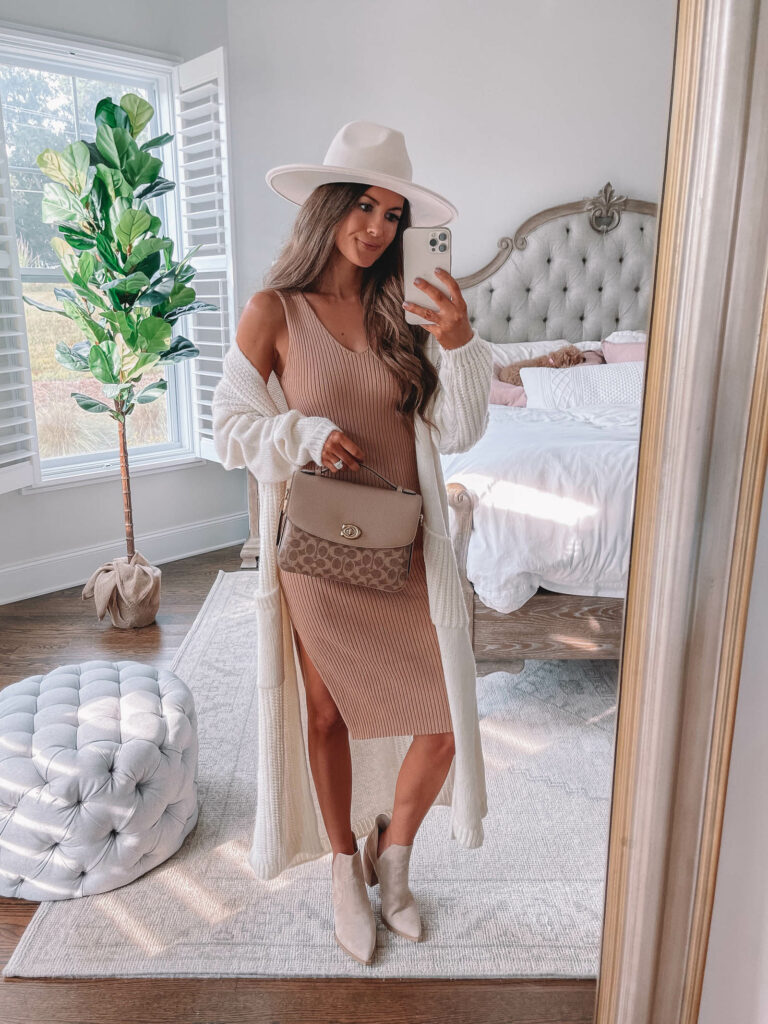 This is without a doubt one of my favorite pieces from the Nordstrom Anniversary Sale this year! This cardigan is so thick, it feels like a designer cardigan that is worth at least a couple hundred dollars. I also love the varying stitchwork on this cardigan. Plus, it has nice pockets and it is SO COZY! I've styled it with jeans and a lace tank as well as with a midi dress! It's still available in four different colors (I bought three out of the four hehe!).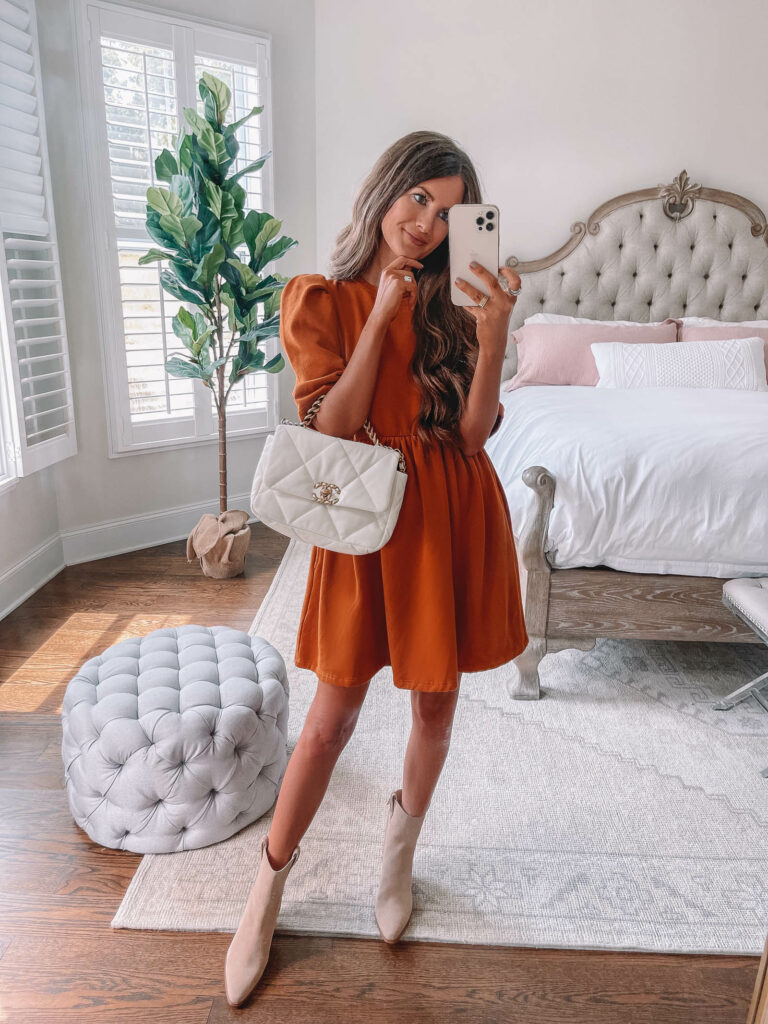 This dress just screams fall to me! While it looks super cute, it's actually one of the most comfortable dresses I've ever worn – and that's because the inside is made of a super soft fleece. Imagine wearing your coziest, softest sweatshirt… but it looks like this! The puff sleeves are also very figure-flattering. It looks super cute with booties, but I think it would be adorable with white sneakers for a more casual look too. Plus this dress is bump friendly so you'll be seeing it a lot this fall!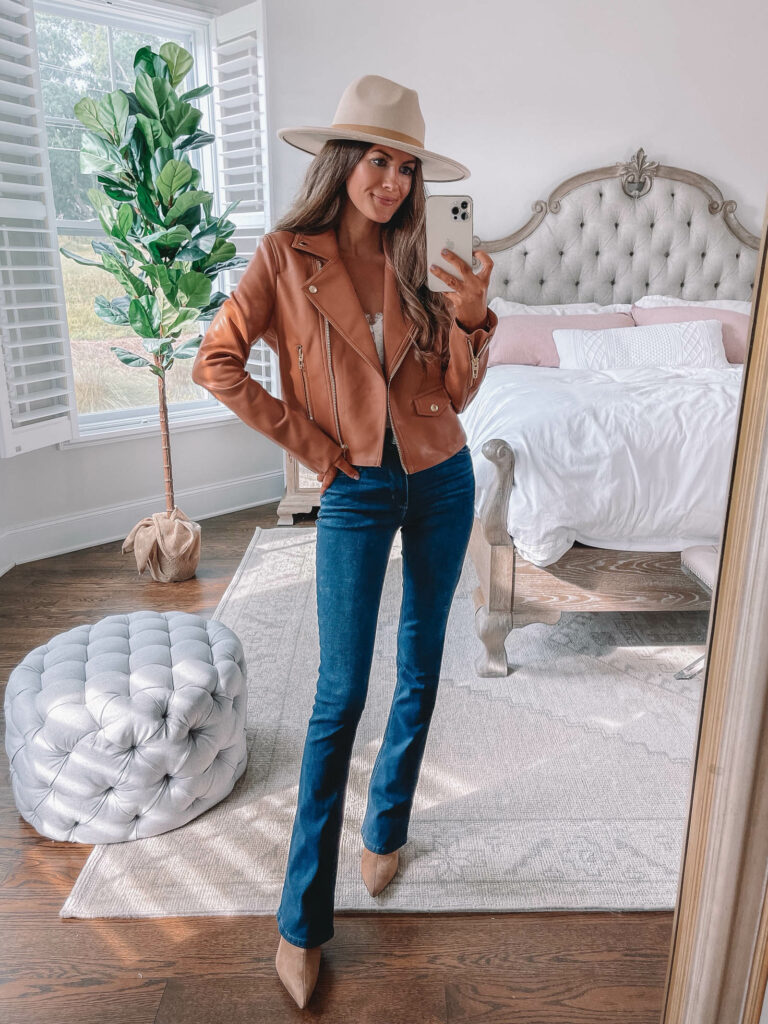 These jeans ended up being my favorite denim purchase from the Nordstrom Anniversary Sale and I guess they were y'alls favorite too because they were the top seller this month! My mom actually tried them on first, and I loved them so much on her that I had to go get a pair for myself. The dark wash and flared leg are extremely flattering and make your legs look a mile long. The material is soft and does have some stretch to it, that's why I recommend sizing down if you're in between sizes. Side note – I found that these jeans went with every single top I tried on in the dressing room!
Let me know your favorite piece! 🙂