Happy February you guys! My heart is so full as we begin this month of love because I'm officially a mama of TWO beautiful girls! Things are definitely a little crazy of here right now but I have never felt so fulfilled in my entire life. Thank you all so much for your sweet messages and comments on Instagram – you all are THE sweetest! January's best sellers list is full of a variety of items. With everything from toddler toys, to baby girl outfits, and cute sweater dresses too – this list is full of great finds for everyone and every occasion!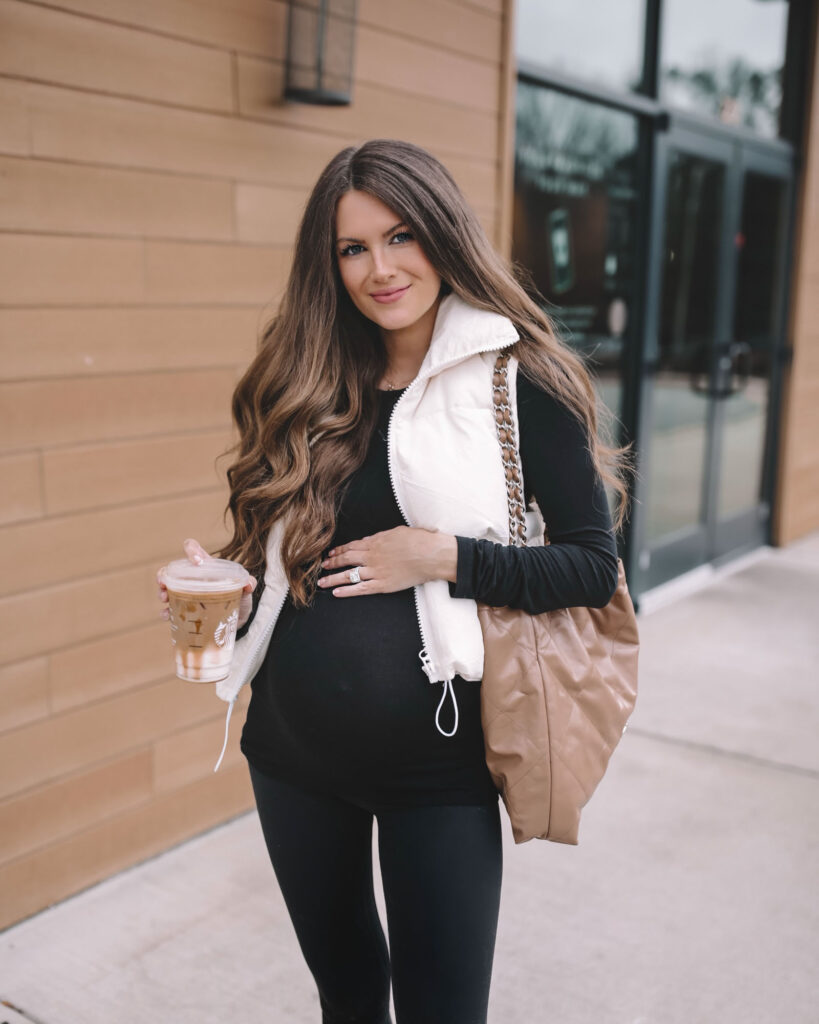 I've been loving this Amazon find this winter! Not only does this vest add an extra layer of warmth, but it also adds a little bit of style to any casual outfit too! The cropped design is so trendy right now and it's really flattering… even with a bump! I've been styling it with leggings and a long sleeve t-shirt right now because of the bump, but it would look super cute with jeans too. It's on sale right now for 24% off, plus there's a coupon for an extra 15% off at checkout! I have the beige one, but the pink one would look so cute for February!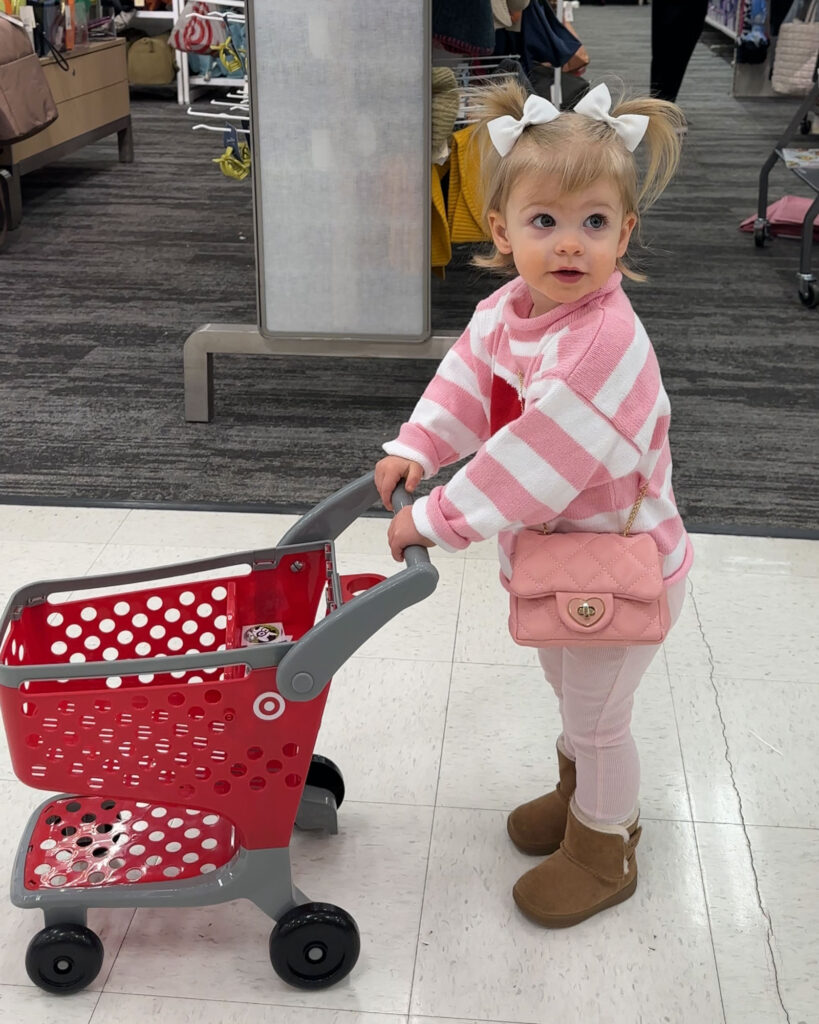 How cute is this little Target toy shopping cart?! I just had to get it for Kennedy as soon as I saw it! Kenny loves pretend play and she like to go "grocery shopping" with this cart before cooking with her kitchen play set. We recently filmed a Reel with her using her little shopping cart to grab all her favorite things at the actual Target store! (You can see it here.) I think we have lots of Target girls shopping trips in our future 😉 (Side note: the original one is from Target, if you stalk their website you might get lucky and find one in stock!).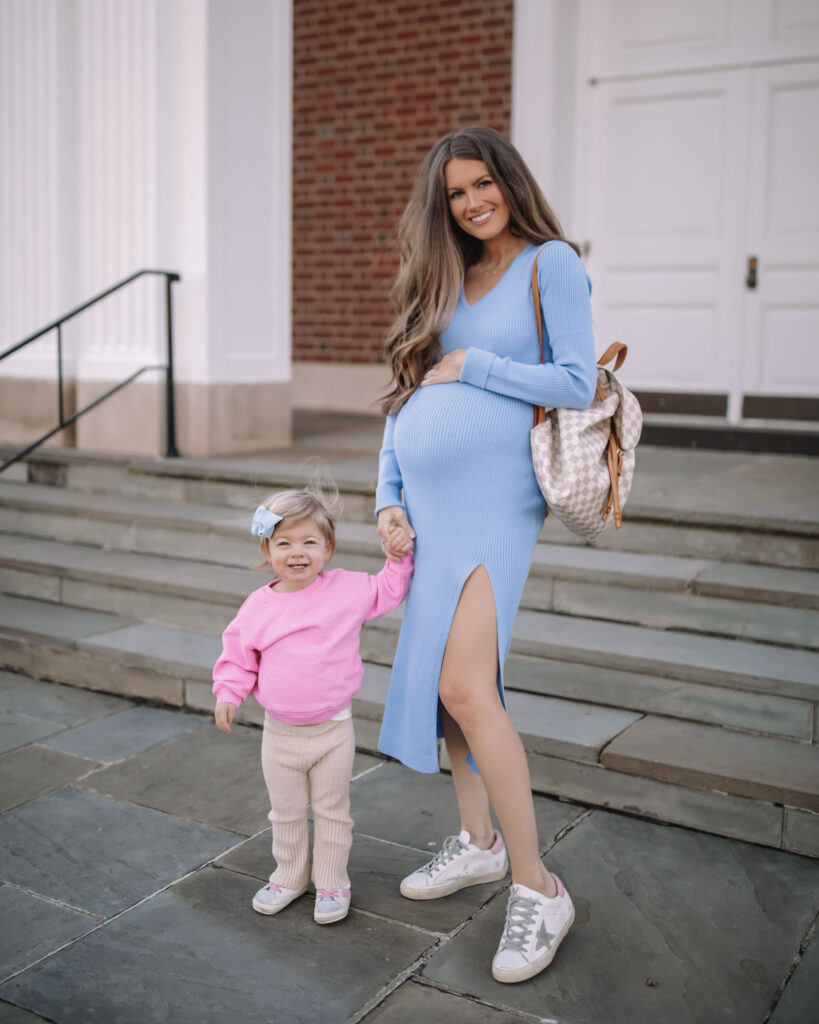 I I wore this knit midi dress so many times this January, I just couldn't stop reaching for it! I thought the color was so pretty when I first saw it online, but then I fell in love with it when it came in! Not only is it the perfect shade of blue, but it is so soft and comfortable, which was essential when I was nine months pregnant. It's also really flattering thanks to the V-neckline and the slit on the side. It's bump friendly, but it would look so cute on anyone without a bump too. I'll be wearing mine until the weather starts to warm up!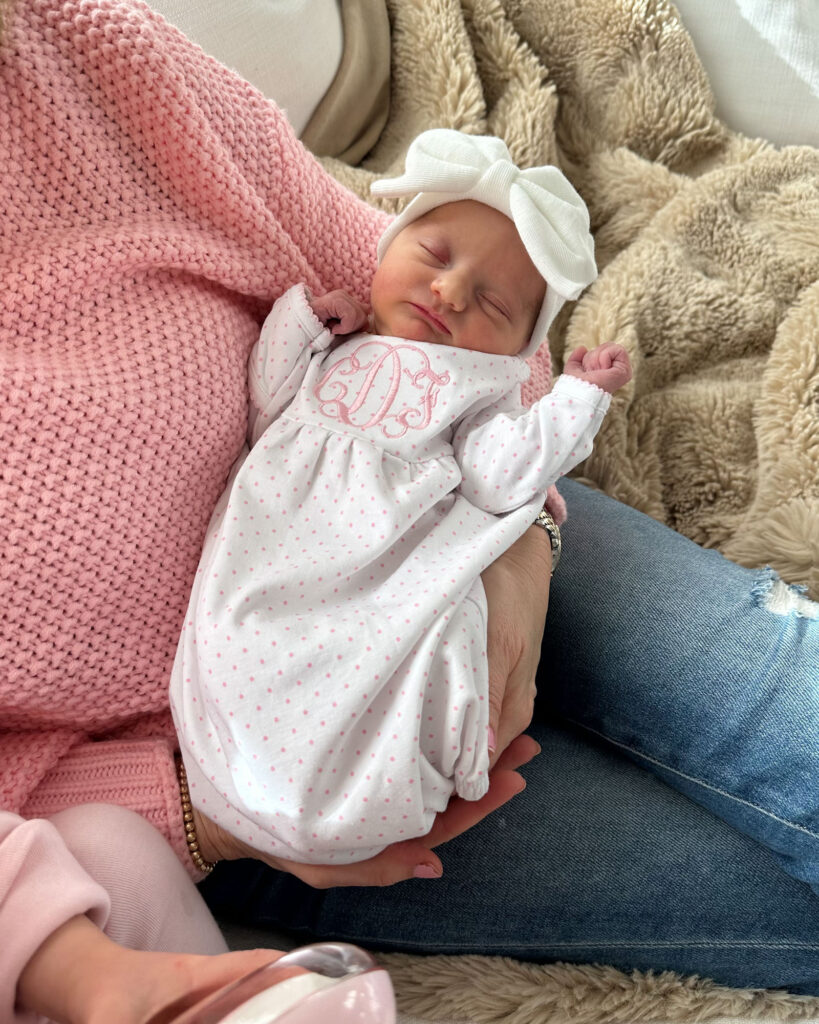 Collins hasn't even been here a week and she is already making an appearance on the best sellers list! This sweet little baby girl coming home outfit is so precious! The tiny pink polkadots and the pink scalloped trim just makes my heart melt. I also love how you can personalize it with the embroidered monogram! You can also purchase a matching cap, blanket and bow, all of which can be personalized too! It's also just as soft as it is adorable, so your newborn baby will stay cozy, cute and comfortable coming home from the hospital!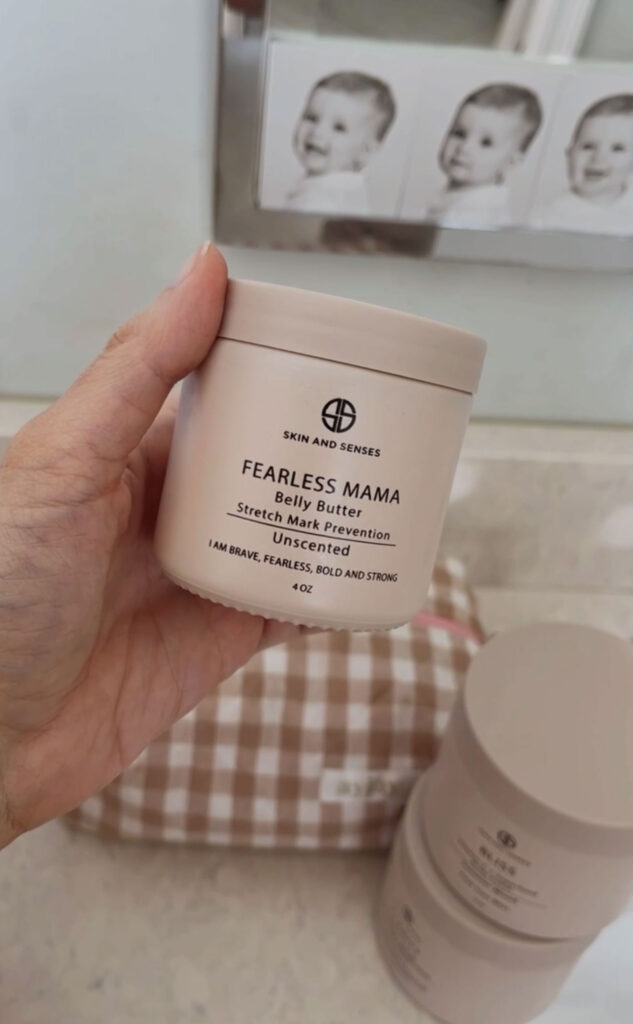 I used this belly butter daily during both of my pregnancies! I know genetics plays a role in whether or not you get stretch marks, but I didn't get any stretch marks and I really think that the consistent use of this product helped. It is such a nice product – it doesn't have any water or fillers, or preservatives… it's literally made with the purest ingredients (I get the "unscented" one). I rub it between my hands to warm it up first, then apply it anywhere that I could get stretch marks like my stomach, butt and chest. Everywhere else, I apply this body oil (also in the "unscented"). It keeps my skin feeling nice and moisturized, and I love that both products are so clean! It is truly one of my favorite products for pregnancy!!!!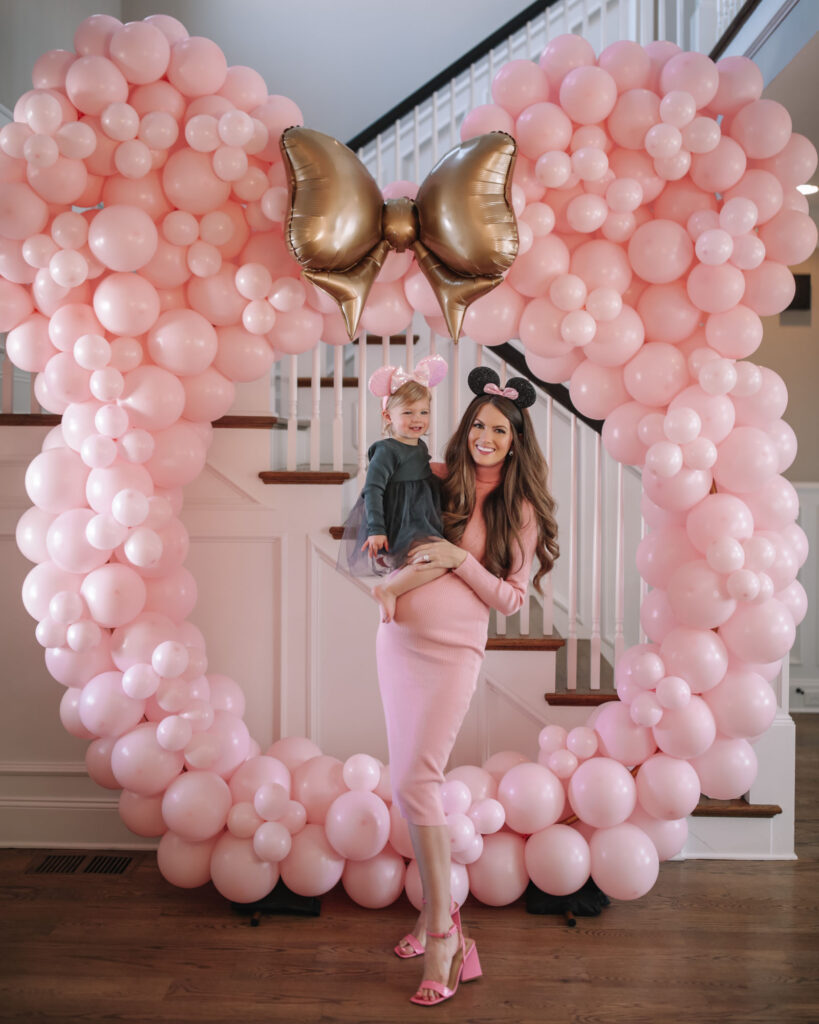 I wore this sweater dress for Kenny's second birthday party! It is such a pretty shade of light pink and the fit is perfect! The ribbed material is thick and high quality so it will keep you warm during the cold winter months. It's also really stretchy so it's bump friendly too! I also love how you can dress is up with heels or booties and dress it down with sneakers. Now is the perfect time to grab it because it's on sale for under $40! Here is a super similar one that's available in a few more colors and patterns!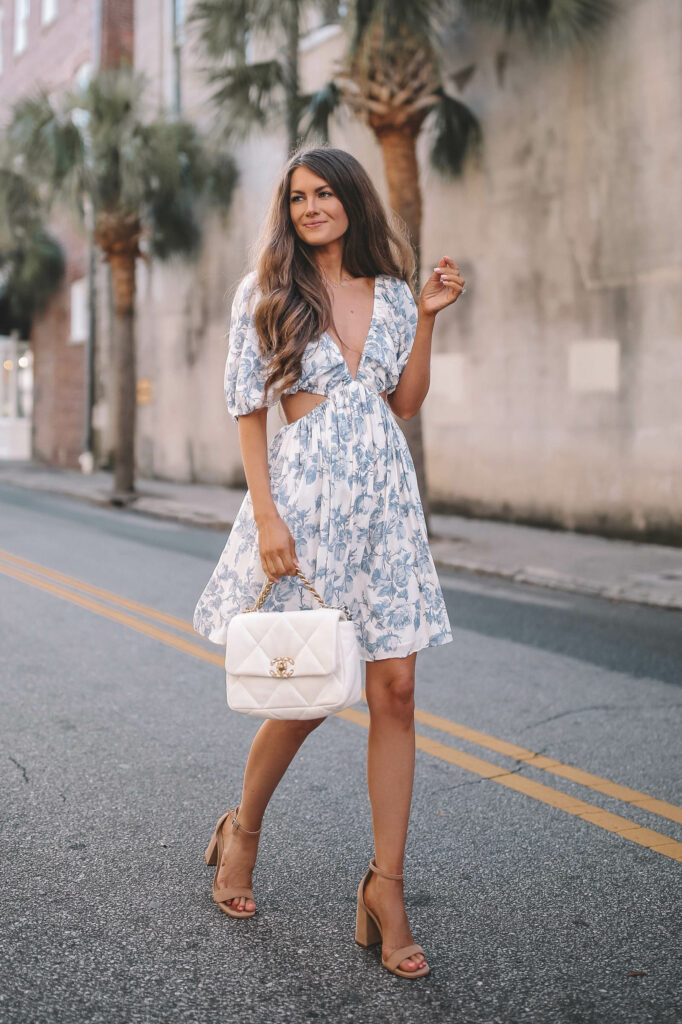 I don't think I've ever had a dress that's been on the best sellers list so many times! But this one is definitely worthy of all the hype! I first wore this dress almost a year ago now when we went on a trip to Charleston. The colors are so pretty and the way it drapes couldn't be more flattering. You could definitely wear it as a wedding guest or on a fancy date night! I am wearing a size 2, and the back is adjustable for the perfect fit. And I've got good news… it's now on sale for over 50% off at Revolve and Saks Off Fifth and the red version is on sale at Nordstrom! If you have any warm destination vacations coming up, I would definitely snag this one and throw it in your suitcase before you go!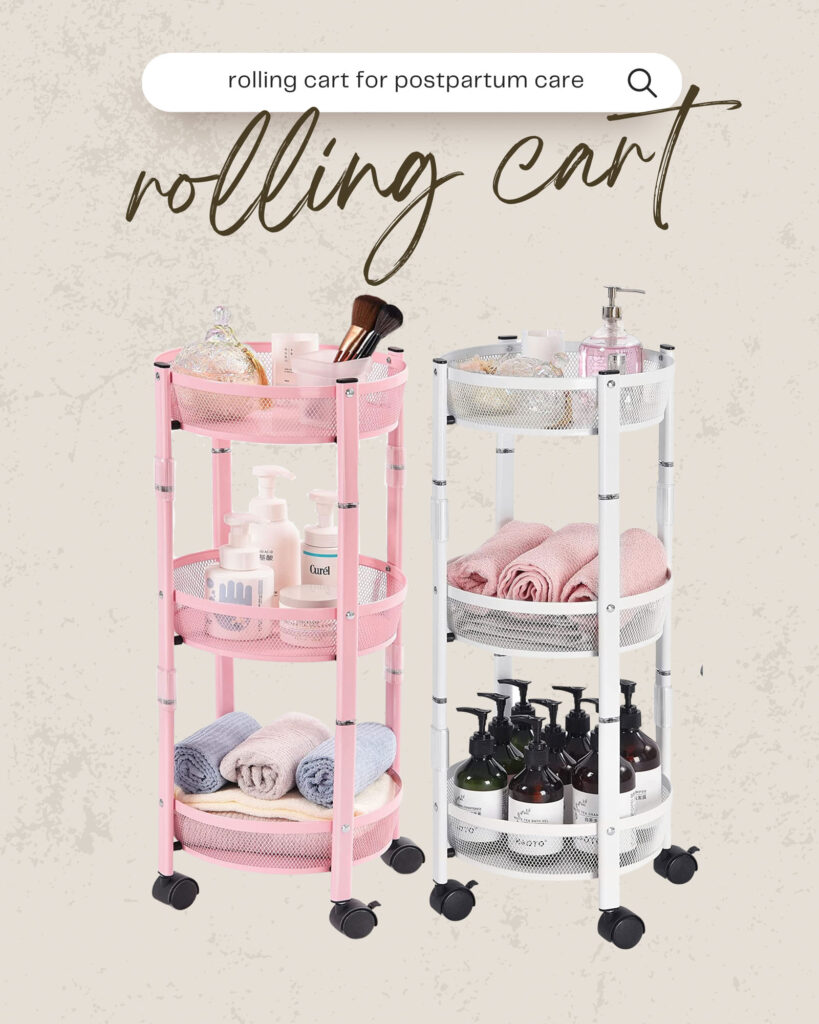 I bought this rolling cart to create a postpartum cart to have after having Collins – and I LOVE it!! It's so nice and convenient to have all my postpartum essentials in one place. Plus it's easy for me to roll around from room to room while I chase a toddler around all day lol. I have the pink one, but it's also available in black and white. I also bought this lazy suzan and these organizing containers to keep everything organized in the cart! (Side note – if you're interested I can put together a whole post on this! I keep my Haakaa, diapers and wipes, water bottle, snacks and a few more things on it.)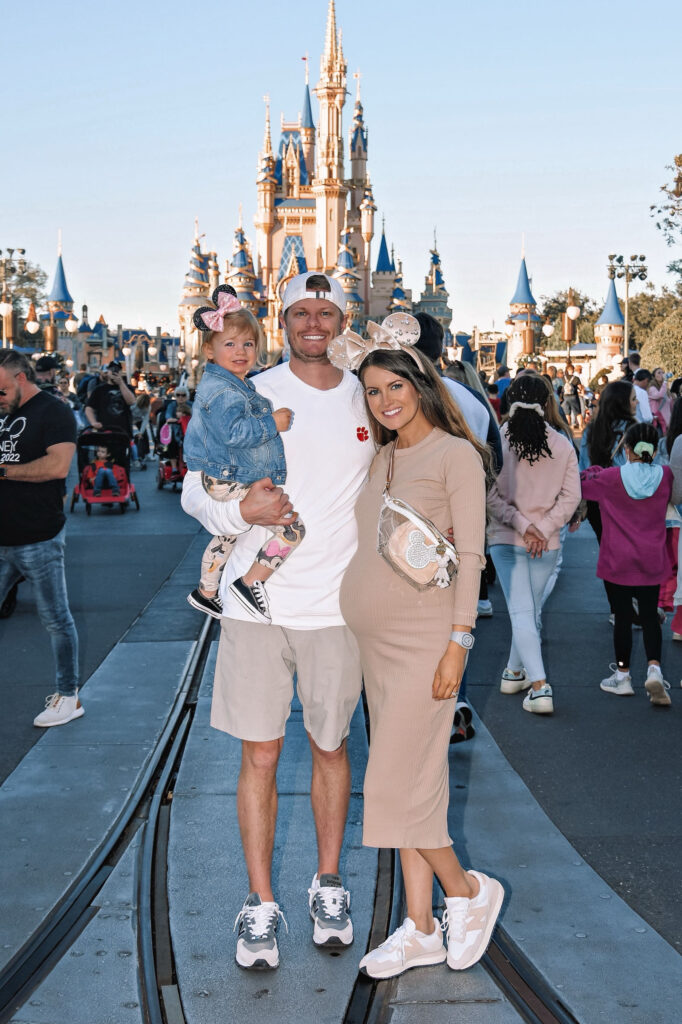 I bought these to wear to take to Disney and I am so glad I did! On the days we went to the parks we were on our feet and walking around all day and these shoes were so comfortable the entire time. And that's saying a lot because I was also eight months pregnant at the time! Since Disney, I've been wearing them running errands around town and on walks around the neighborhood. If Nordstrom is sold out of your size, there are more sizes available here and here!
I was so surprised to see that these Minnie Mouse ears were the number one seller this past month, but it brought such a big smile to my face because it brought back all the happy feelings of being in Disney World! We had the such a great time and made the best memories wearing these ears hehe! They are just as comfortable as they are cute – I wore them the entire time and my head didn't hurt at all! They are super high quality and I just love how the pearls are shaped like Minnie Mouse, too! Her Etsy shop is full of cute Minnie Mouse ears – I love how this pair has a sherpa bow and this pair has more sequins. If you are planning a trip to Disney this year, I highly recommend these!
xoxo