Isn't January always the longest month ever!? But WE MADE IT. It's finally February and I am officially over winter… from now until Spring, I will only be wearing bright colors because that's just what's making me happy right now! It seems like you all are right there with me and over winter, too, because this month's best sellers list is full of bright colors and vacation essentials! We're actually leaving Sunday for a little family vacation and I absolutely can't wait.
Without further ado… here are January's top selling items.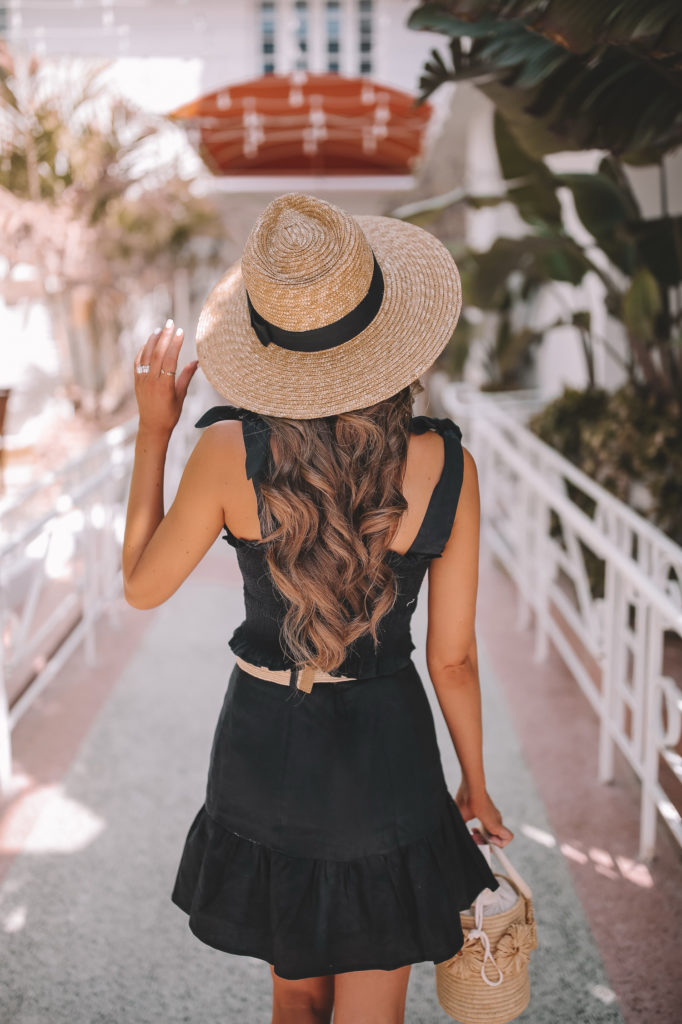 Simply put… this is THE BEST straw hat! I've had mine for years (literally, years) now and it still looks brand new. This hat somehow looks good on EVERYONE and it goes with EVERY spring and summer outfit! Just scroll back a little bit on my blog and Instagram feed and you'll see this hat over and over again. It's also fully stocked at Nordstrom right now! So run, don't walk, and get yours for your upcoming vacation and those warmer months ahead.
This stuff is a miracle worker, especially on food stains! Which we have a lot of since we've been practicing Baby-Led Weaning (BLW) with Kennedy. BLW is the practice of letting your baby feed themselves and babies are allowed to explore, get messy, eat what they can, and set their own pace. Kenny rarely leaves the table without food all over her clothes, but this Messy Eater Stain Treater takes every stain right out. All you do is run water over the stain, spray the treater directly on the the stain, give it a little scrub and rinse! I will say that it works best if you don't let the stain sit for a long time.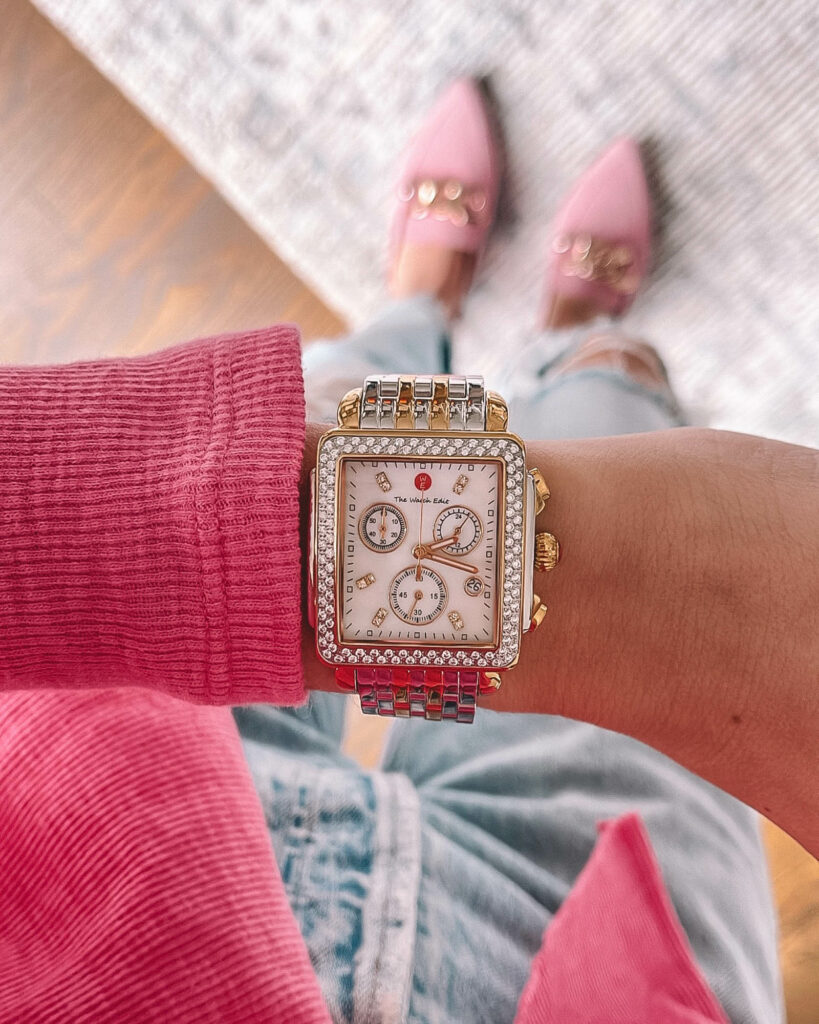 I'm obsessed with The Watch Edit watches! They're dupes for designer versions but I swear they look and feel like the real thing – the watches are even as heavy as their designer counterparts. The Kent Watch has a rectangular face and is available in silver and the gold/silver combo. These watches are normally around $400 but they're currently marked down. I think that code CAITLIN50 should work for an additional 50% off, as well! All of the watches are gorgeous and would make a great gift for Valentine's Day.
Ever since Kennedy started crawling, I play close attention to our floors! She is always on her hands and knees crawling around and has a knack for finding debris and putting it in her mouth (gross, I know, but that's an one year old for you). I had been looking for a new cordless vacuum and decided to try this one because it has great reviews *and* it's pretty, too. Long story short, I LOVE IT. I use it at least once every day… it's super compact so it fits nicely in our hallway closet and it's really light so I can grab it to clean up messes quickly. It also has a handheld component that I usually grab for getting up cat hair… and it's even powerful enough to clean up glitter (I know because we had a glitter spill in my house, haha).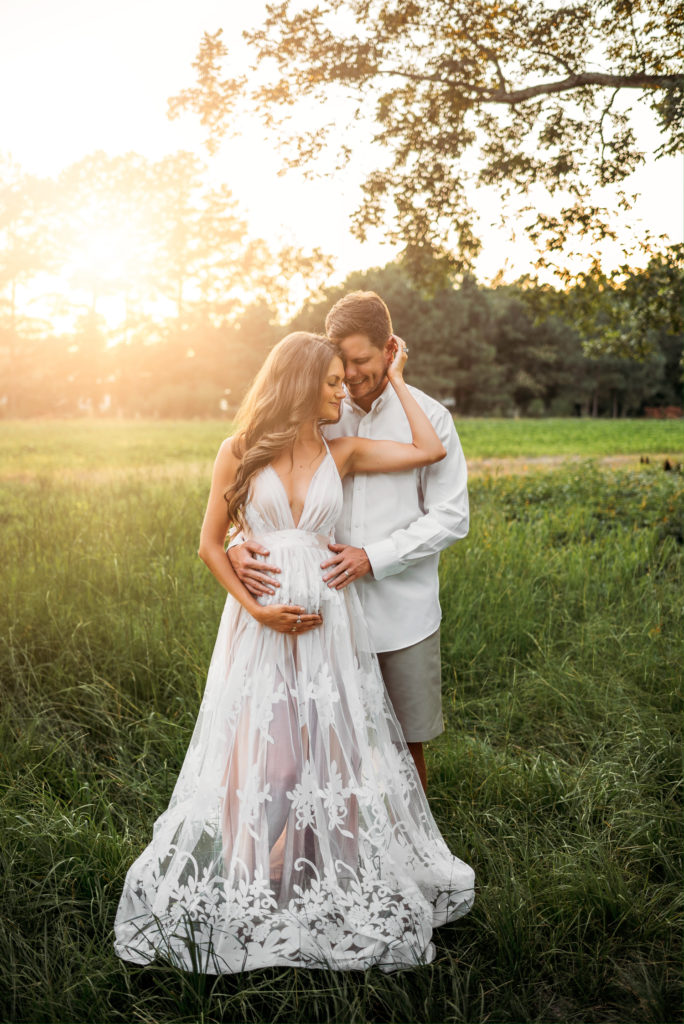 I wore this lace maxi dress for our pregnancy announcement photos. It would also be perfect for all the brides out there – I can see this in engagement photos, for a bridal shower or even a wedding. The flocked velvet flowers are simply beautiful and the open back is stunning! This popular dress always sales out fast, but the retailer recently restocked it and all sizes are currently available!
This is MY FAVORITE LUGGAGE of all time! This set is so beautiful and very sturdy – if you're worried about the light exterior, don't fret – you can get out stains and scratches with a magic eraser. I've had mine for many years now and have been able to keep it clean. All sizes, from your small carry-on to your large checked bag (I have both), are currently available on Amazon! Like I said I own and love the white version, but if that's not your style it's also available in a classic black and a pretty brown.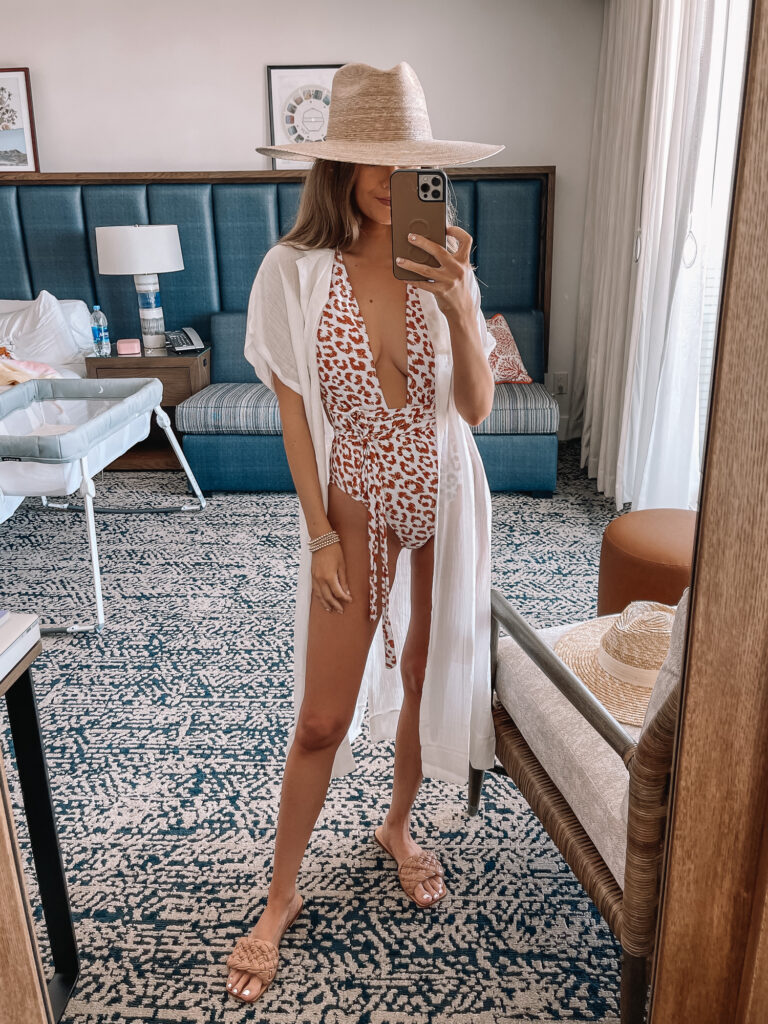 Okay I had to include these two Amazon items as one on the top sellers list because they just look so dang cute together! This suit is one of my favorite swimsuits that I have ever gotten from Amazon!! It is so flattering!! It's less than $30 and it's available in a lot of other prints too. I got a size small – it's a tad too big but it is adjustable, you can wrap the straps and tie them to make the swimsuit fit perfectly. Now on to this coverup! I just love the wooden buttons and the tie belt! It has such a classic look and it seriously looks great with every swimsuit. It's also very high-quality. It is sheer, which you would expect from a swimsuit coverup, but the material is still pretty thick and it was able to withstand the washing machine and dryer several times over the course of the summer.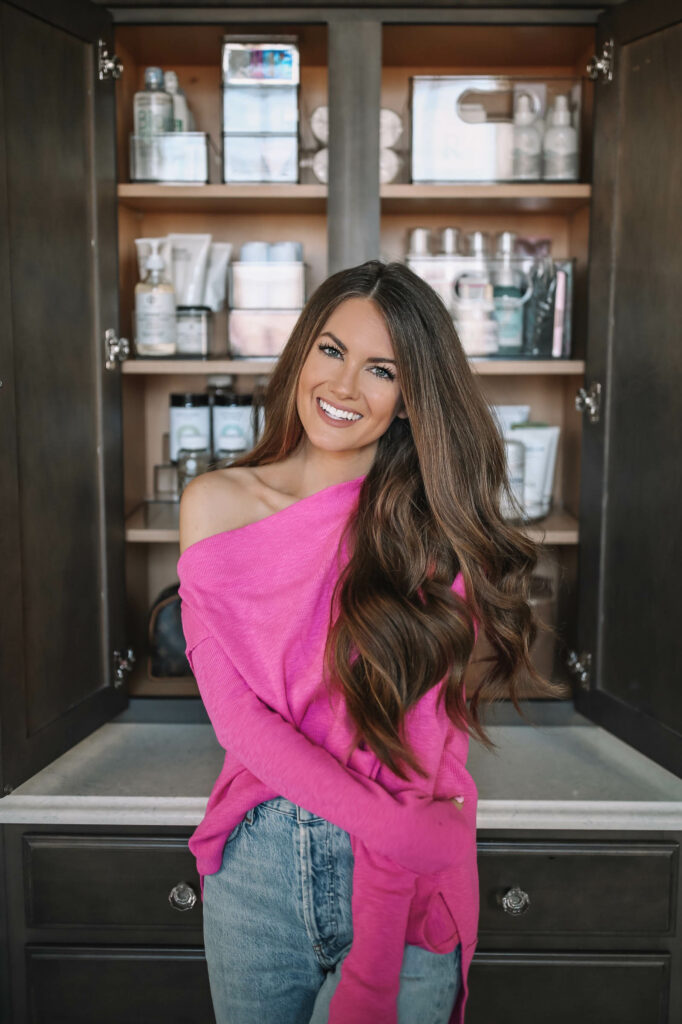 I wore this Free People top in a few Instastories over this past month and I got so many DMs about it! I love the one shoulder design and the ribbed material. It's also super comfortable and just an overall great casual shirt! Nordstrom still has a few pink ones left, but it's also available in so many pretty colors here. I'm loving the bright blue one!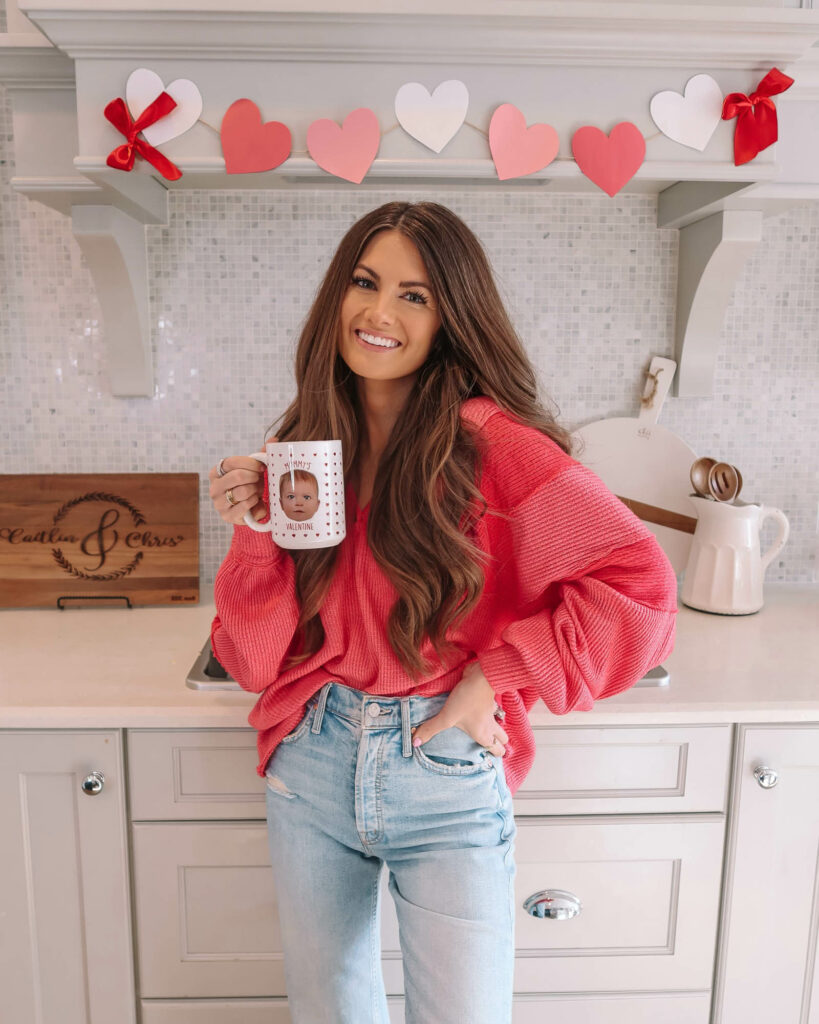 Another Free People shirt made the list!! This henley top has an oversized fit, so it's a little roomier than the off the shoulder top mentioned above. But it's just as cute and comfortable! There are two stripes on the drop-shoulder sleeves, which make it a little more fun and interesting! I also LOVE this pink color, especially for February, and it's fully stocked right now.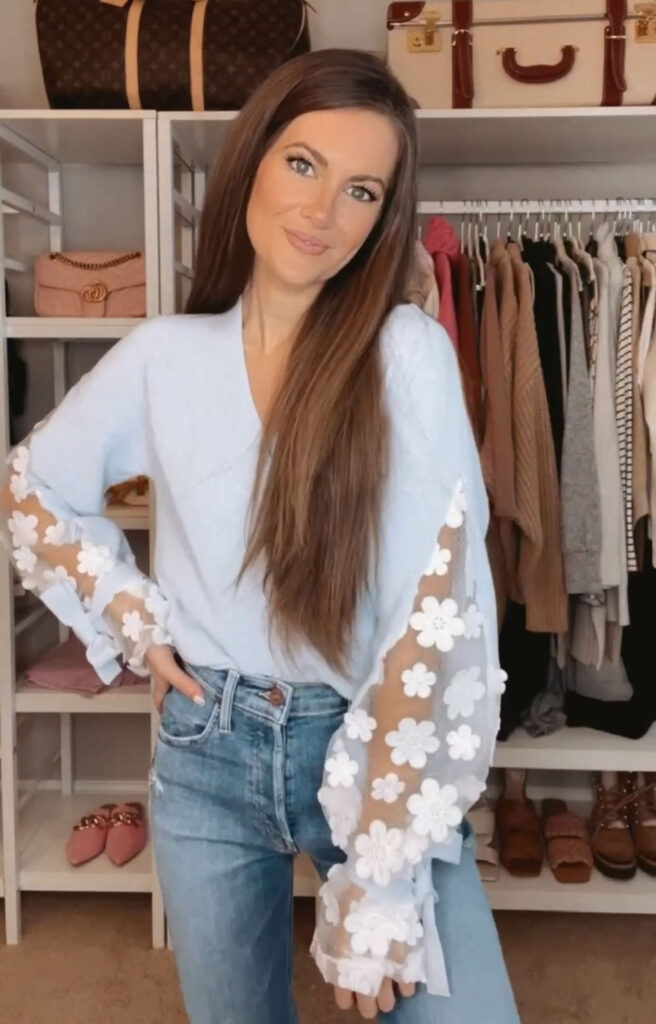 I wore this in a TikTok and y'all went crazy for it! This sweater is absolutely perfect for this time of year because the pastel blue color along with the flowery lace sleeves remind me of summer, but the thick cotton sweater material is super warm because, let's face it, it's still freezing in North Carolina! There's also this white version that I think would look so cute tucked into a pair of denim shorts!
Which item is your favorite?
xoxo