It's that time of year again! Time for all things merry and bright 😉 and time to pick out gifts for all of your loved ones in preparation for the best time of year. I always do a roundup of gifts for the beauty guru in your life, and Tarte just came out with their holiday gift sets so you can be go ahead and start your holiday shopping! I rounded up the best four kits (in my opinion), and all of them provide a lot of value for less than $50. The best part is that these kits contain multiple products, so you can always keep your favorite for yourself and then gift the other items.
If you like eyeshadows, you neeeed this kit! It includes two of Tarte's best-selling palettes in limited-edition petite sizes and a brand new palette for a total of 27 shades. They're packed with both pigmented matte and shimmer shades, including everyday neutral and bronze shades. The kit is shown above – all three palettes are beautiful and will definitely match the personality of a loved one in your life!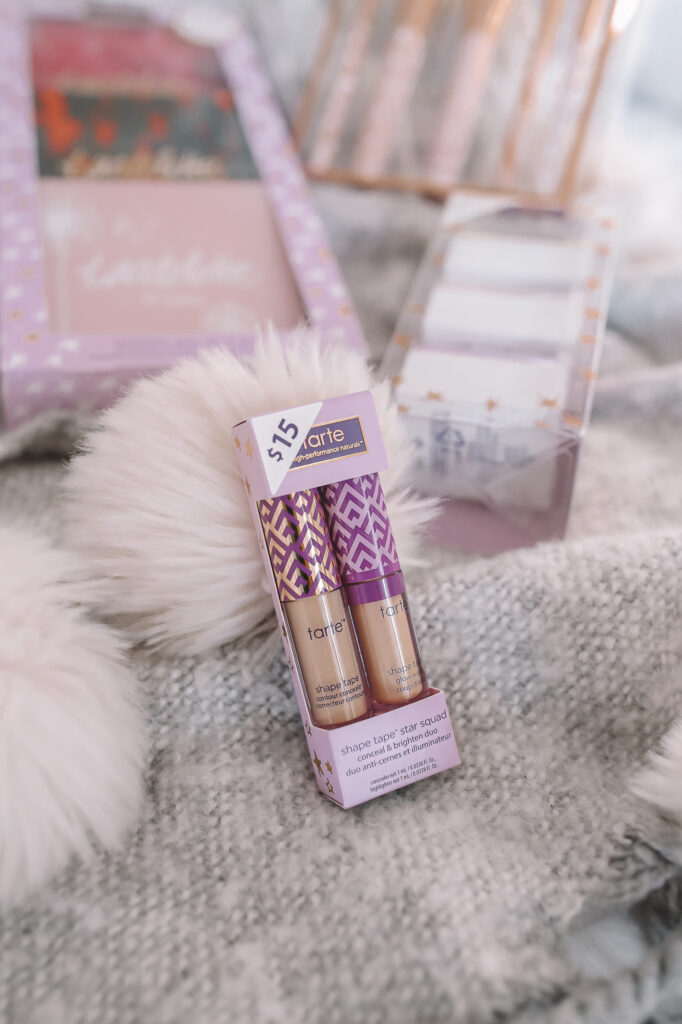 This travel-sized duo of concealer and liquid brightener make the perfect gift for a friend… or if you have been dying to test it out yourself, now is the perfect chance! I have seen Tarte Shape Tape ALL over Instagram and I can say that it really does live up to the hype. It doesn't crease and truly does last all day like people claim. The Shape Tape Glow Wand that it comes with was new to me – this product instantly gives you 8 hours of beauty sleep and brightens features without glitter or shimmer.
I love beautiful brush sets, and this brush set is an incredible deal that includes five FULL-SIZE eye and cheek brushes, including a highlighting brush, rounded powder brush, large powder brush, eyeshadow blending brush and flat shader eyeshadow brush. Whoever you gift these to will want to display them proudly!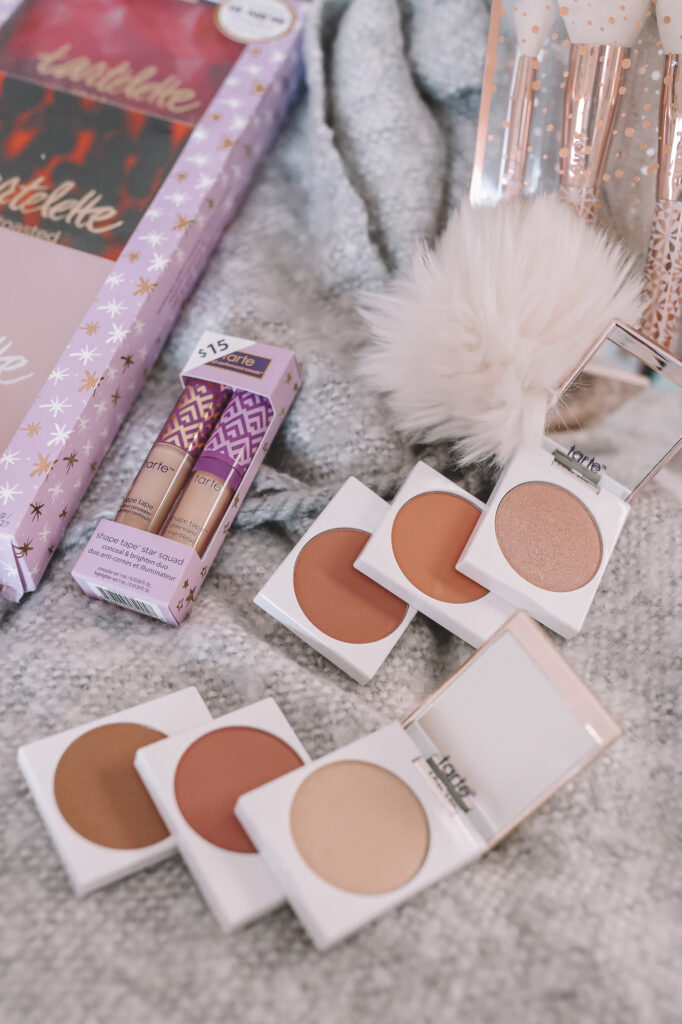 This set includes NINE limited-edition cheek shades: six blushes, two highlighters and one bronzer in three stacked compacts. This is my personal favorite, as these kits are pretty compact and would be easy to throw into a purse or diaper bag. The blushes are all really pretty and buttery-soft. This is definitely a case where I'd keep your favorite stack and then gift the others to your fam 😉
We had our baby shower this weekend and I'm still on Cloud 9 I think! Thank you to everyone who also left sweet messages on Instagram last night!
*Thanks to Tarte Cosmetics for sponsoring this post