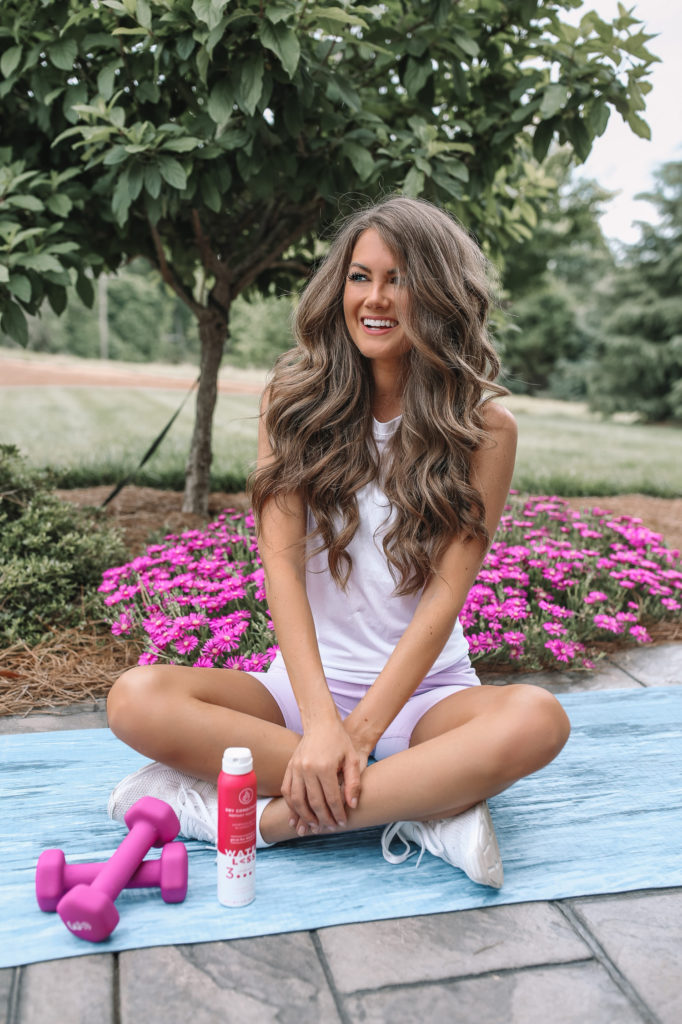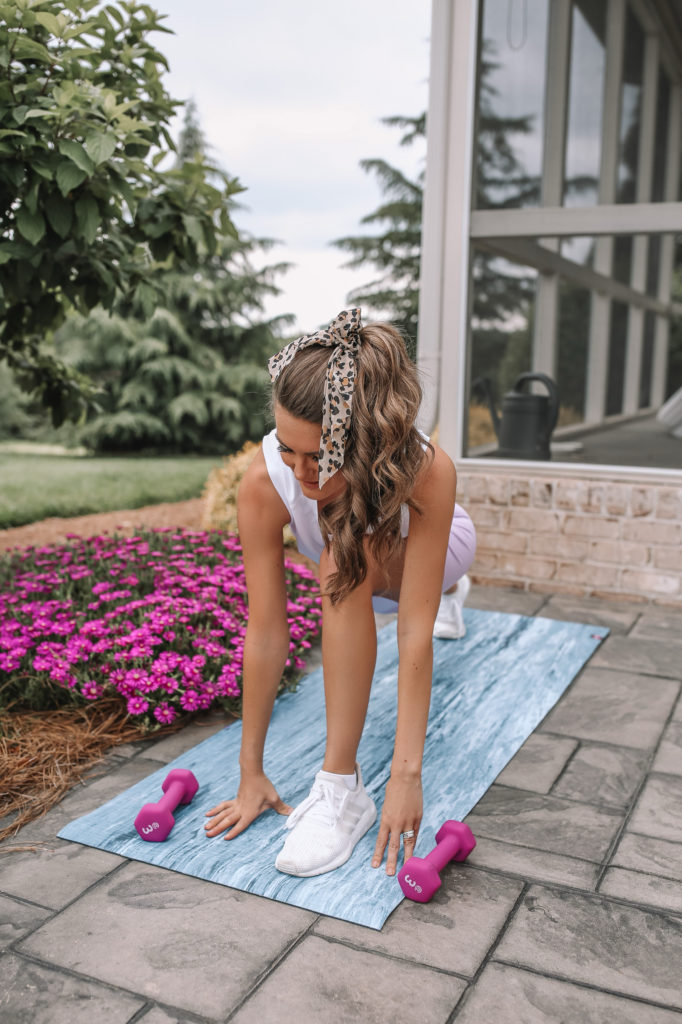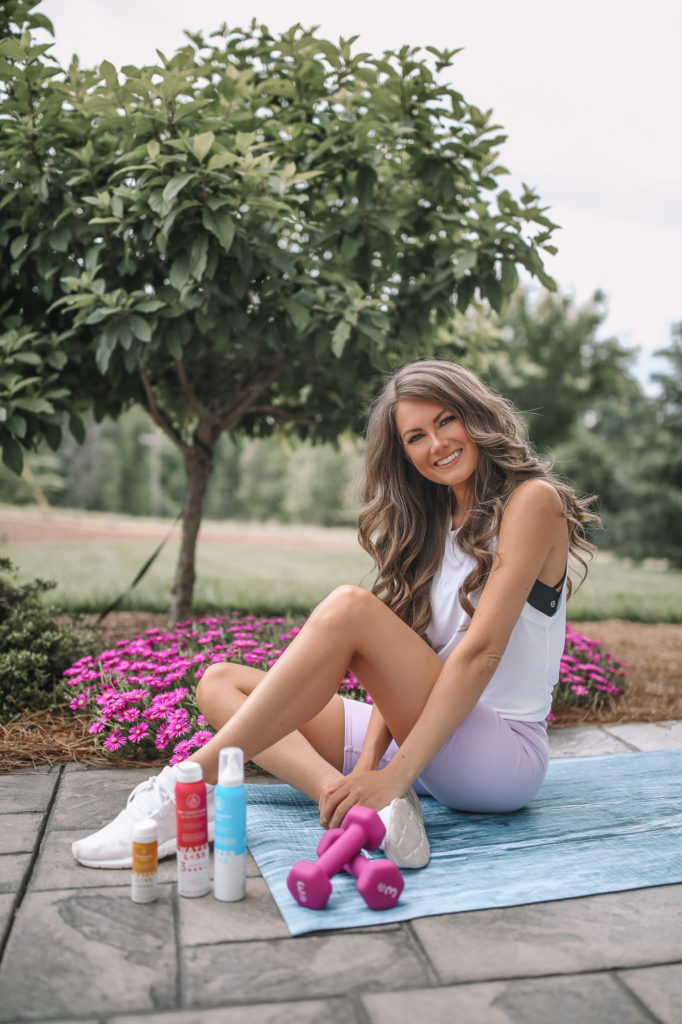 Whenever I tell people I only wash my hair once a week, they act surprised (and kind of grossed out). And men really don't get it. My husband is ALWAYS asking why I don't shower every day since he has to! (Don't worry, everyone, I still bathe! I usually take a bath or use a shower cap when I shower.) You may be wondering why I don't wash my hair that often, and there are a few reasons! The first is that it's a chore and takes me several hours to shampoo, condition, blow dry and curl it. And secondly, long hair is particularly susceptible to damage and I really want to keep my hair as healthy as possible. Washing your hair is actually a damaging process… shampoo can strip your hair of natural oils, and using heat products on your hair over and over again causes further damage and breakage, so washing your hair only once a week actually helps keep it in great condition.
So… here's how I do it!
Days 1 & 2
Use a Clarifying Shampoo
Clarifying shampoos work as a reset button so that you can start styling your hair with a blank canvas. They cut through all of the grease, oil and product buildup on your hair and leave your hair squeaky clean. I like using a clarifying shampoo once a month, if your hair is really oily you may need to use one more often!
Don't Use Oils
Although oils (like argan oil or coconut oil) can make your hair look smooth and shiny, I find that whenever I use them (even if I apply it only to the ends), my hair starts looking greasy after just a few days. I think because whenever you brush your hair, you're distributing the oil from root to tip. Even though I do like oils, I steer clear of them if I'm trying to make my hairdo last a week! I prefer using a heat protectant cream after showering.
Use Dry Shampoo After Working Out
The key to keeping your locks looking good after a workout is a really good dry shampoo. I love the Waterl<ss brand – their dry shampoo is a foam that absorbs sweat and oil without the use of water (it works best on thick or curly hair!). I apply it right after a workout and work the foam into my roots – when it dries, my roots look good as new. You can also apply it at night right before you go to sleep, and it soaks up oil while you sleep. The dry shampoo is also paraben-free so you don't have to worry about toxins!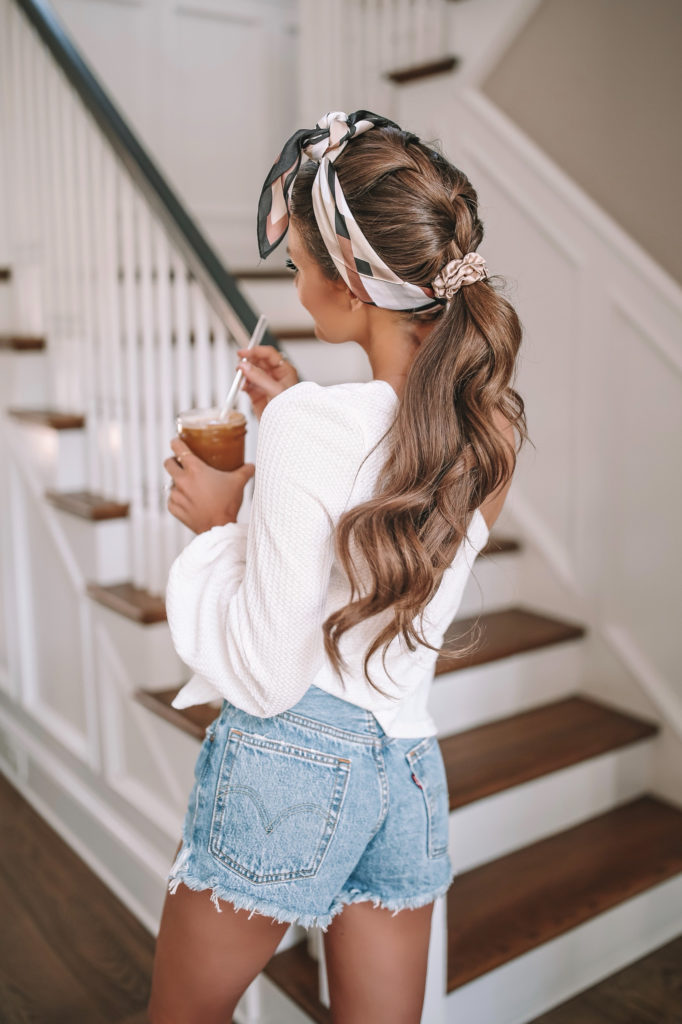 Days 3 and 4
Change your part or your hairstyle
On day four or five, I'll usually change my part around to keep my hair from going flat on top or looking greasy. I also like trying out fun hairstyles, like braids or fun ponytails. For instance, I hadn't washed my hair in five days when I took the above photo!
Use a Dry Conditioner
You've probably heard of dry shampoo, but have you heard of dry conditioner? The Waterl<ss dry conditioner adds instant moisture to your hair without the use of water. If I feel like my hair is getting frizzy, dry or tangled, I'll spritz the ends of my hair (or the tangled part) with this magic stuff. I notice an instant difference in my hair, and it's also paraben and sulfate free!
Days 5 and 6
Wear a Hat
It's usually this point in the week where I have to don a hat! There are TONS of cute hats out there, from ball caps to straw hats. If I'm going to be running errands, organizing or doing house work all day I like to wear a ball cap like this cute one. If I want to look more dressed up, a straw hat adds instant summer glam.
Use a Fragrance Mist
If you feel like you're starting to stink (even if it's in your head), you can keep your hair smelling fresh as a daisy with a fragrance mist! I loveee the Waterl<ss Apple & Berry mist – simply shake and spray over your hair and you'll smell like you just washed your hair. The fragrance mist is alcohol and paraben-free and perfect for days you travel, after the gym or for a quick refresh throughout the day.
And that's pretty much it, folks! I'd love to hear your tips as well, if you've got them!
*Thank you so much to Waterl<ss for sponsoring this post. A little bit about them: Waterl<ss started with a small team of scientists who were looking to improve the non-wash day experience for a diverse set of people and hair types. Just as the product technology was ready, a real-time situation emerging in South Africa proved to be the perfect home for the testing phase of the launch: in January 2018, Cape Town announced it was 3 months away from running out of water for their city of 4 million. Waterl<ss provided the people of Cape Town with an option when they had no choice but to not wash their hair. Loved by all who have tried it (including myself!), the Waterl<ss lineup is designed to provide a wide range of products that work on diverse hair types to give you clean, conditioned, and great smelling hair without using a single drop of water.