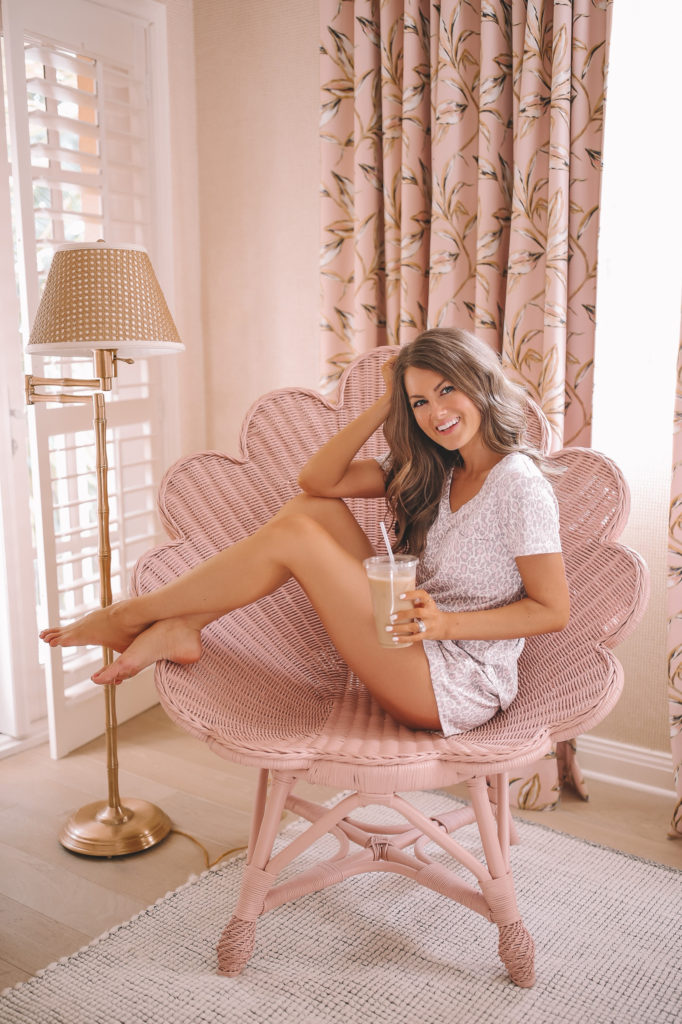 The first week of social distancing felt a bit like summer break: Chris and I were cooking up a storm, watching movies every night, taking long walks around the neighborhood – I even put my swimsuit on and laid out in the backyard on a particularly warm and sunny day. But now that the first week is over, and we still haven't seen anyone but each other, I'm starting to feel a little stir-crazy. And claustrophobic. And the anxiety is settling in, as we realize that this could go on for a looooong time. Today I wanted to brainstorm some ideas to stay healthy (mentally, emotionally and physically) during this time since it can feel severely isolating (especially if you live alone!). If you have more ideas, please comment them below, but in the meantime here are 15 ways to stay healthy (and sane) while practicing social distancing.
1. Start Your Day with Stretches
Being active while stuck at home doesn't necessarily mean doing high intensity workouts every day. It's as easy as starting your day with a few simple stretches, whether you've got only five minutes or fifteen. This YouTube video is only 11 minutes long and is great for some gentle stretching first thing in the morning – it also helps start my day on a very calm and positive note.
2. Cook Healthy Meals
Use your time at home to take advantage of your kitchen and cook up some healthy meals. That means incorporating fruits and veggies into every meal. I PROMISE you will feel better both physically and mentally just by getting antioxidants into your diet! The color of your food can tell you a lot about its nutritional value, and eating a variety of colors is one sure method to get as many of those vitamins and minerals as possible. If you're worried about fruits and veggies going bad before you can eat them, there are a few things you can do to combat that. The first is to go ahead and freeze them (this article gives really good tips on freezing fruits and veggies), and the second is to buy vegetables with a longer shelf life, like sweet potatoes, apples, carrots, onions and winter squash, which can all last for WEEKS. A final note is that you don't have to cook up an elaborate meal for it to be healthy. I've been sharing some super simple recipes (5 ingredients or less) on Instagram that are healthy – check out the "Easy Dinners" highlight on my Instagram page.
3. Have a Netflix Watch Party
This one is great if you live alone or are missing your friends! Google Chrome just came out with an extension that allows you to watch Netflix with your friends remotely – there's even a chat box so you can chat with your friends while all watching the same thing. My BFF and I have a date this week to watch Gilmore Girls together and drink wine! You can download the Netflix Party extension here (everyone must have Google Chrome and a Netflix account to join!).
4. Spring Clean
While you're stuck at home, now is the perfect time to get your house in order and do some deep cleaning! Whenever I clean my house, I mentally feel better afterward. Here are some areas of your home you could focus on:
Your closet (try Marie Kondo's technique from the Magic Art of Tidying Up)
Your pantry (organize your dry goods and cook some of them before they expire)
Your kitchen
Your bathroom cabinets
Your garage
The attic or basement
Your nightstand drawers (if you need a smaller project)
5. Video Chat with friends and family
Social interaction is more important than ever right now! I miss my parents and friends so much, but we've been using both Zoom and FaceTime to keep caught up on each other's lives and see each other face-to-face. Four of my college friends and I had a "FaceTime happy hour" yesterday afternoon where we sipped wine and caught up with each other for half an hour. If you want to try it out with your friends, you can use Group FaceTime to chat with multiple people (instructions here) or download Zoom.
6. Make Smoothies
Use smoothies as a way to pack in some extra nutrients (especially greens!) and hydration into your work-from-home schedule. If you don't want to measure out the ingredients every time, you can meal prep your smoothies ahead of time. Or, you can order some pre-made smoothies to be delivered to your house! I've been using Bumpin Blends smoothie cubes – they're made with organic, real ingredients and all you have to do is pop them into your blender and add a cup of water. If you decide to order, you can use code CAITLIN for $15 off.
7. Get Some Vitamin D
Just because you can't see other people, does not mean you have to stay inside your home all day. Take advantage of the outdoors!! Whether it's going for long walks around your neighborhood, riding your bike, or taking your lunch break outside on your patio, now is a great time to connect with nature. Plus, the vitamin D you'll get from the sunshine can have a lot of health benefits, including regulating mood and warding off depression.
8. Schedule your Workouts
Just like you would on a normal work week, it really helps to plan out your workouts ahead of time. I like to work out three times per week, so I might mark my calendar for Monday, Wednesday and Friday. If you're looking for a home workout program, I really love obé fitness – they're live workout classes you can do from home (from your phone, TV or computer!). The fact that they're live is somehow way more motivating to me!! And there are tons of different classes to choose from. You can get your first month free with code CAITLINMONTH.
9. Read!
This one should go under the "mental health" category. Reading fiction is such a great way to escape from reality for a little bit, and I think that's what we all need right now. While you obviously shouldn't be going out to the book store right now, you can still order books from Amazon or download them to your phone or iPad using the iBooks or Kindle app. If you're looking for some good reads, I have written a lot of book review posts here on my blog! Click here to check them out.
10. Don't Keep Junk Food in your House
Now that we're all eating from home every day, it can be really tempting to stock up on potato chips, Oreos and the like. But if you don't keep junk food in your house, then you won't be tempted to eat it! We stocked our pantry with healthy snacks like raw almonds and cashews, dried mango and rice cakes.
11. Have a Spa Night
A spa night can be great for your physical, mental and emotional health because it eases stress and can also help you get a good night of sleep. Plus, it's something to look forward to! I scheduled a home Spa Night set for Wednesday of this week and I'm already looking forward to it. I start by lighting a bunch of candles in my bathroom, turning off the overhead light and running a hot bath with some lavender epsom salts thrown in. Afterward I'll make a cup of herbal tea and honey, and put on a foot mask followed by softening aloe vera socks.
12. Write a Letter
Remember when pen pals were a thing? It's time to pick up your pen and notebook paper again. Not only is writing a letter fun for the other person who receives it, but writing can also be therapeutic in and of itself. Writing a letter is also a touching way to communicate with the elderly, and I'm sure your grandma would LOVE to receive a physical copy of a personal, hand-written letter from you.
13. Take a Drive
Just going for a drive somewhere in your car for 15 minutes can make you feel "normal" again, even if you don't have a destination. If it's a nice day out, roll the windows down and play your favorite music nice and loud, or listen to your favorite podcast to remind you of your commute to work.
14. Limit the News
Yes, we should all be listening to the news and staying up to date on the current situation, but you shouldn't be listening to it 24/7. For me, that is a sure way to make my anxiety spike through the roof! I allow myself a few minutes every day to check the COVID-19 updates, then log off and limit news for the rest of the day. Instead, I fill the void with music, podcasts and uplifting shows or movies.
15. Set Goals for Yourself
Wouldn't it be awesome if we came out of this "social distancing" period healthier, fitter or more centered? Setting a realistic goal for yourself during this time can help you stay motivated while you're stuck at home. Maybe you want to lose five pounds, be able to do a split, run 30 minutes without stopping, read 10 books or learn how to cook. Pick something that's important to you that you want to accomplish, then make a list of actionable things you can do to achieve that goal. My goal is to get my house COMPLETELY clean and organized, and have better systems in place to keep it that way. I've made a list of areas in my home to clean over the next four weeks, to make sure I get it done. I'm honestly so excited about this one, because having a clean house helps me be more productive and feel less stressed as a result.