Good morning, you guys! I am so so so excited to reveal my HOME OFFICE today. This is a long post, so make sure you're in a comfy chair, grab your coffee and prepare to hang out a little bit this morning. First, I'd like to introduce you to one of my very best friends and also one of the most talented interior designers I know, Kelsey Hymel of Kelsey Lee Interiors!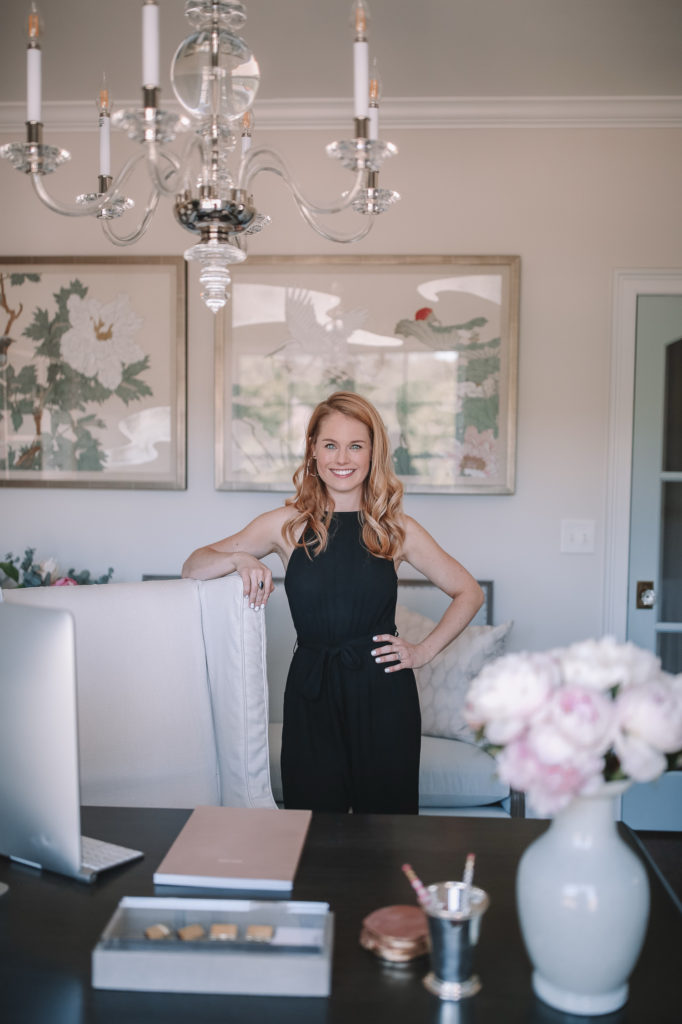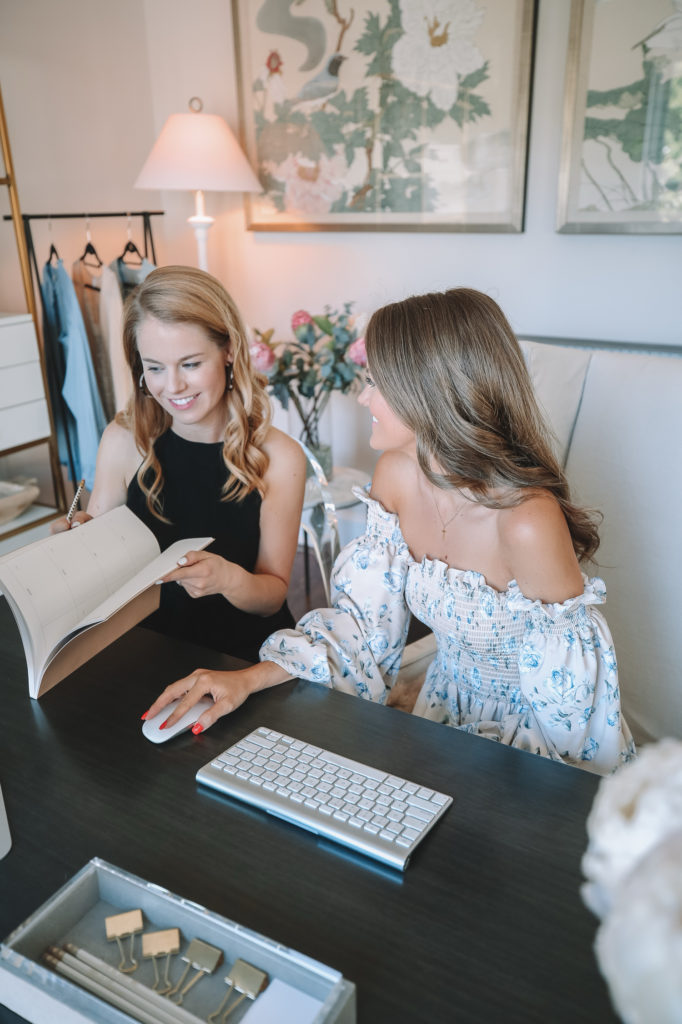 I am so lucky because Kelsey is one of my childhood best friends and also happens to be an incredibly talented interior designer based out of Raleigh. Although I can style an outfit all day long, I am not very confident when it comes to interiors. When I decided to turn one of our spare bedrooms into an office space, I knew I needed professional help – and Kelsey was the perfect person for the job! (Fun fact about us: we have been best friends since the third grade and were both in each other's weddings! I remember going over to Kelsey's house in the third grade and thinking that her bedroom was the cutest bedroom I'd ever seen – she had a knack for decorating all the way back then hahah!)
I don't think words can even describe how in love I am with my office space. Before we started this process, I told Kelsey I wanted my office to look like me, but "grown up." I wanted a sophisticated look, but still wanted the room to feel cozy and comfortable and be completely functional. Not only did it turn out better than I could ever have imagined, but let me tell you guys – having a designer makes the entire process of decorating a room virtually stress-free. Kelsey handled all of the little details that would normally stress me out. For example, the office door was a big project, and Kelsey handled it all, from finding someone to make the door, then a separate contractor to paint and install it. She even came to my house the day the contractor came to make sure everything was done correctly, all I did was say "hello!" and she took care of the rest. So not only am I head over heels in love with the space, but having Kelsey design the room made my life 100,000 times easier.
Without further ado, here is the big reveal!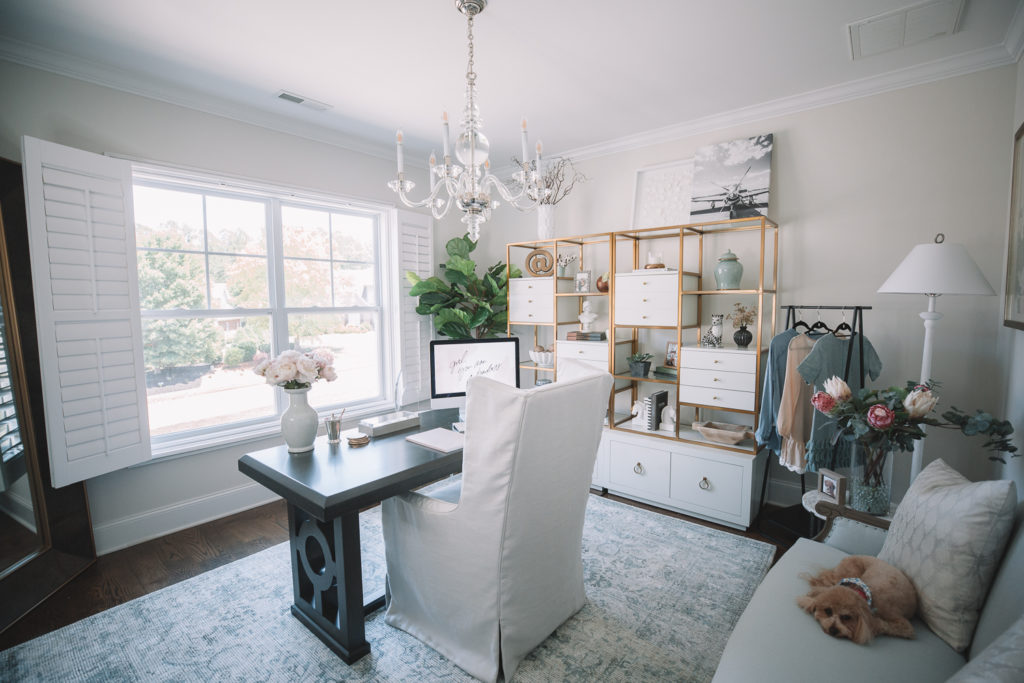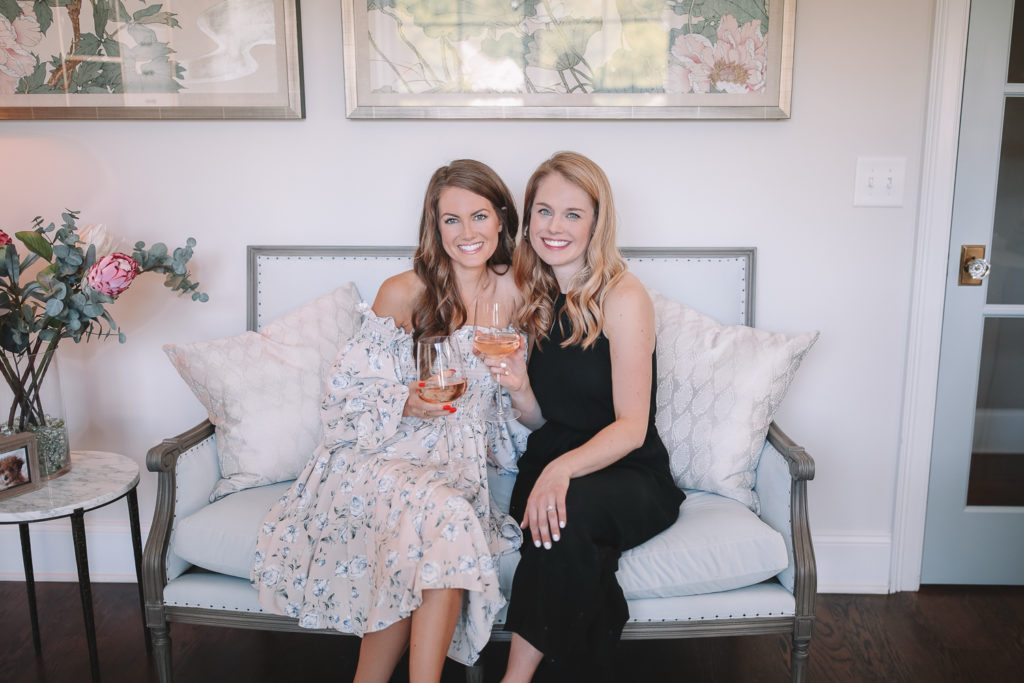 I'll let Kelsey take it from here and tell you guys about the process!
"We started with the main items first – desk, rug & seating. Caitlin already had the white open shelves, so I wanted a desk with a good bit of weight to ground the space in the center of the room. We used a vendor who builds only custom pieces, all made in the USA. It was a long lead time, but so worth it! The design is actually for a dining table, so we scaled it down to a size that fits the room, but still gives Caitlin plenty of surface space to work.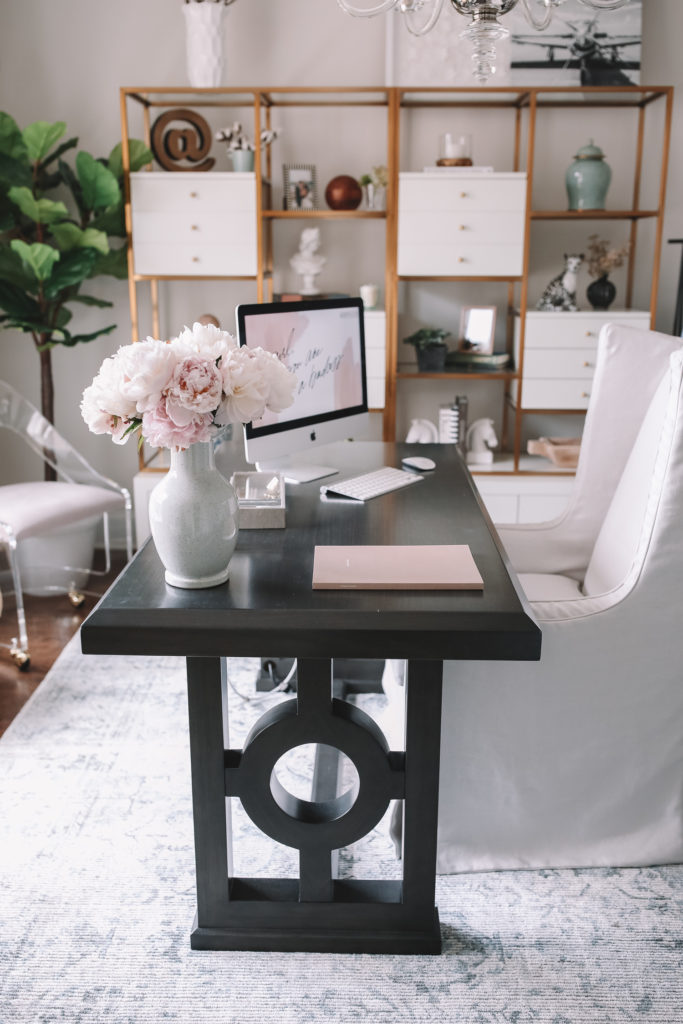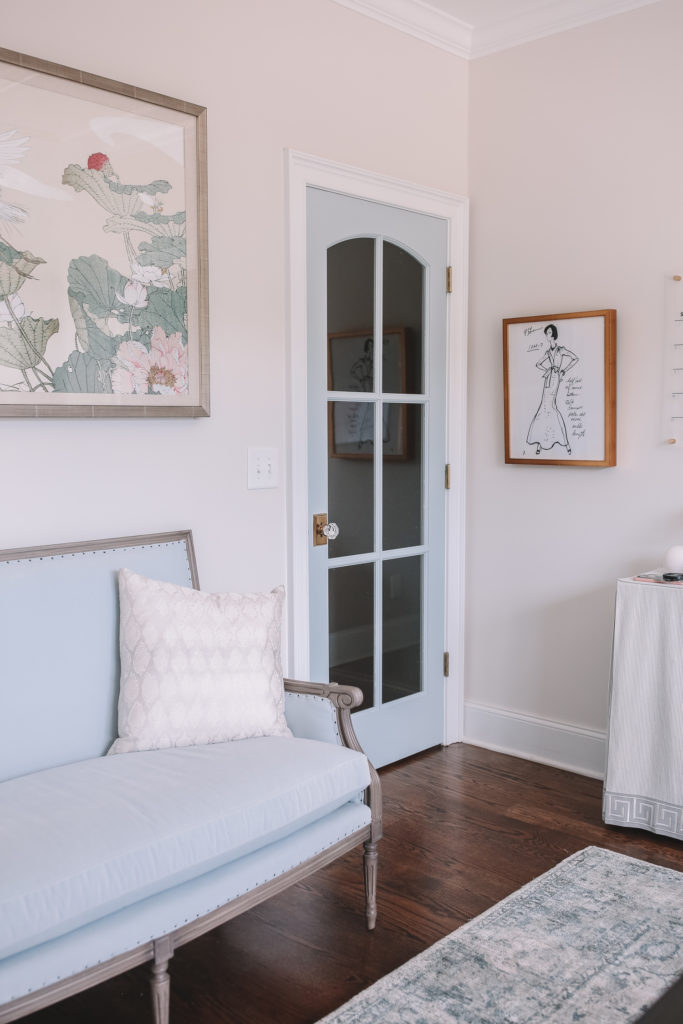 Caitlin loves neutrals, so we knew we would use only solids on the upholstery. A creamy white on the desk chair contrasts beautifully with the dark gray stain we selected for the desk. We went with the softest light blue on the loveseat, which we both knew had to be a velvet when we landed on that Louis XVI frame.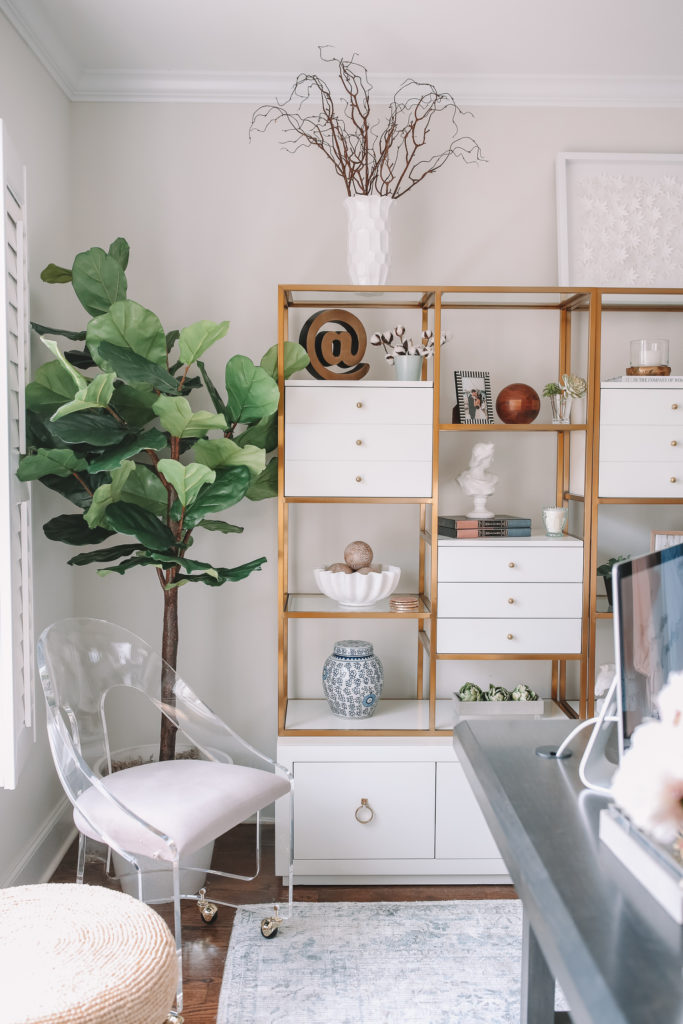 Minimizing cords and equipment is always an issue in an office. Caitlin made it easy on me – no printer required in here and a cordless keyboard and mouse! The only cord we had to work around was her monitor cord. With my furniture vendor, we were able to add a grommet hole to the surface of the desk exactly where we specified, as well as a power strip mounted underneath the top. The monitor cord plugs into the power strip, and that power cord runs through a leg of the desk and comes out at the base. We actually cut a small hole in the *brand new* rug, so that the cord runs underneath the rug to the wall outlet and is seen as little as possible!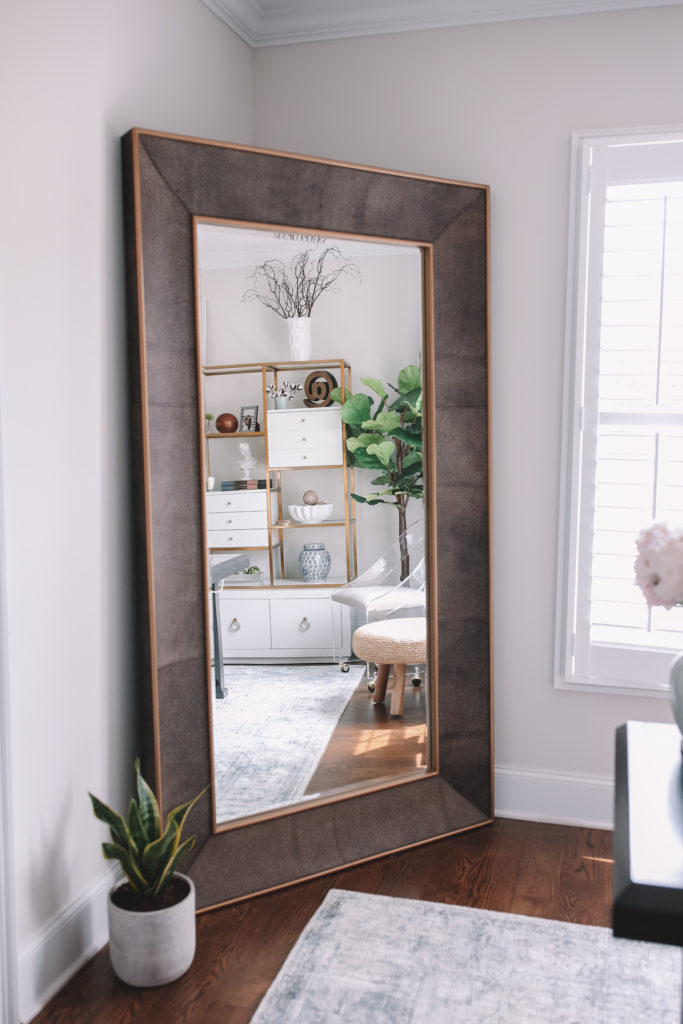 The acrylic guest chair takes up almost no visual space, and on casters it is so easy to pull up for a second pair of eyes on the monitor. We needed a tall mirror in one corner, and I knew I wanted a tree in another, so in came the massive 7' tall mirror and coincidentally, 7' tall fiddle-leaf-fig on either side of the windows!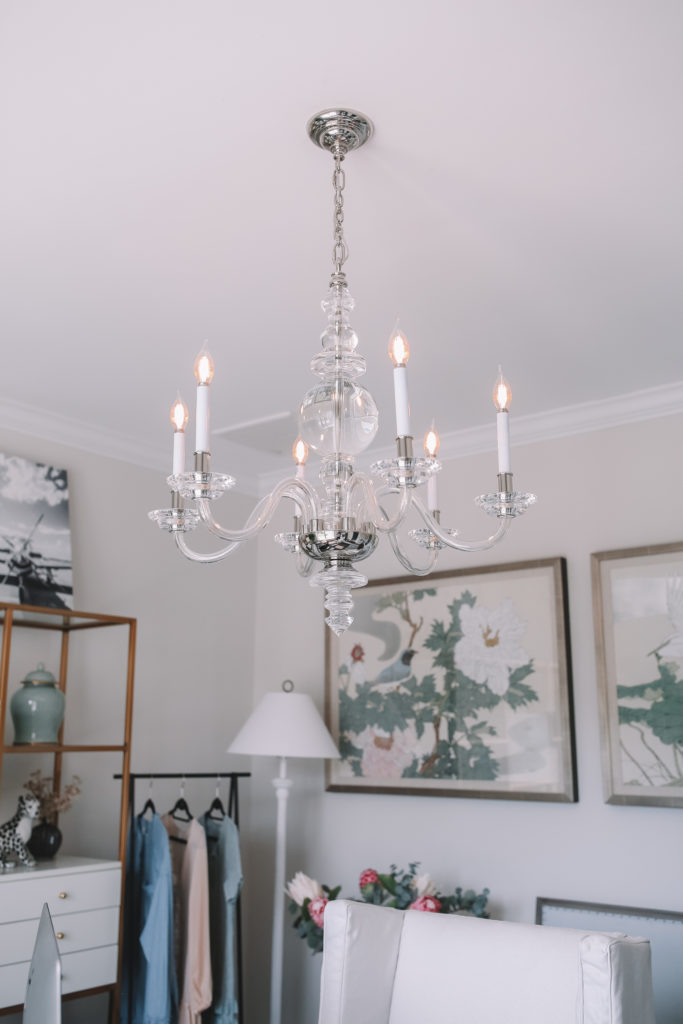 Our next layer was the most time-consuming. This room is a bedroom on the second floor of the house, and I wanted it to feel like a real office for Caitlin, not just a bedroom she was using an office. To set it apart, we had the bedroom door replaced with a French door painted a soft blue-green and installed with heavy brass hardware. We also took down the ceiling fan and had a large crystal chandelier installed in its place, which immediately elevated the space. In the adjoining bathroom, we replaced the fan/light combo with a gold flush-mount fixture.
I think the artwork over the loveseat was one of the easiest decisions for us – we saw the paintings in person and bought them the same day. They had all the colors in our palette, almost as if they had been our starting point!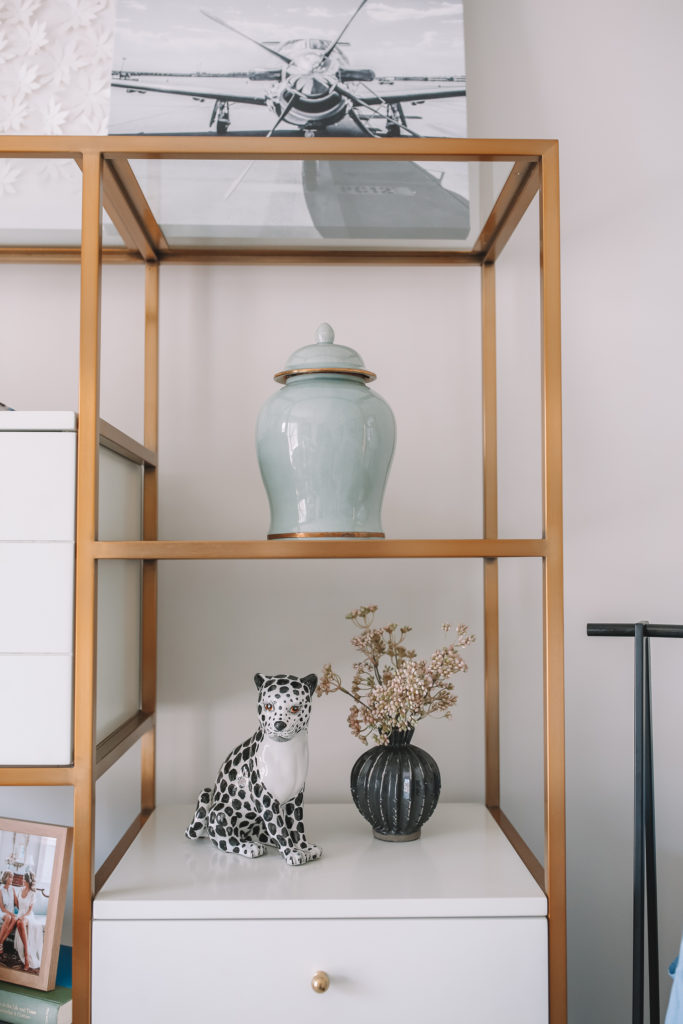 Next we added the marble side table and raffia stool, the clothing rack, a new shower curtain and our first round of accessories.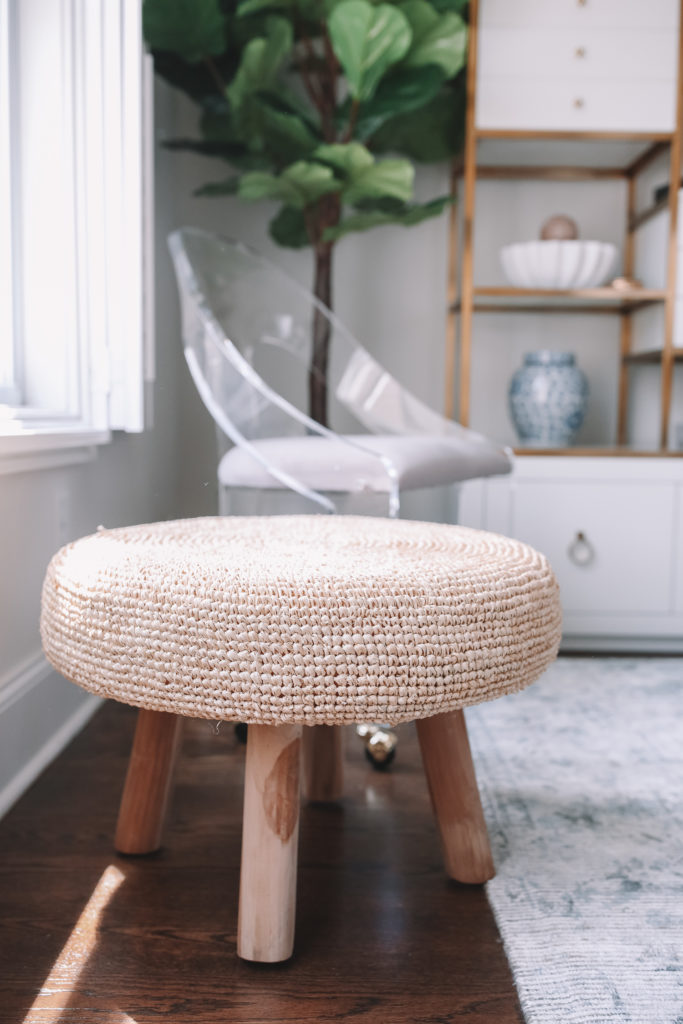 Using accessories from a variety of places is so important for a good look on bookshelves where you have lots of items in close proximity. You don't want everything old or everything new, and you should feel freedom to span a huge price range. A few of the accessories here are from high-end vendors, but most are a mix from HomeGoods, West Elm, Hobby Lobby and Target. The snow leopard, sea-foam ginger jar, Roman bust and brass "@" are from Raleigh consignment shops, and the stacks of used books came from local bookstores on a couple of my trips this year.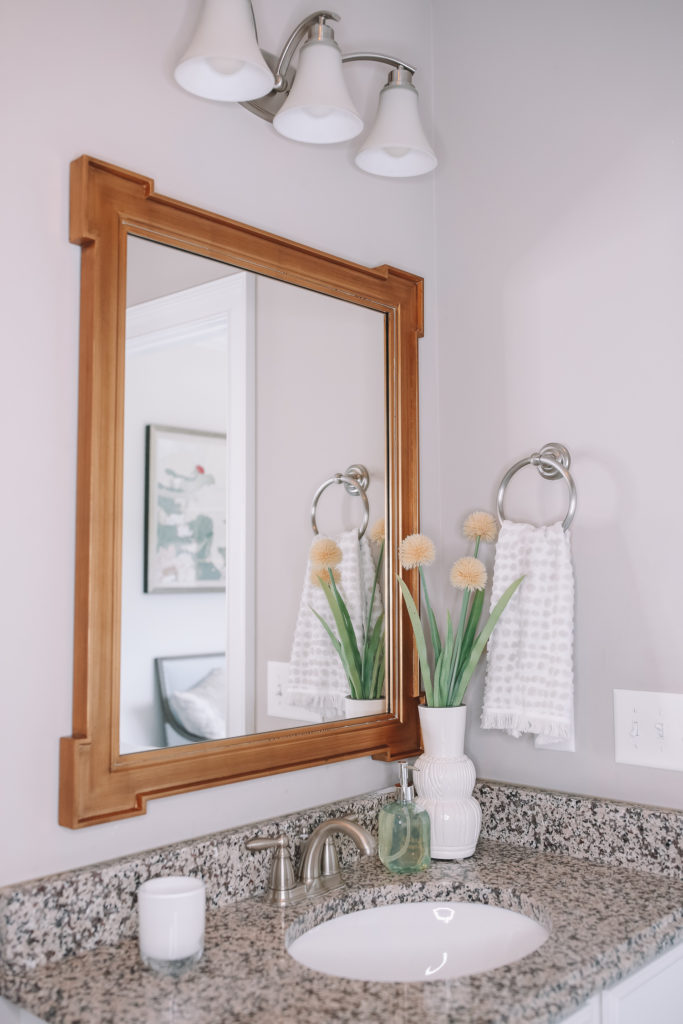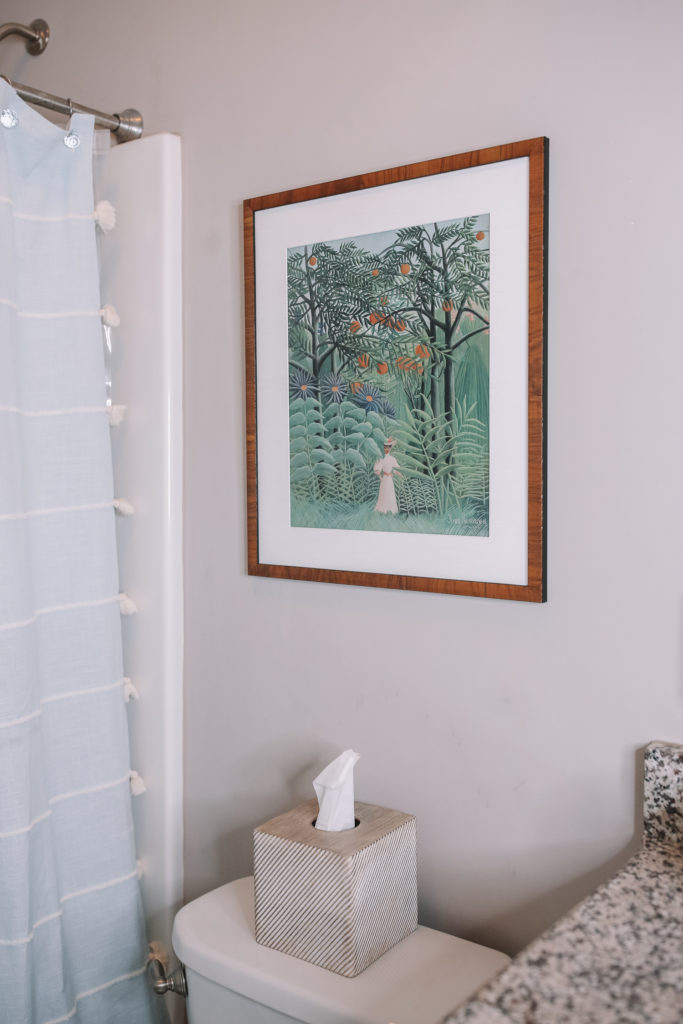 We made a couple more changes in the bathroom, switching out the existing mirror for a gold framed one, updating the hardware on the vanity and hanging the Rousseau print over the toilet.
In this final layer we also added some essential personal touches. We had a photo Caitlin's brother took on a trip to Telluride printed on a large canvas, framed some wedding photos of Caitlin & Chris, and of course included a picture of Winnie! We added the matte white floor lamp in the corner for a bit more height and the snake plant because it's a live plant Caitlin can't kill 🙂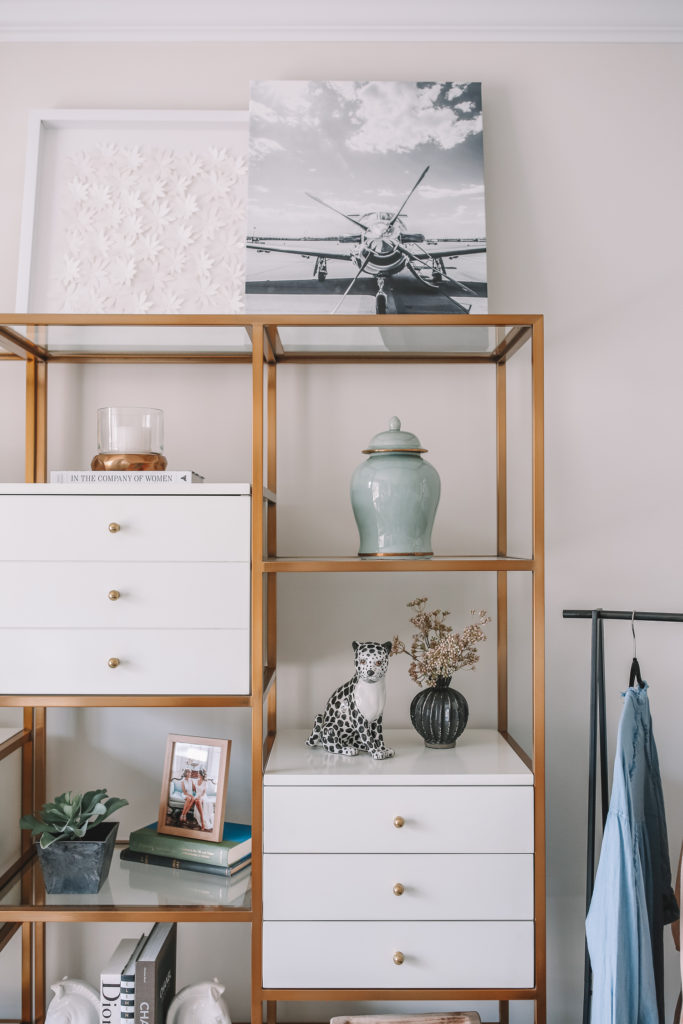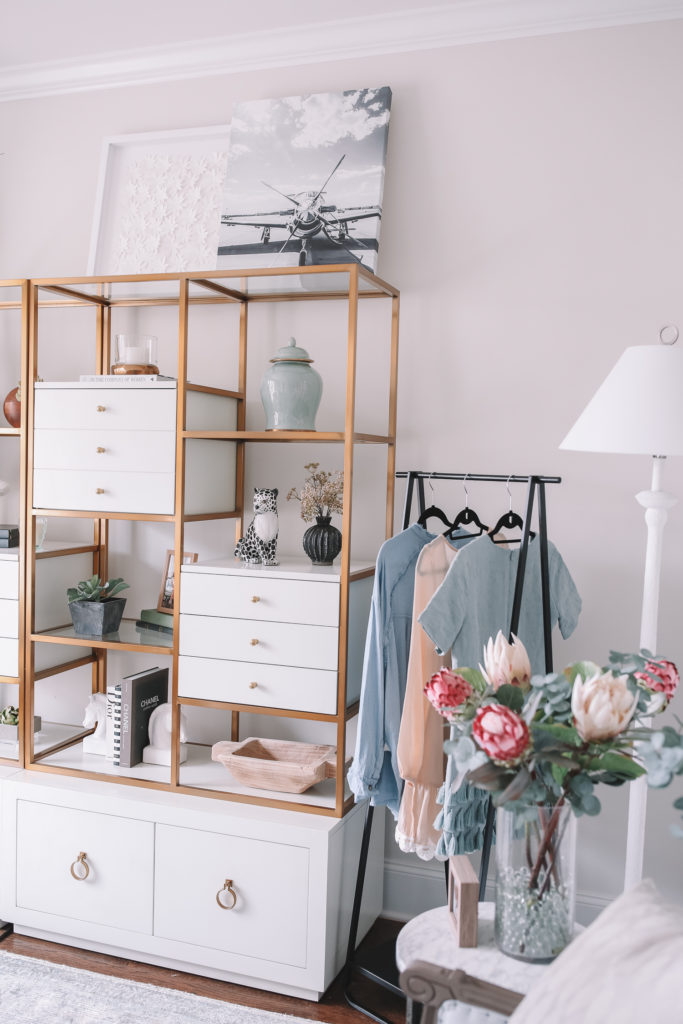 We started working on this room in the fall of 2018 and it's now summer of 2019, so it's been almost a full year. What is so great about working slowly is that you have the chance to weigh your options and make the best choices for the space. Clients often want an entire room completed at once, even down to the accessories. It can certainly be done, but I so prefer the gradual, layered approach. It allowed us to come back and thoughtfully fill in holes when we weren't burned out. For example, Caitlin found the cool acrylic calendar, but we weren't quite sure where we would use it. The wall space next to the door was empty, so the floating calendar needed something to visually anchor it here. A skirted table did the trick and is a delightful view from the hallway through the glass door!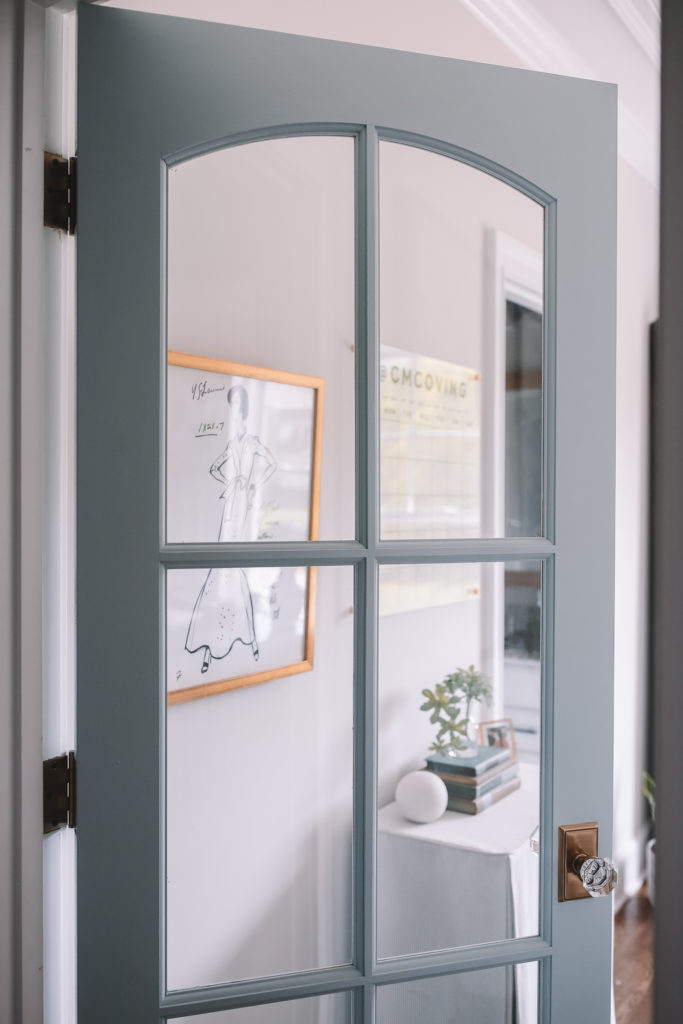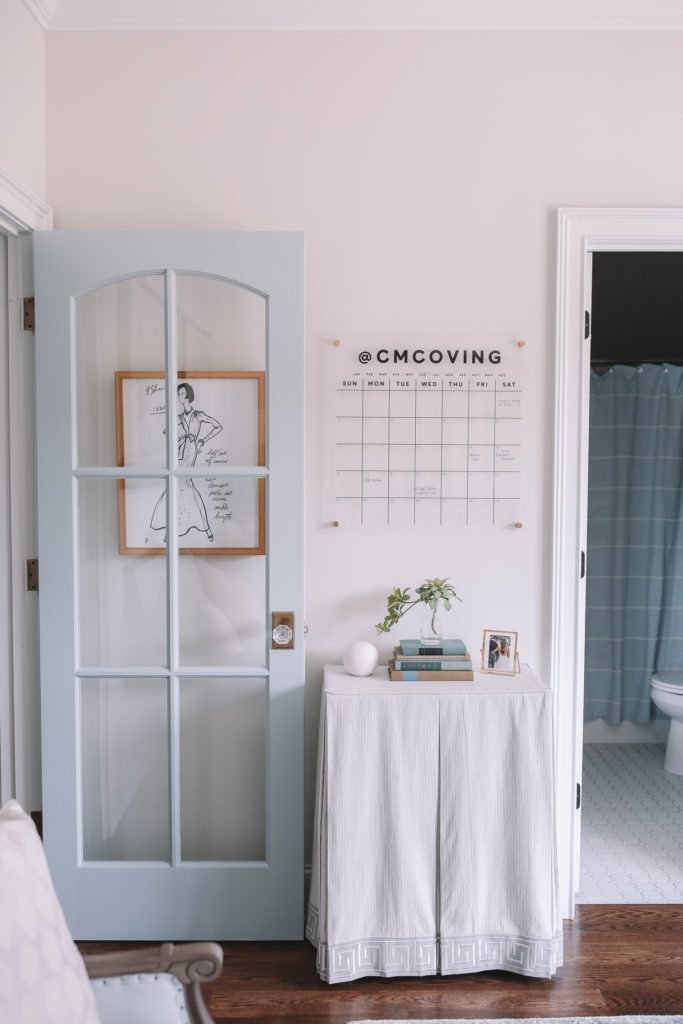 I wanted this room to feel like an escape from the rest of the house so Caitlin can fully focus on work when she is not traveling, and I think we accomplished that!"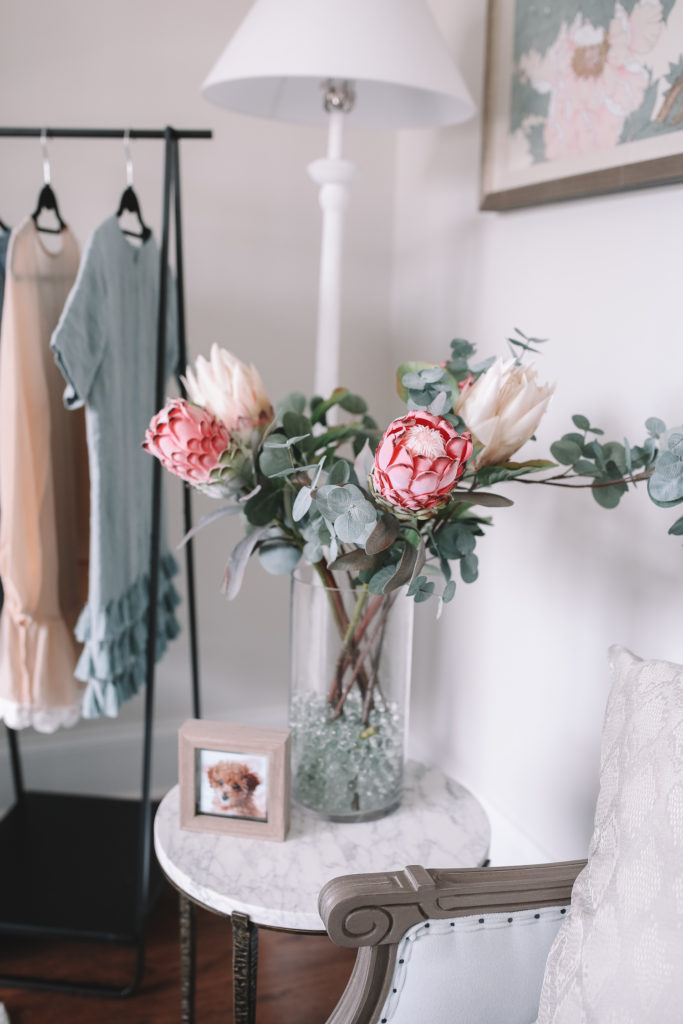 Several of the items seen in this post are available only to the trade, so we have listed starting prices in the captions above. If you are interested in ordering any of these pieces, please contact Kelsey! Some of these items may be available online through other sellers, but Kelsey can ensure you get a better price + coordinate shipping and handling to your home! Feel free to contact Kelsey for any information not listed in this post. Also, if you're interested in having Kelsey design a room in your house, she has experience working with all budgets! 🙂
You can contact Kelsey at kelsey@kelseyleeinteriors.com or DM her on Instagram @kelseyleeinteriors – and tell her I sent you! xoxo