The Fourth of July is coming up and this is one of my *favorite* holidays all year long (okay let's be real, I like every holiday, but Fourth of July just feels EXTRA special for some reason). When I think of this day, I think of hot dogs and hamburgers, Ruffles and French Onion dip, and DESSERT! Let's be real… Fourth of July desserts are the best, since they often feature lots of fresh and in-season fruit and sometimes a dollop of ice cream. After scouring the Internet, I wanted to round up the top five *healthy* desserts that I could find, since this is a Monday Motivation post after all. 🙂
All of these desserts look mouth-watering delicious, but not a single one has added sugar… mainly relying on the sweetness of fruit for the taste! Now the bigger question is which one am I going to make this week….?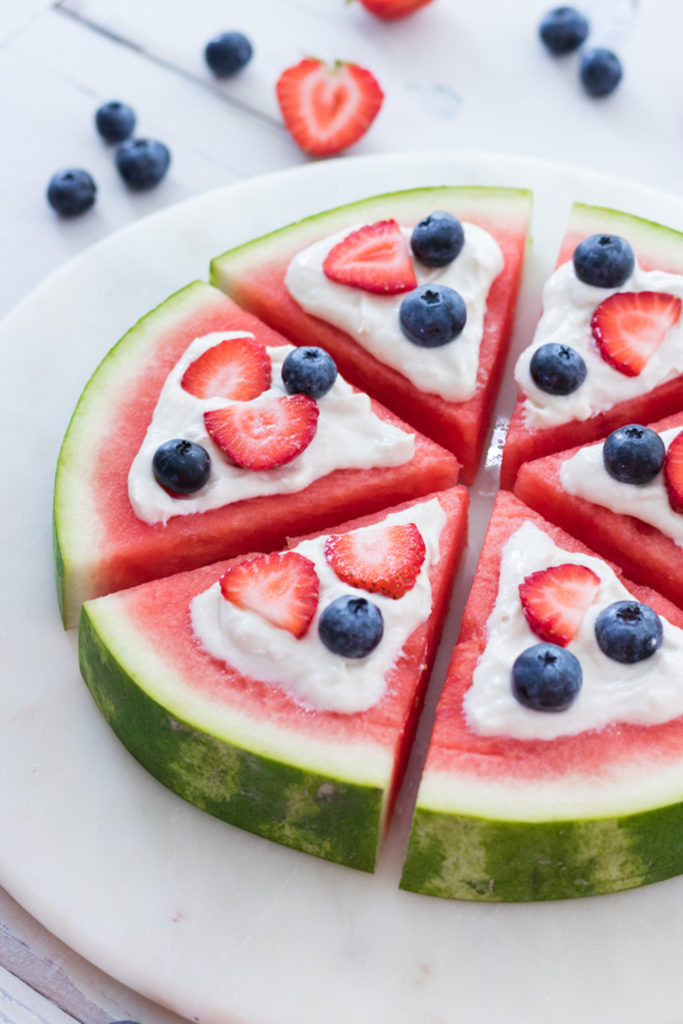 Vegan Watermelon Pizza
via eating by elaine
This Watermelon Pizza would be such a fun activity to make with kids… although I'd make it (and eat it) all by myself!
Ingredients
Instructions
Make the coconut whipped cream. You can make in advance and store in your refrigerator until it is ready to use.
Slice a watermelon crosswise and cut round pieces about one inch thick. These watermelon rounds are the "pizza." You usually can get 4-6 good rounds from a medium sized watermelon. Serve any remaining watermelon separately.
Cut each watermelon round into 6 triangle slices and top each slice with coconut whipped cream and fresh berries. Enjoy immediately.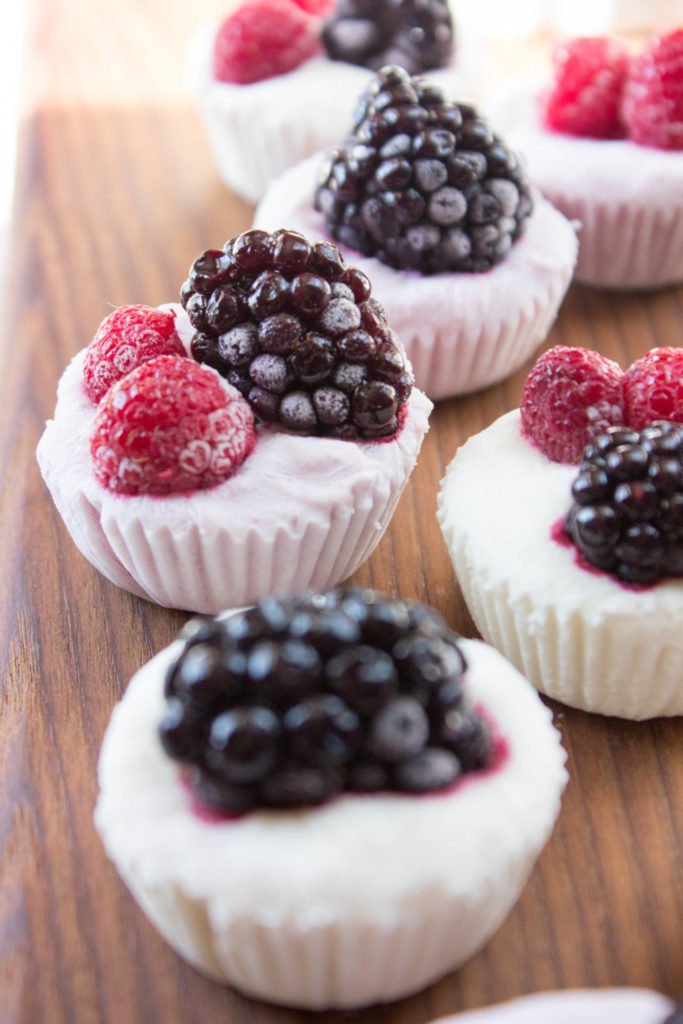 Froyo Bites
via Amy Sheree
This is probably the easiest recipe in this blog post… but these simple ingredients come together to make a fantastic little frozen treat.
Ingredients
2 containers yogurt, such as strawberry and blueberry grass-fed
10 blackberries, frozen or fresh
10 raspberries, frozen or fresh
Instructions
Line a mini baking sheet with mini cupcake liners
Fill each liner with yogurt and top with berries
Freeze for 3 hours until firm
Healthy Peach Crumble
This was the simplest peach crumble recipe I could find on the internet, and doesn't use any white sugar or flour (hooray!). You could easy swap out peaches for any other seasonal fruit you have on hand.
Ingredients
4 extra large peaches, diced (or 5-6 medium)
2 tbsp cornstarch
1 ½ tsp almond extract
1 tsp ground cinnamon, divided
¾ cup old-fashioned oats (gluten-free if necessary)
¼ cup whole wheat flour or millet flour 
2 tbsp pure maple syrup
2 tbsp unsalted butter, melted
Directions
Preheat the oven to 350°F, and lightly coat an 8 inch square baking pan with nonstick cooking spray.
In a medium bowl, toss together the diced peaches, cornstarch, almond extract, and ¼ teaspoon cinnamon until thoroughly combined.
In a separate bowl, mix together the oats, flour, and remaining cinnamon. Add in the maple syrup and butter, mixing until completely incorporated.
Spread the peach mixture into the prepared pan, and evenly sprinkle the oat crumbs on top. Bake at 350°F for 35-45 minutes, or until the peach juice is bubbling and the oat mixture turns crunchy. Cool completely to room temperature. For best results, let the crumble rest for at least 2 hours after coming to room temperature before serving to allow the juices to thicken.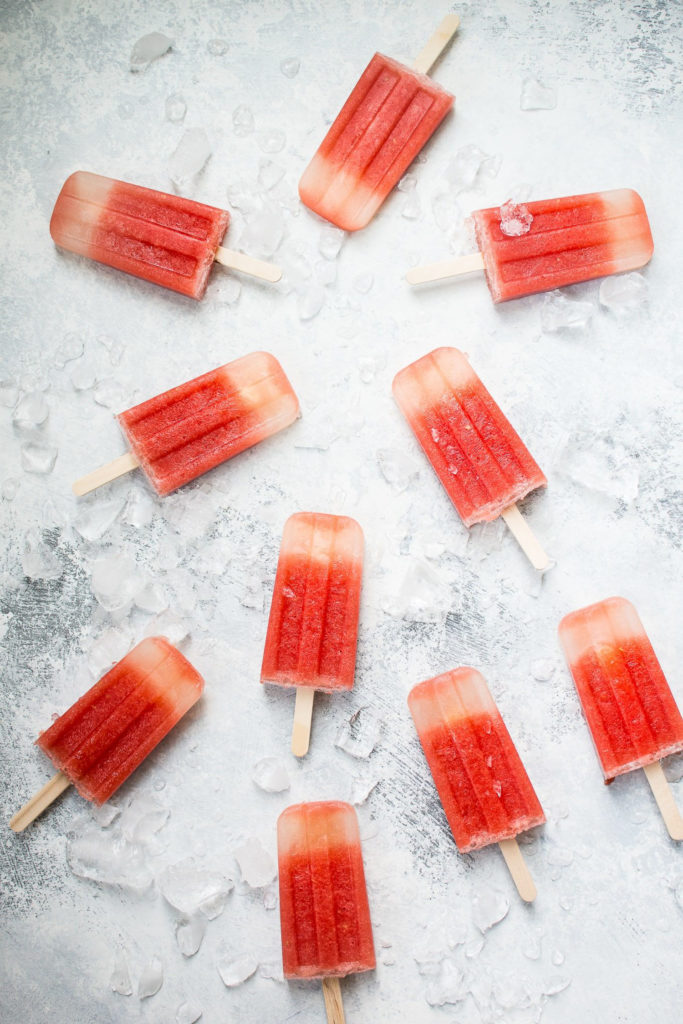 Watermelon Margarita Popsicles
via Salt & Lavender
These Watermelon Margarita Popsicles are for adults only 😉 They have only four simple ingredients and look delicious – and so refreshing.
Ingredients
1 small watermelon (about 5-6 lbs), cut into pieces
Juice of 1 lime
4 ounces silver tequila
1/4 tsp sea salt 
Instructions
Cut the watermelon into small pieces (discard rind) and place them in your blender. Blend until pulverized.
Add the lime juice, tequila, and salt to the blender. Blend.
Pour into a popsicle mold, being careful not to fill each cavity right to the top since it'll expand when you freeze it. Freeze for about 2 to 2.5 hours and insert the sticks at that point. Freeze for an additional 3 to 4 hours. 
To easily remove the popsicles from the mold, fill your sink with hot water and carefully dunk the mold into it for a few seconds. Popsicles should easily slide out. Transfer remaining popsicles to a large plastic bag to keep them fresh in the freezer.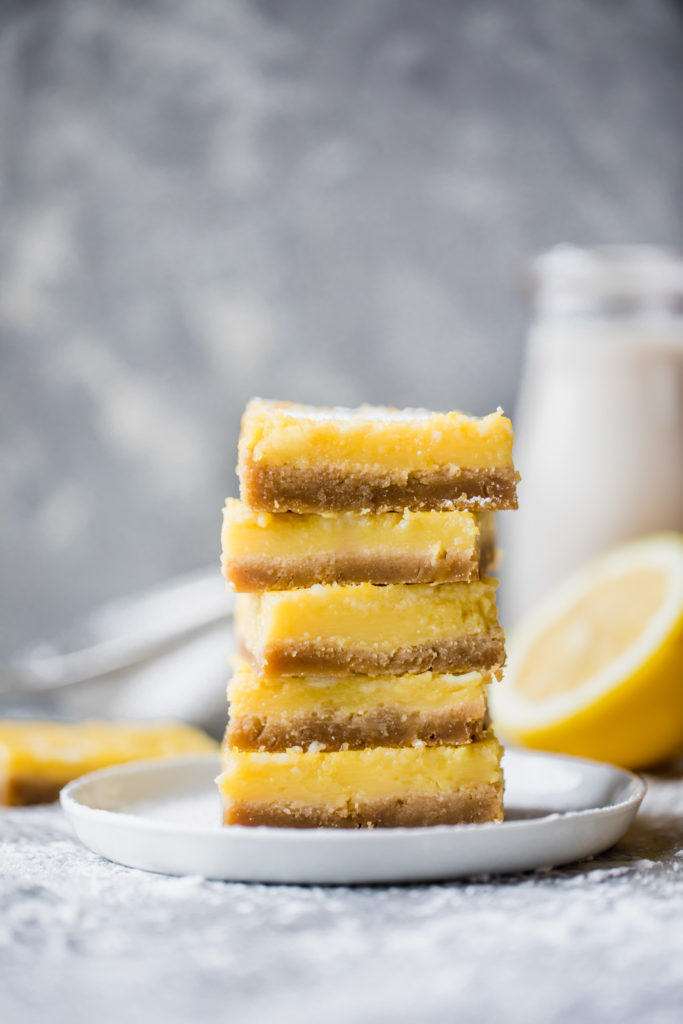 Healthy Lemon Bars
These lemon bars are dairy-free, gluten-free and paleo, and have amazing reviews (just read the comment section). This recipe is a little more involved than the others, but I bet they'd be worth it 🙂
Ingredients
For the crust:
1/4 cup melted and cooled coconut oil
¼ cup coconut sugar (or sub 2-3 tablespoons honey or maple syrup)
1 egg, at room temperature
¼ teaspoon almond extract
1 cup packed fine almond flour (do not use almond meal)
3 tablespoons coconut flour
1/4 teaspoon salt
For the filling:
Zest from 1 lemon
½ cup freshly squeezed lemon juice (from about 2-4 lemons)
½ cup honey
4 large eggs
1 egg yolk
1 tablespoon coconut flour, sifted (or sub tapioca flour or arrowroot flour)
To garnish:
Powdered sugar (sifted)
Lemon zest
Instructions
Preheat oven to 325 degrees F. Line an 8×8 inch pan with parchment paper. (Do not use a glass pan as it will likely cause the bottom of the crust to burn.)
First make the crust: In a medium bowl, add in the coconut oil, coconut sugar, egg and almond extract. Mix together until smooth. Add in almond flour, coconut flour and salt. Mix again until a dough forms. Press dough evenly into prepared pan with your hands. Bake for 10 minutes, then remove from oven and allow to cool for two minutes before adding your filling.
While your crust bakes, you can make the filling: In a medium bowl, whisk together the lemon zest, lemon juice, honey, eggs, egg yolk and coconut flour. Pour over crust. Bake for 18-25 minutes or until filling is set and no longer jiggles. Cool completely on a wire rack then refrigerate for at least 4 hours to firm up bars. Once ready to serve, use a sharp knife to cut into 12 bars. I recommend garnishing them with powdered sugar and a little lemon zest before serving. Enjoy!
Which one looks the best to you?!
xoxo