One of my New Year's resolutions is to eat healthier!
Although I hardly ever eat at fast food restaurants, sometimes you just can't avoid 'em. Especially if you're in a hurry or on a long road trip. But stopping at a greasy hamburger joint doesn't mean you have to order the greasy hamburger… you
can
make healthy choices when you need a quick meal, if you know what to order.
The following are my favorite fast-food picks, all for under 300 calories.
Chick-fil-A
Chick-fil-A is one of the healthier fast food places around. They offer grilled chicken, fresh veggies and colorful fruits, all served with some big flavor.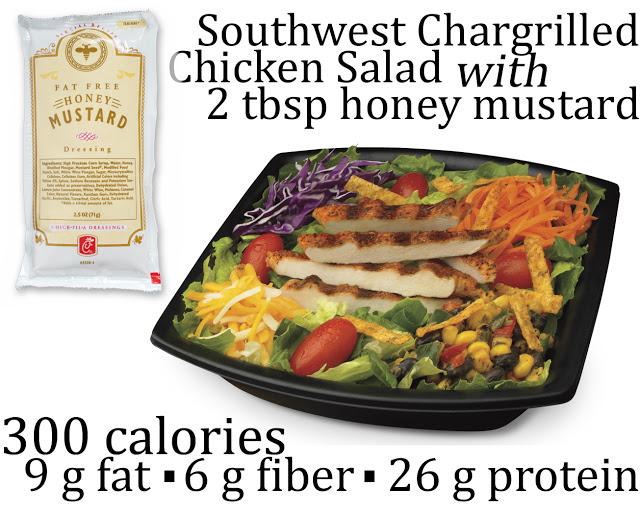 I use only half of the dressing packet (mmmm honey mustard… my fave) and I leave off the tortilla chips that it comes with. This salad is a little spicy, which I love, but beware- it's HUGE and always leaves my belly a little swollen after I eat it… in a good way of course!
I'm pretty sure I will order off of the kids' menu forever. Seriously!
I loveee Chick Fil A's chicken nuggets… and instead of fries, I order a small fruit cup on the side. The cup is filled with fresh apples, strawberries, oranges and grapes, and all that protein really makes me feel satisfied.
Wendy's
I know it's hard to imagine stopping by a Wendy's without ordering a cool, creamy frosty (my favorite growing up!) but let's take a look at one healthier option…
This cup of chili may look weak, but it has some BIG muscles. This meaty favorite is low in fat and high in fiber and protein, so it will fill you up fast. And it's perfect for a cold winter night!
Taco Bell
There are plenty of items on Taco Bell's menu that pack in calories and saturated fat. Luckily for you and me, they created this special menu called the "Drive thru diet" with healthier on-the-go options.
These fresco soft chicken tacos are by far your best bet, with the fewest grams of saturated fat and the most protein! Not to mention I'll eat anything wrapped in a tortilla.
Subway
Although Subway boasts a healthy menu, it's definitely possible to go way wrong when ordering a sub. The thing to watch out for? Their sauces, which can add unnecessary calories and fat. The one awesome thing about Subway is that you can get as many veggies on your sub as you want, without adding virtually any calories.
I'm a creature of habit, and always order the same thing…
You can't go wrong with turkey and cheese on wheat bread… just add in veggies and yellow mustard for the perfect meal!
🙂
What about you guys… Have a favorite healthy fast food meal?
I'd love to hear!
I'm starting to think about my beach bod. Spring break will be coming up mighhhty soon! 😉
Oh and happy MLK Day!
Love, Cait