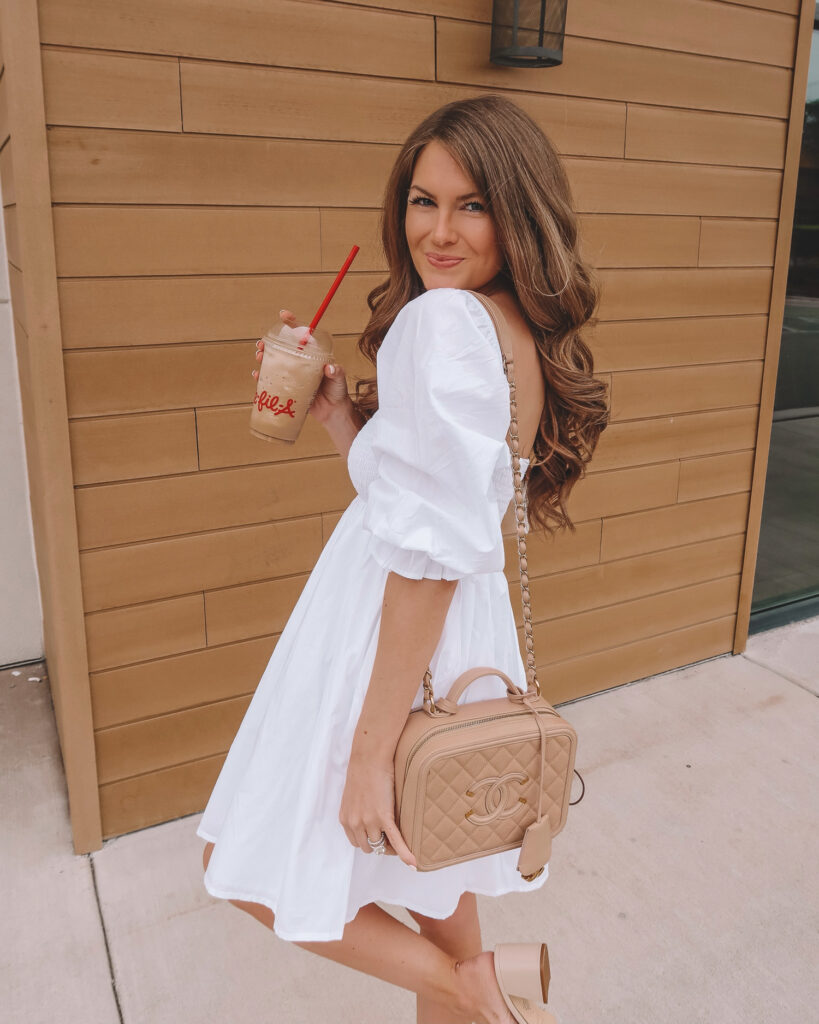 Chick-fil-A' s Frosted Coffee has been my favorite treat since having Kennedy! I am literally OBSESSED with them – there was a month where I had one every single day (except for Sundays, of course). Not only are they creamy and give me a little caffeine boost, but they're also the most practical option for me right now! As a new working mom, I'm so busy that my hot cups of coffee seem to always get cold before I ever get around to drinking them… and Chick-fil-A's Frosted Coffee stays yummy, no matter how much time passes between sips. However, there are a few downsides to my new obsession… I have spent a lot of money placing countless Doordash orders for just a single frosted coffee. (The Doordash delivery person must think I am crazy!) The Chick-fil-A version is also not the healthiest because it's loaded with 39 grams of added sugar (it's literally made with ice cream and coffee, so it's basically a milkshake). I really wanted to create a healthier version that I could feel better about drinking so regularly. And in addition to being healthy, it also needs to be easy – I don't have time in the morning to be adding a zillion ingredients to my blender!
Last week, I spent one morning in the kitchen testing out a bunch of different DIY recipes. And honestly, we nailed it!! This version is absolutely DELICIOUS!! I honestly might like it even more than Chick-fil-A's version because it tastes less sweet, while still maintaining the creaminess and beautiful coffee flavor. The best part is you only need four ingredients and less than five minutes to make it! Of course I will still treat myself to Chick-fil-A's Frosted Coffee every now and then, but when I want to save time, money and calories this is my new go to recipe.
Healthy Chick-fil-A Frosted Coffee Dupe
Ingredients:
Recipe:
Pour cold brew coffee into an ice tray and place in freezer for at least 24 hours, along with a peeled banana.
Add everything to your blender in the order that it appears above, and blend blend blend!
Pour your frosted coffee into a glass and enjoy! (I love drinking it with a glass straw)
This coffee tastes amazing (even Chris said it was better than the Chick-fil-A version!), but what I love most of all is that all the ingredients are good for you, too! It's perfectly sweet and creamy – it's hard to believe that most of the sweetness comes from a banana and that it's non-dairy, too!
Definitely let me know (or tag me on Instagram) if you end up trying it!
xoxo