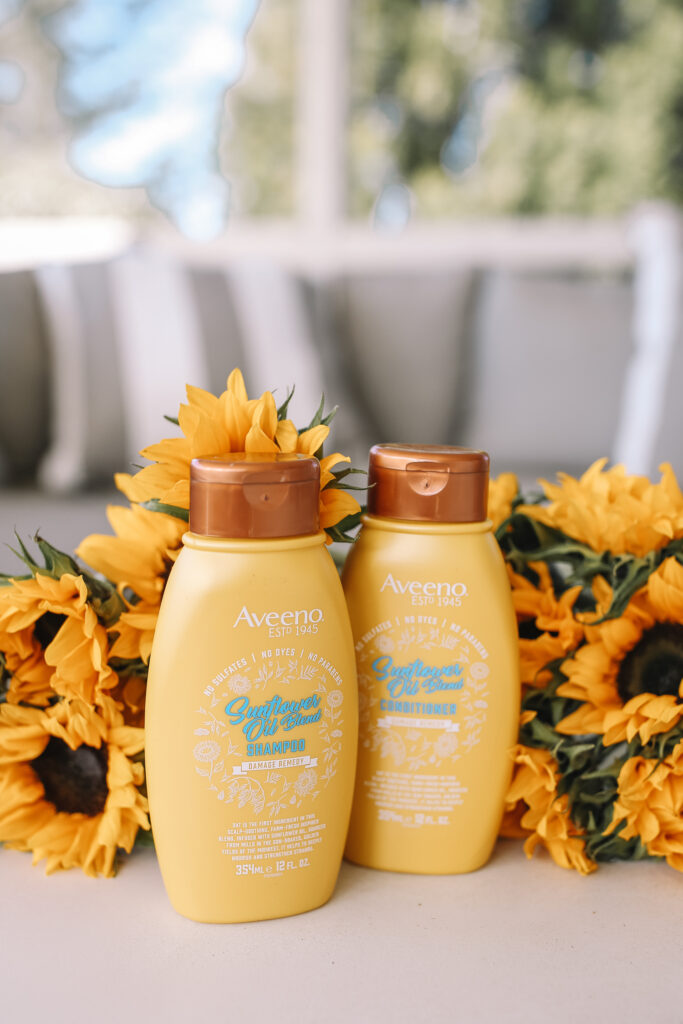 I wanted to share a little hair update with you guys – it has been a LONG time since I shared anything hair-related on the blog! Because of the pandemic, I haven't had a haircut in OVER A YEAR (can't believe I'm even typing those words, haha), and my hair was in need of some serious nourishment. Aside from using a lot of heat products like blow dryer and curling wand weekly, I also think postpartum is pretty tough on your hair, too. Here are some of the things I'm doing to keep my hair healthy until my next haircut!
Moisturizing Products
The first step in maintaining hair health was finding a new, nourishing shampoo and conditioner for damaged hair. Enter: the new Aveeno Hair Sunflower Oil Blend Shampoo and Conditioner. The number one ingredient in these products is oat(which is incredibly moisturizing), and the added sunflower oil blend helps nourish and revive dull strands. The sunflower oil and oat blend is sourced from mills in the sun-soaked, golden fields of the Midwest, United States. I switch up my hair products a lot, but I've been using these consistently for the past month and have noticed a huge difference in my hair! (Another reason I love Aveeno: all products are free of sulfates, parabens and dyes and they're AFFORDABLE, too! The Sunflower Oil Blend Collection is available for $8.99 each at drugstores nationwide.)
Vitamins & Collagen
I'm currently taking postnatal vitamins, but I'm also upping my supplement routine by adding in collagen! I have an unscented one, and I add a scoop per day either to my coffee or smoothie. Collagen supplements have been shown to increase the body's hair building proteins, which can result in longer, thicker hair. And it may even help reduce the appearance of gray hair by supporting the healthy structure of the hair follicle (where the pigment that gives hair its color is produced). Now that I'm 30 I have to worry about these things – LOL!
Less Heat!
I've been making a conscious effort to use less heat products on my hair. I've been limiting the use of my curling wand to ONCE per week… and when I do use it, I make sure it's not on the highest setting. This one has been really tough because there are three days out of the week where my hair looks pretty bad, haha. But I know it will be worth it if it means healthier hair!
Let me know what steps you've been taking for healthier hair!
*Thanks to Aveeno for sponsoring this post