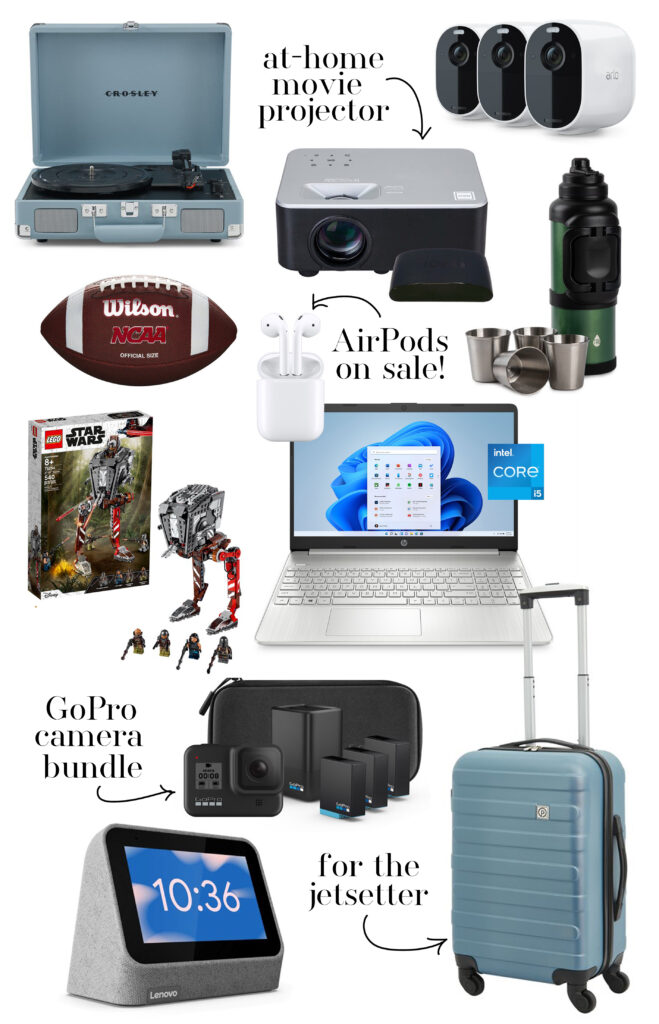 Crosley turntable // home theater projector // wireless security cameras // football // Apple AirPods // stainless steel tumbler // Star Wars Lego set // HD laptop // smart clock // GoPro camera bundle // hardside luggage
Normally I find it really difficult to find the perfect Christmas gifts for all the men in my life, but Walmart has made it super easy this holiday season! They're having HUGE Early Black Friday deals on tech, tools, outdoor items and even toys with their Deals for Days event beginning online TODAY at 7pm and in stores on Thursday, November 12th! Since these Black Friday prices are happening way earlier this year, I can have peace of mind that everything will arrive on time. Here are a few of my favorites from the list…
Home theater projector // Now you can have a movie-theater experience in your own home with this home theater projector! You can stream almost anything including hit movies, live TV, news, sports and more… even your favorite Netflix show. If you're still not sold, go and read the reviews! Everyone raves about this thing.
Apple AirPods // Neither Chris nor I have a pair of Apple AirPods, and I think they would make a great gift for Christmas this year! Everyone I know that has a pair absolutely loves them. With intelligent design, breakthrough technology and crystal clear sound, they're some of the best wireless headphones on the market.
Star Wars Lego set // It's no secret that my husband loves Lego sets, and this one is right up his alley! I think they make him feel like a kid again. 🙂 Walmart has a ton of Lego sets for any of your man's interests, from cool cars to pirate ships.
HD laptop // This is the one thing I know for SURE that Chris wants for Christmas this year! His personal laptop is very old and the battery does not keep a long charge, so he told me a new laptop is at the top of his list. This particular one has an extremely long battery life, and when you do need a charge, it goes from 0 to 50% in approximately 45 minutes.
*Thanks to Walmart for sponsoring this post