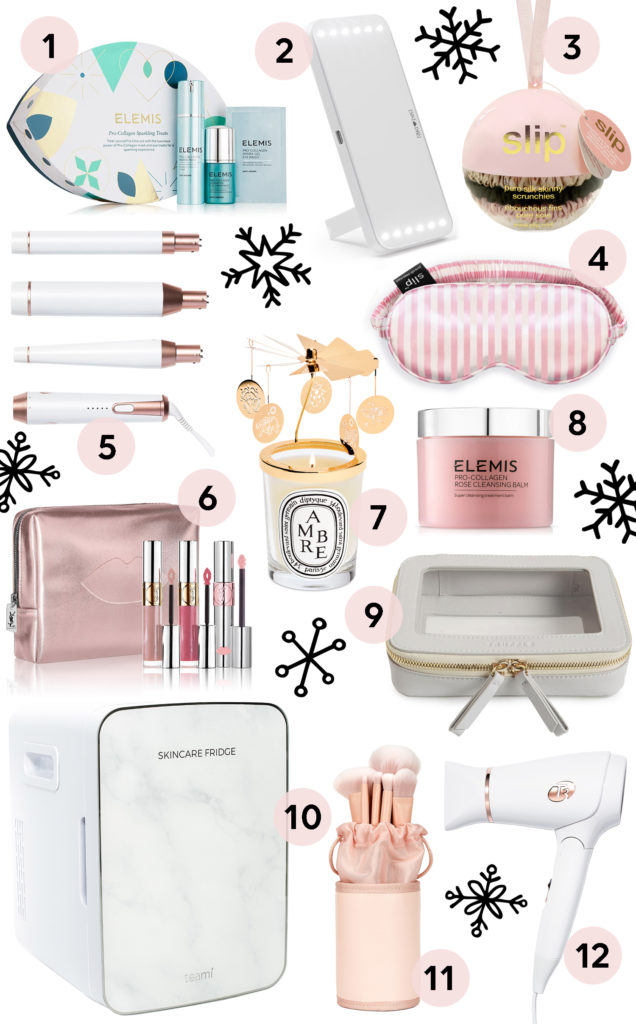 If you're buying for a beauty guru, then odds are she's already heard of the luxury skincare brand ELEMIS. The brand has a cult following – and for good reason! This Pro-Collagen Sparkling Treats gift set is a great value for only $105 – it contains a full size Pro-Collagen Marine Mask (made with algae to smooth and firm skin) and a full size Pro-Collagen Advanced Eye Treatment (to target fine lines and wrinkles around the eye area), and lastly, my personal favorite, the Pro-Collagen Hydra-Gel Eye Masks. These eye masks are the best that I've ever used (seriously, go read some reviews) and I use them before photoshoots and special occasions. They would be perfect if you have a holiday party to get ready for!
This item is a MUST-HAVE for any makeup lover. The RIKI Portable Lighted Mirror is a shatterproof and lighted pocket mirror designed so that you can wear it on your hand and still have at least three fingers free to manipulate your makeup components while you apply your look with your other hand. Rechargeable and ultra-lightweight, this lighted mirror is perfect for travel.
I love this brand, and this is SUCH a good gift for just $25. This cute little ornament features four silk hair ties that are beautiful and won't damage your hair. And they're 100% silk!
Like I said above, I really love this brand! Someone gifted me this silk sleep mask four or five years ago and I STILL use it and consider it one of the best gifts I've ever received! Silk is great because it's super gentle on your eyes and eyelashes (and it also feels really nice). This Silk Sleep Mask would be great for a jet-setter – I always use it on airplanes to block out the light!
This is the creme de la creme of curling wands, and THE ONLY curling wand I've used for AT LEAST the past five years. I swear by it! The Whirl Trio includes three barrels (one-inch straight barrel, 1.25- to .75-inch tapered barrel, and 1.5-inch straight barrel) – all three are incredibly easy to pop on and off to create an array of looks. Side note: for daily use, I normally stick with the one-inch straight barrel, but I really love having options! (P.S. The Whirl Trio is currently marked down by $100 here!)
Ya girl lovessss pink lip colors and no one does pink better than YSL. I brought this lip kit to the mountains with me and my mom has been stealing it every morning to apply her lip color! Our favorite is the "Rush Me Pink" color, but I'd even buy it for the cute pink bag it comes in – it's the perfect size for a travel makeup case.
How neat is this: this carousel attaches to any diptyque candle and turns itself thanks to the heat released by the flame. The gold charms glow in the light and it truly is a magical and cozy sight.
The Rose Cleansing Balm is a must-have item for me this winter. Once you've used it once, you won't be able to live without it! Formulated with five rose extracts from around the world, this cleansing balm melts into a rich cleansing oil to dissolve make-up – you just massage it into your skin with wet fingertips and it turns into a hydrating milk. The delicate rose scent adds to the luxurious feel of the cleansing balm, and it leaves your skin clean but moisturized at the same time.
This is the cosmetic case that all the bloggers are talking about right now! It comes in four different colors (including a super feminine blush pink), is made from durable leather, and is TSA-approved for all you jet-setters out there. A see-through top and base lets you see what your options are – and it's the perfect size for tossing in your handbag for daily use.
The ULTIMATE gift: a mini fridge just for skincare!!!! The marble exterior is super chic, but this mini fridge isn't all about looks (even though it will certainly sit pretty on your bathroom countertop). It's made to keep your skincare products chilled – the best way to ensure that they stay fresh for longer, so you won't have to throw them away before you finish them. When products are cooled, they help de-puff exhausted, irritated skin so your complexion feels more rejuvenated and revitalized than before. This little fridge is perfect for serums, moisturizers, oil, toners, face masks, all makeup, jade rollers, gua sha tools, makeup and skin care applicators, and even nail polish. (Heck, why not throw some snacks in there too for when you get hungry during your nighttime routine.) The thermo-electric fridge is ultra-durable, eco-friendly and uses minimal power for ultimate chill.
Any girl who likes makeup will adore this matte pink brush set. The brushes are pretty to look at and they come in a stand-up brush case that's perfect for storage or travel. These brushes are superior quality, too – each brush is bundled with hundreds of thousands of dense, soft, premium-quality cruelty-free synthetic fibers for superior application, and can be used with all types of makeup, including powder, cream or gel formulas.
Another product I've used for years now: the T3 hair dryer. This one in particular makes a great gift because it's dual voltage (meaning you can use it overseas), folds up easily and has all of the features of a full-sized dryer in an ultralight body. All T3 dryers are designed with advanced airflow technology which emits negative ions and infrared heat for fast, healthy drying.