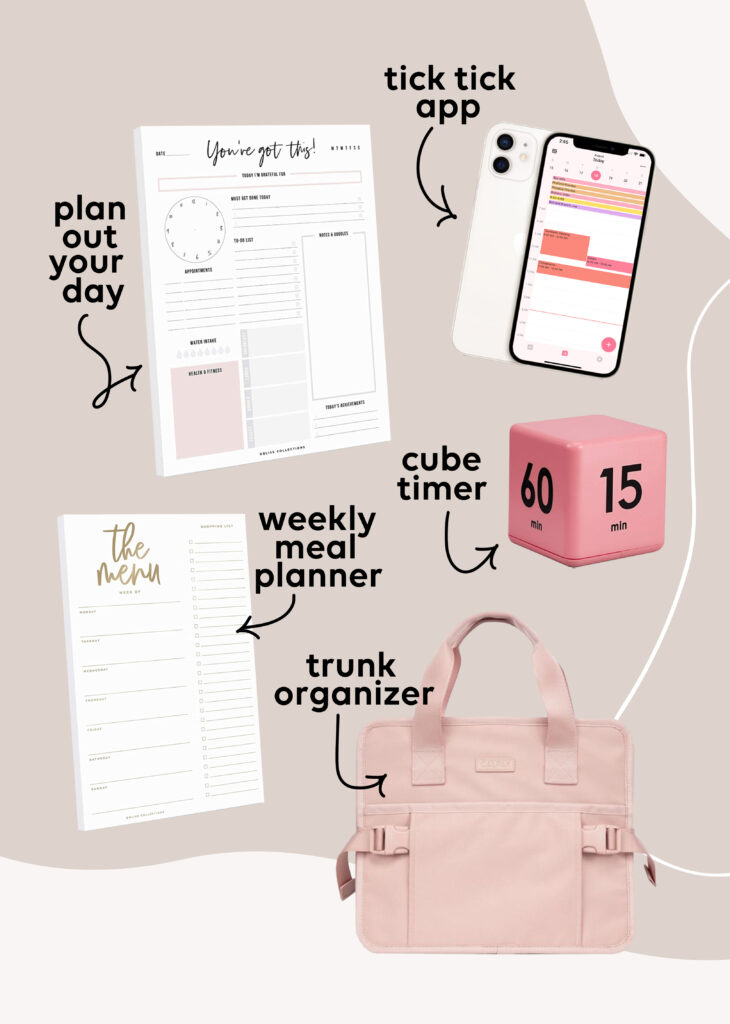 With school starting back next week, a lot of people are trying to get back into their routines, so I thought I'd round up a few of my favorite things that help getting back into our busy day-to-day lives a little easier. Even if you don't have kids going back to school, these items are super helpful with staying organized and being productive!
Planning out your day is a great way to get back into a routine. If you like to actually write down your schedule for the day (like I do), then this notepad is a great option for you! There's just something so motivating about actually writing down my daily tasks and then checking them off throughout the day. I also love that there's a spot for "what I'm grateful for" and a place for tracking my water intake, health and fitness, and meals. This planner helps keep me accountable for all of my personal, mama and professional goals, and I would be lost without it!
Another way to make getting back to school and busy days easier is planning out your meals for the week… that's where this magnetic meal planner comes in handy! Every Sunday, Chris and I like to sit down together and plan out our meals for the week before we place our grocery order. I think meal planning would be something really fun for the whole family to do together, so everyone feels like they had a say-so in the family meals for the week. Plus, it really makes dinner time so much easier throughout the week when everything is already planned out. Oh and there's a spot for your "shopping list" to quickly write down items as you think of them or run out of them.
Chris and I recently discovered this app called "TickTick!" Basically it's a joint to-do list app. You can create multiple to-do lists, share them with others and connect them with your digital calendars. You can even color code the lists and set due dates for each task! We've been competing over who can cross out more to-do's, so it's really helped us be productive and stay on the same page about what needs to get done. This is something else that would be fun for the whole family to take part in… you could have separate lists for the kids and the parents and another list for the whole family. Then maybe whoever checks the most things off during the week gets to pick the movie on Sunday night!   
Part of getting back into a routine is using our time efficiently and these cube timers help you do just that! You simply set the timer by placing the chosen time upward and then when time is up the cube will flash and beep. I like to set it for ten minutes when the house needs a quick tidying up or when I need a break from screen time. I think it would be really useful with kids for homework/study time and for getting into bed quickly at bedtime. I also love that you can quickly set a timer without needing to use your phone and they come in cute colors!
Back to school means back to being on the go! It is so easy for our cars to get messy when we are running around from place to place. From baby items to books to sports equipment to emergency supplies to snacks… there's a lot of things that have to go in our cars as we get back into our routines. Luckily this trunk organizer will hold and organize it all! It has three main compartments for all the big items with interior pockets for the smaller essentials. It's water resistant and it comes in multiple colors, like this pretty pink!