Over the past couple of weeks, I've shared a bunch of easy and healthy dinner recipes over on Instastories. You guys have really been loving them, so I wanted to write them all out in a blog post that you could refer to again and again. Right now we are living in a crazy time… most of us are quarantined at home, and grocery stores are running low on essential items and fresh produce. These meals are super simple and have minimal ingredients, so you should *hopefully* be able to find everything you need to make them. And did I mention, they're delicious too?!
P.S. Sorry I don't have the best photos for these – most of these I just grabbed from my Instastories. I plan on taking better photos whenever we make these meals again!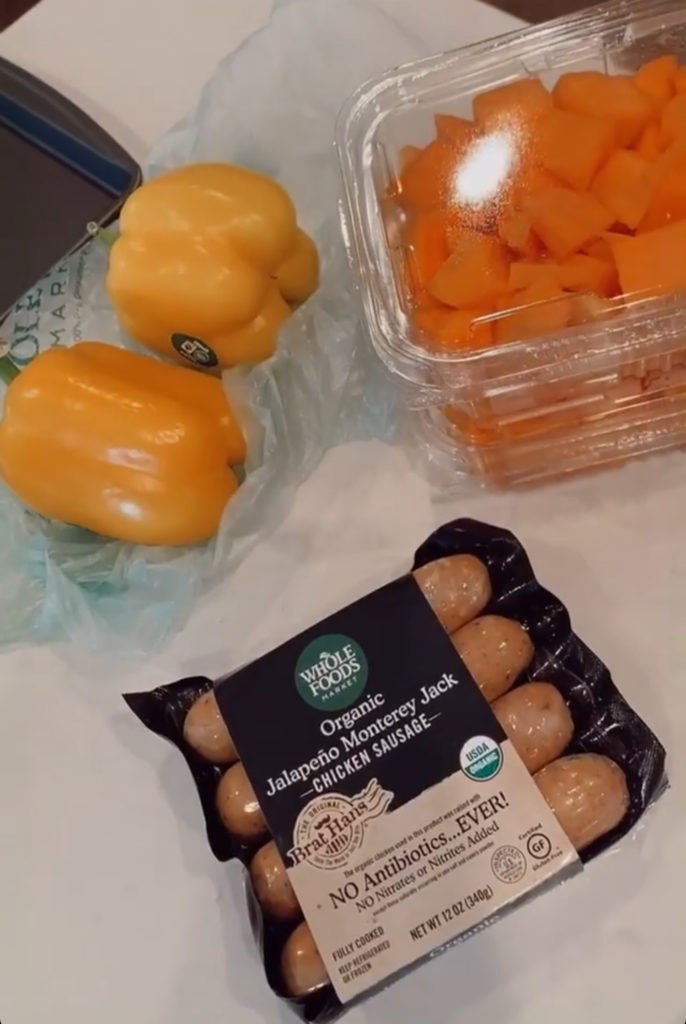 This first one is an easy meal that we make once a week. You can play around with this recipe and sub in any veggies for the bell peppers, or use butternut squash in place of the sweet potatoes. This recipe makes enough for four people and tastes amazing left over.
Sausage and Peppers
Ingredients
1 package of sausage links (we love this organic chicken sausage from Whole Foods)
2 bell peppers
2 medium sweet potatoes
Olive oil & your favorite seasonings
Directions
Preheat oven to 425 degrees
Cut up sweet potatoes into bite-sized cubes and toss with olive oil and your favorite seasonings (we use chili powder, turmeric and a little black pepper). I usually eyeball this and just make sure that all the pieces of sweet potato are lightly coated in olive oil and seasoning. Bake the sweet potatoes for 20 minutes.
While the sweet potatoes are cooking, slice the sausage and bell peppers and toss in 2 TBSP olive oil.
When the 20 minutes are up, flip the sweet potatoes and add the sausage and bell peppers to the same pan. Put back in the oven for another 20 minutes.
Enjoy!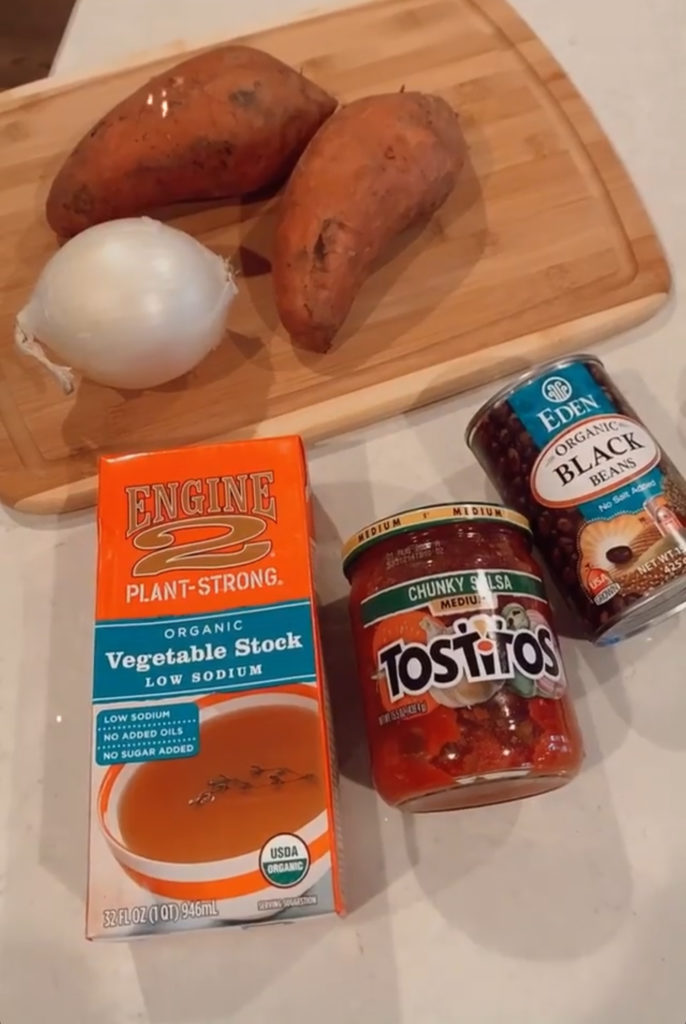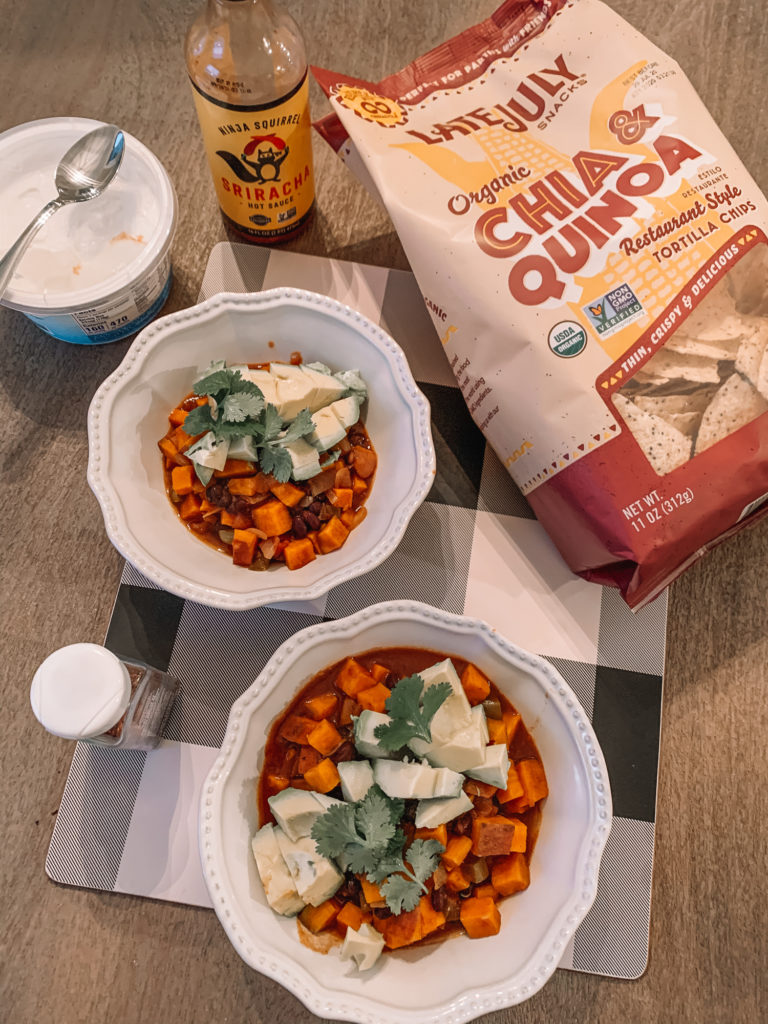 This next one is super simple and absolutely delicious. The other day we were down to almost zero groceries, and I still managed to find these ingredients in the back of our pantry – so the odds are, you might already have everything to make this! In my opinion, it tastes even better the next day after the flavors have time to marinate a little bit more.
Sweet Potato Chili
Ingredients
1 white onion, diced
2 large sweet potatoes, cubed
1 jar of chunky salsa
1 can of black beans, slightly drained
2 cups vegetable stock
1 TBSP olive oil & your favorite seasonings
Optional toppings: cilantro, avocado, tortilla chips
Directions
In a large pot over medium heat, cook onions in olive oil until translucent (about five minutes)
Add sweet potato and any spices you want and cook for three minutes (I add chili powder, cumin, cinnamon, salt and pepper)
Add the entire jar of salsa and two cups of vegetable stock to the pot and bring to a boil
Once boiling, lower heat to medium-low and add black beans
Cover and simmer for 20 to 30 minutes or until the sweet potatoes are tender
Enjoy! We top ours with cilantro and use tortilla chips as a spoon. 🙂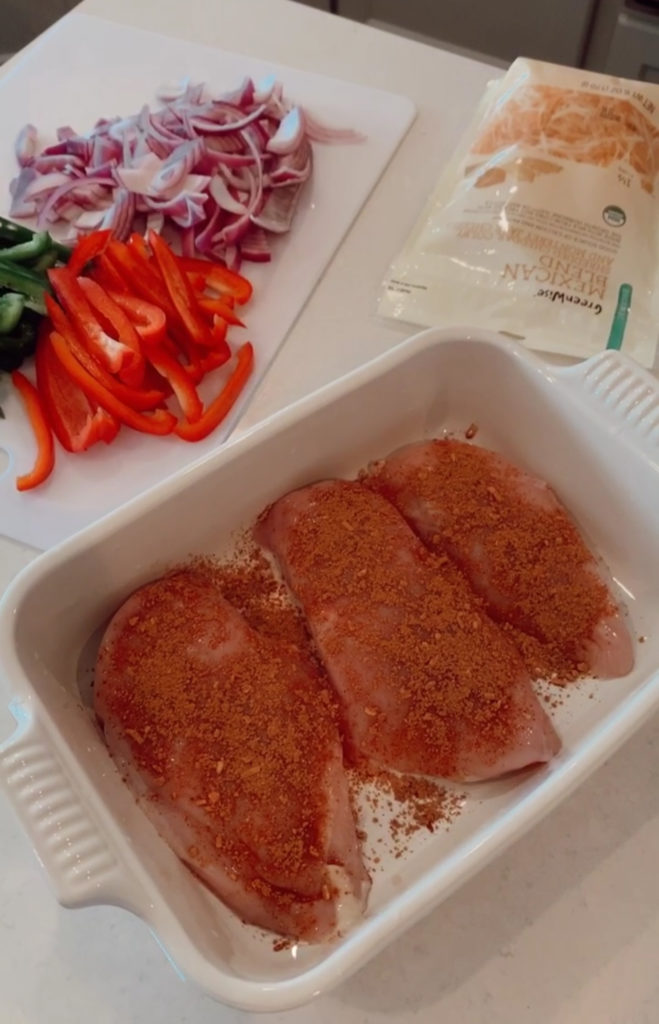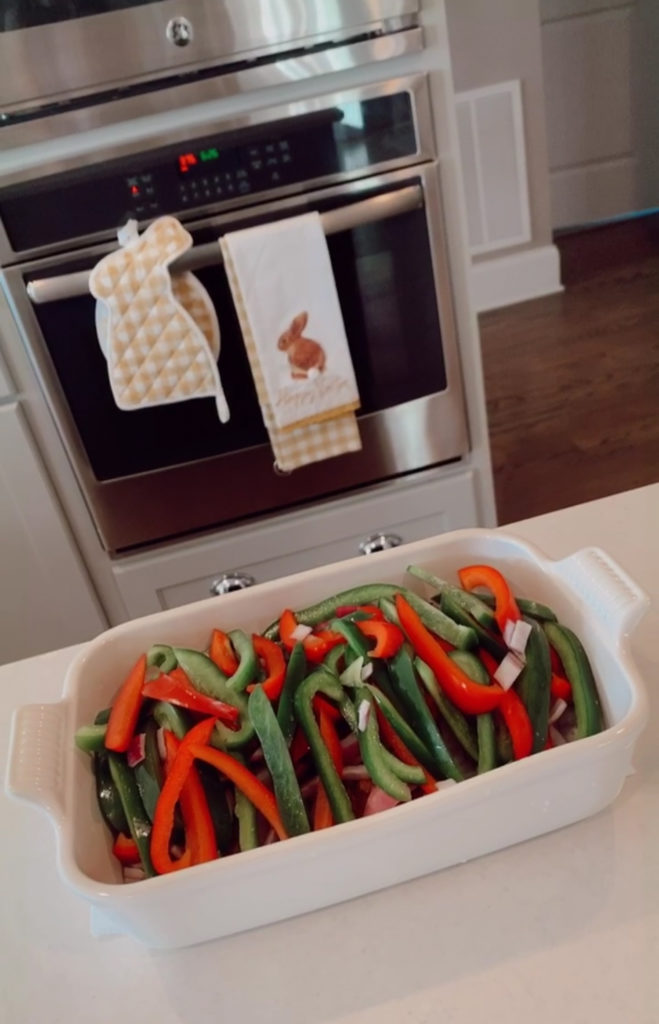 We loooove Mexican food in our house, and this Chicken Fajita Bake gets extra points for being super simple and we only have to clean one dish afterward! You can have this with rice or a side dish, but we really like it just plain.
Chicken Fajita Bake
Ingredients
1 lb of boneless, skinless chicken breasts
1/2 packet of taco seasoning
1 red onion, sliced
2 bell peppers, sliced
1/2 cup shredded Mexican cheese
3 TBSP olive oil
Directions
Preheat oven to 375 degrees
Put the chicken breasts in a single layer at the bottom of a baking dish
Sprinkle the taco seasoning over the chicken breasts
Layer the onions and bell peppers on top of the chicken
Drizzle olive oil over the onions and peppers
Sprinkle cheese on top (more or less according to taste)
Bake for 45 minutes or until chicken is cooked through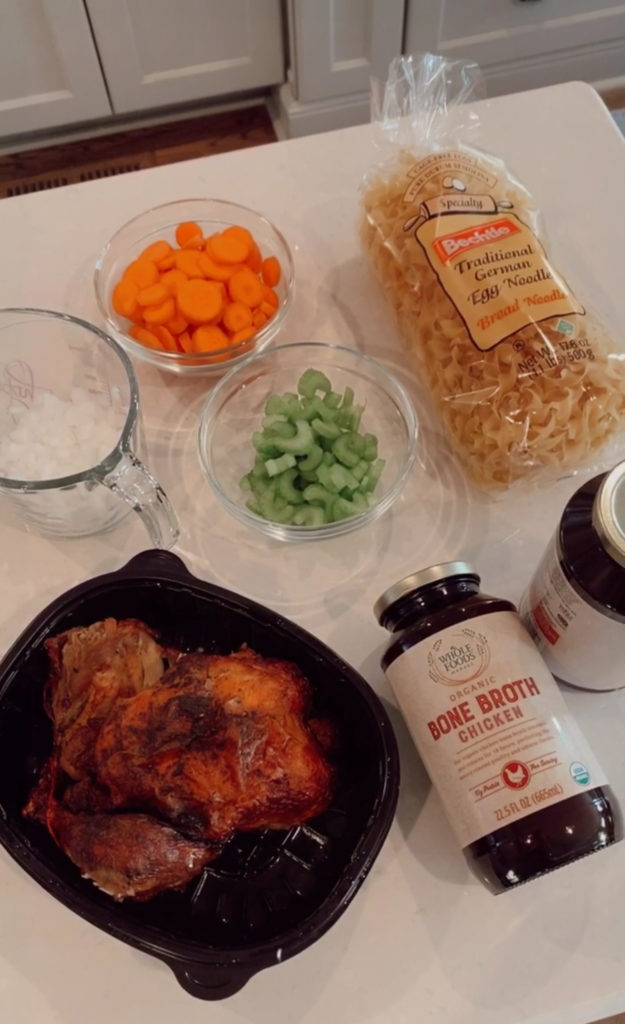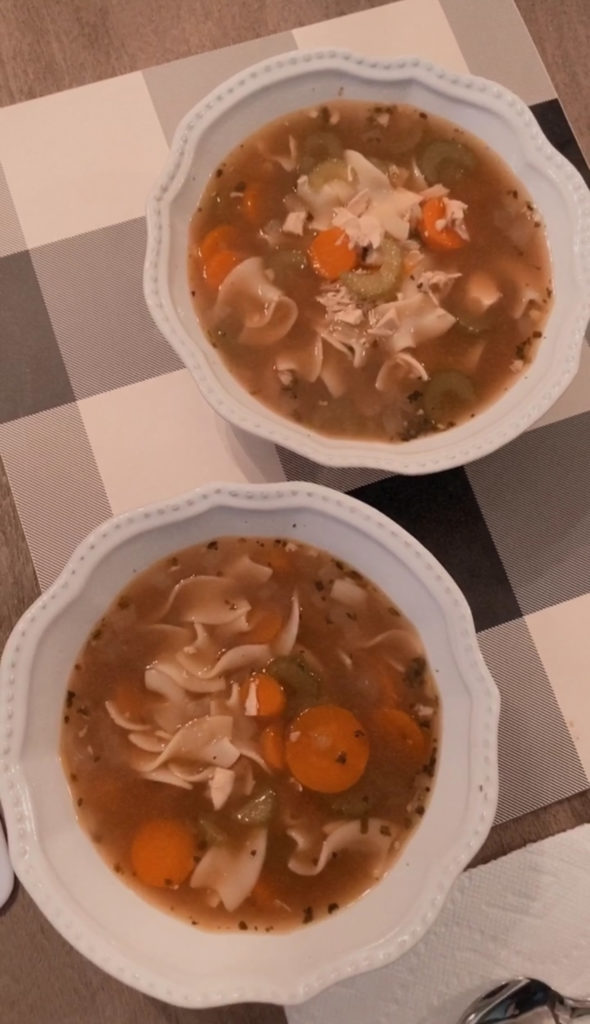 If you need a comforting recipe, then this one is for you. Nothing warms the soul like a big bowl of chicken noodle soup. I love making it from scratch because you can control the ingredients you put in. The canned stuff is FILLED with sodium and preservatives!
Chicken Noodle Soup
Ingredients
1 cup carrots, diced
1/2 cup white onion, chopped
1/2 cup celery, diced
1.5 cups uncooked egg noodles
70 oz any kind of broth (we use bone broth)
1/2 lb cooked chicken, shredded
Butter or olive oil & your favorite seasonings
Directions
Heat a little bit of butter or olive oil in a large pot over medium heat. Add the carrots, onion and celery and cook for 5 minutes.
After 5 minutes, add broth, shredded chicken and uncooked noodles and season it with your favorite seasonings (we use dried oregano, basil, salt and pepper).
Bring the mixture to a boil, then reduce to a simmer for 20 minutes.
Enjoy!
If you want to see me actually making these recipes, you can head to my Instagram highlights and click on the "Easy Dinners" highlight. 🙂 And stay tuned to Instagram because I'll be sharing more easy recipes this week!