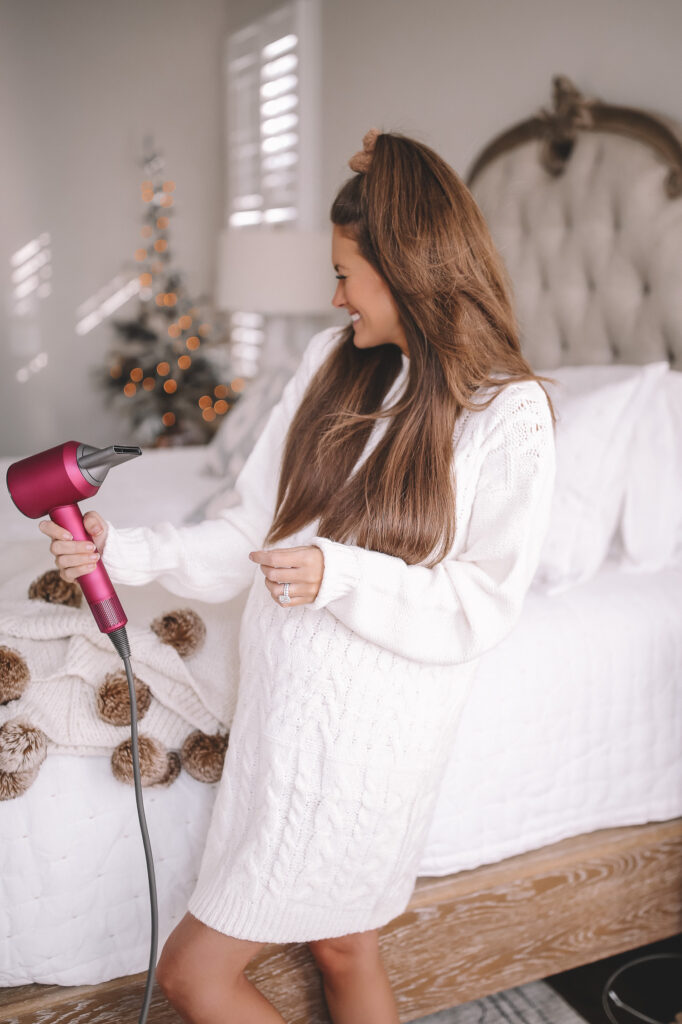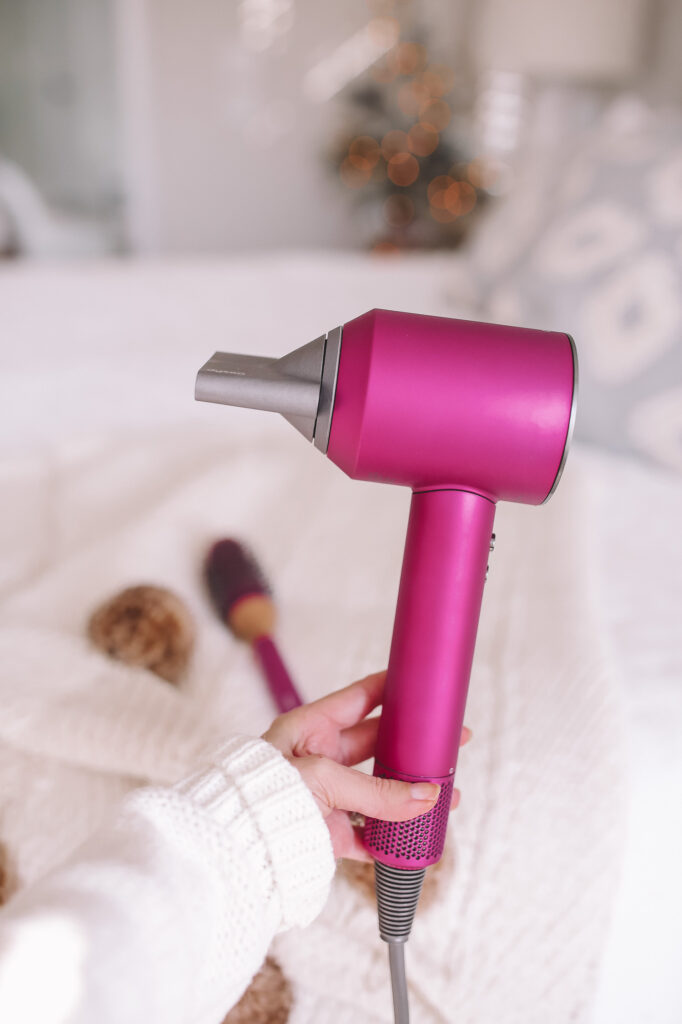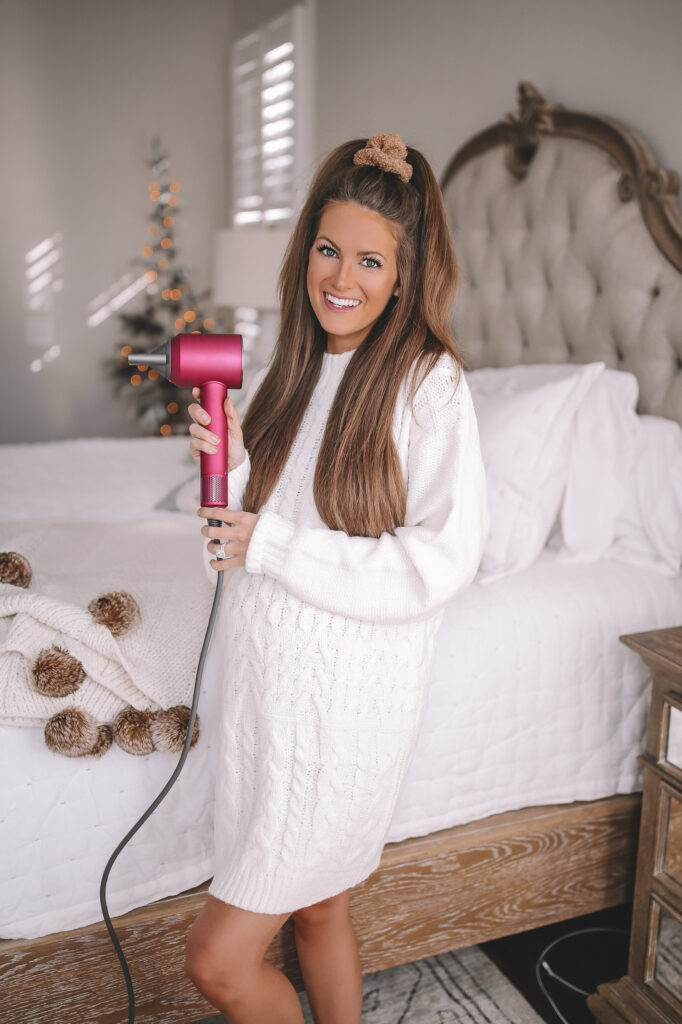 Okay I'm going to be honest with you guys, I have been hearing about the Dyson Supersonic hair dryer for a while now and was pretty skeptical right from the start. For one, it just looks weird, amiright? Kind of like a space ship or something! Logically, I couldn't figure out how it could work or be any better than a regular hair dryer. And secondly, I did try out some cheaper alternatives (the ones with the brush attached) and they really didn't work for me. Well, my curiosity got the best of me I guess… because I decided to go for the Dyson after reading yet another amazing review online. I figured I could always send it back if I didn't like it, right?
Mine came in a few weeks ago from Nordstrom and the first thing I noticed was that this device is POWERFUL. I usually start blow drying my hair by turning my head upside down and running the dryer over it a few times to get some of the moisture out. This honestly felt like a head massage!
Next, I flipped my hair over and did my typical routine: clip up the top part of my hair while I blow dry the underneath layers. Using the "styling" attachment, I used a round brush to blow dry my hair like normal. I noticed a few things during this phase: 1. my hair was drying much faster than normal, and 2. my arm wasn't getting tired. (Sounds weird but usually my arm gets super tired from holding a heavy dryer for so long!)
Last step: blow drying the finishing pieces at the top and around my face. For this last step, I noticed my hair looked smoother and straighter than normal. Usually, no matter what, I have a few natural waves that my blow dryer can't get out (especially near my scalp), and I end up having to smooth them out with the curling wand. All of the above photos were taken just after I finished blow drying my hair, and for naturally curly/frizzy hair, I think my hair looks incredibly smooth and frizz-free!
SO! Here are my official thoughts on the Dyson:
Dyson Supersonic Hair Dryer Pros
It's powerful (way more powerful than I was expecting)
It cut down on my drying time (it took me 20 minutes rather than my normal 30 minutes. That might not seem like a lot but for my hair it's a miracle!)
My hair looked smoother and straighter, especially near my scalp. I would even consider wearing my hair straight after blow drying, rather than going straight for my curling wand.
It's really lightweight!
Dyson Supersonic Hair Dryer Cons
It's expensive (for that reason, it makes a great addition to your Christmas wish list!)
It's loud. To me it sounded a little bit like a vacuum cleaner. Thankfully, it dries your hair so fast that you don't have to listen to it for long!
I've used the Dyson quite a few times since my initial "review," and overall, I'm incredibly happy with my purchase and will continue using it! Especially with a newborn on the way, I think time management will become extra important, and the fact that this dryer helps me cut down on drying time will be a lifesaver. You can check out my exact Dyson hair dryer set here, or all of Dyson's products on Nordstrom's website here.
Have you tried the Dyson hair dryer before? If so, definitely curious to hear your thoughts!
*Thanks to Nordstrom for sponsoring this post