I've been getting a lot of questions about my self-tanning routine, so I thought I'd go through my favorite body care products today. We pay so much attention to the skin on our faces, but often times overlook our body! I want the skin on my body to look moisturized and smooth (in addition to being tan, haha). Here are my favorite body care products that I use daily: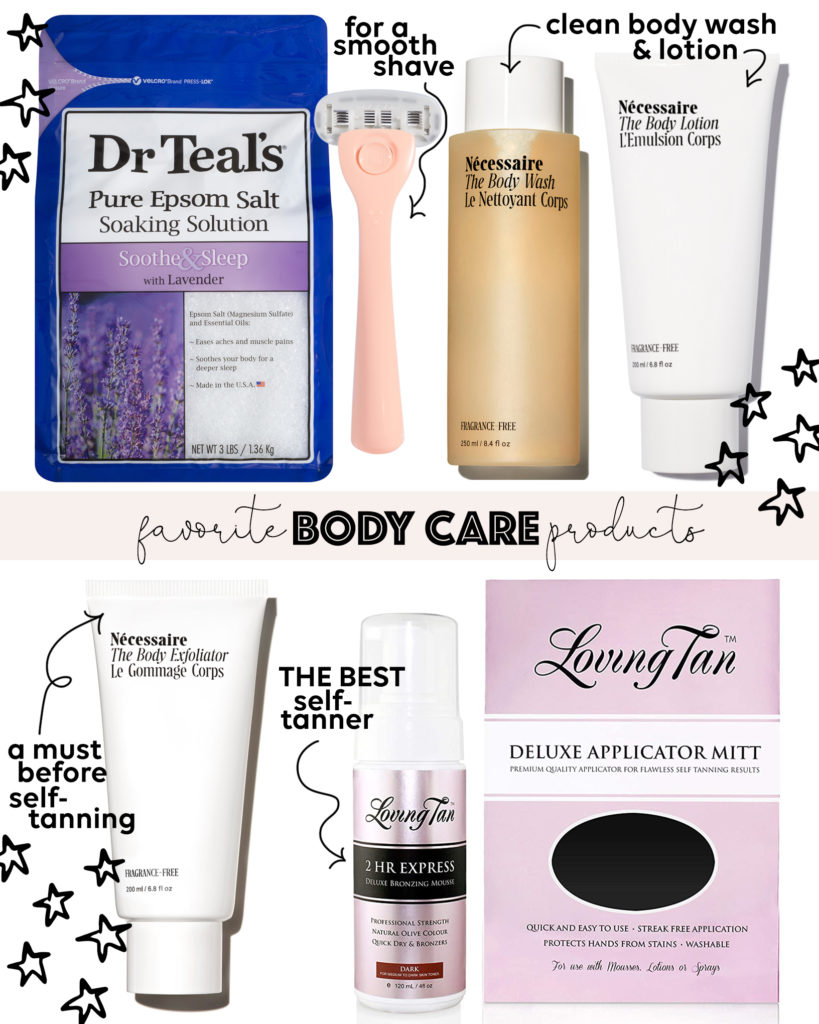 My Favorite Body Care Products
Dr. Teal's epsom salts // I take a bath with epsom salts once or twice a week. Epsom salts are amazing for sore muscles, and your body absorbs magnesium through your skin (which contributes to heart and bone health and promotes better sleep!). The best part of epsom salts is that they make my skin feel really soft afterward.
Billie razor // I use the Billie razor to shave my legs and armpits – it really is the best razor out there!
Nécessaire body wash // I love all the Nécessaire products because they're made with very simple ingredients and are considered "clean." (You already know this, but your skin is your largest organ and absorbs anything you put on it!) I use this body wash in both the shower and tub, and I also use it as a replacement for shaving cream when I shave.
Nécessaire body lotion // This is the bestttt body lotion, it moisturizes really well and doesn't have a scent or greasy feeling – at ALL. It keeps selling out at Nordstrom, so when I find it available, I stock up!
Nécessaire body exfoliator // This product is a MUST before self-tanning. I use it with a washcloth to exfoliate my entire body (except for face) to slough off all those dead skin cells. It's also great for scrubbing away leftover self-tanner if it's been a few weeks.
Loving Tan 2-Hour Express & applicator mitt // THE BEST SELF-TANNER. I apply it once per week and the tan lasts all week. Loving Tan makes a few different products, but I prefer the 2-hour Express because you put it on, wait a couple hours and then rinse it off. Your tan continues to develop, but you don't smell like anything (which is amazing, since most self-tanners are stinky!). You definitely have to use the applicator mitt to apply the product so that it goes on evenly, but right now Ulta is offering a free mitt with purchase of the Loving Tan 2-Hour Express (I've never seen them do that before!).
My Exact Self-Tanning Routine
On days that I self-tan, here's the order that I do things in:
Hop in the shower, exfoliate first then shave
Get out of the shower, dry off with towel, apply Loving Tan 2-Hour Express with a mitt
After five minutes, get dressed in loose clothing (I will usually wear a robe or soft lounge clothes)
Wait two hours, then rinse off in the shower (no soap)
Dry off with towel, apply body lotion
If you're looking for a video tutorial of how I apply the self-tanner, I filmed one on Instagram! Just go to my Instagram profile, and find the "Tan Tutorial" highlight. 🙂
Let me know if you have any questions! xoxo