Kennedy has officially started school, so that means she has her snack in the classroom on days that she goes to school! Although the occasional goldfish doesn't hurt, I try to avoid processed snacks as much as possible. I wanted to start making her school snacks with real, nutritious ingredients but I also wanted the recipes to be as simple and easy as possible. Here are four recipes that I found that make perfect preschool snacks!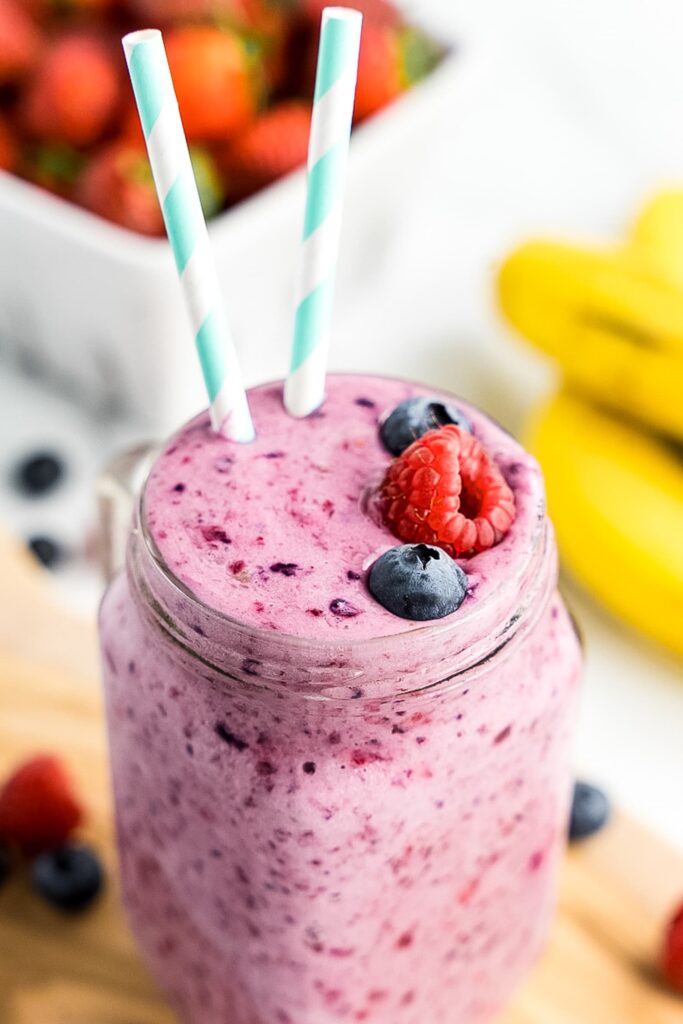 Kennedy loves smoothies! I really like this recipe because the yogurt not only makes it smooth and creamy but it also adds some extra protein. And you probably already have all the ingredients on hand! I put her smoothies in this bottle and use this ice pack so they stay cold while she is at school.
Ingredients
1 banana
3 cups frozen mixed berries
½ cup yogurt
1 ¼ cup milk
Instructions
Add all ingredients to the blender. Blend until smooth.
Divide between two cups.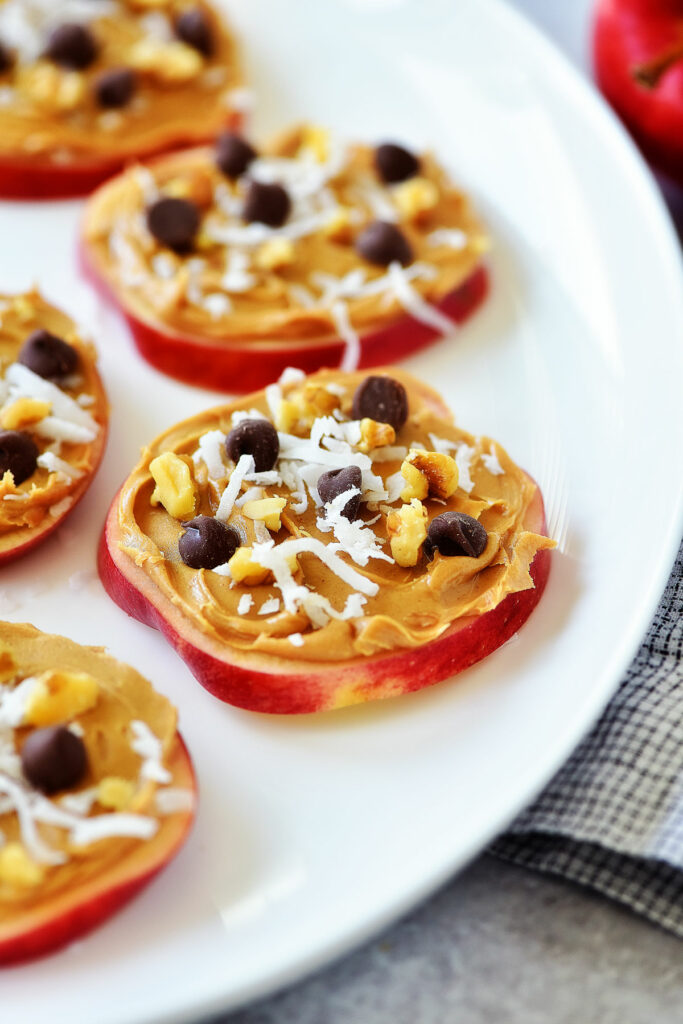 These apple slice "cookies" are so cute, so easy and so yummy! This apple corer makes it easy to core the apples, then you can just slice them and add your toppings. Kennedy's school is nut-free, so we make these by swapping the peanut butter with sunflower seed butter!
Ingredients
2 medium red delicious apples
1/2 cup peanut butter or seed butter
1/4 cup chopped walnuts
1/4 cup shredded sweetened coconut
1/2 cup chocolate chips
Instructions
Core apple
Slice each apple into thin slices.
Spread peanut butter or seed butter evenly over apple slices.
Top with a sprinkling each of the chopped walnuts, coconut and chocolate chips.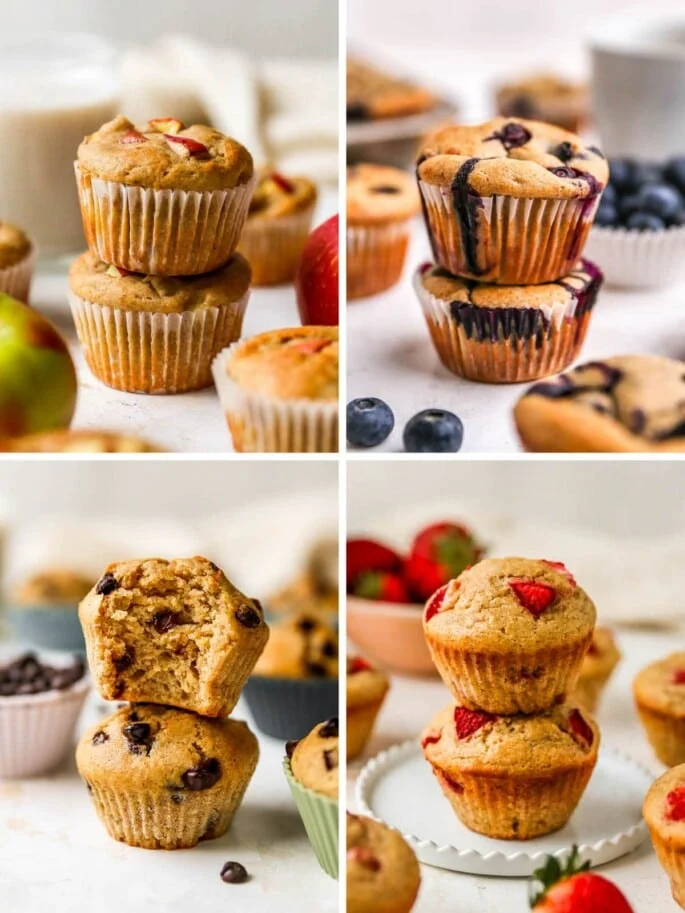 I love how the ingredients in this muffin recipe are so simple and how she subs processed sugar with maple syrup! Kenny and I love the blueberry version. You can also bake them in a mini muffin pan to make them a little easier for little hands to handle!
Ingredients
Muffins
1 ¾ cups whole wheat pastry flour
teaspoon baking powder
¼ teaspoon baking soda
½ teaspoon sea salt
½ teaspoon cinnamon
2 large eggs, at room temperature
1 cup plain full fat Greek yogurt, at room temperature
¼ cup coconut oil, melted
½ cup maple syrup, at room temperature
 ¼ cup unsweetened almond milk, at room temperature
1 teaspoon vanilla extract
Mix-Ins (Choose one)
1 cup chopped apples, plus more for topping
1 cup chocolate chips, plus more for topping
1 cup chopped strawberries, patted dry, plus more for topping
1 cup blueberries, plus more for topping
Instructions
Preheat oven to 400°F. Place 12 paper or silicone liners in your muffin tin.
In a large bowl, combine flour, baking powder, baking soda, salt and cinnamon.
In a medium mixing bowl, whisk together eggs, Greek yogurt, oil, maple syrup, almond milk and vanilla extract.
Pour the liquid mixture into the bowl with the dry ingredients and stir until mixture is just combined. Don't over-mix! It's okay if there are a few streaks of flour left.
Fold in mix-ins of choice, then evenly divide the batter into the prepared muffin tins. If you want to make a variety of flavors, divide the mixture evenly and add the appropriate amount of mix-ins. To make all four varieties, divide the mixture into quarters and add ¼ cup of each mix-in to each quarter of the batter.
Bake for 16-18 minutes or until a toothpick inserted in the center of the muffin comes out clean.
Let muffins cool in the tin for a few minutes, then remove so they don't continue to cook and let cool completely on a wire rack.
Store at room temperature for 3-4 days or in the refrigerator for up to 1 week in an airtight container. You can also freeze for up to 3 months in a freezer-safe container.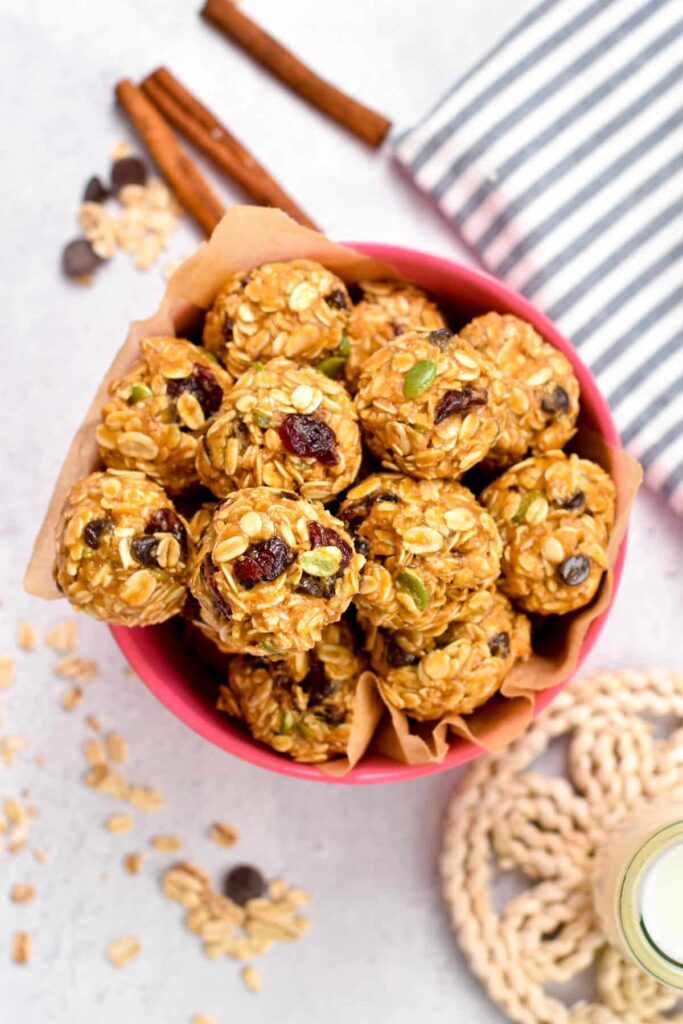 I love how these energy bites are made with sunflower seed butter instead of peanut butter because so many schools are nut-free zones (like Kennedy's!). I also like how you can mix-in a variety of ingredients based on your child's preferences. They also fit easily in snack sized containers, like these.
Ingredients
2 ½ cups Old-Fashioned Oats
3 tablespoons Flaxseed Meal
 ½ cup Maple Syrup
1 teaspoon Vanilla Extract
1 cup Sunflower Seed Butter
¼ teaspoon Sea Salt
Mix-Ins
2 tablespoons Pumpkin Seeds – or any seeds 
2 tablespoons Dried Cranberries – or any dried fruits
2 tablespoons Dark Chocolate Chips – or coconut flakes
Instructions
In a large bowl, add oats, ground flaxseeds, and sea salt. Stir to combine.
Stir in sunflower seed butter, maple syrup, and vanilla extract and stir very well to bring all the ingredients together into a sticky dough.
Fold in any mix-in you love – I used dark chocolate chips, dried cranberries, and pumpkin seeds. Stir to incorporate. The batter should be thick, sticky, and easy to shape into balls. If too dry, you can add 1-2 tablespoons of water.
Refrigerate the batter for 10 minutes. It makes it easier to roll.
Slightly oil your hands with coconut oil, scoop out a tablespoon of dough, and roll into a ball.
Place the oatmeal balls on a plate covered with parchment paper and repeat the rolling process until no more batter is left.
Place the nut-free oatmeal balls in the fridge to firm up.
Store for up to 1 week in a sealed container in the fridge or freeze for later and thaw 1 hour at room temperature before serving.
If you have any easy snack ideas… I'd love to hear them!