one // two // three // four // five // six // seven // eight // nine // ten // eleven // twelve // thirteen
I know Easter is still a ways away, but I wanted to go ahead and share some Easter basket stuffer ideas with you guys! I have already put together Kennedy's Easter basket (because I'm so excited), so I took note of all the cute things I found while I was shopping around to put together this post. If you're wondering what's in her actual basket, I bought these nesting wooden bunnies from Amazon as well as this soft lamb – and I think she will love both! She really enjoys opening things and then trying to put them back together, so I think she's going to be particularly delighted with the wooden bunnies.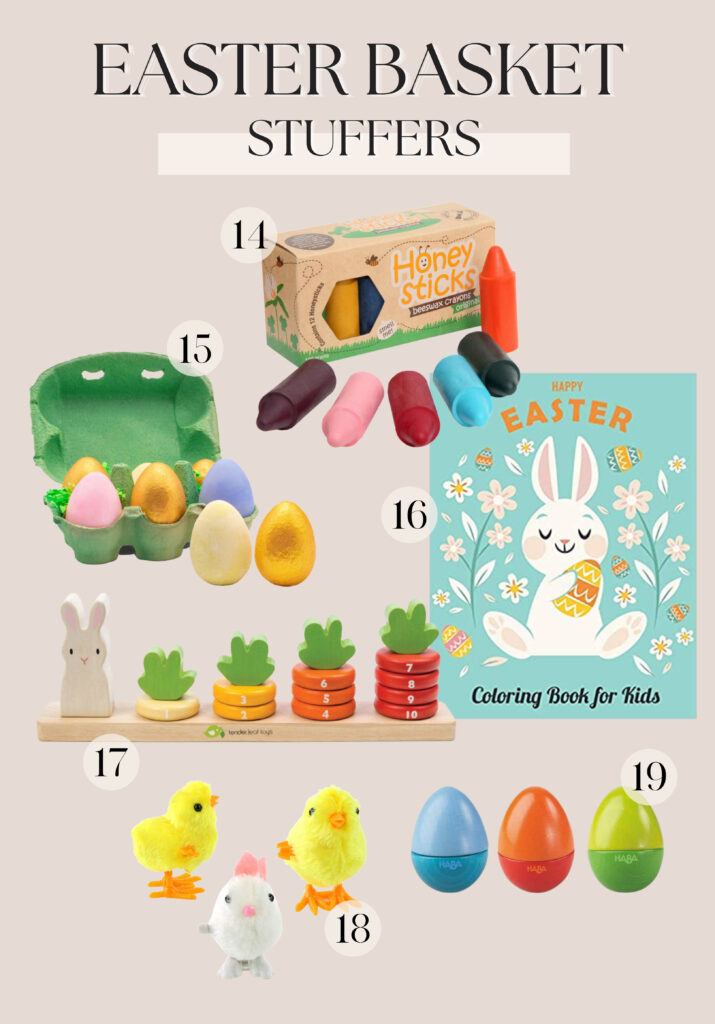 fourteen // fifteen // sixteen // seventeen // eighteen // nineteen
If you're in need of a few gender-neutral ideas, I love the items above! Kennedy has these nontoxic crayons and I don't have to worry if she puts them in her mouth since they're made of beeswax. This wooden counting toy is oh-so-cute, and every child needs a few of these wind-up animals in their basket. (I really love that little chick!) Also, do you see the eggs in that green egg carton? They're not eggs at all, but actually SIDEWALK CHALK! I can't get over the creativity of kids' toys. I wish I was a kid so I could play with them myself!
🙂 xoxo