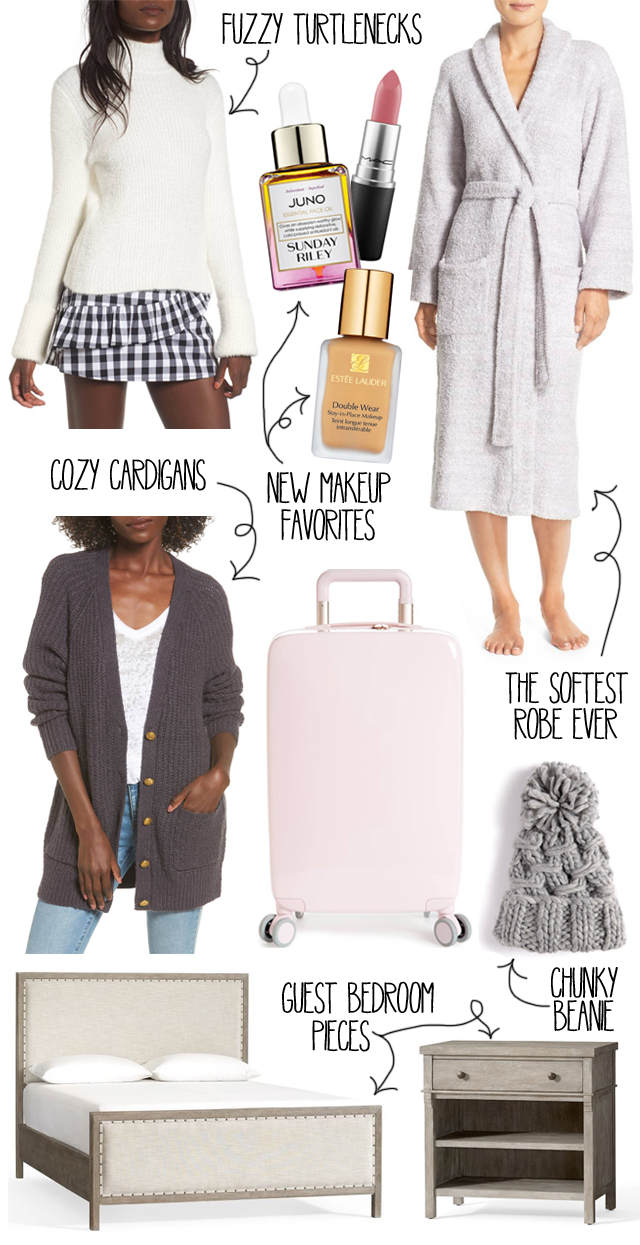 Hey guys! I thought it would be fun to share some of my current favorite products with you… ranging from makeup to home decor and even a travel item. Let's get started!
1. Fuzzy turtlenecks
I am having a HUGE thing for turtlenecks right now. I don't know what it is about them but they just scream "sexy" to me (yes, sexy! even though they cover up so much skin… weird right?). Anyway, I recently wore
this one
in
this instagram post
and you guys really loved it! I just ordered
this one
(shown above) too because it looks sooo cozy!
2. Makeup favorites
I've tried out a few new makeup products lately that are worth sharing with you guys. The first is
this facial oil
from the brand Sunday Riley… I have used a couple of products from this line and always loved them, so I was really excited to try the oil. I took it with me on my trips to Vermont and Portland and was hoping it would help my skin stay moisturized even in a dry, cold climate… and it did! I woke up each morning with GLOWING skin – usually in cold climates I will wake up with dry, flaky skin! So it's safe to say I'm obsessed with this stuff. The next makeup item is a new lipstick color (you've probably seen me wear it in a couple of recent blog posts) –
MAC lipstick in the color "mehr"
. If you're looking for a new fall lip color that's a pink-y burgundy but not too overpowering, give this one a try. It's the PERFECT fall shade but it's not too dark or vampy. Lastly, I mentioned this in a blog post last week but I've really been loving
this foundation
– it goes on so smoothly, covers imperfections and stays put all day. I'm hooked.
3. Barefoot Dreams Robe
The next thing I'm loving is this
Barefoot Dreams robe
– I bought it during the Nordstrom Anniversary Sale because it was really marked down (I also bought a Barefoot Dreams blanket!). Barefoot Dreams is known for having the hands down SOFTEST products on the market, and you'll believe it when you feel it for yourself. Anyway, I put on this robe each morning to make breakfast and take Winnie out… and it's what I look forward to most about getting ready for bed at night! I'm wearing it in
this blog post
.
4. Cozy Cardigans
In addition to turtlenecks, I've also been on a cardigan kick. I just ordered
this grandpa cardigan
and can't wait to get it in!
5. Carry On Suitcase
I have been meaning to share this for a few months now. I ordered this
Raden carry-on suitcase
in the spring (they are always backordered so if you want it you just have to wait for it!) and I've now used it on three or four trips. It's spacious inside and easy to roll, but it's #1 feature is that it has a
built-in cell phone charger.
Not even kidding, y'all! My phone is always losing battery, so it's so nice to have this suitcase at the airport, I am constantly plugging it in while I'm walking from one terminal to the next or waiting to board my flight. You can also download an app that will tell you the GPS location of the suitcase, how much it weighs, and how much charge you have left in the battery.
6. Chunky Knit Beanies
If you follow me on Instagram then you already know about my obsession with huge, chunky cable-knit beanies. I recently discovered this
chunky cable knit beanie
on Forever21's website – it looks EXACTLY like my
ASOS beanie
from last year (that sold out forever ago) but it's way cheaper. Snag it while you can!
7. Guest Bedroom Furniture
We have a bunch of family coming in town for Thanksgiving, so it was essential that we have enough beds for everyone! My old bed is being used in one guest bedroom, and we just ordered
this bed
and
bedside table
for our second guest bedroom. I talked to Pottery Barn on the phone and this bed will arrive by Thanksgiving if anyone else is in a bind! 🙂 Anyway, I'm obsessed with the bed haha – click through some of the pictures on their site, I love the comforters and pillows and how they decorated it!
I hope everyone is having a great Wednesday, tell me something you're loving in the comments! I'd love to hear 🙂
xoxo
SHOP THE POST:

JavaScript is currently disabled in this browser. Reactivate it to view this content.