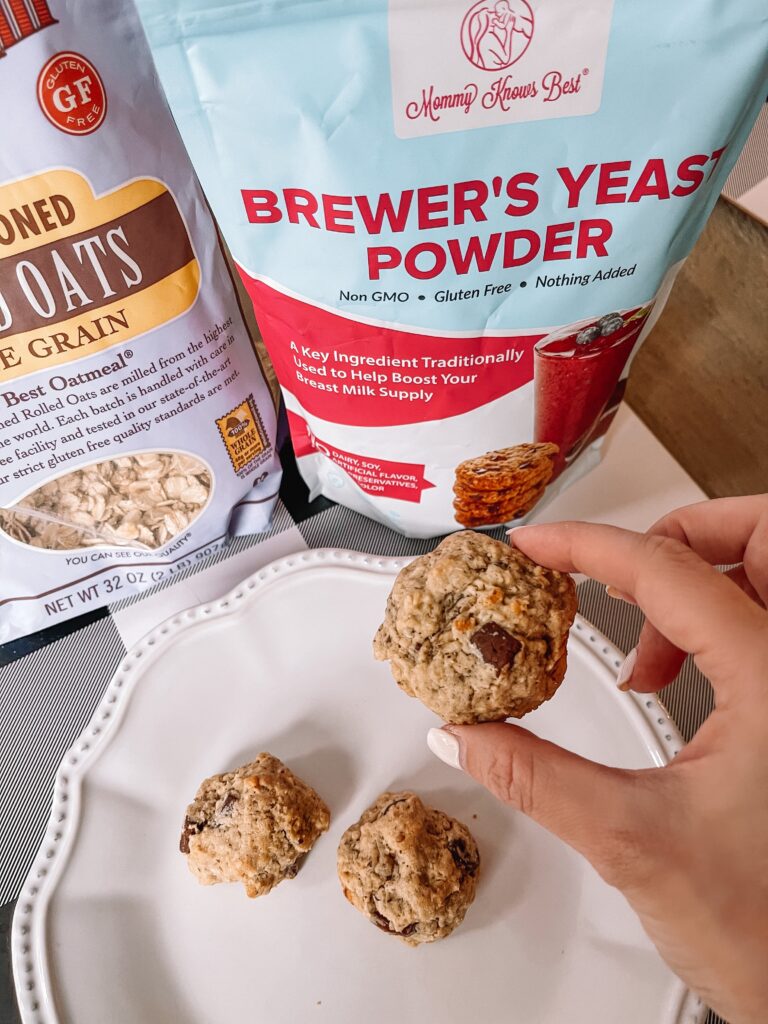 Soon after Kennedy was born, my mom came to stay with us for a week to help us get adjusted as new working parents. We LOVED having her here! She was such a huge help as Chris and I started back to work and seeing her with Kenny was the sweetest thing on earth! While my mom was here, she made a batch of lactation cookies to help my milk come in… and they were DELICIOUS!!! You guys seemed to love them too and have been asking me for the recipe ever since then! So I wanted to put the recipe on the blog for you all to keep coming back to whenever you want to bake them. These oatmeal cookies are easy to make and they are filled with all sorts of goodness! They are called "lactation cookies" because they help new moms boost their milk supply, but they are a great snack for the whole family (in fact, I think my husband might like them even more than I do!!). Without further ado here is the recipe for CarCar's famous lactation cookies!!
Lactation Cookies
Ingredients:
3 tablespoons flax seed meal
1/3 cup water
1 cup butter, room temperature
1 cup light brown sugar
1/2 cup granulated sugar
3 egg yolks
2 teaspoons vanilla extract
1 teaspoon baking soda
1 teaspoon kosher salt
1/4 cup Brewer's Yeast
2 cups all purpose flour
2 1/2 cups old fashioned oats
1 1/2 cups chocolate chips
1/2 cup chopped walnuts
1/2 cup unsweetened coconut flakes
3/4 cup raisin
Directions:
Preheat oven to 350F.
Line a baking sheet with parchment paper.
Mix flax seed meal with water in a small bowl and let stand for 5 minutes. Mixture will get thick and gelatinous.
In the bowl of your stand mixer fitted with the paddle attachment, mix the butter, brown sugar, and granulated sugar for 2 minutes on medium speed. Add the flax mixture, egg yolks, vanilla, baking soda, salt, and yeast. Mix until combined and smooth, scrapping the sides of the bowl as necessary.
Turn the mixer to low and add in the flour, mixing until just incorporated. With mixer still on low add in the oats until just combined.
Stir in the chocolate chips, walnuts, coconut, and raisins.
Using a medium (2 tablespoon) size cookie scoop, place on the prepared cookie sheet 2 inches apart.
Bake for 9- 10 minutes, or until the edges are golden.
Transfer to a wire rack to cool.
And that's it! If you're not breastfeeding, you can leave out the brewer's yeast and flaxseed meal (although I have to say, I don't taste them at ALL!), those are the two ingredients that really help with your milk supply! They basically just taste like really yummy oatmeal cookies!