top row: Jack Rogers Lauren sandal // Jack Rogers Palm Beach sandal
bottom row: Jack Rogers Adair Sandal // Jack Rogers Layne wedge
This was a view of the back of the ship – we liked laying out here best! This pool was a little more private and the view of the ocean was fantastic.
I packed this off-the-shoulder swimsuit because I thought it would fit with the "nautical" vibe!
similar bathing suit top // jean shorts
One of the best parts about being on the cruise was getting to soak up the sun and READ! I read two books on the cruise, I hope to share them with you soon 🙂
Jack Rogers Palm Beach sandal // panama hat
I wore this one morning on the cruise ship before we docked in Cabo. My blue and white top is less than $50 and comes in a few different colors. And these Jack Rogers Layne wedges seriously go with every outfit!
one shoulder top // white pants // embroidered handbag // Jack Rogers Layne wedge c/o
You may have already noticed, but I'm really obsessed with scallops lately. I love this bathing suit from Everything but Water!
I snapped a few photos of the horses from our horseback riding excursion. We rode the horses through the desert and on the beach – it was very exciting (although somewhat scary!).
My friend and I had one morning to explore Cabo on our own. We had a blast walking around and looking at the gorgeous buildings. We loved all of the bright colored walls everywhere!
This is a scene from The Office, my favorite restaurant in Cabo San Lucas.
Beautiful boats in Cabo!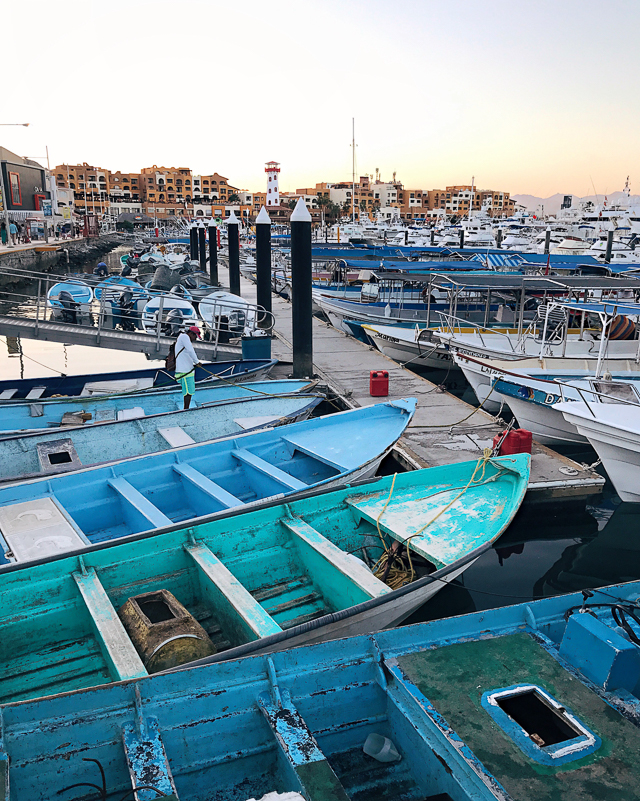 You guys know I love blue and white! This smocked top was a no-brainer and I paired it with white pants for a fresh look.
blue smocked top // white pants // Jack Rogers Abbey wedges c/o
One of my favorite parts of the cruise – the free soft serve ice cream! I can't even tell you how many I had haha 🙂
This red dress I saved for the last day of the cruise. I felt like the emoji of the woman dancing in the red dress! I love the ruffles and vibrant cherry-red hue.
red dress // Jack Rogers Layne wedge c/o
On our cruise, we sailed on the Ruby Princess for five nights and six days to Cabo San Lucas, Mexico. I have been on cruises before, but this was my first time sailing with Princess Cruises! Let's dive in to the review.
Room: My friend Brit and I stayed in a "Balcony" room, which has a little more space than a standard stateroom. We had our own private outdoor space with a table and two chairs, a large closet and a nice desk where we could work on our computers. The rooms were clean and the beds were SUPER comfortable – we slept so well at night!! One thing you should know ahead of time is that everything is downsized on a cruise ship, so don't expect a huge bathroom or shower!
Food: Most of the restaurants on board the Ruby Princess are included in the cruise package. There were two buffet-style restaurants that served breakfast, lunch and dinner, a burger bar and pizzeria that were open for lunch, and several upscale dining restaurants for dinner. Our favorite was a restaurant called "International Cafe" that made the BEST mozzarella and tomato sandwiches and was open 24/7. They also delivered breakfast to your room for no added fee. There were a couple of restaurants considered "specialty dining" that did cost extra, as well as the drinks, including alcohol, coffee, soda and bottled water. You can purchase an all-inclusive drink package on the first day of the cruise if you wish.
Pools: The Ruby Princess has four pools that are located throughout the ship. We liked the Terrace Pool located on Deck 14 Aft the best because it was a little smaller and more private, with a wonderful view of the sea. We also liked the "adults only" pool, called the Lotus Pool. It was very relaxing and quiet!
Activities: Princess Ruby had sooo many activities! We tried to participate in as many as possible. There were comedy shows, musicals, bingo, dance parties, an art gallery, casino, putt-putt, and there were even movie showings on a 300-foot screen over the Calypso Pool. There is no way anyone could be bored on this ship, there's way too much going on at all times! The gym on board was also amazing. We worked out several times. Another thing I want to mention is the excursions. You should research and book your excursion ahead of time because the ones we wanted were booked before the ship even took off. There were some really cool excursions that they offered in Cabo – a sunset sail, trips to a resort, swimming with dolphins, scuba diving, and many more. I wish that we had had more time in Cabo to fit them all in!
What to Pack: We sailed on the Princess Ruby in April, so your packing list may be different if you're sailing in the heat of summer or during the winter. Definitely pack swimsuits for laying out by the pool and participating in water activities, and don't forget a cover-up since it can get pretty chilly if the wind is blowing. During the day we mainly stayed in swimsuits or casual clothes. At night, we dressed up for dinner. The traditional dining rooms require dressy clothing, and there was one formal night on the cruise – we wore dresses every night to dinner and on the formal night we wore floor-length cocktail dresses. One thing that we DIDN'T bring that we wished we would have brought – warmer clothes! There were several days that were really windy at sea and we were freezing on the ship. I ended up buying a sweatshirt on board because I was so cold! As for shoes, I brought a variety of flat sandals and wedges thanks to Jack Rogers, and the only other pair of shoes I brought was a pair of tennis shoes for the gym.
Now for the fun part – a GIVEAWAY! I'm partnering with Jack Rogers and Princess Cruises to offer one lucky winner a free getaway cruise for two AND a $500 Jack Rogers gift card. Some of you may have already entered the giveaway on my instagram, but if not, here are the instructions:
1. Like this instagram photo and follow @jackrogersusa & @princesscruises on instagram
2. Tag three of your friends in the comment section of the photo
3. Fill out the giveaway form
The giveaway is U.S. only and will end at tonight at 11:59 p.m. EST.
Good luck everyone!!!
SHOP MY CRUISE OUTFITS:

JavaScript is currently disabled in this browser. Reactivate it to view this content.