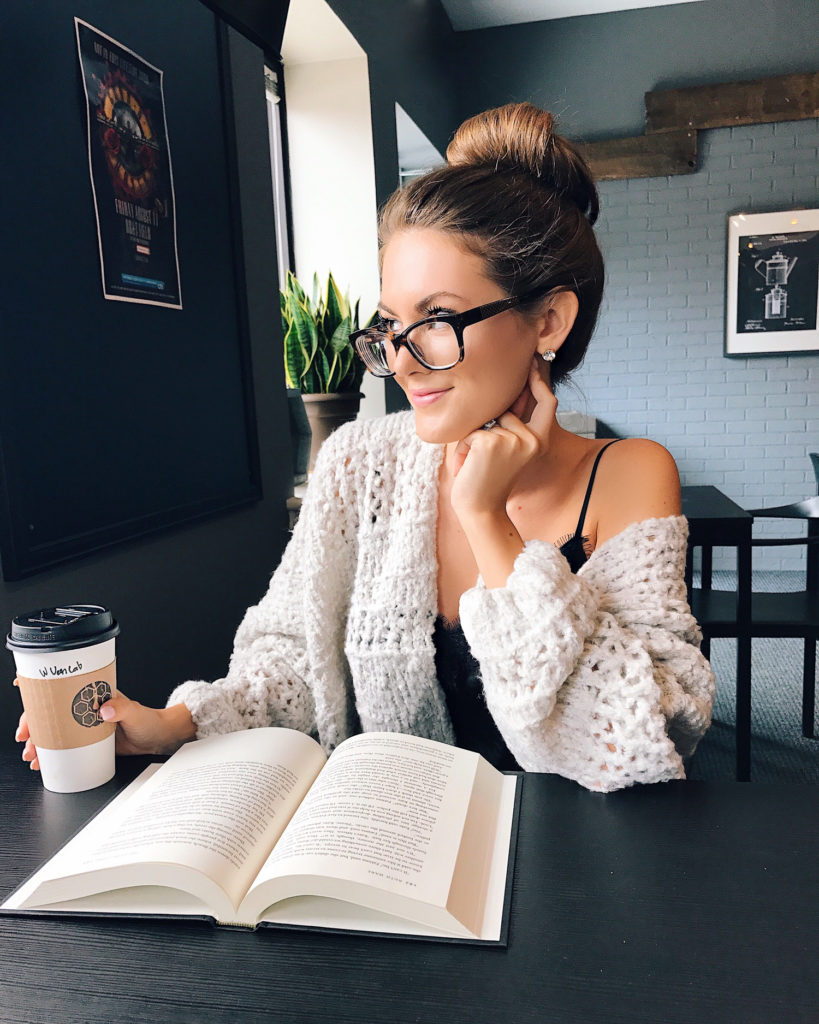 Good morning! I'm so happy to report that I'm back today with a BOOK REVIEW! I don't know what got into me for most of this winter… I just couldn't get into any books. I tried to read, but often couldn't concentrate. Well that all changed with An Anonymous Girl, ​it was so good that I read it in less than a week and – voila! – I was back into reading again. I'd love to hear your thoughts if you've read any of these!
1. AN ANONYMOUS GIRL, by Greer Hendricks & Sarah Pekkanen
This book got me into reading again! An incredibly fast-paced thriller, I was on the edge of my seat trying to figure out where the story was going. Jessica Farris is a struggling makeup artist who signs up for a psychology study to make some extra money. The study, conducted by the mysterious Dr. Shields, gets more intense and invasive as time goes on, and moves from the computer to real-life tasks that Jessica must complete. I was constantly questioning the doctor's motives and also trying to figure out the "deep, dark secret" that Jessica is holding close to her chest. I really liked Jessica and was rooting for her thoughout, which made the book easy to read – and the ending is explosive!! I highly recommend this one, folks.

Although this is technically a murder mystery, it's not your typical thriller. I would describe it as a murder mystery (and also a love story) written in the style of ​To Kill a Mockingbird. This book hit home for me in many ways because it's set in North Carolina, and the balmy weather on the North Carolina coast is so perfectly and vividly described, I could practically feel the salt air on my face. To preface, I LOVED THIS BOOK. The second I read the first page, it felt like an instant classic! The writing was honestly spectacular and I never wanted it to end. The story unfolds with a young Kya Clark, the so-called "Marsh Girl," as a suspect in a murder case. Then we go back in time to when Kya was a young girl, when her mother walked away without looking back. Soon, all her siblings followed suit, leaving Kya alone with her often absent, drunk, and abusive father. She is left to care for their home, to cook, clean and take care of both of their needs, all while being judged, ridiculed and bullied by the locals. It's a coming-of-age story, as Kya grows into a young woman, learns to care for herself, falls in love, and even gets accused of murder. This novel is a story of resiliency, survival, hope, love, loss, loneliness, prejudice, and strength. There were times where I was so happy, I cried! This book receives 5 out of 5 stars for me.
3. NO EXIT, by Taylor Adams
I'm not going to lie, this book is AMAZING but also really ramped up my anxiety. On the one hand, it was an insanely good book and kept me up two nights in a row reading late into the night until I finished it (I finished it even faster than An Anonymous Girl). However, parts of this book are a little gory and if you dislike blood, you'll probably find yourself skipping over small portions of the book like I did. I still think it's worth the read, though, because I don't know if I've ever read a book as exciting as this one! Darby Thorne is on her way home from college to see her sick mother, when she gets stranded by a blizzard at a highway rest stop, along with four other complete strangers. Then, she finds a little girl locked in a cage inside one of the parked cars, and realizes she's stumbled right into the middle of a kidnapping. There is no cell reception, no telephone, no way out because of the snow, and BEST OF ALL – she doesn't know which one of the other travelers is the kidnapper. The book forged on at a high speed from the very first page, with twist after twist, as Darby attempts to rescue the little girl. Like I said, the book was incredible (and does have a happy ending), albiet a little hard to read at times.

Okay so this is pretty much the opposite book as some of the others, hahah, but I'm including it because I just finished reading it for the second time. This book is far from a thriller; it's a comprehensive book on health nutrition and actually the reason I went plant-based last year. It's written in a way that's easy to understand for those new to the subject, but also substantive enough that those very familiar with health and nutrition will learn a great deal of new information. Dr. Michael Greger has sifted through hundreds of thousands of studies on nutrition and compiled them all in this book, offering an unbiased and objective look at the most up-to-date science on health and nutrition. Dr. Greger presents the science and then let's the reader decide – although it didn't take long for me to cut out meat after reading just the first chapter. Read it and decide for yourself. This book is so inspiring and I will definitely be reading this one again!

Okay guys, if you have any great book recommendations please leave them in the comments, I'm off searching for my next novel!