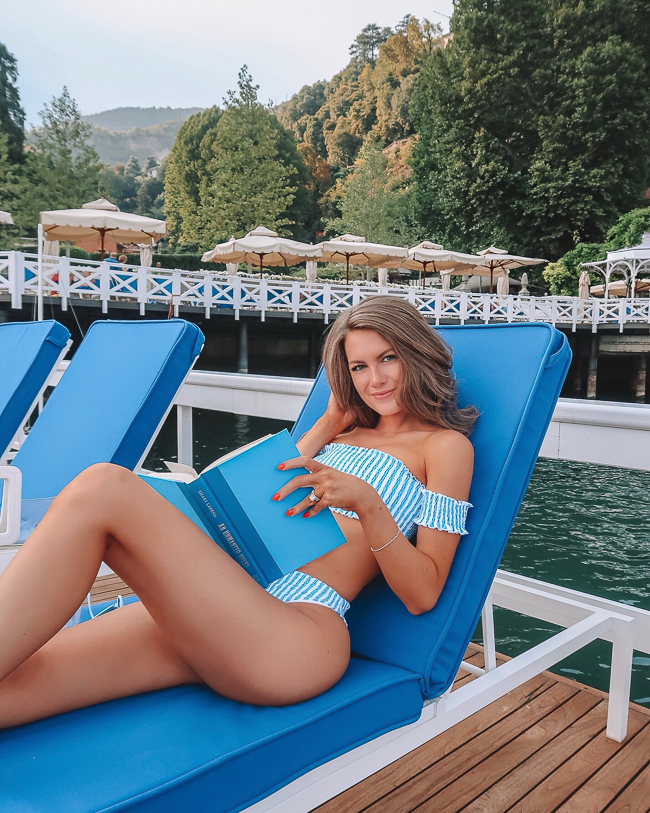 Revolve swimsuit, similar HERE
Good morning!! I'm back today with a book review post… be sure to check back in on Monday for a BIG surprise that I've been working on for a long time!! 🙂
In this rare circumstance, I actually watched the movie before I read the book – but it was a total accident! I found the movie on Netflix and watched it twice (it's sooo good) before a reader told me that it was actually based off of a series of books by Jenny Han. So of course, I downloaded the first book at 10:00 p.m. last night… it was so amazing that I read straight through the night, finishing the novel at 2 a.m. I can't say enough good things about this book (or the movie!). Even though it's based on a sixteen-year-old, it's completely captivating. Whenever Lara Jean's emotions for a boy become too much to bear, she writes them a love letter (YOU GUYS! I totally did this when I was growing up!) and keeps the letters in a hat box her mother gave her. One day, she finds that the love letters are gone – they've been sent out, and every boy she's ever loved now knows. The novel follows Lara Jean and the aftermath of her letters being sent out. Every word, every sentence,  every paragraph is bursting with so much emotion – I related to Lara Jean on such a deep level, because it's exactly how I felt as a teen. The relationships (whether it be family, friends or romantic) are all so realistic, and have so much emotional weight to them – you can't help but love every character. I would HIGHLY recommend both watching the movie and reading the book – the order doesn't matter. It's the best book I've read AND movie I've watched in years. I'm downloading the second book of the series today and I can't wait to read it!!!
This one belongs to my typical genre – thriller/suspense – but is one of the best thrillers I've read recently! I love Shari Lapena and I actually think this is her best novel yet. It will also really get you in the mood for fall and winter, since it's set in the mountains in a cozy little inn, nestled deep in the woods. When the weather takes a turn for the worst and a blizzard sets in, all of the guests are left without electricity and Internet, and they turn to each other for comfort and conversation. Soon, though, one of the guests turn up dead, and it looks like an accident. But when a second guest dies – they all start to panic. Is there a murderer amongst them, or someone unknown hiding out in the inn? This novel gave me all of the Agatha Christie feels – it rotates from each guest's perspective, and will keep you guessing until the very last page. I'm usually pretty good at guessing the plot, but this one had me on my toes – I was completely surprised by the plot twist at the end! I LOVED this one, folks.
I've read several books about kidnappings, but this is definitely the best one I've read. Unlike other novels, this is the thriller after the thriller: most books end with the hostage escaping her captor's clutches, but that's where this novel starts. Lily was kidnapped when she was 16 years old and grew from a teenager to an adult in a small basement prison in a cabin – she has even given birth in captivity, to a beautiful baby girl named Sky. Then one day, Lily's captor leaves the deadbolt on the door unlocked, and she manages to escape, with her daughter in her arms. Now, Lily must face the world that she hasn't seen in eight years – reuniting with her twin sister and her mother, and dealing with the aftermath of what will happen to her captor. Although there were some parts of this novel that I didn't think were incredibly realistic, it was still a very enjoyable read, and I finished it within just a couple of days.
I initially picked up this novel because it's about a newly married couple on their honeymoon (my husband and I went on our honeymoon in June!), but with a big twist: their honeymoon goes very, very wrong. Natalie and Doug Larson are deeply in love, newly married and headed to the Adirondack forest to go on an adventurous and romantic honeymoon away from civilization. But just as Natalie and Doug begin to explore the dark interiors of their own hearts, as well as the depths of their love for one another, it becomes clear that they are not alone in the woods. You really need to read the novel to find out what happens next – just know that if you are the least bit squeamish, this novel might not be for you! Natalie and Doug endure a lot of physical hardships during the novel and some of it left me feeling a bit nauseous. Overall, though, it was a good read and highly entertaining. Although it left me with a desire to NEVER go camping again. 🙂
If you want to go on a crazy rollercoaster ride, then pick up this book! This novel is a psychological thriller that certainly begins with a bang – Andrea has just been in a car crash, only vaguely remembering swerving after seeing something – or someone – on a deserted road at night. Soon enough, she realizes that her own twin brother, responsible for a tragedy that killed their parents, has been released from prison. As the story switches from past to present and back again, you slowly learn more about Andrea and her brother's childhood. This novel was a little bit predictable, and on top of that, pretty dark. Andrea seemed to have her life together at the beginning, and I got pretty mad at her throughout the book for the way she treats her fiancé and loved ones. However, I will say that the plot kept me on my toes, constantly asking, "what's going to happen next?!" I was consistently surprised by every plot twist. Ultimately, What My Sister Knew help my attention and the ending was oddly satisfying, even if it left me in a darkened mood after it was over.
If you've read any good books lately, let us all know in the comments!!
xoxo
SHOP THE POST:

JavaScript is currently disabled in this browser. Reactivate it to view this content.