Good morning, everyone! I've gotten a lot of emails/DMs requesting a Blowing Rock Travel Guide, so I'm really excited to share one with you today. My family has been going to Blowing Rock ever since I was a child… it's only a few hours away from both Charlotte and Winston-Salem, but it feels like a world away. Imagine the cutest, most charming little town nestled in the mountains, with friendly people, incredible food and stunning views… and that's Blowing Rock!
Since it's 2020 and we are in the middle of the pandemic, I wanted to say that my family felt very safe in Blowing Rock on our recent trip, and we were able to stay safe/quarantined while traveling. There are a lot of restaurants in Blowing Rock with outdoor patios… even my favorite ice cream shop has started serving sweets right from their window so you don't have to go inside! Everyone wears a mask (even outside), and if you choose to stay in a cabin, you can guarantee even more privacy.
Here are a few of my favorite photos from Blowing Rock throughout the years!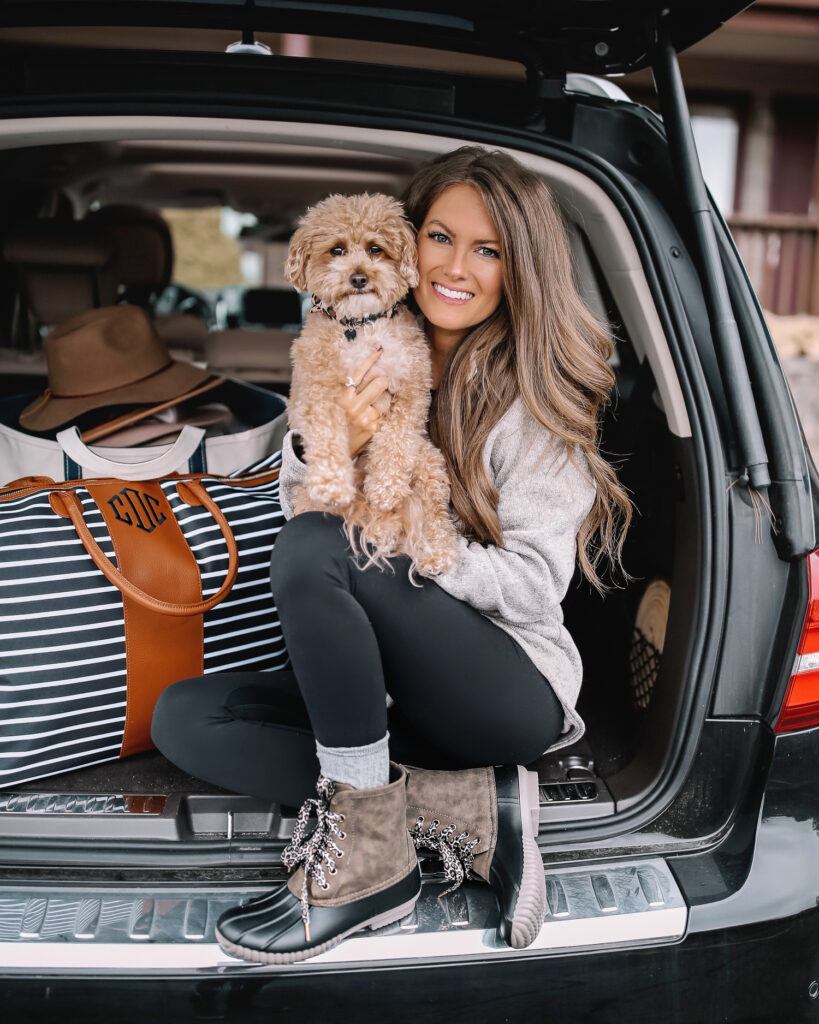 monogrammed pullover // black leggings // leopard lace duck boots // striped weekender bag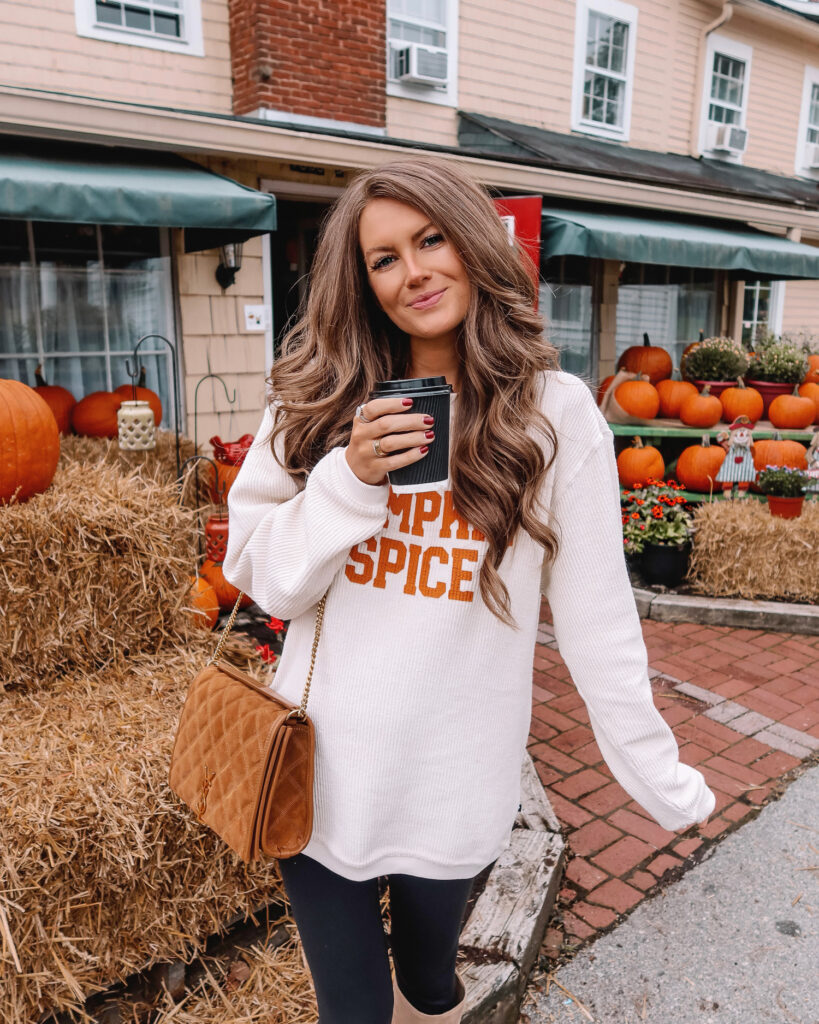 "Pumpkin Spice" sweatshirt // black leggings // YSL handbag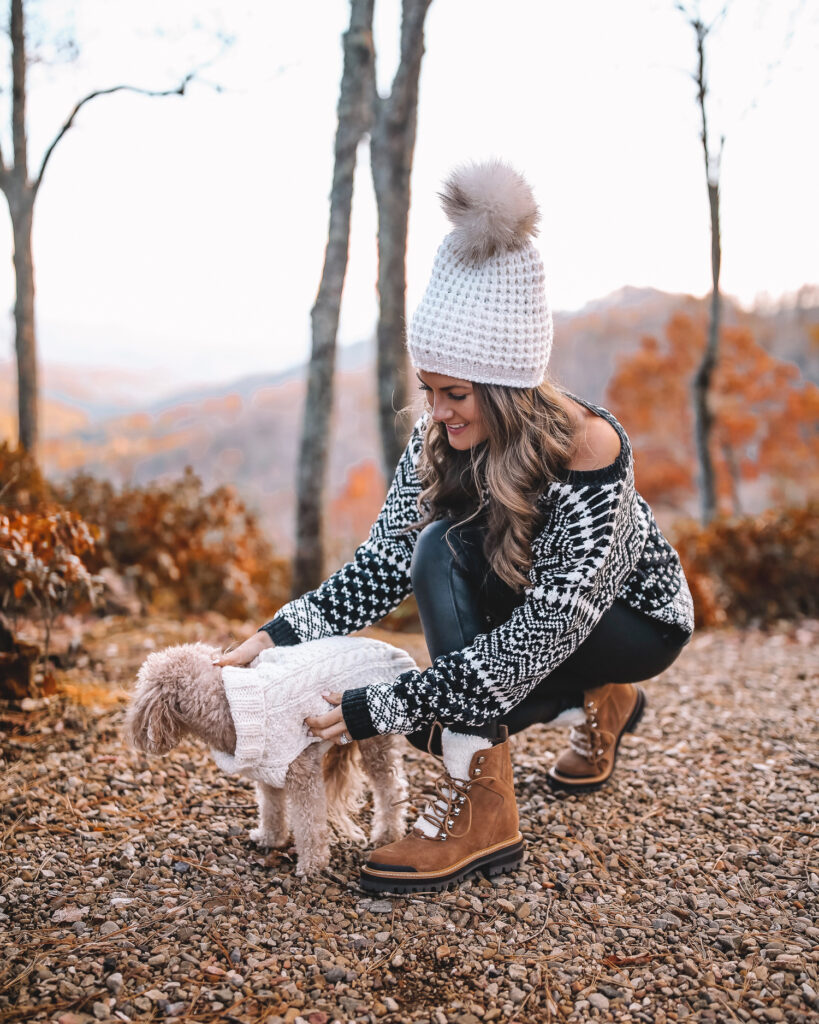 Kyi Kyi beanie // faux leather leggings // Marc Fisher lace-up boots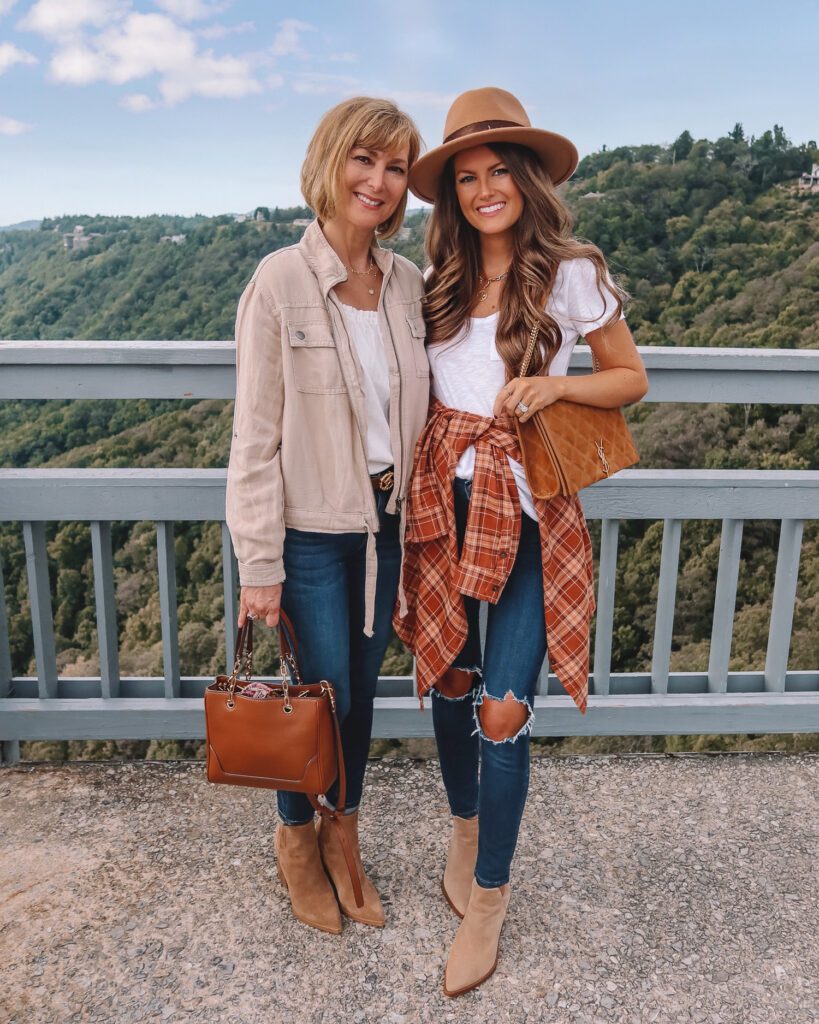 on me: white tee // plaid flannel // Free People jeans // Kaylah pointed toe booties, dupes here // YSL handbag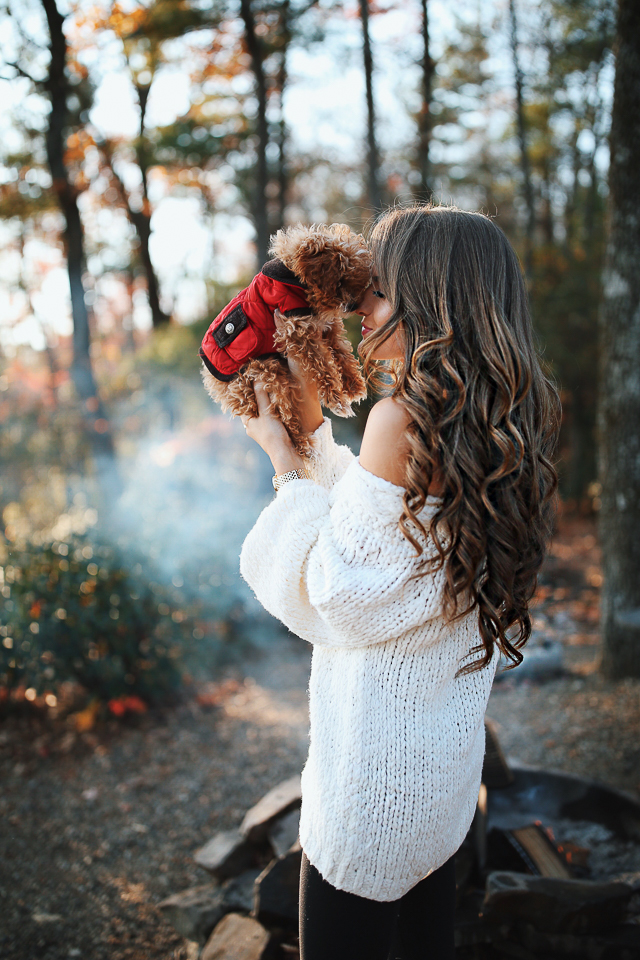 similar off-the-shoulder sweater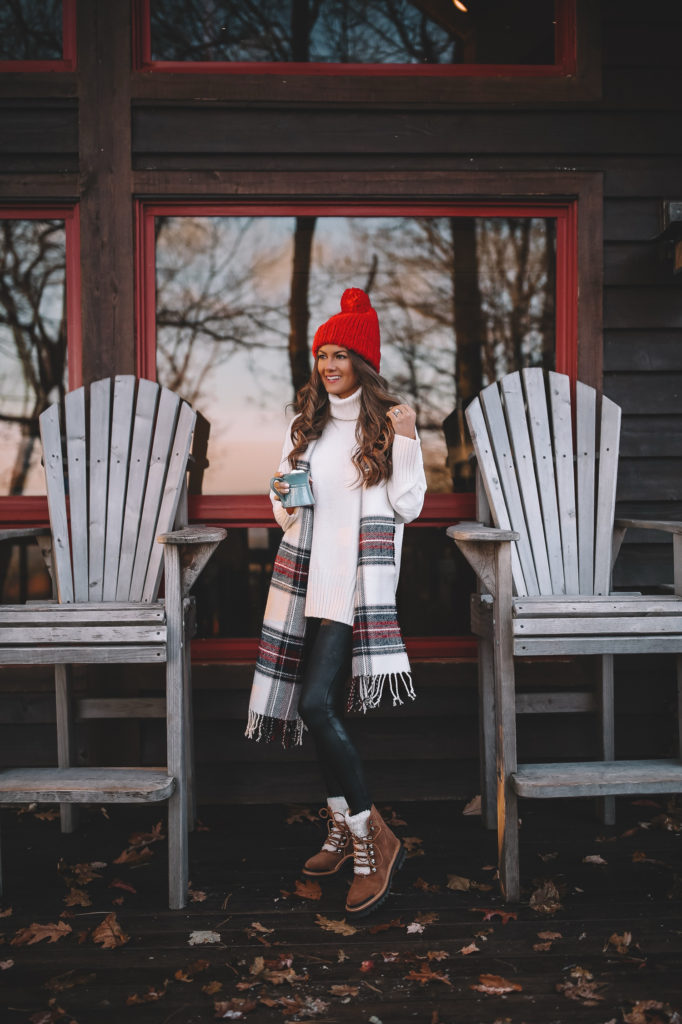 similar red beanie // similar plaid scarf, also similar here // turtleneck sweater // faux leather leggings // Marc Fisher lace-up boots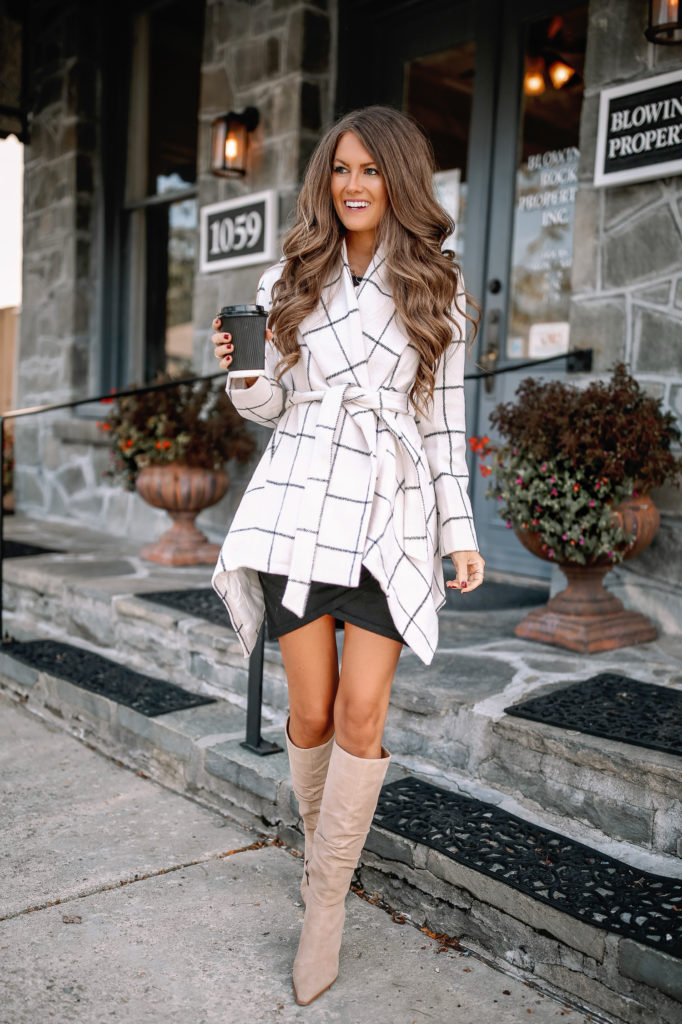 black ruched bodycon dress // shawl collar coat (less than $100!) // tall suede boots // suede YSL bag // gold coin necklace
And without further ado, here are all of the best recommendations for Blowing Rock:
Where to Stay
CABIN: I personally would choose to stay in a cabin in Blowing Rock! Especially right now, while everyone is wanting to stay socially distanced. A cabin is so nice because they're private, you can cook all your meals right there, and most of the houses in Blowing Rock have nice, cozy fireplaces or fire pits. My dad's uncle owns a cabin that we usually go to and we've also rented several cute cabins in the area. There's a lot to choose from on VRBO and Airbnb! If you're looking for recommendations, here are a few that I love: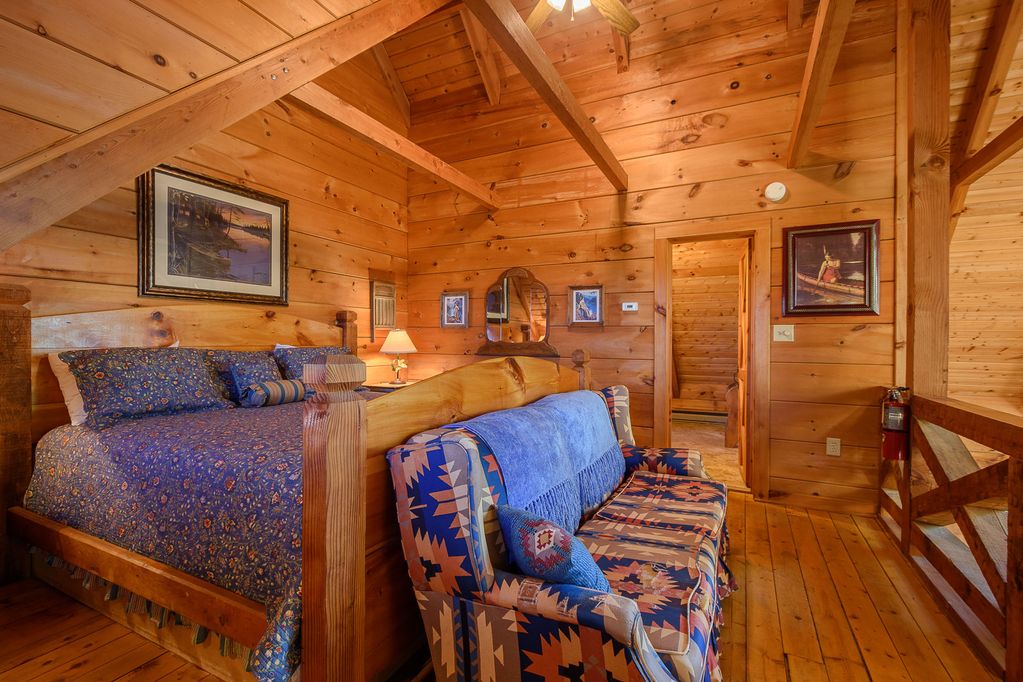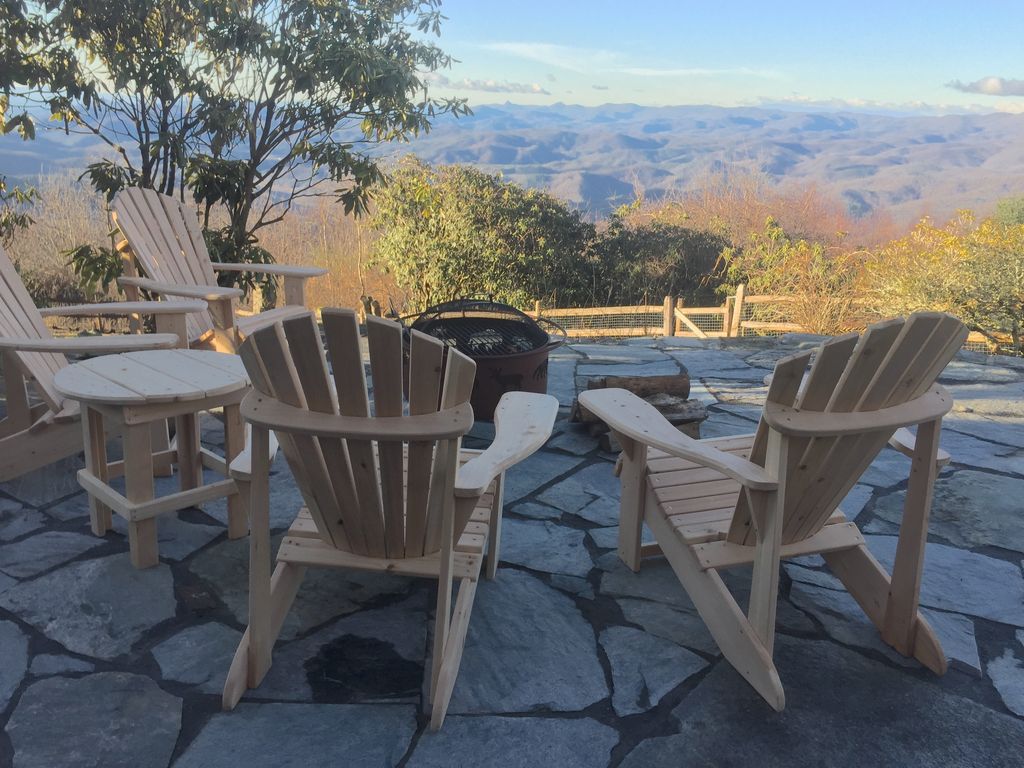 3 Bedroom Cabin with Panoramic Views and fire pit
CHETOLA RESORT LODGE: We have never stayed here, but I've heard great things about Chetola Resort Lodge! I think the rooms might be a little dated, but the location is great and I've heard awesome things about the cleanliness and the staff. Chetola Resort also has some condos for rent, like this one: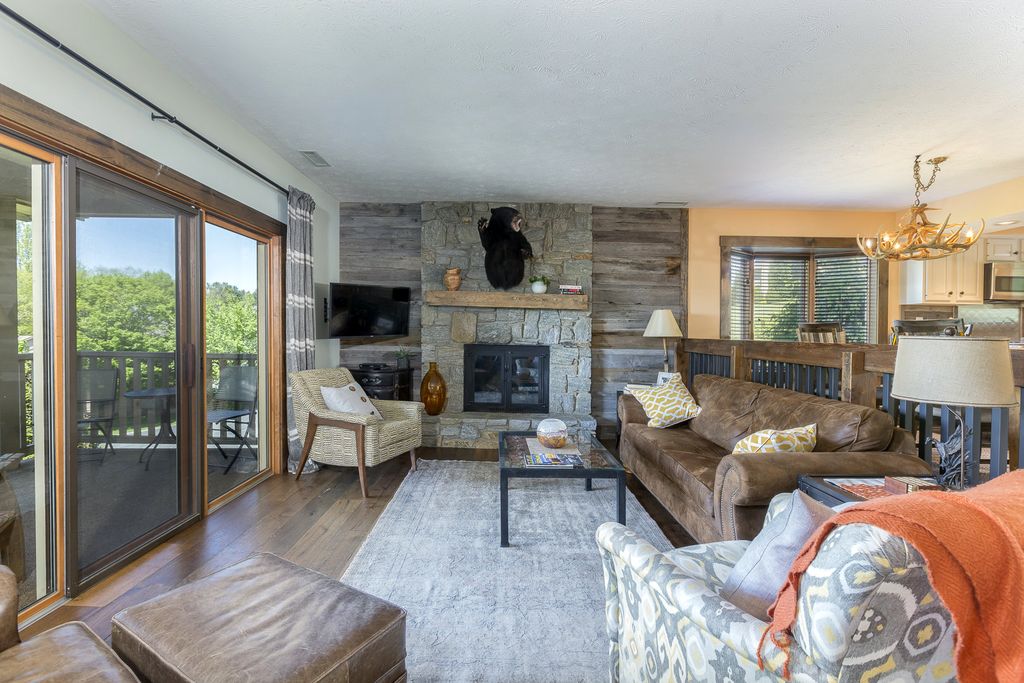 2 Bedroom Condo in Chetola Resort (walking distance to downtown)
Where to Eat
COFFEE/BREAKFAST
BALD GUY COFFEE: This is the cutest coffee shop, and the most photogenic in town! All of the coffee they serve is organic, which is a bonus. They have a really cute outdoor area with tables and chairs where you can sit and enjoy your coffee.
CAMP COFFEE ROASTERS: Our family thinks their coffee actually tastes better than Bald Guy, but the actual coffee shop is not as cute, haha!
SUNNY ROCK EGGS AND THINGS: This place is known for having the best sit-down breakfast in Blowing Rock. From eggs to pancakes and buttery biscuits, this little diner serves up comfort food that's made from scratch (and tastes like it too!).
BLOWING ROCK MARKET: This is a great place to stop by if you need snacks, some homemade bread, or wine! In addition to being a wine shop, they're also a deli and serve up sandwiches and refrigerated cake slices. We stopped in and bought some homemade jalapeño cheese bread on our last visit. They also serve fresh bagels in the morning. This would be a great place to go if you need some snacks for a hike!
LUNCH/DINNER
To be honest, we prefer to cook dinner ourselves most nights when we are in Blowing Rock, so we haven't tried a ton of dinner restaurants! Here are our favorites, though:
TOWN TAVERN: This is one of our favorite restaurants in Blowing Rock, even though it's super casual and serves mainly pub fare. We like to sit outside on their expansive patio (which is dog-friendly!). A lot of nights they'll even have live music. As for the food, we've never had a bad meal here! From the sliders to salads, everything is delicious.
VILLAGE CAFE: If you're looking for another restaurant to sit and eat outdoors, this is the cutest little restaurant! We went for brunch. Their portions are pretty small, so I recommend getting several dishes for the table. They make homemade "fugasa" bread that is to-die-for!
MELLOW MUSHROOM: You might be familiar with Mellow Mushroom, and if so, you probably know how good it is! We love going here for the spinach artichoke dip and a variety of pizzas (somehow my family members each end up ordering their own pizza and then we end up with a ton of leftovers!). There's something about hot pizza in the mountains that is super satisfying, and I think their House Special pizza is one of the best pizzas on the planet.
DESSERT
KILWINS: Kilwins is a staple on main street in downtown, you can't miss it! You can often smell the waffle cones being baked from a block away. They make homemade ice cream, fudge and chocolate treats. My dad always buys chocolate turtles and fudge to bring home for the family, while I usually prefer to get an ice cream in the store! My favorite flavor is the Cookie Dough.
BLUE DEER COOKIES: Someone recommended this place to us the last time we were in Blowing Rock and wow! It's amazing. Two cookies with incredible ice cream in the middle… even when it's cold out, I dare you to resist one of these treats.
What To Do
There's a ton to do in Blowing Rock, I don't think you could ever get bored! I would definitely plan ahead, though, as it looks like you might need to buy tickets to some attractions online and in advance due to COVID.
BASS LAKE: One of our favorite lakes near Blowing Rock! With a large parking lot, you can park here for free and hang out with your dogs. Bring a picnic, or put on your walking shoes and take a walk around the massive lake. It's truly a beautiful and peaceful place, especially when the leaves are changing in the fall.
BLOWING ROCK: Visit the actual Blowing Rock! The Blowing Rock is an immense cliff 4,000 feet above sea level, overhanging Johns River Gorge 3,000 feet below, and is called "the Blowing Rock" because the northwest wind sweeps with such force that it returns light objects cast over the void. It's a short drive away from downtown, and you can drive right up to the center and park. They do charge admission (I think it's $10 per adult), but it's a nice way to spend an hour or two. There's no hiking involved, really… there's only a few steps until you're out on the rocks. They serve small treats and snacks in the gift shop, and there's also a museum with tons of history and facts about the legend of Blowing Rock, if you're interested.
GRANDFATHER MOUNTAIN: Located about 15 miles from Blowing Rock, Grandfather Mountain is the highest peak in the Blue Ridge. You do have to pay admission, but you get access to all kinds of attractions within the park, including my favorite, the Mile High Swinging Bridge, with an elevation of 5,305 feet! (It is a little nerve-wracking to walk across the bridge, but it's perfectly safe.) The park also contains environmental habitats for black bears and bear cubs, a nature museum, more than 12 miles of maintained hiking trails and an indoor theater.
GRANDFATHER VINEYARD AND WINERY: We love this nearby winery (although I haven't been in quite a while due to being pregnant, haha!). There's nothing better than spending a lazy, sun-filled afternoon at Grandfather vineyard, taste-testing a flight of wines surrounded by your friends and family. I don't remember the wines being particularly spectacular, but the scenery is beautiful and it's a great way to spend an afternoon.
SHOP: The downtown area is filled with tons of cute stores, from clothing to antiques to small trinkets. And if you're in the mood for some more mainstream shopping, head to the nearby Tanger Outlets, where you'll find an American Eagle, J.Crew Outlet, and more.
TAKE A DRIVE: One of my favorite things to do in Blowing Rock is hop on the Blue Ridge Parkway and DRIVE! It is so beautiful anytime of year, but especially during the fall when the leaves are starting to change. Running for 469 miles between the Shenandoah Valley in Virginia to the Great Smoky Mountains in Tennessee, all you have to do is look out your car window for seemingly endless mountain vistas. There are also several viewpoint areas where you can park your car and take pictures of the amazing scenery.
TWEETSIE RAILROAD: If you have young kids, Tweetsie Railroad is a must-visit! I have the best memories of coming here with my family when I was little. Tweetsie is an authentic western town and theme park where you'll meet cowboys, cowgirls and even some outlaws. Take your turn in the Shooter's Arcade or ride the chairlift to Miner's Mountain, but don't forget the main attraction: taking a ride on historic steam locomotive No. 12, listed on the National Register of Historic Places.
If you've been to Blowing Rock and have any favorites, definitely list them in the comments so that we all can see! 🙂