Isn't it a little hard to believe that we are going over 2022 best sellers?? That means that it's already 2023 – I literally can't believe how fast time is flying! This list was so fun to put together because a lot of the items were best sellers back in the spring and summer… and I can't help but wish for warmer days. Is anyone else ready for spring now that Christmas is over?
Let me know if you purchased anything from my blog in 2022 and what you thought of it, if so 🙂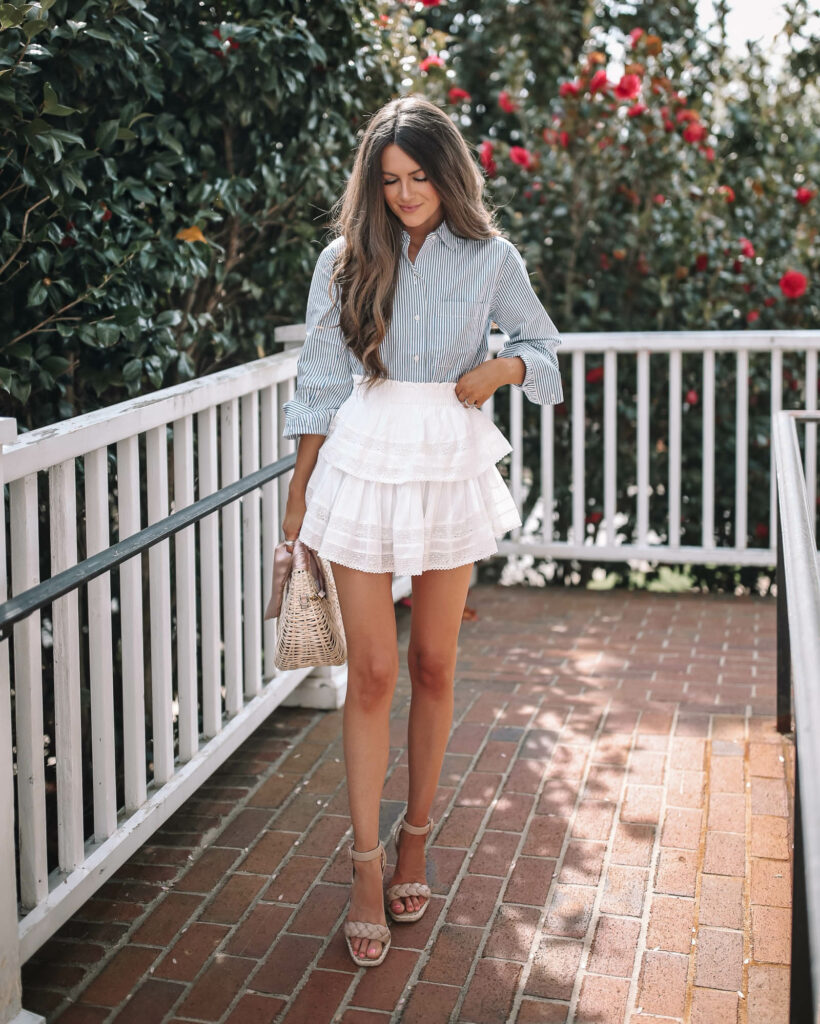 I wore these wedge sandals non-stop this past spring and summer! They seriously go with everything from sundresses to shorts, even jeans. Plus they are super comfortable – I can even wear them while chasing little miss Kennedy around! They're also really great quality… mine are in great condition even after wearing them so much last year, so I definitely plan on wearing them again this year once it's warm again. Right now, they are 60% off on the Steve Madden website! I also found them in black and white on Amazon. So grab them now and you'll be glad you did come spring!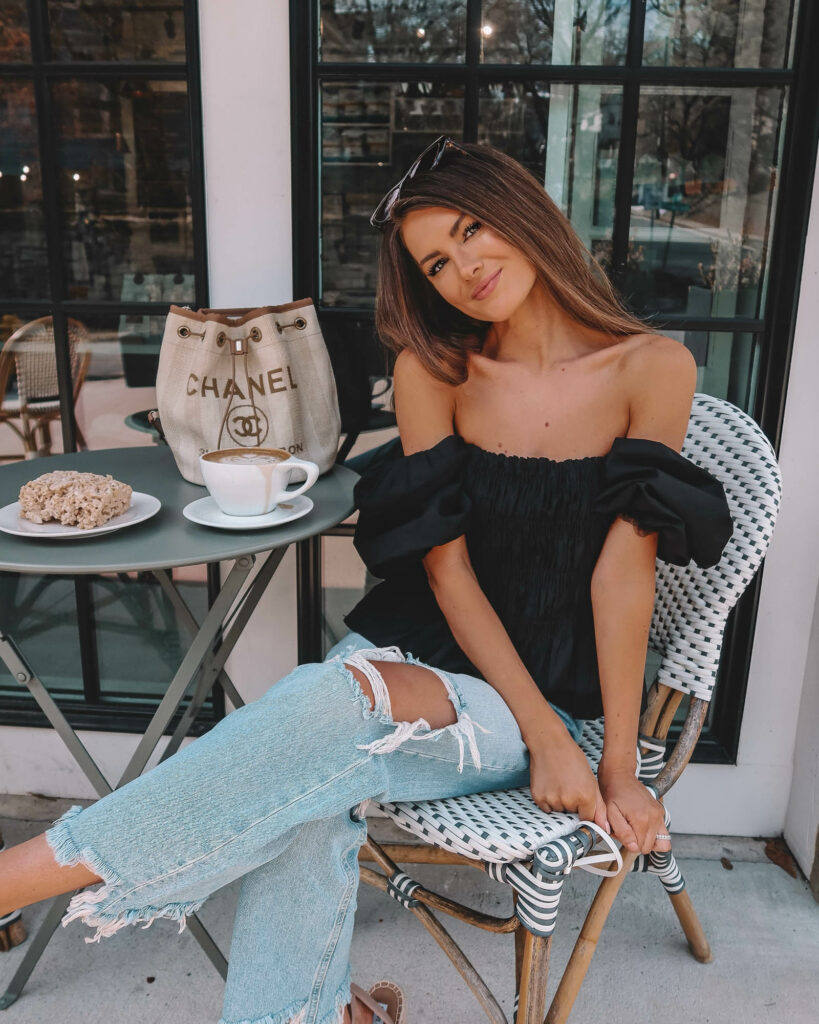 I think this top was my favorite top that wore all spring and summer! I originally bought the black one and loved it so much that I went back and got the pink one too (I want to get even more colors but the only thing stopping me is that I can't fit my pregnant belly into it). The fit is incredibly flattering on every body type, and it looks great with both mom jeans and denim shorts. Like I mentioned, it's also available in a few other pretty colors and is currently on sale for under $30 right now!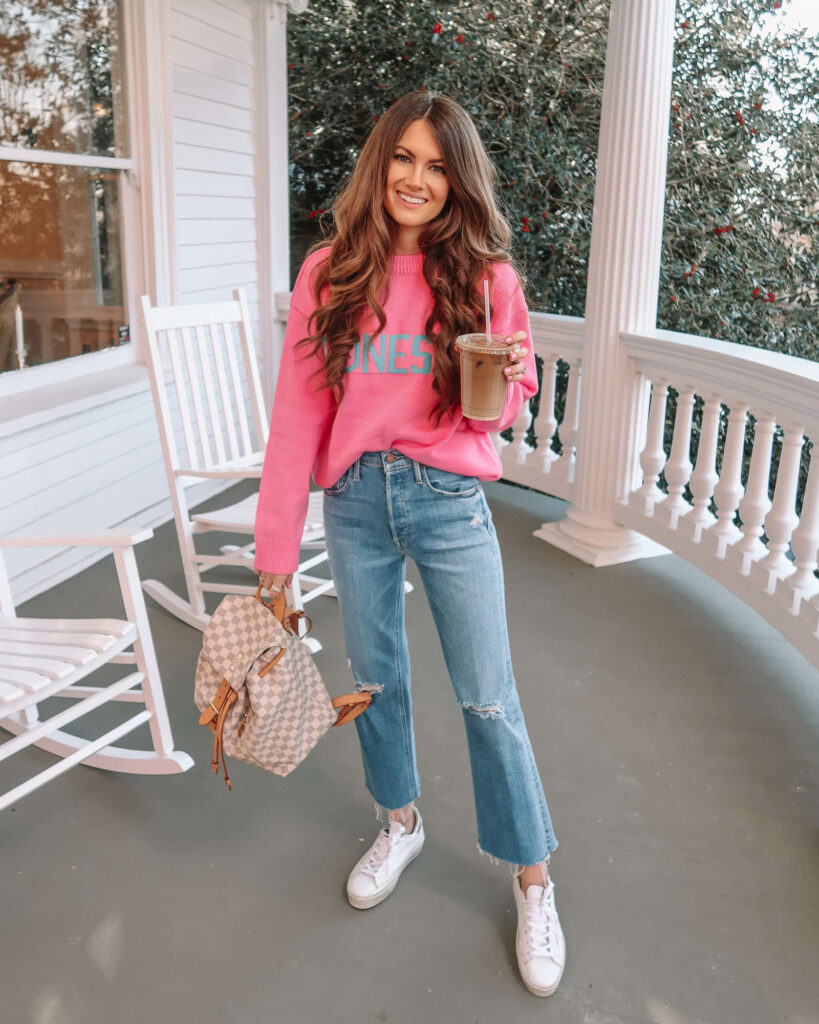 If you're looking for the perfect pair of jeans to wear into spring, look no further because this pair is it! These jeans are the perfect wash and fit. The lighter color and the distressed detailing make them the ideal jean to pair with all your cute spring tops. Plus they're a looser fitting style so they are so comfortable, and the frayed hem make them super trendy and easy to wear with sneakers, sandals as well as heels. Nordstrom only has a few sizes in stock right now, but more sizes are available here at Shopbop and here at Saks Fifth Avenue. They are a bit of an investment, but totally worth it! I hope I can fit into them again after baby #2 comes, haha!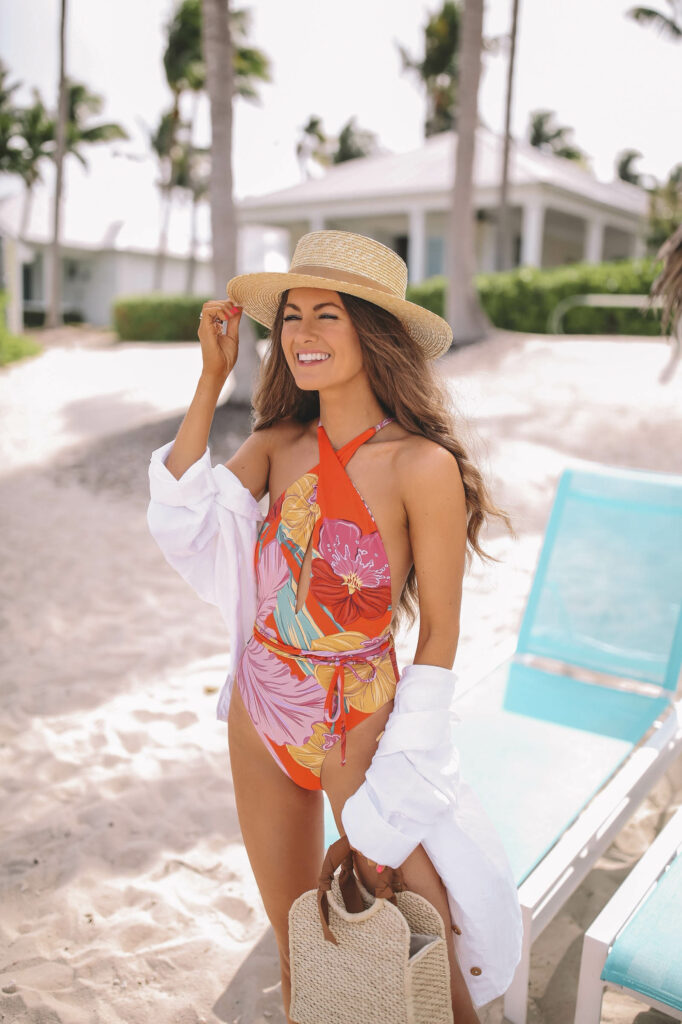 I wore this one-piece swimsuit while in Key West last year and it's the best because it's REVERSIBLE! The pattern on the other side is super cute, too, and I love that you can get double the wear out of it. You can also adjust the straps several ways – you can wear it criss-cross, straight, or do some fun things with the straps in the back! There are endless opportunities to switch it up. Last time I checked, Revolve only had a few sizes left, but it's fully stocked here, on Amazon!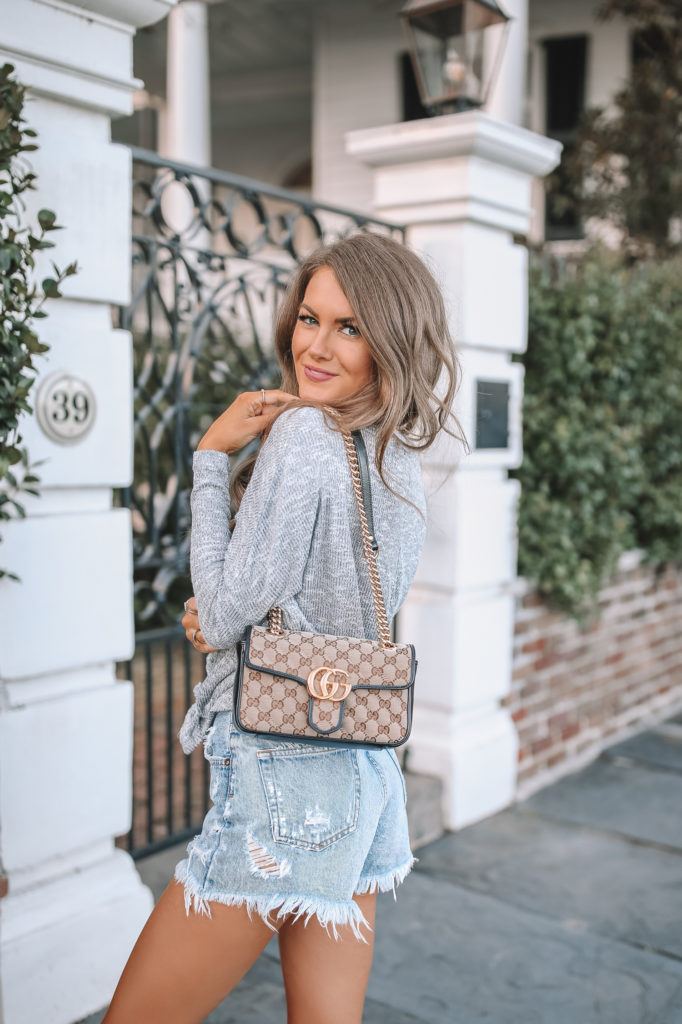 These AGOLDE denim shorts seem to always make their way on the best sellers list! They are without a doubt the #1 pair of shorts that I reach for in the spring and summer, and they aren't going anywhere this upcoming year, either. They are literally the perfect pair of denim shorts: just the right wash, just the right length, and they never stretch out or shrink in the washing machine. I can honestly say I've gotten MORE than my money's worth out of them! They're also available at Nordstrom!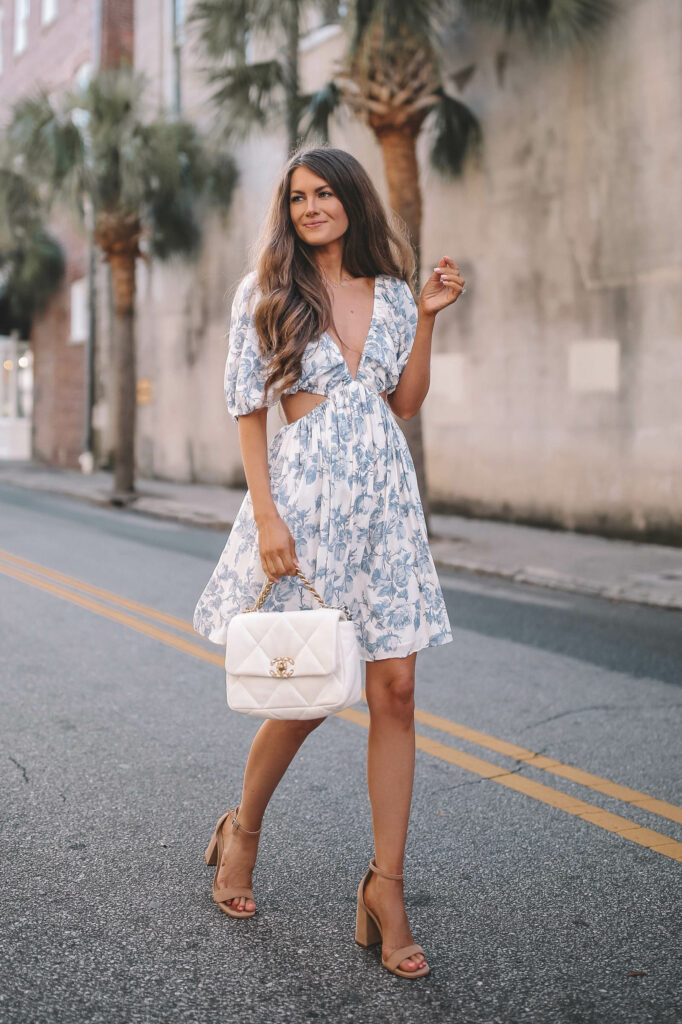 I'm not at all surprised that this dress made the list because it is such a dreamy dress! The colors are so pretty and the way it drapes couldn't be more flattering. You could definitely wear it as a wedding guest or on a fancy date night! I am wearing a size 2, and the back is adjustable for the perfect fit. And I've got good news… it's on sale for 40% off right now, here!! If you have any warm destination vacations coming up, I would definitely snag this one and throw it in your suitcase before you go!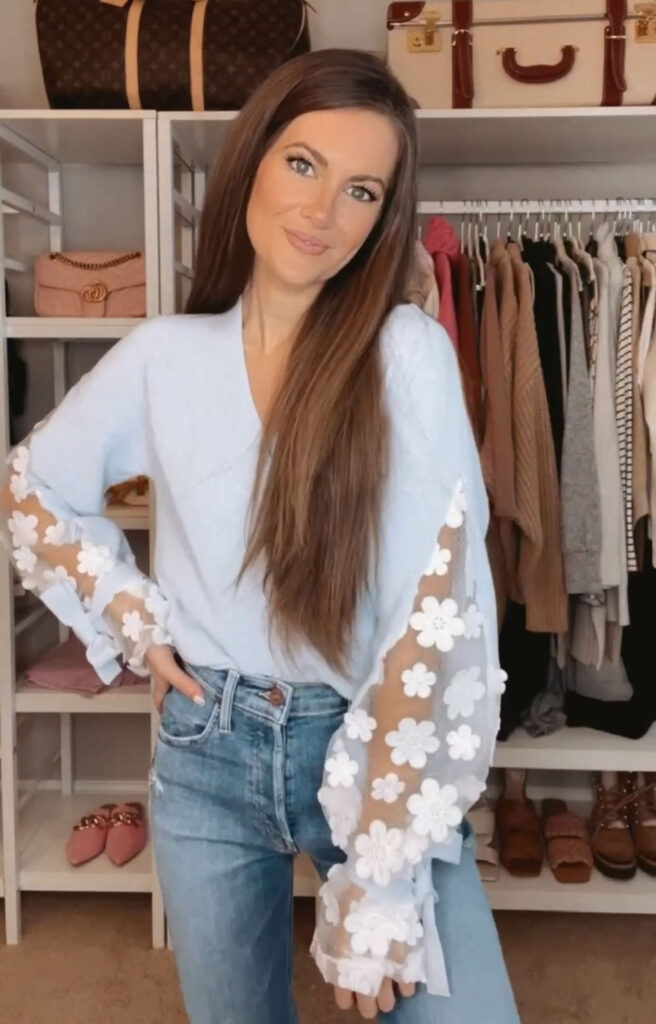 I wore this in a TikTok abut having baby fever last year and y'all went crazy for it! This sweater is absolutely perfect for this time of year because the pastel blue color along with the flowery lace sleeves remind me of spring, but the thick cotton sweater material is super warm because, let's face it, it's still the middle of winter! There's also this white version that I think would look so cute tucked into a pair of denim shorts later in the year. I also found it here at Bloomingdale's in case Nordstrom sells out of your size!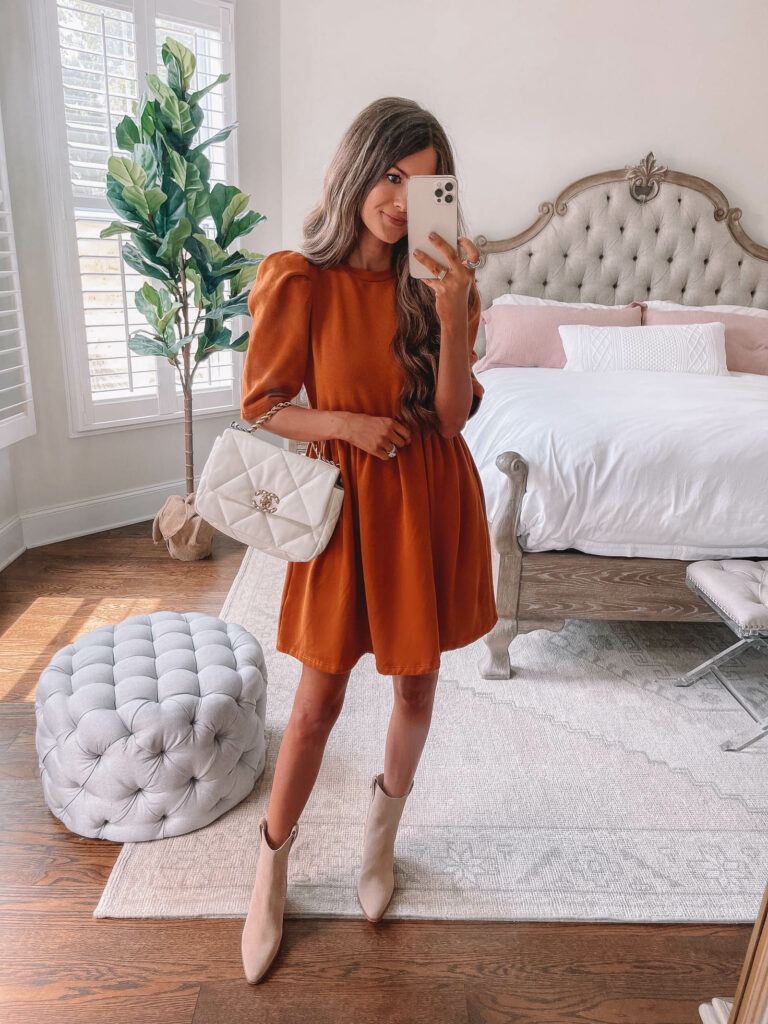 I think this dress was my favorite purchase from last year's NSALE! While it looks super cute, it's actually one of the most comfortable dresses I've ever worn – and that's because the inside is made of a super soft fleece. Imagine wearing your coziest, softest sweatshirt… but it looks like this! The puff sleeves are also very figure-flattering. It looks super cute with booties, but I think it would be adorable with white sneakers for a more casual look too. Plus this dress is bump friendly and also available in a pretty navy color that is 35% off right now!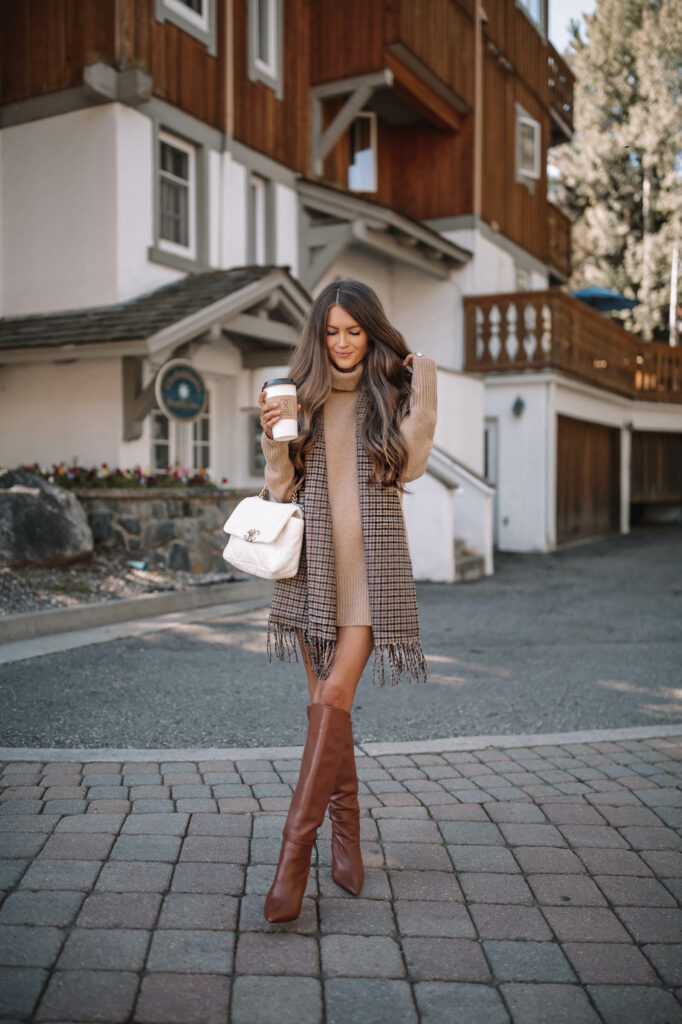 These were my go-to boots this past year and I could not be more in love with them! I wore them ALL THE TIME! Reiss is a really NICE brand – you can tell they're designer quality because I didn't have to "break them in," they are comfortable right from the get-go. And I've got some good news for y'all… these are 60% off right now! So, if you have been contemplating on pulling the trigger on these beautiful boots, now is the time to get them! They are available in black and brown and if you can"t find your size at Nordstrom, I found this pair and this pair that are super similar and really pretty too!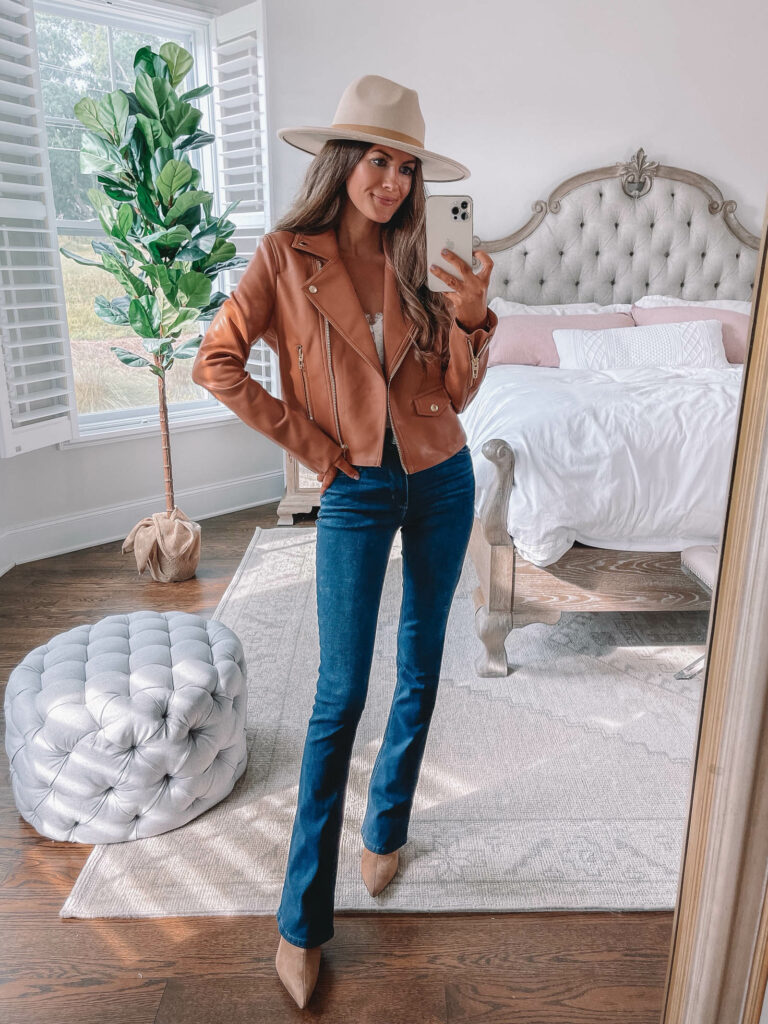 Drum roll please… and the number one best seller of 2022 is this pair of Wit & Wisdom jeans! I got these jeans from the Nordstrom Anniversary Sale and they ended up being the best selling pair from the sale… and the entire year! My mom actually tried them on first, and I loved them so much on her that I had to go get a pair for myself. The dark wash and flared leg are extremely flattering and make your legs look a mile long. The material is soft and does have some stretch to it, that's why I recommend sizing down if you're in between sizes. These jeans go with every top I've ever paired them with- from blouses to sweaters to even blazers too!