Today I wanted to round up all of 2021's "Best Sellers" from my blog. 2021 had its ups and downs, but without a doubt I can still say it was the best year of my life, since it was the year I became a mama to our sweet Kennedy. It was also a great comeback year for fashion! After spending 2020 in loungewear, we were all ready to put on a cute outfit and get out of the house! The list is full of items that you'll re-wear over and over again – and the best part is that they're all still available. So if you didn't snag them in 2020, you still can! I'm working my way backwards, so scroll down to see the #1 BEST-SELLER!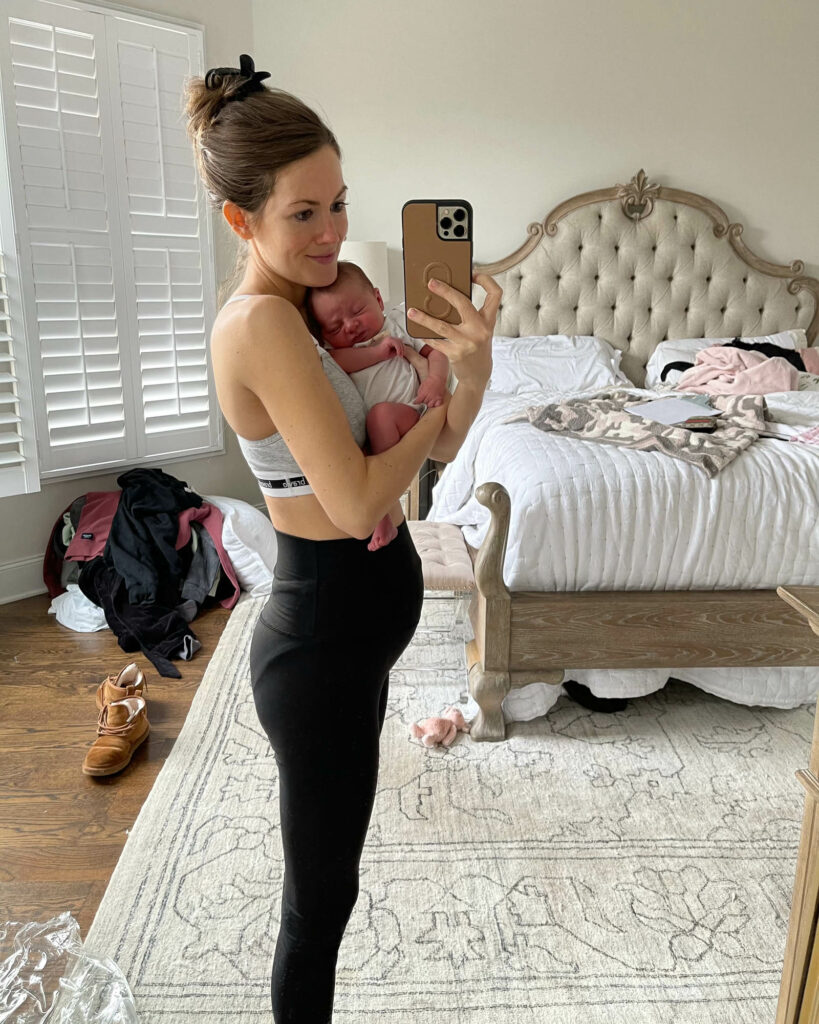 I loved that so many new mamas followed along with me during my first year as a mama! I know I relied on so many of you guys for encouragement and helpful tips (thank you for always answering my questions on Instagram). And speaking of helpful tips for new mamas… this is the best and most comfortable nursing bra that I used on my breastfeeding journey. I tried out a lot of different brands during the nine months that I breastfed Kennedy, and this one was definitely my favorite! It's a little expensive ($35 for one), but definitely worth it in my opinion. The band is comfortable and you just unclip the strap to breastfeed and clip it back when you're done. I also found that it worked the best with my Elvie pumps and Elvie Curve. It's also available at Target.
These printed pants are without a doubt one of the Amazon purchases that I wore the most in 2021! I can't stress enough just HOW COMFORTABLE they are! I think I wore them at least once every week during the spring. They were really easy to throw on for "mom activities" and comfortable enough to crawl around on the floor with Kennedy. They come in a bunch of different colors and patterns, and can even be worn with a swimsuit as a swimsuit cover-up.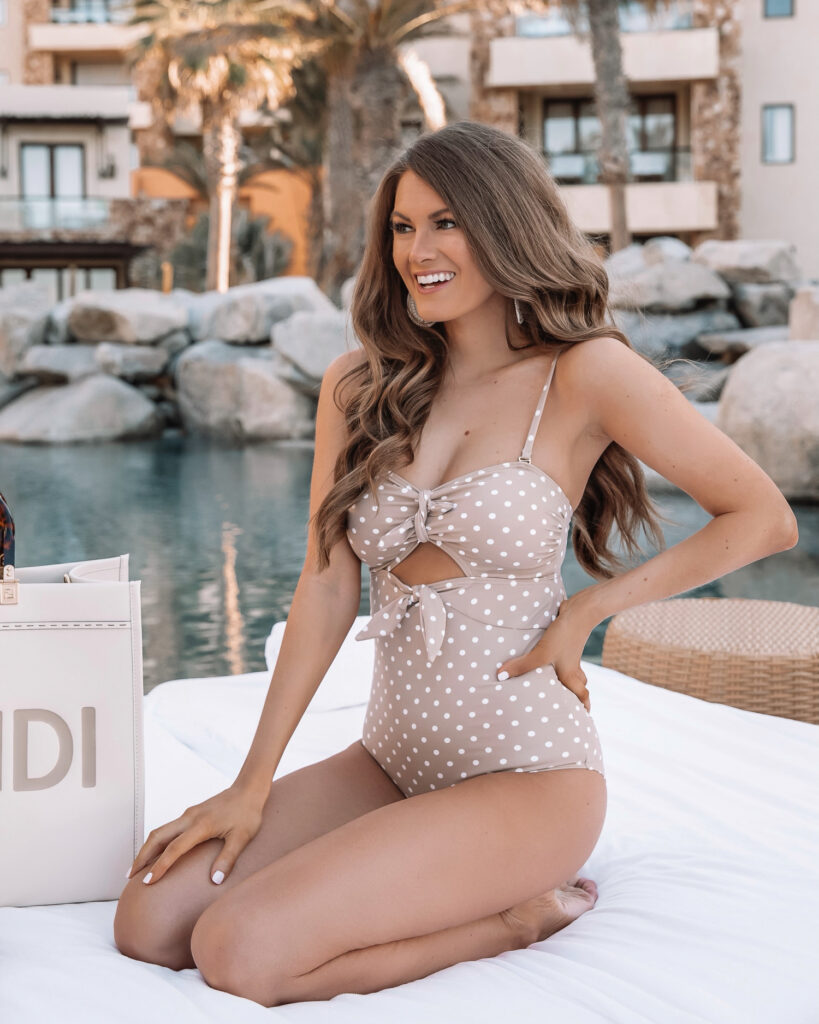 2021 was an exciting year for me because I came out with not one, but TWO collections with Pink Lily! I can not thank y'all enough for your support during both launches. Although almost every single item sold out, this swimsuit is one of my favorites from my resort collection, and there are still several sizes left in stock ranging from sizes XS to 2XL. I love the front ties and the cutout details, and it can also be worn with or without the straps. It runs small, so order up one size!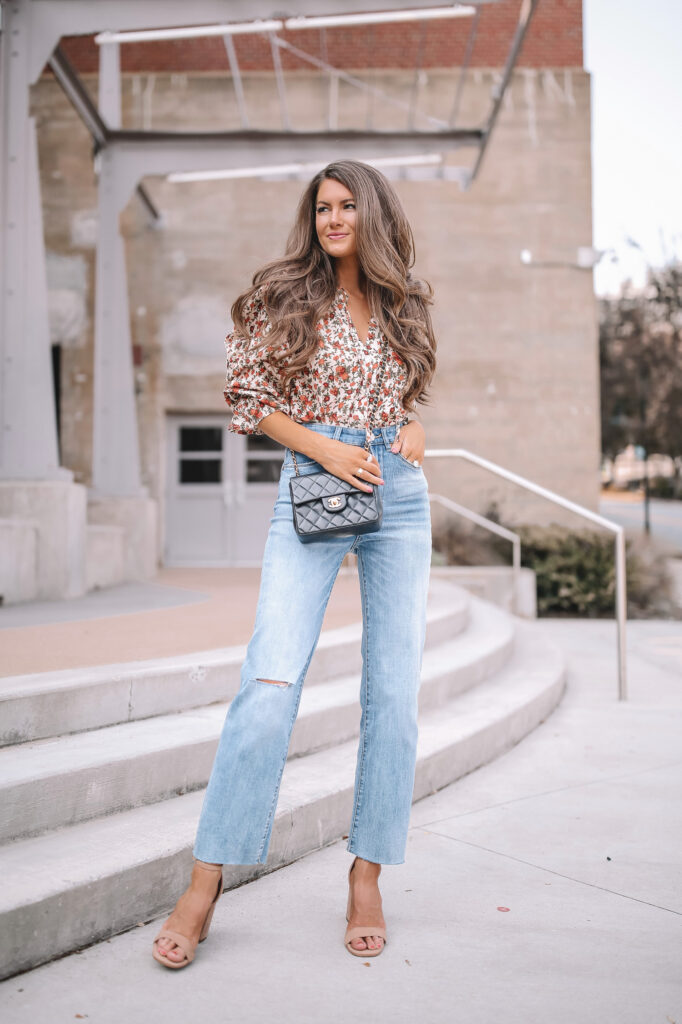 These jeans were a little bit outside of my comfort zone and I was hesitant to try them on, but I LOVE them! This is a great pair if you're looking to try out the straight jean trend without spending a lot of money, since they're marked down to less than $100. I found that they fit TTS and that they look really cute in the waist and butt area! They look great with booties, too. They ended up being one of my favorite pairs of jeans I bought all year.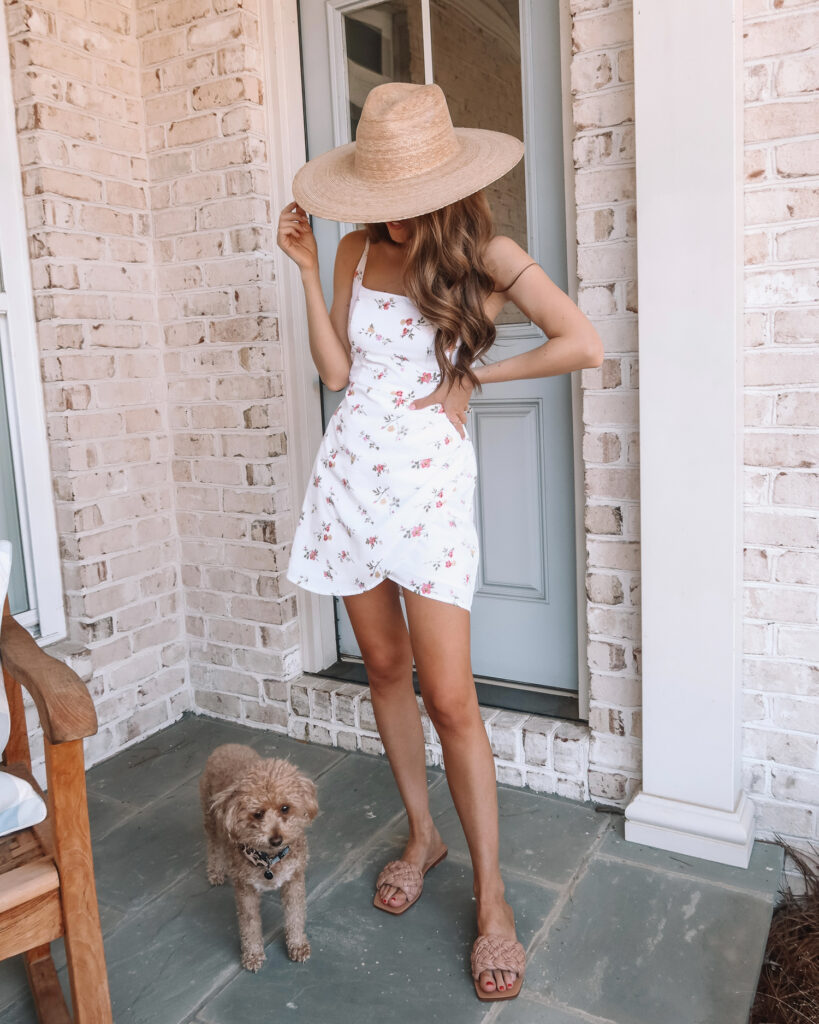 These woven sandals were my absolute favorite pair of sandals in 2021! They are fully stocked at Nordstrom right now and they are so versatile and comfortable. I love how they can be dressed up with pretty sundresses or dressed down with denim shorts. I also ordered the block heel version, which is 40% off right now!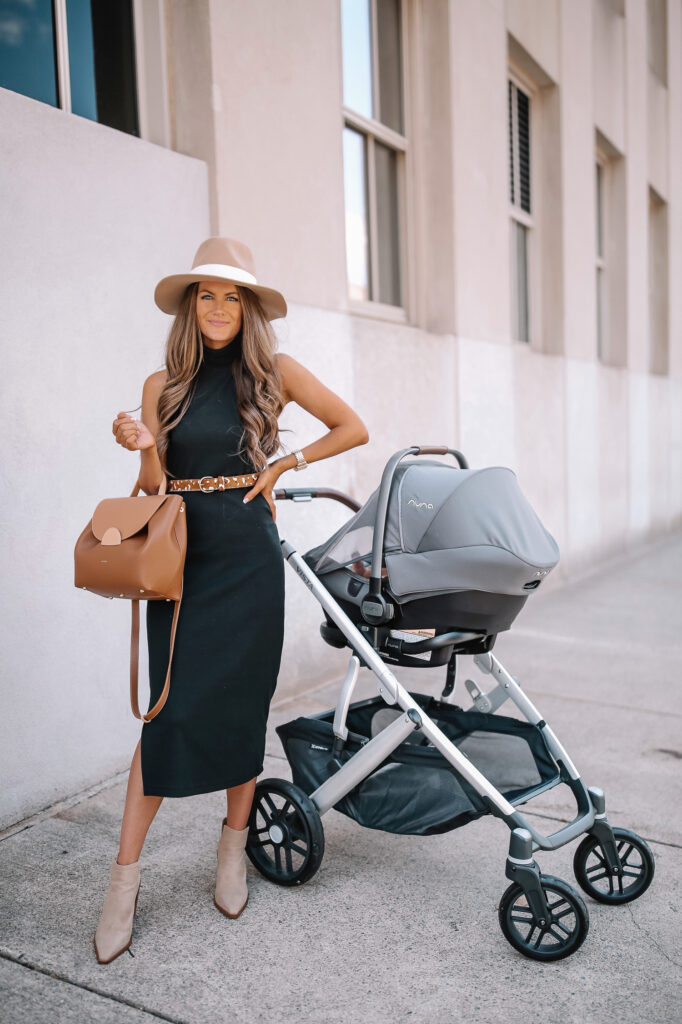 This stroller was the #1 recommended stroller from our family and friends. They all told us that it works really well and lasts for YEARS, so multiple children all got to use it. It comes with a bassinet (with a ton of cool features) and a reversible toddler seat that can be positioned upright, reclined or anywhere in between. I can honestly say that this stroller has been amazing and lives up to all the hype! It's incredibly smooth, even when there are bumps and cracks in the pavement, and Kennedy loves it too!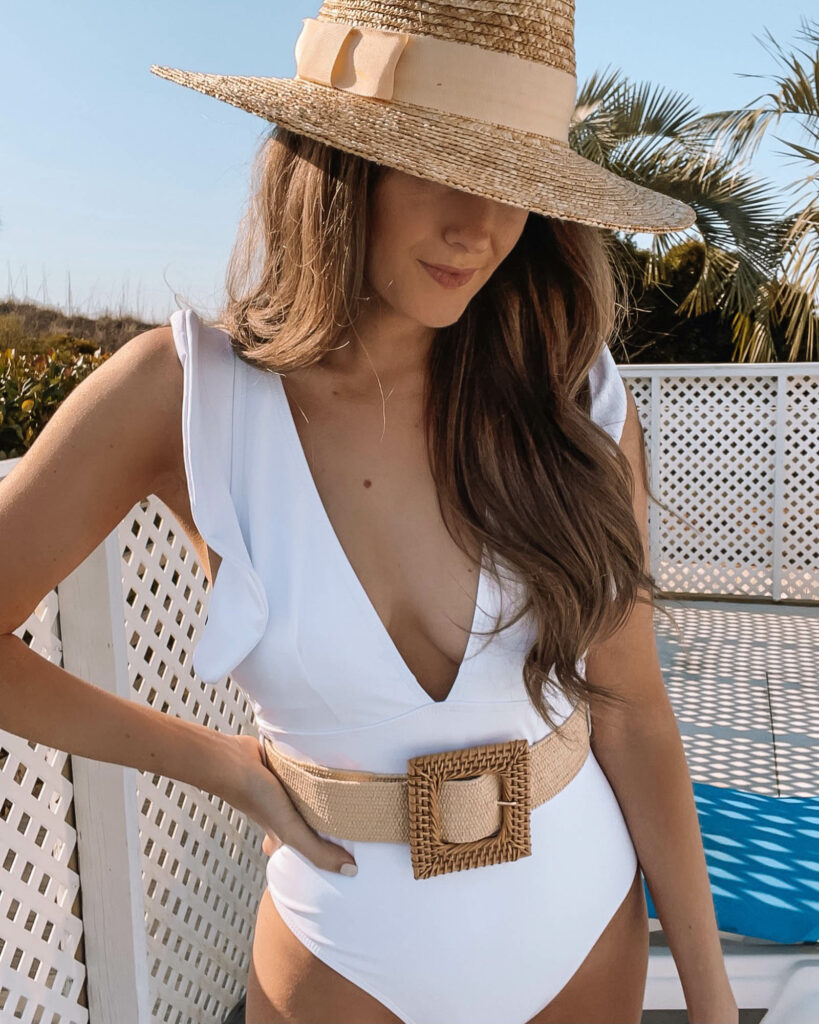 Y'all LOVVVVVED this white swimsuit I wore on Kennedy's first beach trip this past year! I still can't believe it's from Amazon. The belt makes this swimsuit super flattering because it accentuates your waist… I actually took off the belt that it came with so I could wear it with my rattan belt. The suit is really high quality and it isn't see though at all. It's available in a few other other pretty colors and it's only $30!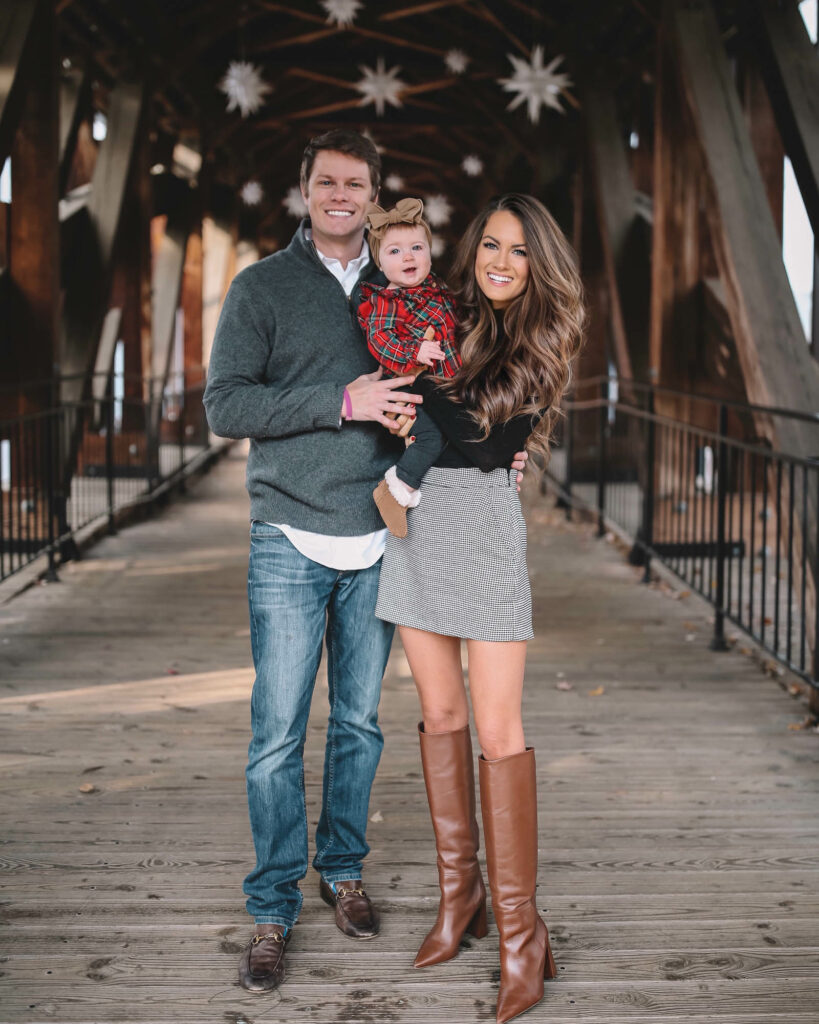 I remember being a little nervous to order these Steve Madden boots because I didn't know what they would look like in person. But ever since they arrived, I've been OBSESSED with them! I've worn them over and over again because they literally look good with everything – skirts, dresses, and equally as good with dark skinny jeans and a sweater. They ended up being my most worn pair of shoes all year. They're fully stocked and 40% off at Nordstrom right now!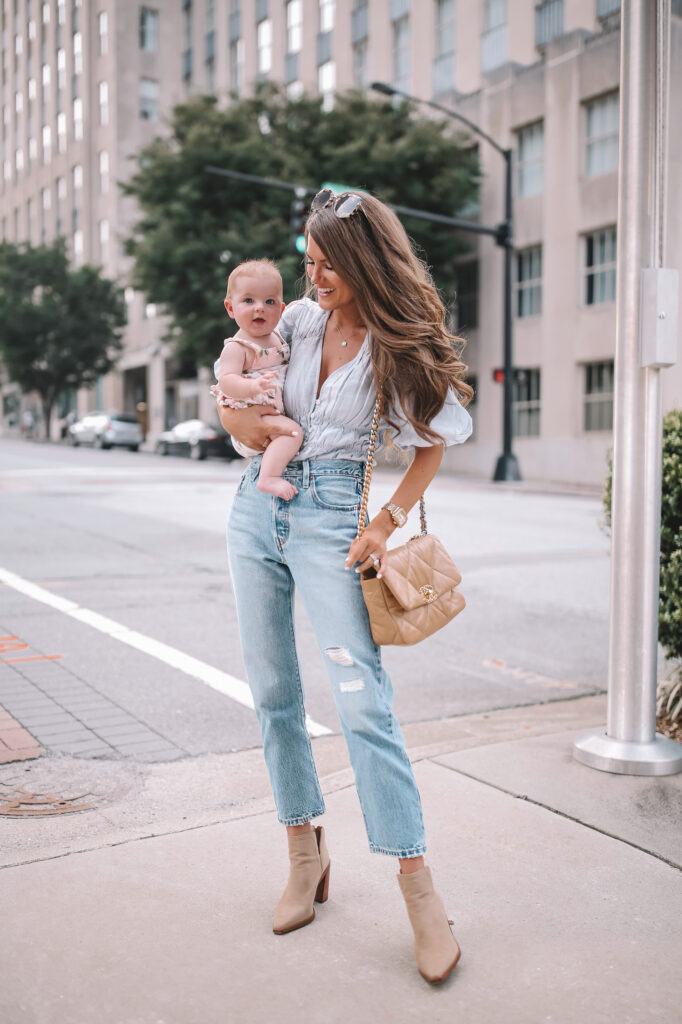 I didn't buy many booties this past year because this pair seriously goes with every single outfit! They are extremely comfortable, come up high enough on your ankle to wear with both trendy cropped jeans and mom jeans, and they are the PERFECT color. If you're looking to buy just one pair of booties to wear with all your favorite outfits, this is the pair for you!
And the number one best seller for 2021 is… this pair of Levi's! (Above.) I'm so happy you guys loved these jeans as much as I do!! I remember being so happy when I found these because they were the first pair of "mom jeans" I tried on that I really loved! The wash is a perfect light blue and they're not TOO baggy so they're actually figure-flattering. They pair well with both booties and tennis shoes and they're marked down to only $58.80 at Nordstrom right now and more sizes are available at Nordstrom Rack.
I'd love to know your favorite! Happy 2022, everyone. 🙂