You guys alllllready know what my favorite lip color is (do I even need to say it again?), Charlotte Tilbury lipstick in the shade "Pillow Talk." But at $34 a tube, it's quite expensive… especially when you go through as many tubes as I do (seriously… I'm on my fourth tube!). I wanted to find a more affordable alternative that provides that same beautiful nude pink shade that I love – so I turned to the trusted Walmart beauty department. After ordering and testing nearly fifteen lipsticks, I'm happy to report back that I found four *incredible* options, if I do say so myself!
The color on the far left is the expensive one from Charlotte Tilbury, while the other lipstick tubes are all of the similar shades from Walmart (all for a fraction of the cost!).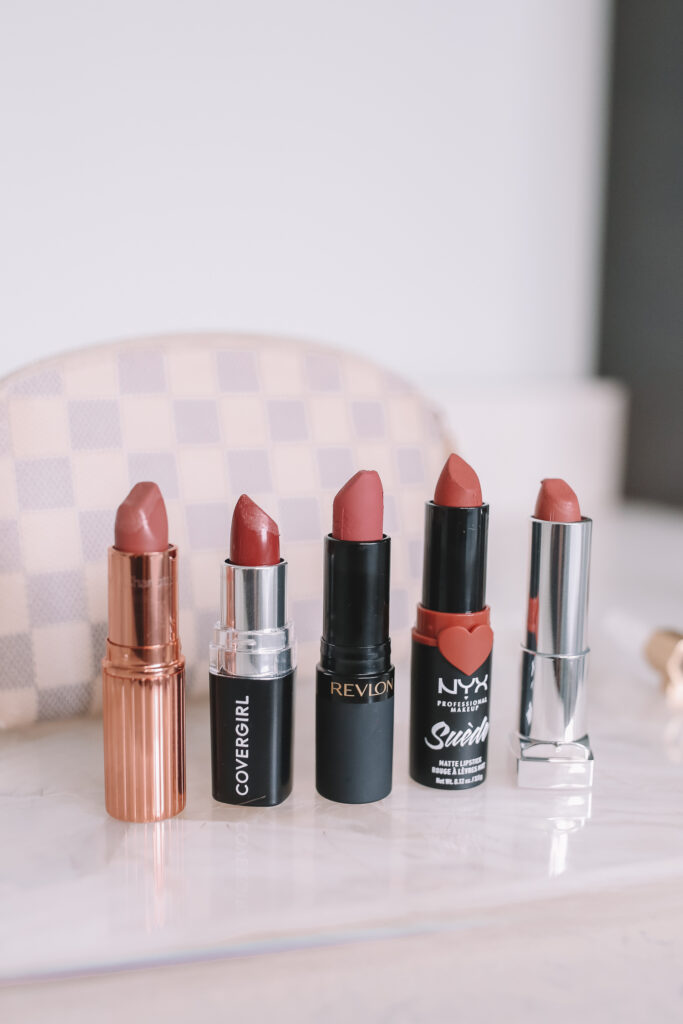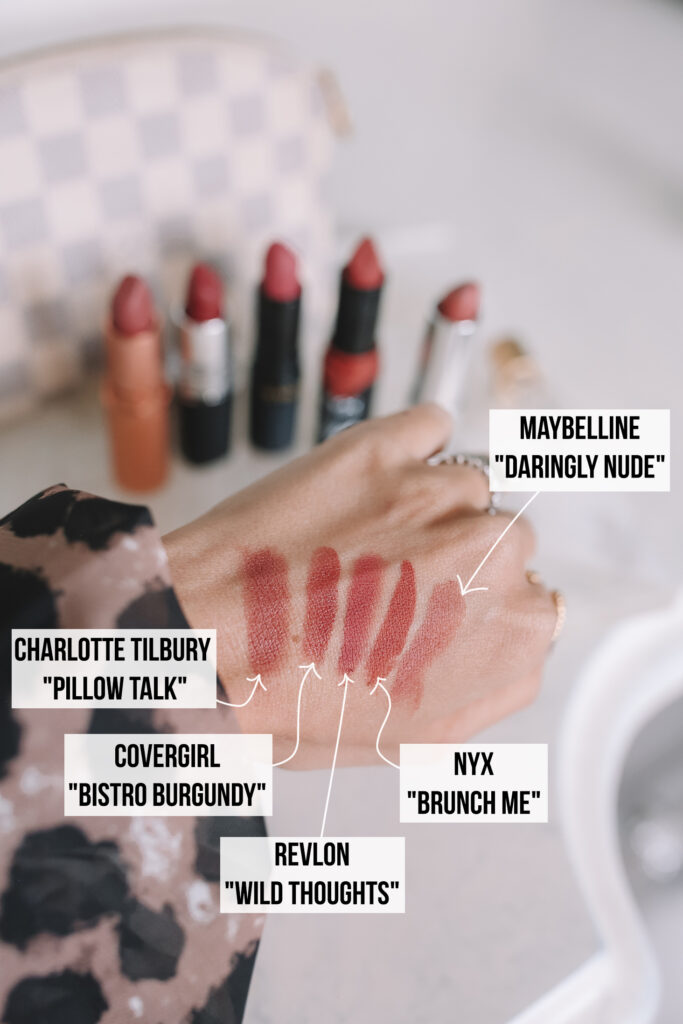 From left to right:
This lipstick was the real winner of the bunch! The shade "Bistro Burgundy" is almost an exact duplicate for the beloved "Pillow Talk." I have also worn this one the most since discovering it and definitely think it will be my new go-to fall lip color! The color is highly pigmented (more pigmented than "Pillow Talk"), so a little goes a long way. If you want more color, it is buildable. I've found that it doesn't dry my lips out at all, and I don't even need to apply a gloss over it.
This shade is another close duplicate, and the Revlon tube is even more affordable at less than $5! I found that this one has a slightly more "red" or "berry" tint to it, which will be really nice in the fall. It's also pretty durable, even after eating, and didn't dry my lips out, even after a full day of wear.
This NYX suede matte lipstick is HIGHLY pigmented, so only buy it if you like a lot of color! It is a beautiful color, though, and feels soft and lightweight on your lips, with a powdery-matte finish. Since this one has more of a matte finish, I found that using a chapstick or lip balm before applying really helped the overall look.
I looove this last one if you are looking for a more sheer option! It looks really natural on your lips, without looking like you have a ton of lipstick on. The color "Daringly Nude" is a nude color, but does have nice berry pink undertones. This lipstick has more slip to it than the others, and feels a bit like wearing a gloss.
All in all, I really like all of them and think you can't go wrong with any! And now that I have so many great colors, I can keep one in every handbag hahah. (I'm not kidding about that, I am ALWAYS losing my lipstick tube when I try to transfer it from handbag to handbag!)
Check out Walmart's beauty department for more fall beauty looks and products, including my favorite section: Mindful Beauty.
*Thanks to Walmart for sponsoring this post