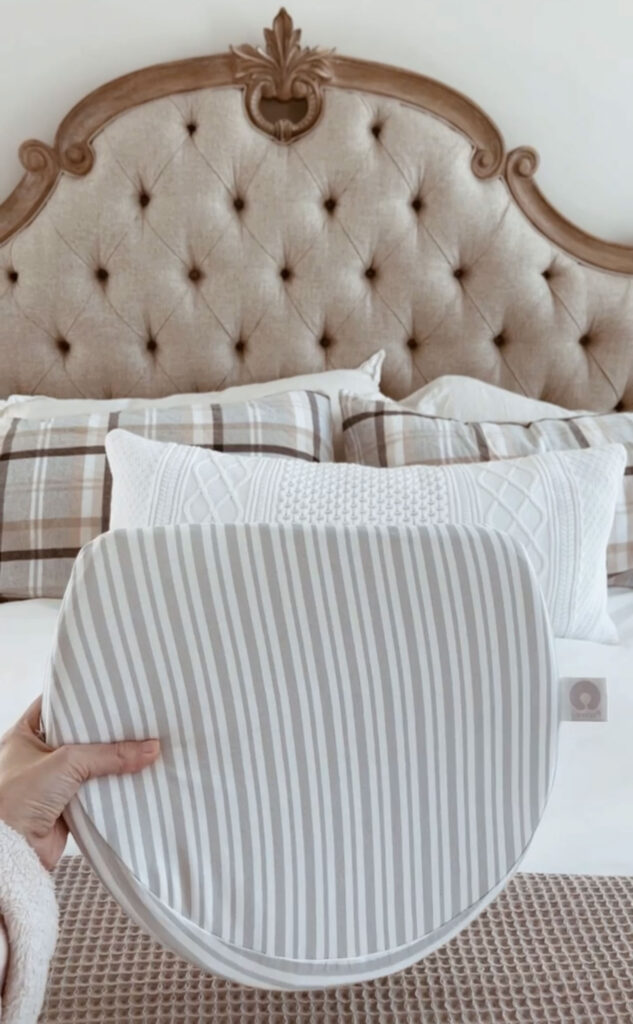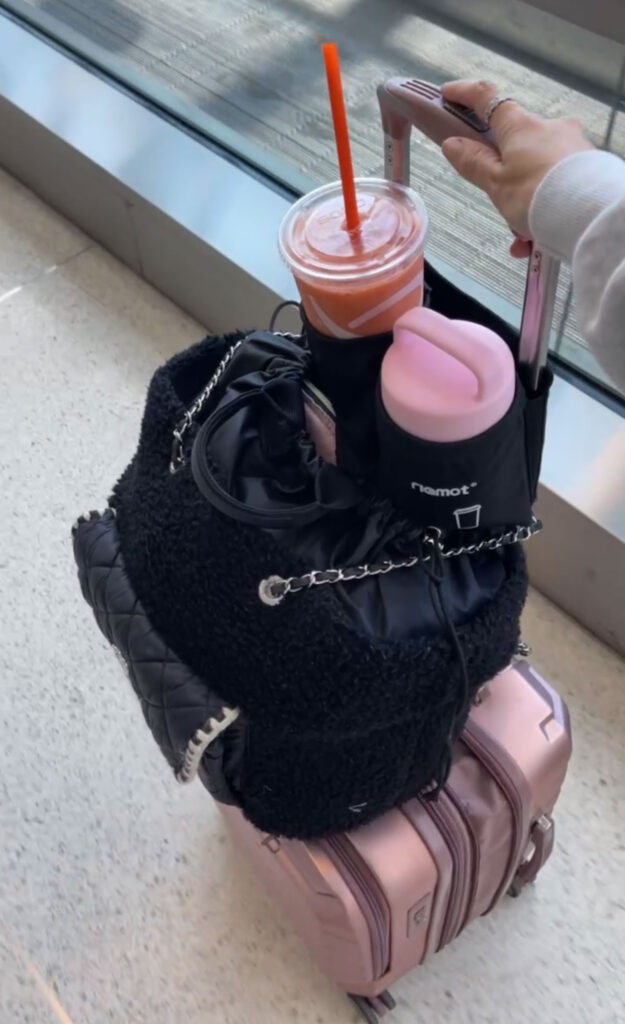 I love how blazers were so trendy in 2022 and I don't think that trend is going anywhere in 2023! Luckily, Amazon has some great blazers! This one is so good that I bought it in three different colors – white, tan and pink! It is really high quality and it fits really well too! You can wear them over so many things like sweater tanks, Oxford shirts, lace camis, dresses – the list goes on and on. I also love how you can wear this blazer to office or out to dinner depending on how you style it!
This tech organizer is a game-changer for travel (even if that's traveling to and from the office everyday)! It fits all my electronic accessories – cords, chargers, headphones and there's even space for those tiny SD cards that are easily misplaced! I love how it keeps everything from getting tangled and how I know where to find all things tech related. I was surprised by the gold zipper – it's not only chic, but high quality too. I have the pink one but it's also available in classic black. If one of your New Year resolutions is to be more organized, this pouch is a good place to start!
This is another Amazon find that I use for travel! Not only is it a pretty pink stainless steel water bottle, but it also filters the water you put into the bottle! I don't know about you, but the water at airports and hotels doesn't taste very good to me. So I often don't drink enough water when I'm traveling. That is until I discovered this water bottle last year! It has a Brita filter that fits in the straw and filters the water while you drink it – resulting in cleaner, tastier water no matter where you're at. It also keeps your water cold for hours and it doesn't leak at all!
A travel steamer is a MUST-HAVE for the fashion-lover who also loves to travel! A lot of times my clothes will get wrinkled in my suitcase, and having a travel steamer on hand is great for getting out all those wrinkles on the go. This one is so pretty, lightweight and has great reviews on Amazon! I love how it folds up so it easily fits in my suitcase. Plus, the water tank is easy to refill because it completely detaches from the steamer and it doesn't leak at all. This steamer is 42% off right now, so grab it for your upcoming vacation this spring!
This belt bag looks JUST like Lululemon's version (that is sold out everywhere). Plus it's super affordable! I love that you can wear it crossbody and how it's hands-free! They are very practical for everyday life – especially if you are a mama! This bag makes it easy to grab whatever you need while holding onto your baby at the same time. It's also great for travel – I always keep my passport and boarding pass in mine while making our way through the airport. And if you're wondering about the size of this bag… it's PERFECT! It holds everything you need – your wallet, phone, keys and lipgloss too!
Do yourself a favor and add this portable ring cleaner to your Amazon cart RIGHT NOW!! Last summer, the Red Dress girls showed us this while we were in Charleston and it blew my mind – I seriously bought it on my Amazon app the moment they showed us how to use it! To clean your ring, all your have to do is remove the cap, use the brush tip to scrub your ring and then rinse it off with water. That's it! It's so simple and the results are unbelievable! Plus it's small enough to fit in your purse. Check out the "Charleston" highlight on my Instagram to see the before and after results!
Okay this one's for all my expecting mamas out there! Sleeping is pretty uncomfortable during pregnancy – I am normally a stomach sleeper and it's really hard for me to get comfortable sleeping on my side! Instead of sleeping with my huge pregnancy pillow, I've been sleeping with this wedge pillow, which is small but mighty! You "wedge" it right under your bump while sleeping on your side, and it's the perfect height/slope to support your bump. Without it, I feel like gravity pulls too much on my stomach and it feel so uncomfortable!! I also love that this pillow is small and is easy to move when switching sides. It's also really easy to travel with.
To say that I'm OBSESSED with these cloud slides is an understatement! They are great for pregnancy and for anyone who just wants to be comfortable. I have had everyone in my life try them on (even my husband, although his foot could barely fit hahaha) and they have all agreed that they feel like you're walking on CLOUDS. Whenever I switch back to my old sandals, I immediately regret it because my feet hurt, and I have to go and grab these instead. If you are in need of a new pair of shoes that are easy to slip on to take out your pet, run some errands or go to the gym I highly recommend these!
We've all been there… making our way through the crowded airport trying to hold on to our coffee, water, passport, boarding pass, phone, and maybe even a baby, too! It can be difficult trying to keep up with everything and it usually leads to a spill. This Amazon find is the answer to all of our problems! It's a luggage cup holder and all you have to do is velcro it to the handle of your carry-on, and voilà! Your hands are free! It has two cup holders in the front and a smaller pocket in the back that's perfect for easy access to your phone and passport. I used it on all our trips in 2022 and I couldn't recommend it more. And yes, it DOES actually work (I was skeptical when I saw it online, too).
Without a doubt these Amazon sneakers are my favorite and most used Amazon purchase of 2022! I have worn these sneakers way more than I thought I would when I first bought them! To be honest, I wasn't sure what the quality was going to be like. However, I was pleasantly surprised to find that they are high quality, and comfortable too! Since they're a neutral color, they manage to go with EVERYTHING. I seriously reach for them every time I put together an athletic outfit. They look great with leggings, bike shorts, joggers and tennis dresses. I think they are also the perfect pair of sneakers to wear with crew socks (a look that's really trendy right now)! I have them in beige and white, but they're also available in a lot of other pretty colors. I've got my eye on the pink pair for this spring!