Good morning everyone!! Today I'm so happy to be sharing the details of my bachelorette weekend!!! What I really wanted for the entire weekend was to be able to get some sun on the beach, relax and enjoy being surrounded by all my best friends, and that's exactly what happened 🙂 My matron of honor found an amazing rental house in Wild Dunes, SC – our house was pretty much right on the beach, within walking distance to the Boardwalk Inn (where you can get food and drinks) and only a 20 minute drive from downtown Charleston. I would highly recommend Wild Dunes – plus, it's a gated community so it's VERY safe, not to mention clean and beautiful!
Friday morning, my friends Sara and Brit met me at my house at 9 a.m. (the photo above was taken RIGHT before we hopped in the car!) and we headed to Charlotte to pick up our friend Emily, then to my cousin Jennifer's house. Jennifer has a HUUUUUGE car, which was great because it fit all of our luggage and wine bottles (hehe)! We tried really hard to pack as little as we could, but of course we all had multiple bags hahah!
My two matrons of honor Anna and Melissa arrived to the house in Charleston right at the same time as us, so we all quickly changed into our bathing suits and headed to the beach. I swear, the beach is my happy place, and I instantly feel at peace whenever I'm next to the ocean. We all laid our beach towels in a circle and played a couple rounds of "Never Have I Ever." Then we headed back up to the house to meet some of the other girls that were just arriving! A few of us went to the grocery store to pick up some snacks and water bottles, while the rest of the girls stayed home to start fixing dinner. When we got back, the girls had all decorated the house!
The rest of the night, girls kept arriving, and we all ate a DELICIOUS lasagna that Anna had made for everyone (I need to get her recipe because it was honestly the best lasagna I've ever had!). For dessert we had cake balls and peanut butter cookie dough dip, then played a fun game that Melissa and Anna had made. Prior to the bachelorette weekend, they had asked Chris a bunch of questions like "What's the best gift Caitlin has ever given you?" and "What's Caitlin's most embarrassing moment?" He answered them all, and then the girls printed out his answers on little notecards. All of the girls took turns asking me the questions, and I had to guess what Chris's answers were. I thought that it would be pretty easy, but Chris is really wordy and he basically wrote NOVELS for his answers hahah! Regardless it was really fun 🙂 Anna had also printed out this "Pin the Tail on the Chrissy" game which I thought was absolutely hilarious!!! (Yes that is Chris's butt hahah)
The next item on the agenda was the Lingerie Shower! If you haven't heard of a Lingerie Shower, I'm pretty sure it's a southern thing! (Although I could be wrong on that). Basically, all of the girls gifted me pretty lingerie to wear on the honeymoon. I took turns opening each gift and then had to guess who it was from. It was so fun but also a bit embarrassing 🙂 The rest of the night we spent all hanging out, laughing and eating the rest of the peanut butter cookie dough dip, haha.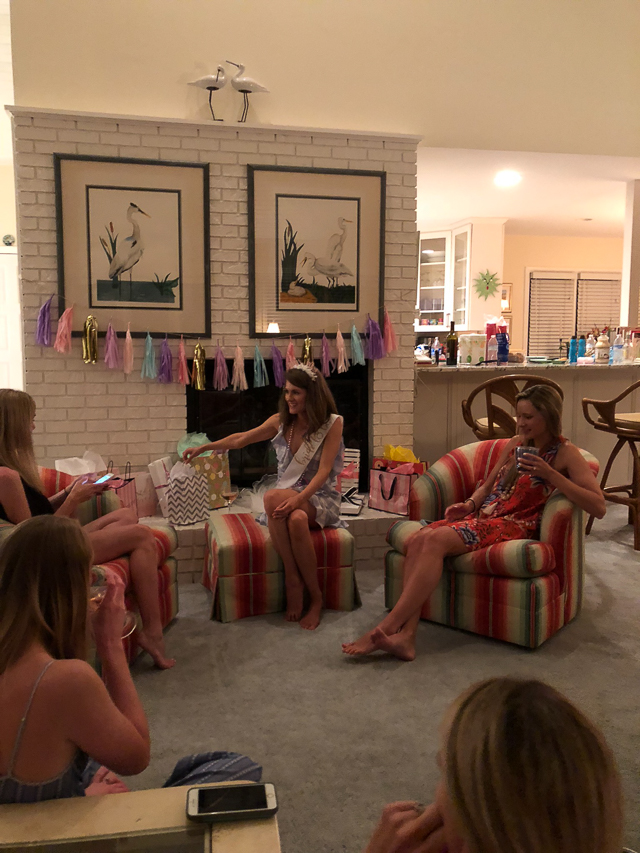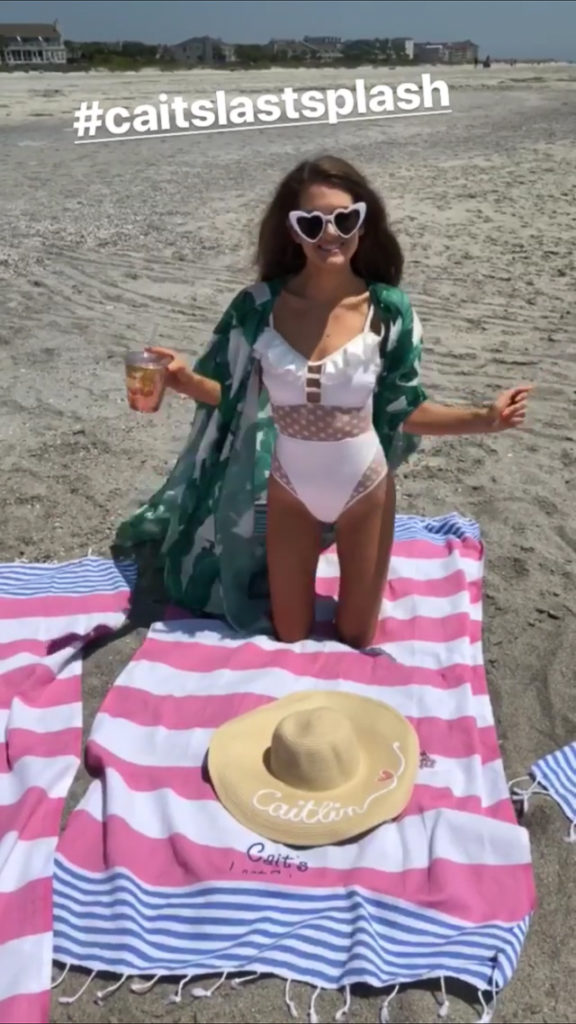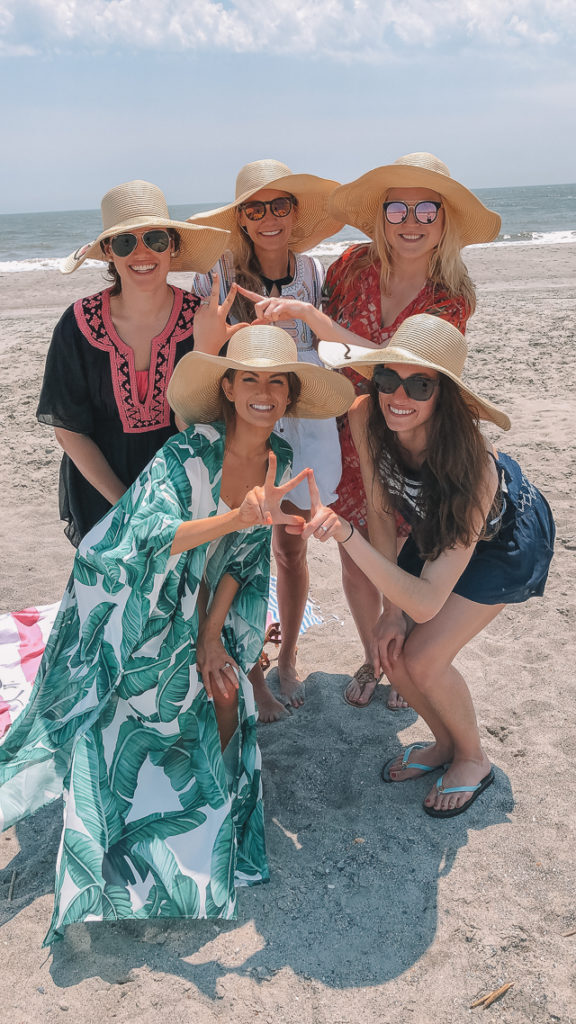 all of my KD girls from college! Sarah, Anna, Katherine and Gracie
For lunch, we walked on the beach to the Boardwalk Inn and ate at their little beach restaurant. They have a selection of sandwiches, burgers, salads and wraps – and their tater tots are delicious! Around 4 p.m. we all headed back to the house to take showers and get ready for dinner that night. I wore an old white dress I have from Revolve, and all of my girls dressed in pink!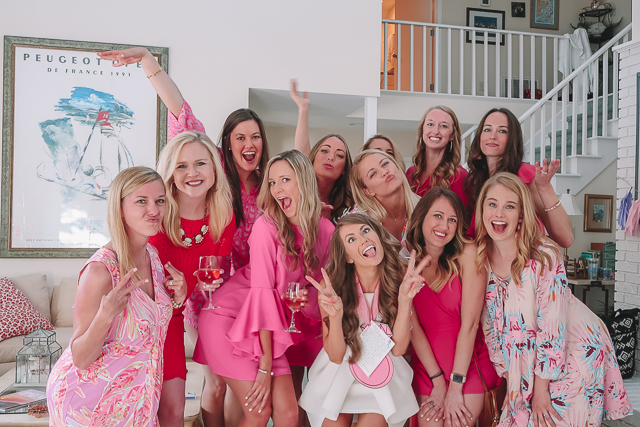 All of the girls before we left for dinner
After dinner, we all headed to a nearby bar to DANCE! Anna had printed out a "Bachelorette Scavenger Hunt" which she hung around my neck with ribbon. The entire night, I had to do things to check off the list, which made the whole night really fun! For instance, I had to stand on a table and yell "I'm getting married!!" (which I did after a glass of wine haha). I also had to find another bride on her bachelorette party and take a picture with her, and find a guy with the same name as the groom (Chris) and take a picture with him.
After a fun (late) night out, we all headed home – a bunch of the girls stayed up talking late into the night, and then we crashed! The next morning we all ate breakfast, packed, cleaned the house and then headed home. It was honestly one of the best weekends of my entire life (it will be second-best after the wedding!) and I am so thankful to be surrounded by such positive, loving and KIND friends. Even though a bunch of the girls didn't know each other beforehand, everyone got along so well and (I hope) had a much fun as I did. My abs were so sore at the end of the weekend from laughing so much. A huge thank you to my matrons of honor for planning everything and doing such an amazing job!!!!
Let me know if you have any questions in the comments 🙂
xoxo