Labor Day has come and gone, which means it's officially fall! Right? Right! This past month's best sellers list is full of great transitional pieces and a few essential items for pregnancy, too! Let's get started.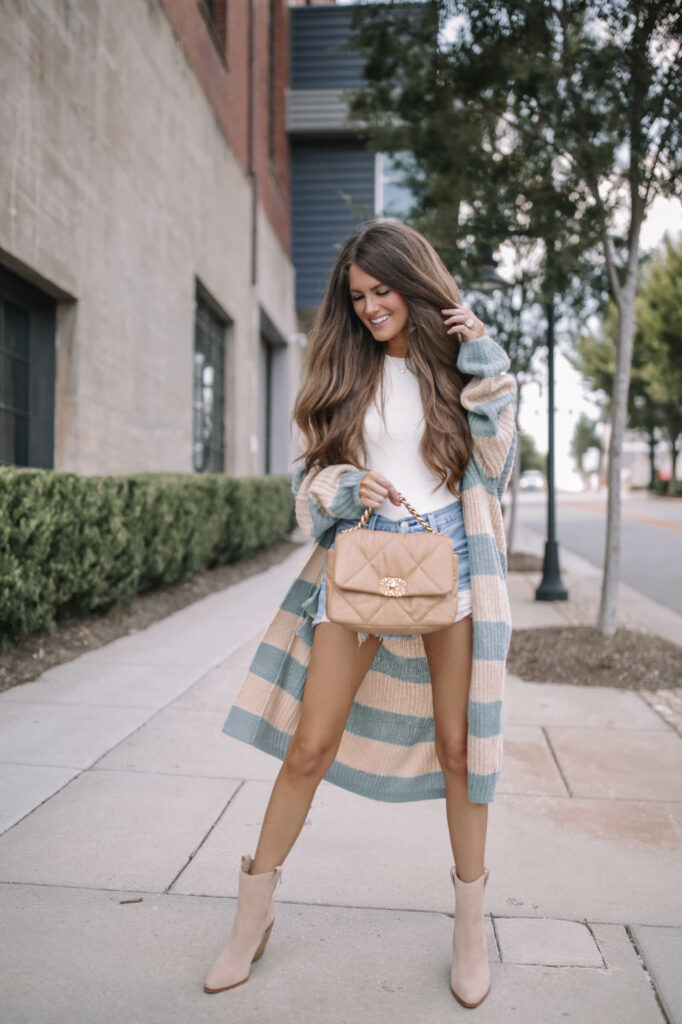 This cardigan is the perfect piece to wear both now and later! I LOVE how it looks with jean shorts right now while it's still pretty hot outside! But it will also go with all your fall outfits effortlessly, from leggings to jeans to dresses when it starts to cool down later in the season. In particular, I am envisioning it over a neutral midi dress like this one. Obsessed! And the best part… this cardigan is 40% off right now so it's the perfect time to snag it!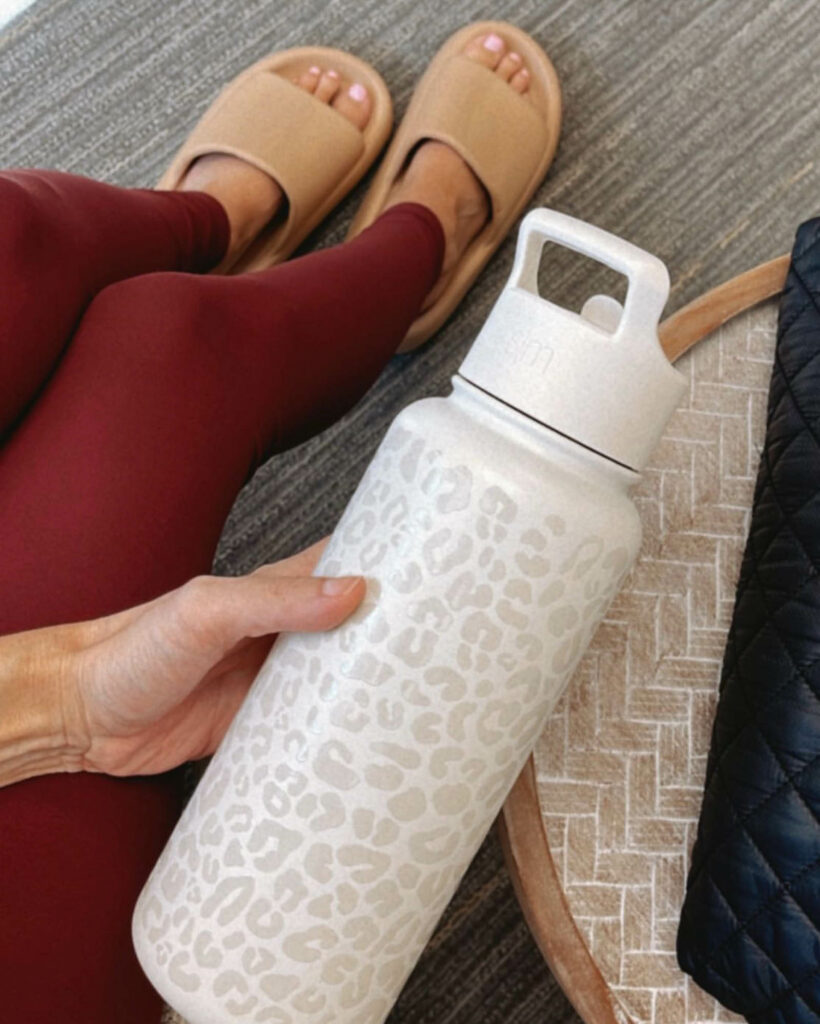 This might be by favorite recent Amazon purchase! To say that I'm OBSESSED with these cloud slides is an understatement! (This is not the best picture of them, but you get the idea haha.) They are great for pregnancy and for anyone who just wants to be comfortable. I have had everyone in my life try them on (even my husband, although his foot could barely fit hahaha) and they have all agreed that they feel like you're walking on CLOUDS. Whenever I switch back to my old sandals, I immediately regret it because my feet hurt, and I have to go and grab these instead. I know they will only be of more and more use as I get bigger and heavier throughout pregnancy!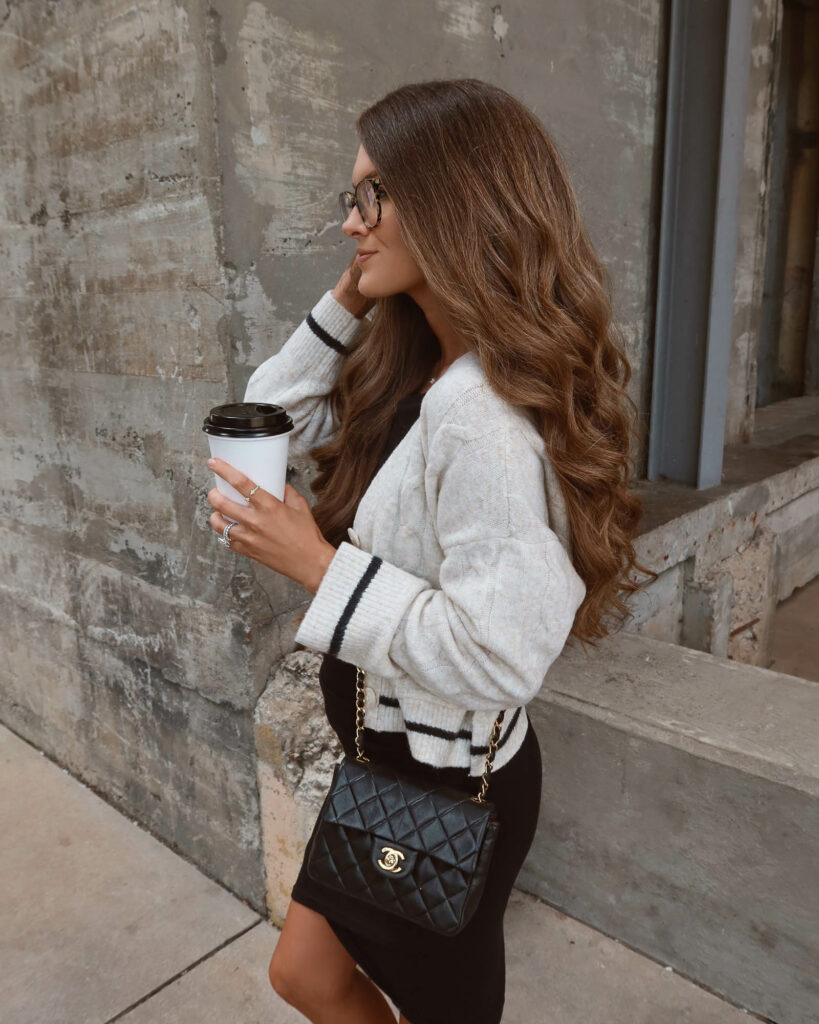 The "preppy" look is trending for fall and I couldn't be happier about it! The stripe at the hem of this cardigan is the perfect little preppy detail that makes it so on trend for fall 2022! It's also super soft and not itchy at all. I wore it over a dress earlier this month, but it would also look great with a plaid skirt or even front-tucked into a pair of jeans. If it's still too hot to wear cardigans where you live, this one looks so cute draped over or tied around your shoulders!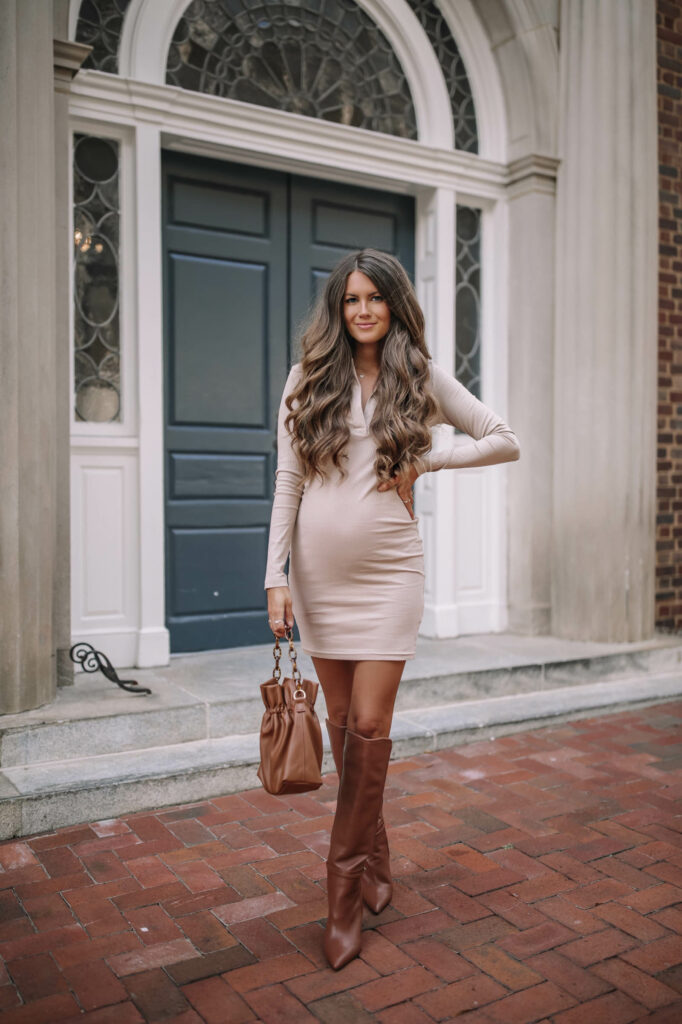 This ribbed polo dress is also spot on the "preppy" trend for this fall plus it's very comfortable, pregnant or not. I probably should have sized up for my belly, lol, but I went with my normal size (go with your normal size if you're not pregnant!). I styled it with a trendy cognac handbag (that happens to be only $11) and some knee high boots to complete the look. When it gets colder, I think it would look great under a cardigan or jacket. Oh and did I mention this dress is just under $20?!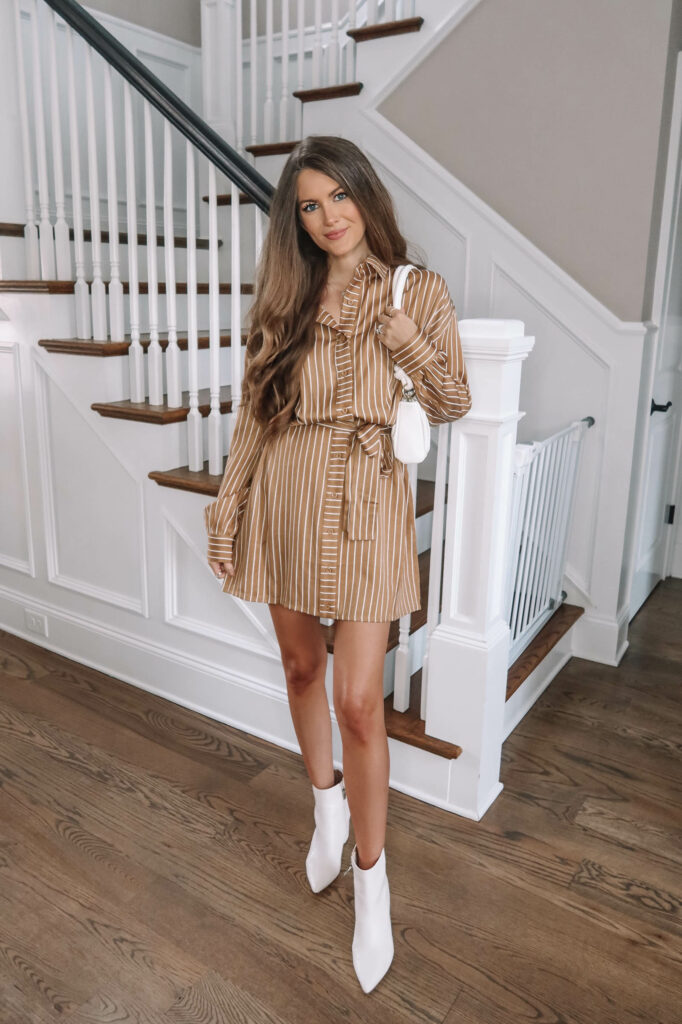 I'm always looking for easy and comfortable outfits and this Amazon dress takes the cake! It only takes seconds to throw on with a pair cute booties and you have yourself a classic fall outfit! The tie belt is super flattering and it looks so cute with a baby bump. Speaking of the bump – I was still able to get my normal size, so I don't think you need to size up for pregnancy. I love this pretty, neutral khaki color, but it's also available in ten other classic colors for fall.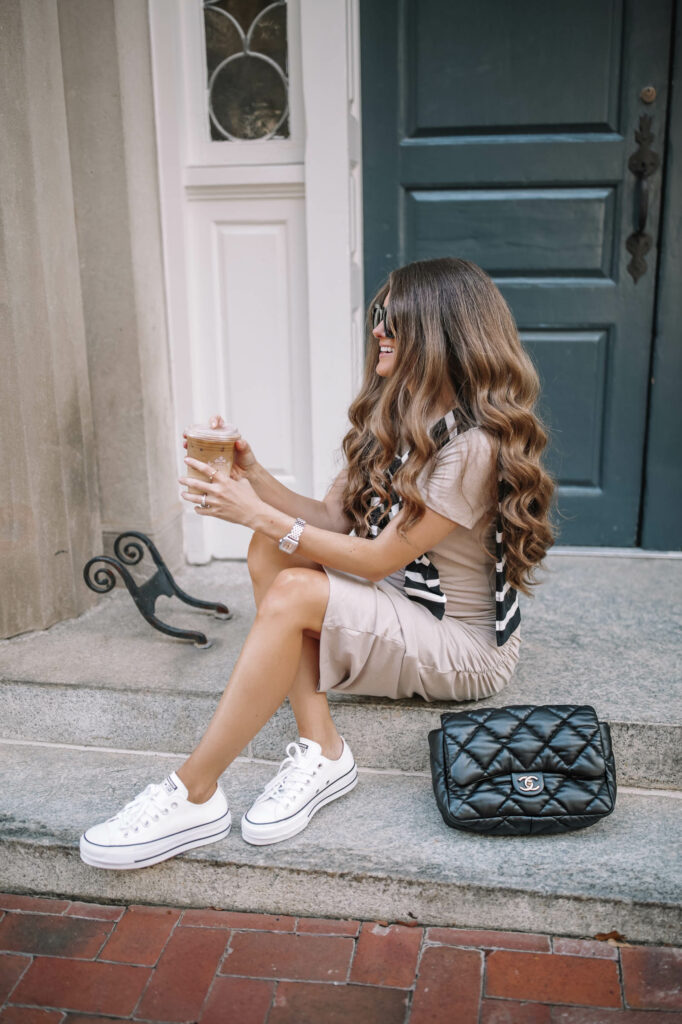 This ruched body-con dress is SO comfortable, flattering, and makes the perfect neutral "base" to build out an outfit. I purposefully sized up one size so that I could wear this dress now and into my third trimester. It's actually still a little loose in the stomach area right now, but I know I'll be very glad to have the space a few months from now! If you're not rocking a bump, I would suggest going with your normal size. This classic dress is fully stocked and 40% off right now, making it less than $40!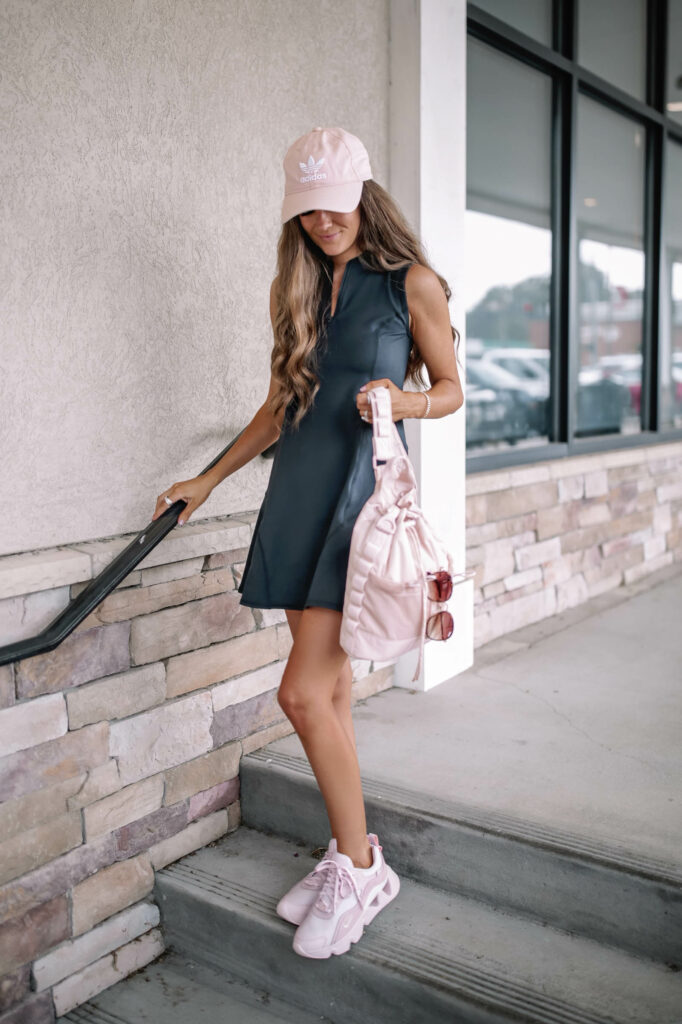 This little tennis dress is the perfect dress for running errands, working out, traveling, or just being a mom! I recommend wearing some workout shorts underneath – it is truly a dress and you might show more than you intend to if you plan on bending over a lot in it! It's super easy to throw on and instantly look cute and put together even when you've only had a few minutes to get out the door. Add a cute sweatshirt and you can wear this well into the fall!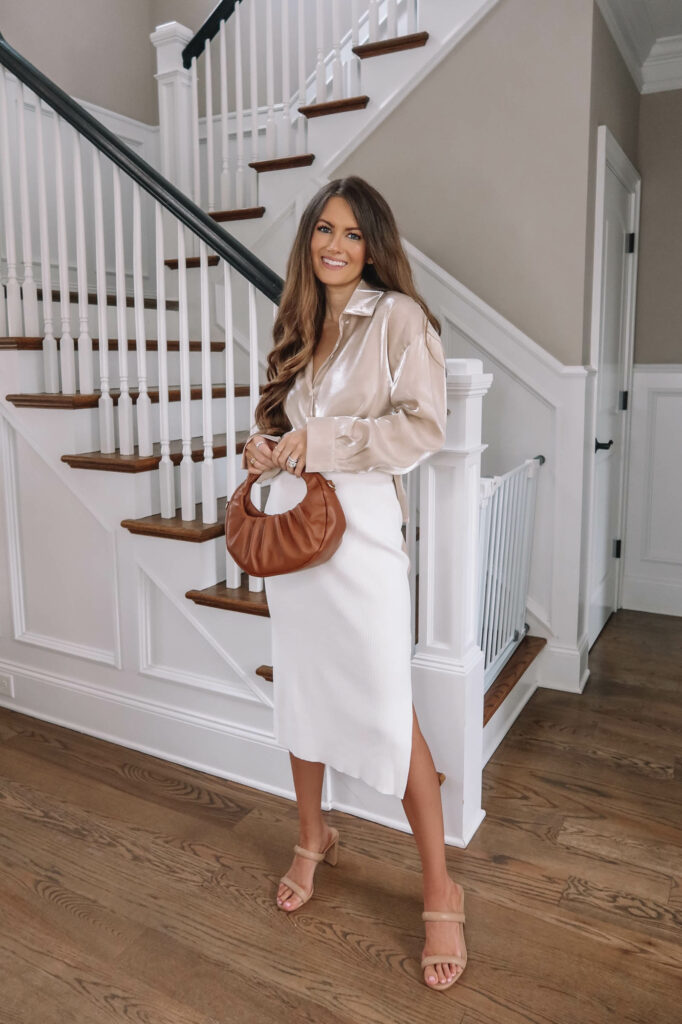 You know those pieces in your closet that you reach for time and time again? Well I think this satin button-up shirt will be that piece this fall! It's really versatile and looks so chic when paired with seriously anything – skirts, dresses, trousers, jeans, vests, you name it! The metallic sheen and the oversize fit instantly elevates and updates any outfit you may already have in your closet. It's also a great price, so you can grab it in a few different colors.
Another Amazon find for the win! This midi sweater skirt (also shown above) is part of a whole set from The Drop on Amazon. The set includes this skirt, a tank top and a cardigan. All three pieces look so cute together, but you can also mix it match them all with other pieces in you closet. I've worn this skirt with sweaters and button-up shirts. I've worn the tank under other cardigans and blazers. And I've worn the cardigan with jeans and other skirts. This skirt, in particular, is perfect for pregnancy! The material is really soft and stretchy, perfect for your growing bump!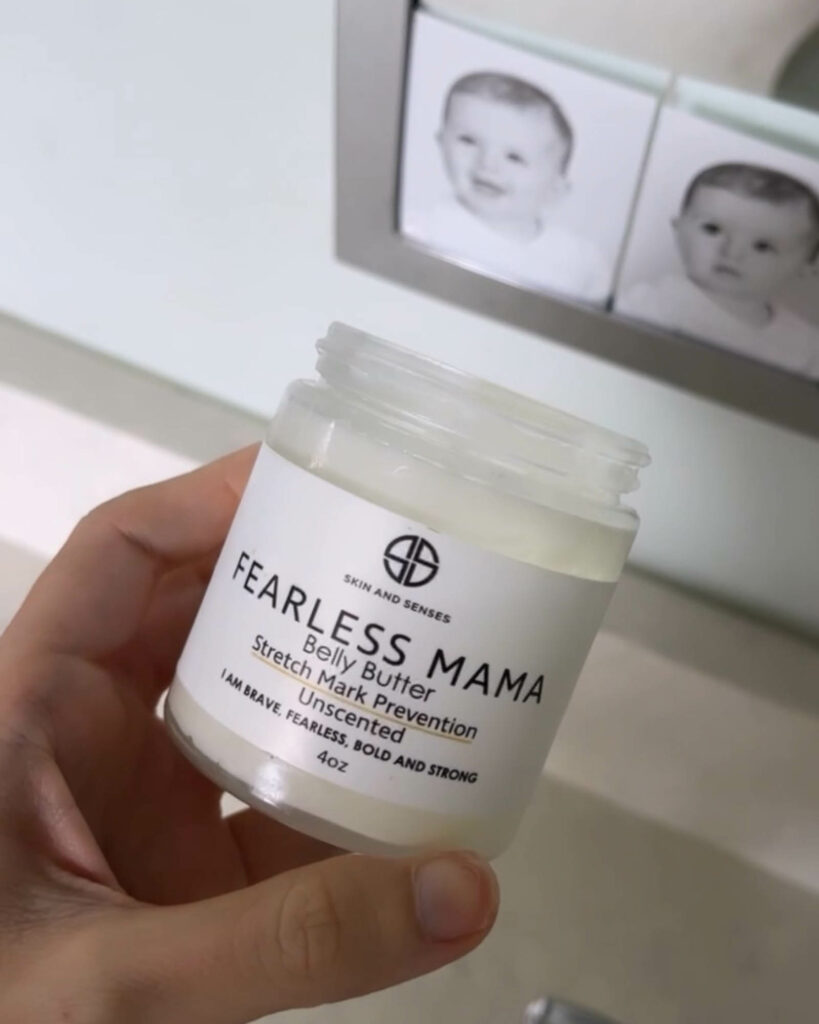 The number one seller for this month is my number one skincare product for pregnancy!  I used this belly butter daily during my first pregnancy and have continued using it with my second! I know genetics plays a role in whether or not you get stretch marks, but I didn't get any stretch marks with Kennedy and I really think that the consistent use of this product helped. It is such a nice product – it doesn't have any water or fillers, or preservatives… it's literally made with the purest ingredients (I get the "unscented" one). I rub it between my hands to warm it up first, then apply it anywhere that I could get stretch marks like my stomach, butt and chest. Everywhere else, I apply this body oil (also in the "unscented"). It keeps my skin feeling nice and moisturized, and I love that both products are so clean! It is truly one of my favorite products for pregnancy!!!!
xoxo