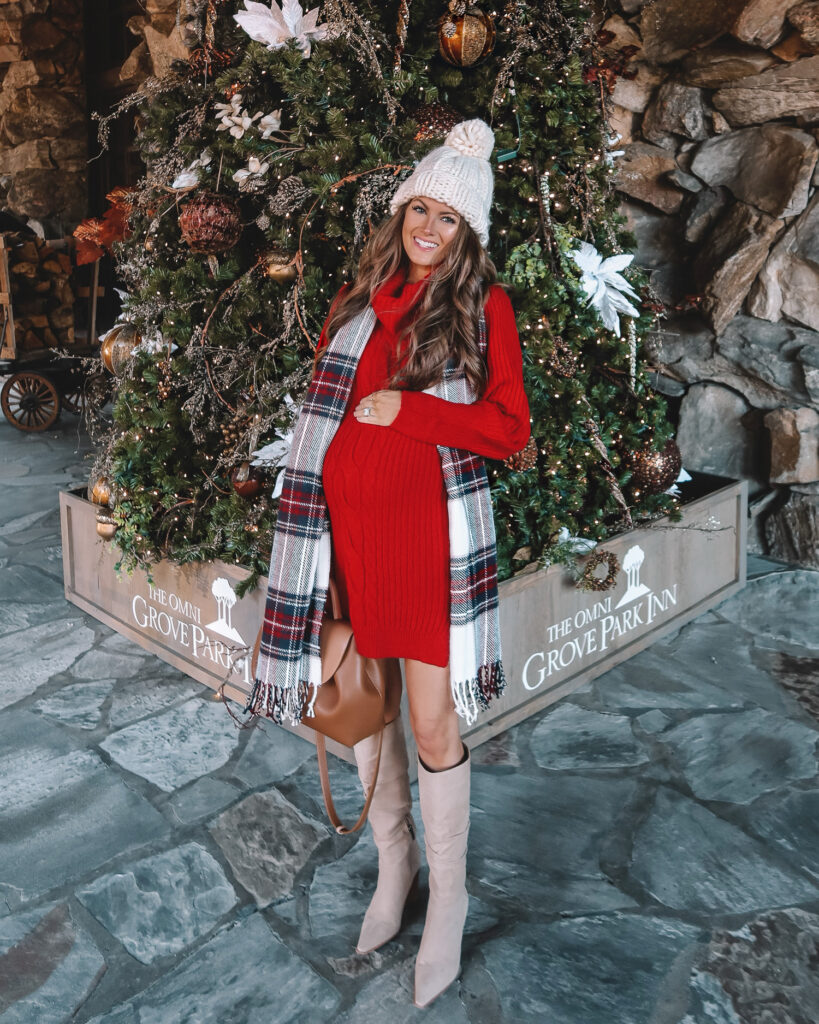 white hat // red sweater dress // plaid scarf // suede boots // Polene handbag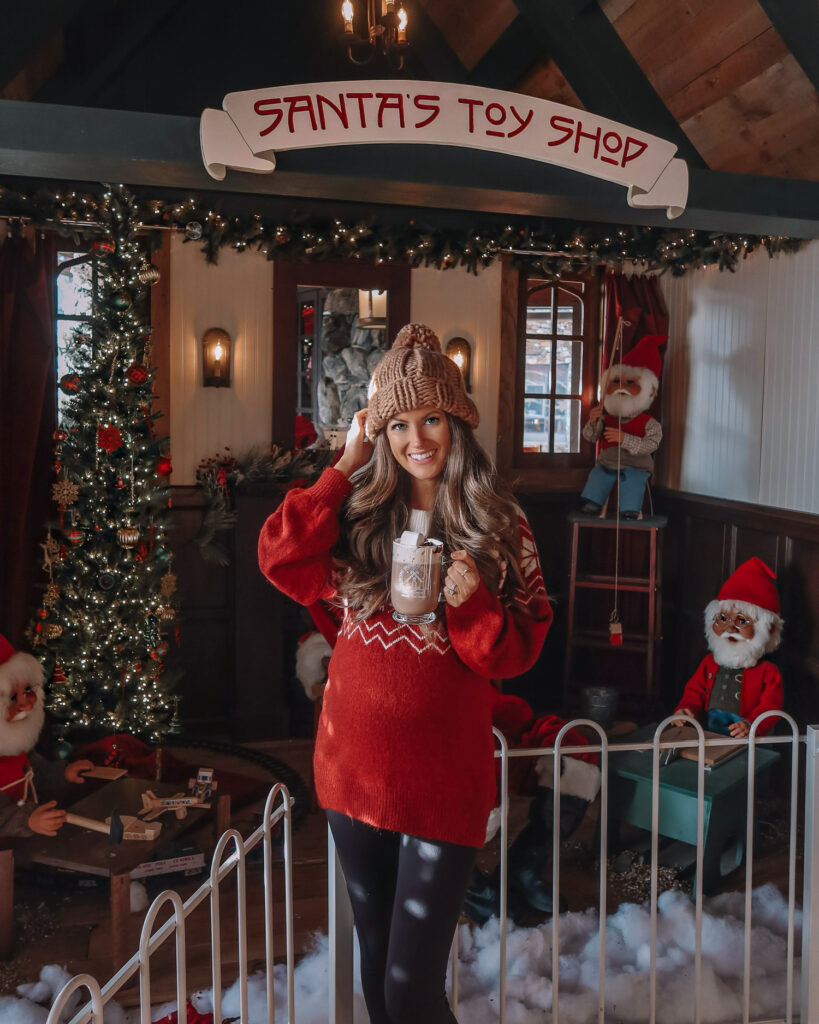 Christmas sweater // Lululemon "Align" leggings // tan beanie
similar red beanie // black dress, long-sleeve versions here & here // Old Navy coat // suede boots // Polene handbag
A few weeks ago, Chris and I packed the car up and headed to Asheville on our babymoon. We had originally envisioned babymooning on a beach somewhere, but then the pandemic happened (and there's no way we were getting on an airplane right now!). Instead, we chose Asheville: a charming little mountain town that gets completely decked out for Christmas and happens to be only a two hour drive from our house in Winston. We were only there for a few days so this list isn't exhaustive, but here are all the recommendations we have from our few days away!
Where to Stay
A RENTAL: In the past, we've stayed at really cool Airbnbs in Asheville! I still highly recommend this option because you have a whole house or cabin to yourself, and you have a lot more privacy.
THE OMNI GROVE PARK INN // This is where Chris and I chose to stay on our babymoon. I hope I don't upset a lot of people by saying this… lol… but we were not super impressed with the Grove Park! We had heard WONDERFUL things about this hotel, but it didn't really live up to our expectations! First of all, for the price you pay to stay here, the rooms are not super special – all of the carpeting and furniture in our room seemed outdated and/or scuffed, and the dresser was so old that we had trouble opening and closing the doors! We also were expecting the hotel to be at half capacity and for everyone to be following the mask rules, but to be honest we felt quite uncomfortable in the common areas at the hotel. There were a TON of people all packed into the common areas, and a lot of people weren't wearing masks (although we did hear the hotel staff telling them to put their masks on!). I think I would have felt more comfortable at a smaller hotel. As for a positive, I will say that their Christmas decorations were phenomenal, and I loved the life size "gingerbread house" where you could order hot chocolate and gingerbread cookies every day.
Where to Eat
Breakfast/Lunch
BISCUIT HEAD: This place served up some of the best biscuits I've ever had in my life! They have both sweet and savory options and are pretty affordable. Right now, they are only doing takeout due to COVID, which we were fine with. I got a plain biscuit with honey and a bunch of different flavors of jams, as well as the donuts (that are actually made from biscuits). Both were amazing.
DOUBLE D'S: Double D's is actually a double decker bus serving up delicious coffee and desserts. This place is an Asheville must-visit and totally makes you feel like a kid again. This is more of a grab-and-go place, so be prepared to grab your coffee and walk around, or hang out for a few minutes at one of their outdoor tables (just be sure to wear warm clothes if you're there during the winter!).
EARLY GIRL EATERY: This is our new favorite brunch spot in Asheville! This farm-to-table eatery has both indulgent and healthy options with a side of REALLY good coffee. I loved that so much of their menu was organic! Chris and I split the banana bread as an appetizer – you absolutely HAVE to order it if you go here. For my meal, I ordered the Veggie Breakfast Bowl and it was SO flavorful and delicious.
Dinner
CORNER KITCHEN: I think Corner Kitchen serves up a mean lunch, but we enjoyed a cozy dinner here next to their indoor fireplace. The service was great, and the bar was able to whip me up a "Christmas mocktail" that was super yummy. Chris and I liked that they offered both "fancy" and "non-fancy" dinner options LOL – for instance, I got the salmon special, which looked like a work of art, while Chris enjoyed a burger and fries.
CÚRATE: Chris and I weren't able to get reservations here during our babymoon, but I've been here before and it's delicious! Cúrate serves authentic, tapas-style Spanish cuisine and is one of the highest-ranked restaurants in Asheville.
VUE 1913: This restaurant is actually inside the Grove Park, which was incredibly convenient when it was time to go to dinner! Definitely save this restaurant for a special occasion. It's pricy, but we both thoroughly enjoyed our meals (we both ordered steak!). This restaurant also has a really nice, relaxing atmosphere, and if you get there early enough you'll enjoy a panoramic view of the Blue Ridge Mountains.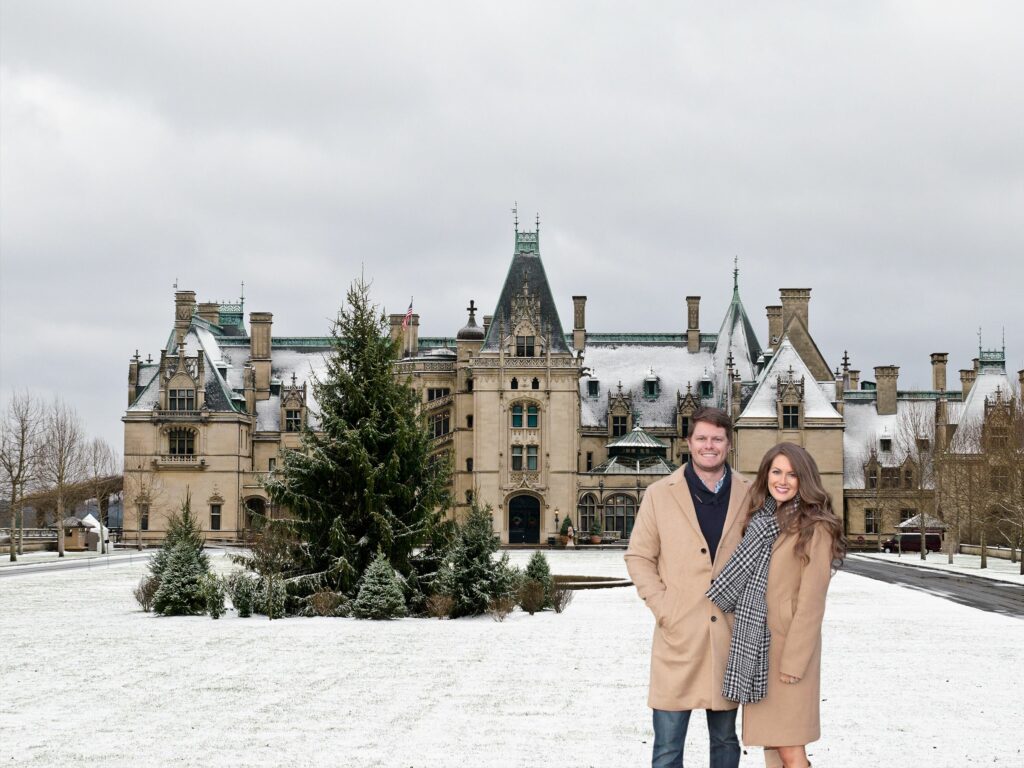 Things To Do
I'm not going to lie, it was a little hard to find things to do in Asheville because of the pandemic and the weather! A lot of things were closed due to the pandemic, and the weather was in the 20s and 30s, so we felt that it was too cold to hike (especially because I'm pregnant). Here are the things we did do, though!
THE BILTMORE: If you can get in, book a candlelight tour at the Biltmore Estate during Christmastime! The Biltmore is really a full-day affair: tickets to the Biltmore gives you access to the house and insight into its rich history, as well as access to the winery, gardens, and Antler Village restaurants and shops. At night, Antler Village is absolutely beautiful with thousands of twinkling lights adorning the trees and the shops. There's enough to do inside the gates to make this a full-day affair.
BREWERY HOP: Although this might not sound super enticing to a pregnant woman, my husband sure enjoyed this one! Asheville is home to some of the best breweries in the United States. And actually, going to breweries really wasn't too bad because they offered some pretty interesting mocktail options. My favorite was Wicked Weed, where they offered both a creative mocktail and delicious food (and we got to sit outside next to the heaters!). It was fun to walk around and explore different parts of Asheville, too.
GRANDFATHER MOUNTAIN: Grandfather Mountain is an hour and a half away from Asheville, but definitely worth the drive if you haven't been, since it's the highest peak in the Blue Ridge. You do have to pay admission, but you get access to all kinds of attractions within the park including my favorite, the Mile High Swinging Bridge, with an elevation of 5,305 feet! (It is a little nerve-wracking to walk across the bridge, but it's perfectly safe.) The park also contains environmental habitats for black bears and bear cubs, a nature museum, more than 12 miles of maintained hiking trails and an indoor theater.
TAKE A DRIVE: One of my favorite things to do in the North Carolina mountains is to hop on the Blue Ridge Parkway and DRIVE! It is so beautiful anytime of year (especially during the fall when the leaves are starting to change). Running for 469 miles between the Shenandoah Valley in Virginia to the Great Smoky Mountains in Tennessee, all you have to do is look out your car window for seemingly endless mountain vistas. There are also several viewpoint areas where you can park your car and take pictures of the amazing scenery.
That pretty much sums up our babymoon! If you have any Asheville recommendations to add, definitely let us all know in the comment section. 🙂 And Merry Christmas WEEK!