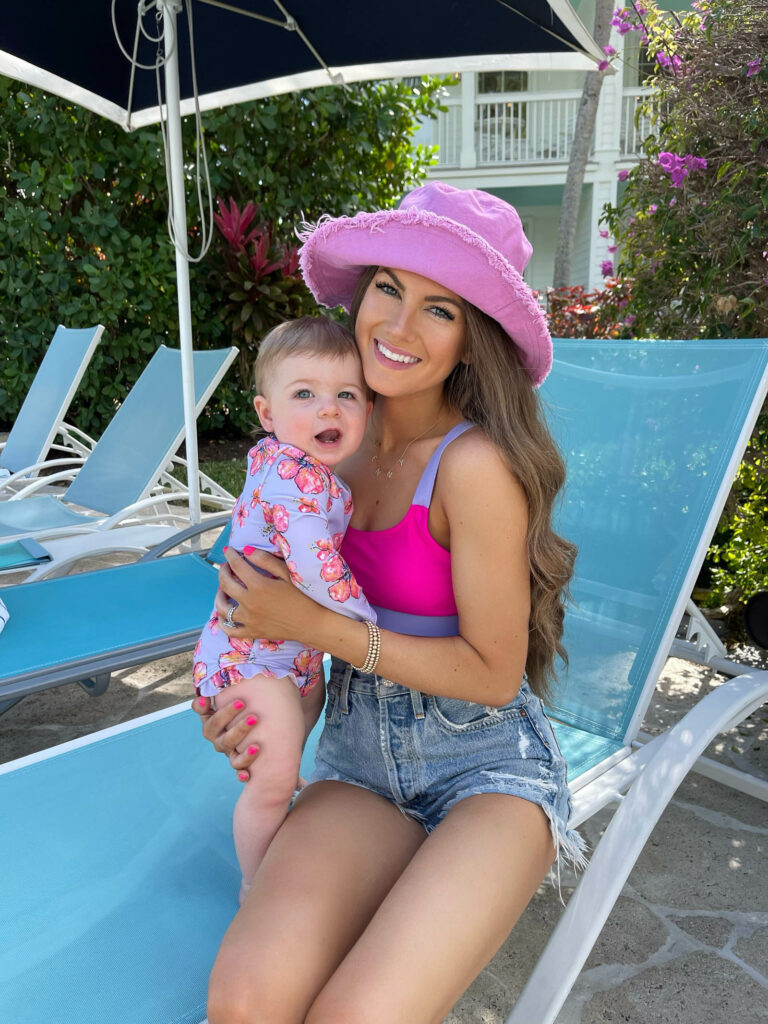 Bucket hats are here for another summer and I am here for it! I personally think they are really fun and cute! I reach for a version of this one more than any other of my bucket hats! I even have it it three different colors… it's just the perfect fit and it instantly makes any outfit a little more trendy in a Y2K kind of way. I really like to style them with swimsuits at the beach or the pool for a little added sun protection too! And the best part is this one is only $10 on Amazon!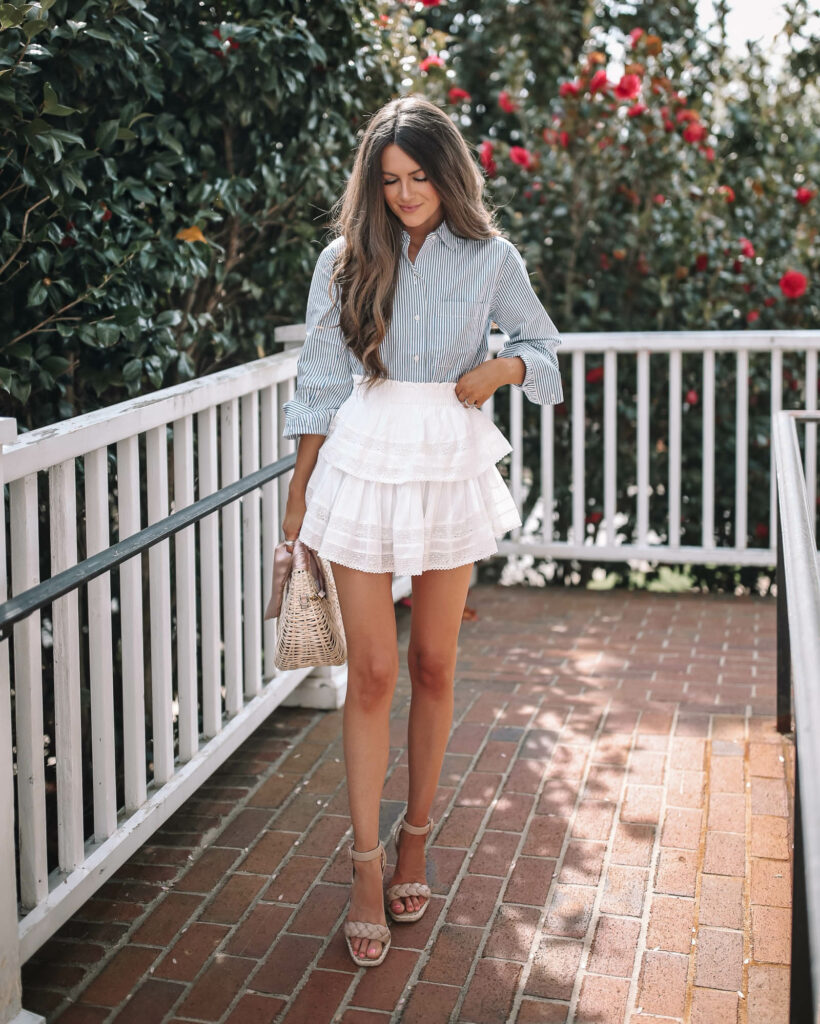 I've been seeing ruffle miniskirts everywhere this spring and it makes my girly heart so happy! I just love their flirty, fun and girly look and I wear them every chance I get. This one is particularly perfect for summer because of the crisp white eyelet fabric. Plus the scallop hem is so pretty! On cooler spring days I like to wear it with a cute cardigan, but I can't wait to wear it with a pretty tank once the weather heats up. It's fully stocked and 20% off at Nordstrom right now!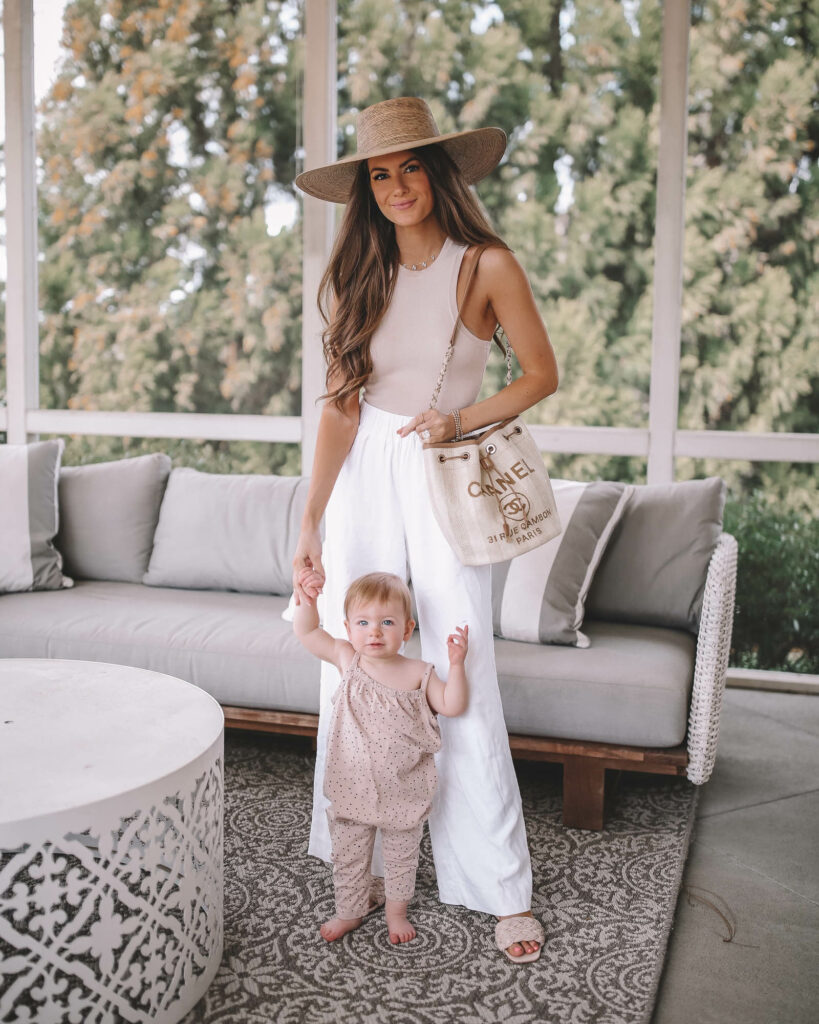 Abercrombie currently has three slightly different styles of white linen pants and they are all so cute! I'm wearing this pair with the elastic waistband in this pic and I love them. They can be dressed down with some sandals and a straw hat or they can be dressed up with some wedges and a pretty pair of earrings. They are also just as comfortable as they are cute. Abercrombie also has this version, which is slightly more elevated with the flat waistband and the pleated pant legs, as well as, this version, which are more of a resort style with the side slits.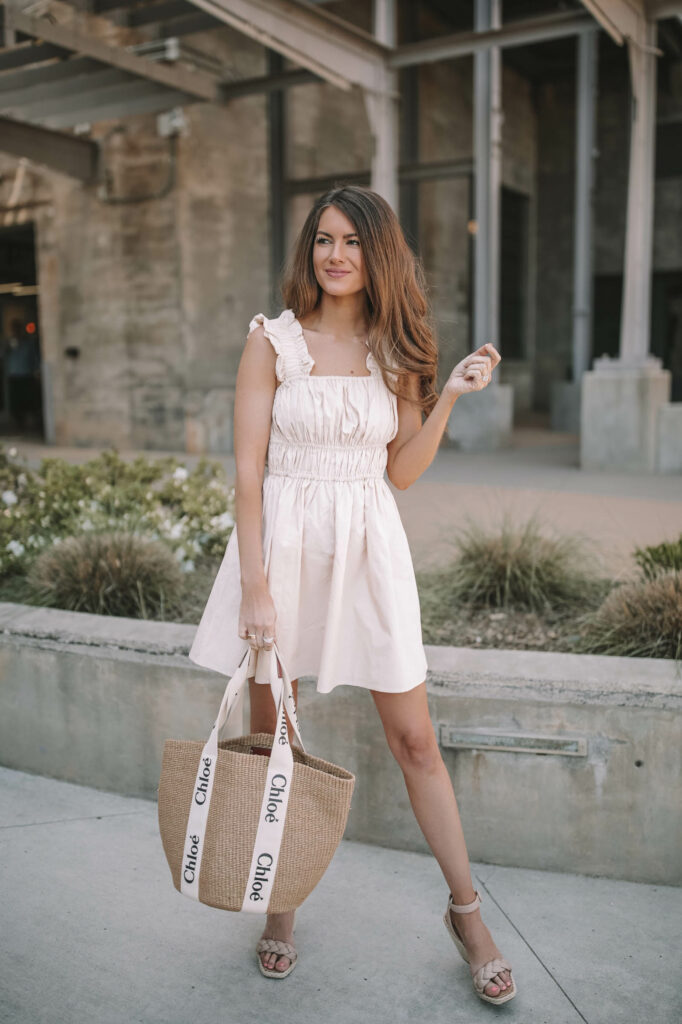 If you have a vacation coming up you have to get this little cotton minidress! I wore this resort look this past month and it just screams beach chic to me! I love the neutral color and the shoulder ruffles. I like to wear it with a pair of espadrille wedges, but really it would cute with any pair of sandals! Just add a fabulous straw hat and a margarita in hand and you are vacation ready! Lol! Nordstrom has a few sizes left, but I found it fully stocked at Shopbop, here.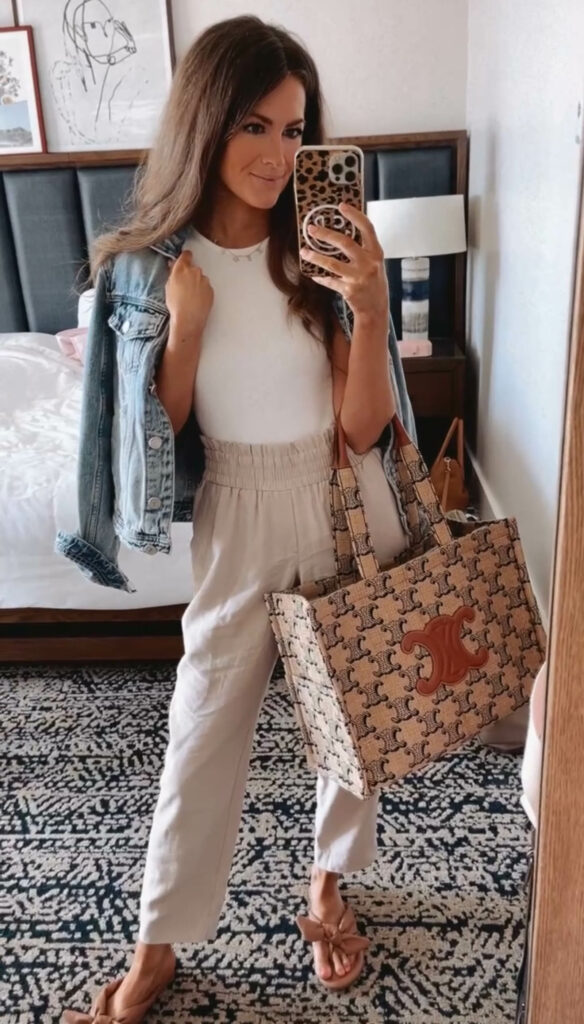 Not surprised at all that these pull-on pants made the list again this month! They have been the best Target find, possibly ever! They're super cute and so easy to throw on and head out the door. I like to wear them on travel days because they are so comfortable. They would also be cute paired with sandals and a neutral tank while out running errands or out to lunch with friends. They're only $25 and fully stocked right now!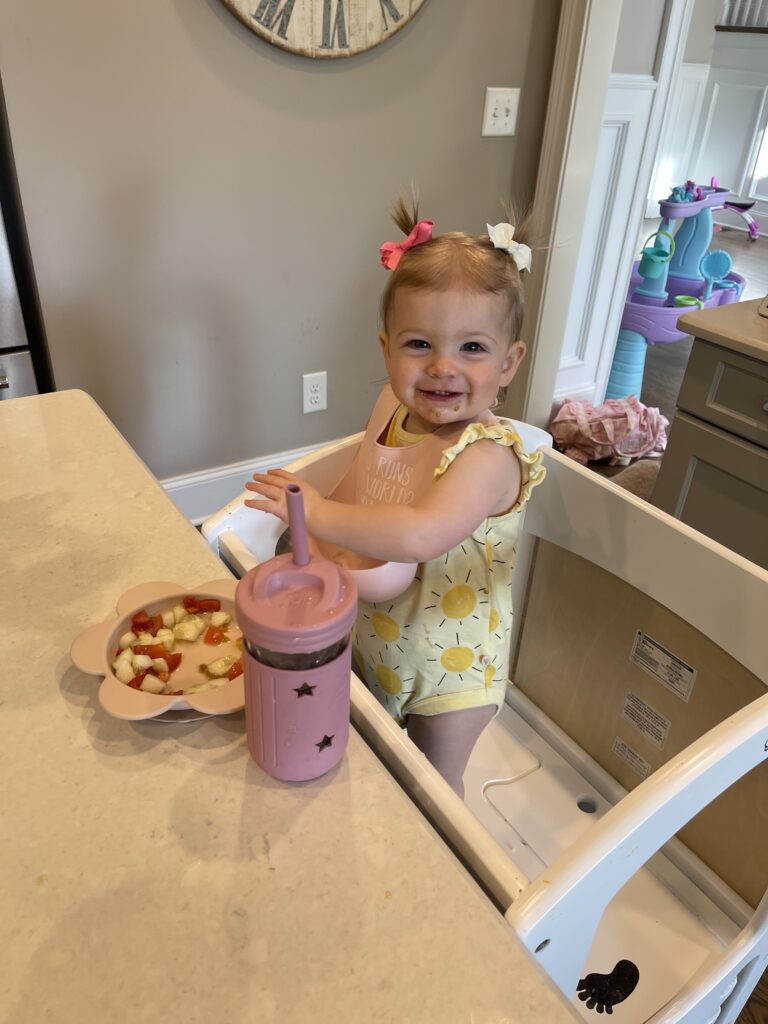 Sorry this is not the best photo, but this is the best one I can find! This Learning Tower has been one of our best purchases for Kennedy… I'm not kidding when I say we use it every single day! Kennedy loves to stand up on it while we're cooking dinner – I think it makes her feel like she's helping us cook and just a part of everything everyone else is doing. We also use it a lot during snack time because it's such a quick and easy option. Plus it's really easy to clean, which is always a win for this mama!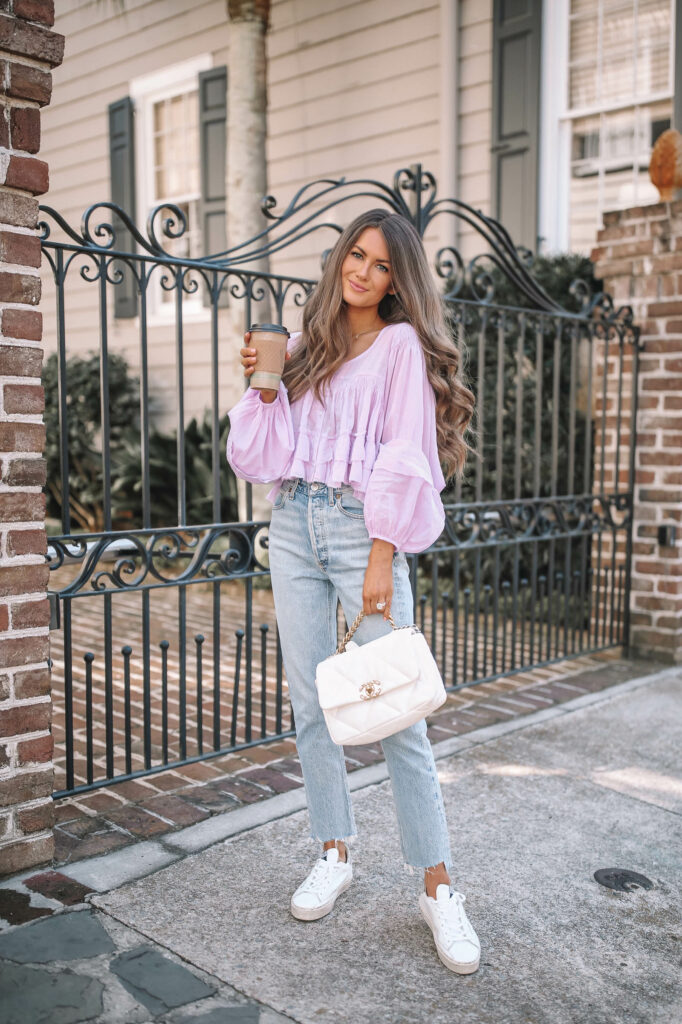 I am in love these Agolde high waist jeans. If you're looking for a new pair of denim, I highly recommend this pair. They are the perfect shade of blue and cropped at the perfect length. Plus, the frayed hem is on trend and really cute. I sized down for a perfect fit (I normally wear a size 25 in jeans, but I sized down to a 24 in these). They're without a doubt my number one pair of jeans recently – they somehow manage to go with EVERYTHING.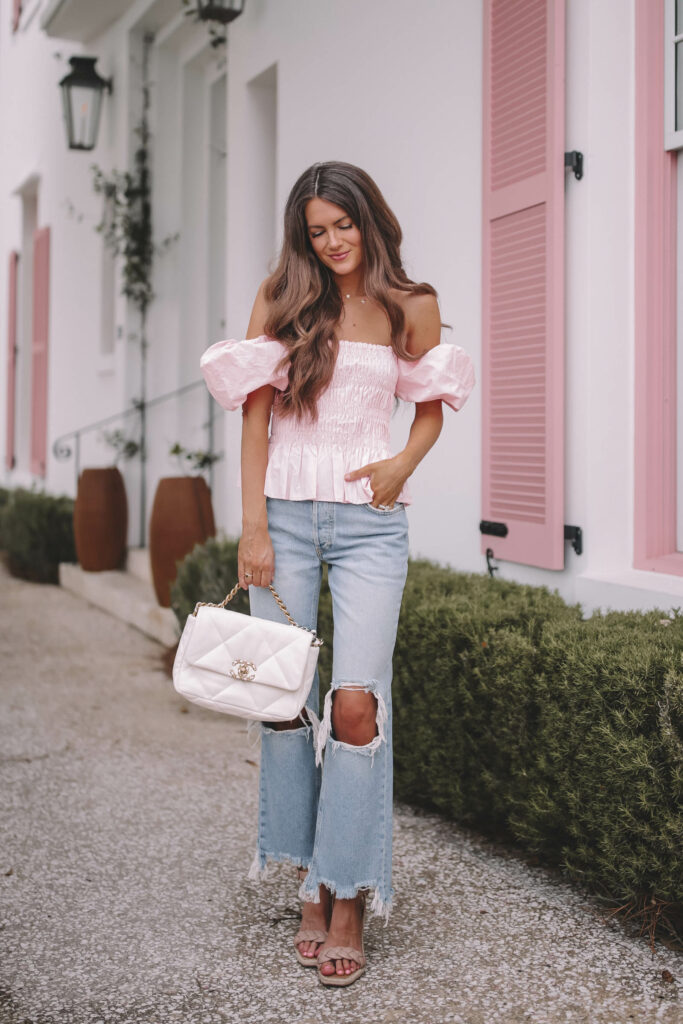 These Free People jeans are the distressed denim you didn't know your closet needed! They are the perfect jeans to makes any outfit a little "cooler" hehe. They are probably the most comfortable jeans that I own – they're not super tight, they don't stretch and the denim material is very soft. They're the only jeans that I don't mind wearing to chase Kennedy around in! If you can't find your size at Nordstrom, check here because Revolve carries them too!
I've been wearing these wedge sandals (above) non stop ever since I got them! They seriously go with everything from sundresses to shorts to even jeans! Plus they are super comfortable – I can even wear them while chasing little miss Kennedy around! I hope you guys aren't tired of seeing them because I have a feeling I'll be wearing them all summer long! Right now these are fully stocked and 28% on the Steve Madden website – I have my eye on this white pair!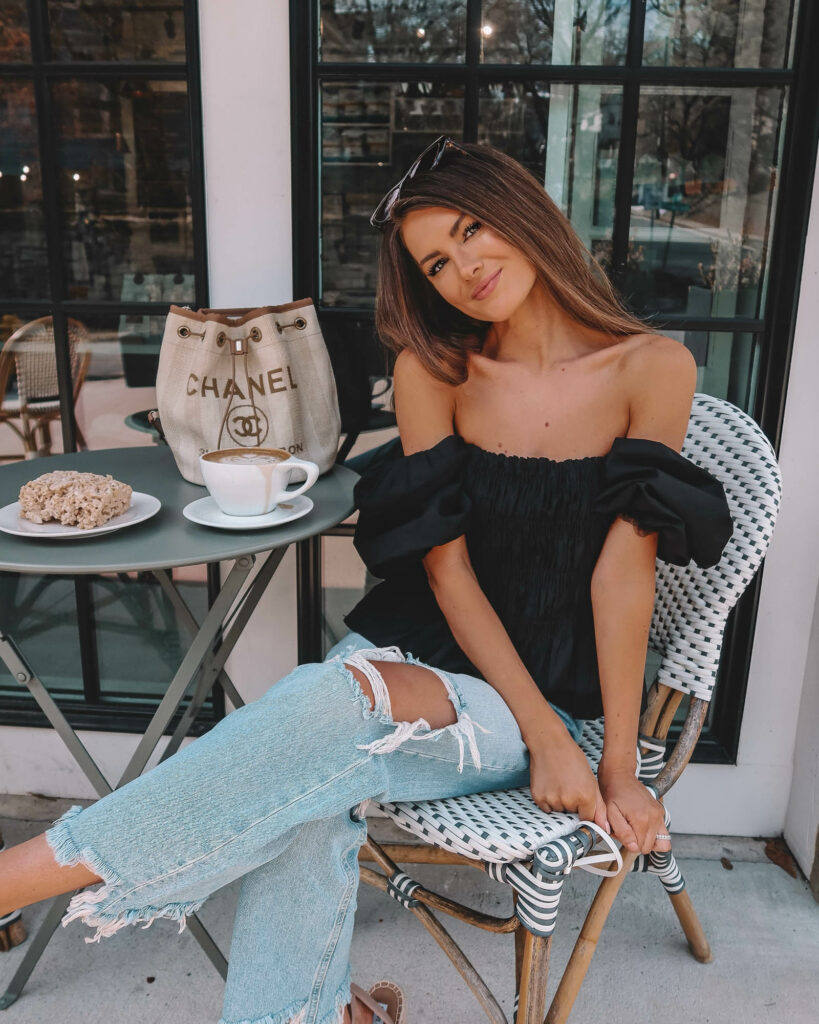 I think this blouse (above) has to be my favorite top that I've gotten so far this spring! I originally bought the black one and loved it so much that I went back and got the pink one too so I could have a more girly looking option as well. I can't get over the fit and how flattering it is on every body type. Right now I like to style it with mom jeans, but I also think it'll look super cute with denim shorts this summer! It's also available in a few other pretty colors for spring and summer!
xoxox