I really feel like 2020 was the year of Amazon… with both Chris and I working from home, we really relied on Amazon a lot for home organizers and essentials like toilet paper and paper towels! I gotta say… the two day shipping is INCREDIBLY convenient. Today I thought it would be fun to round up my personal favorite purchases, so I went through every single purchase I made from Amazon over the course of this past year! Here were my favorite items: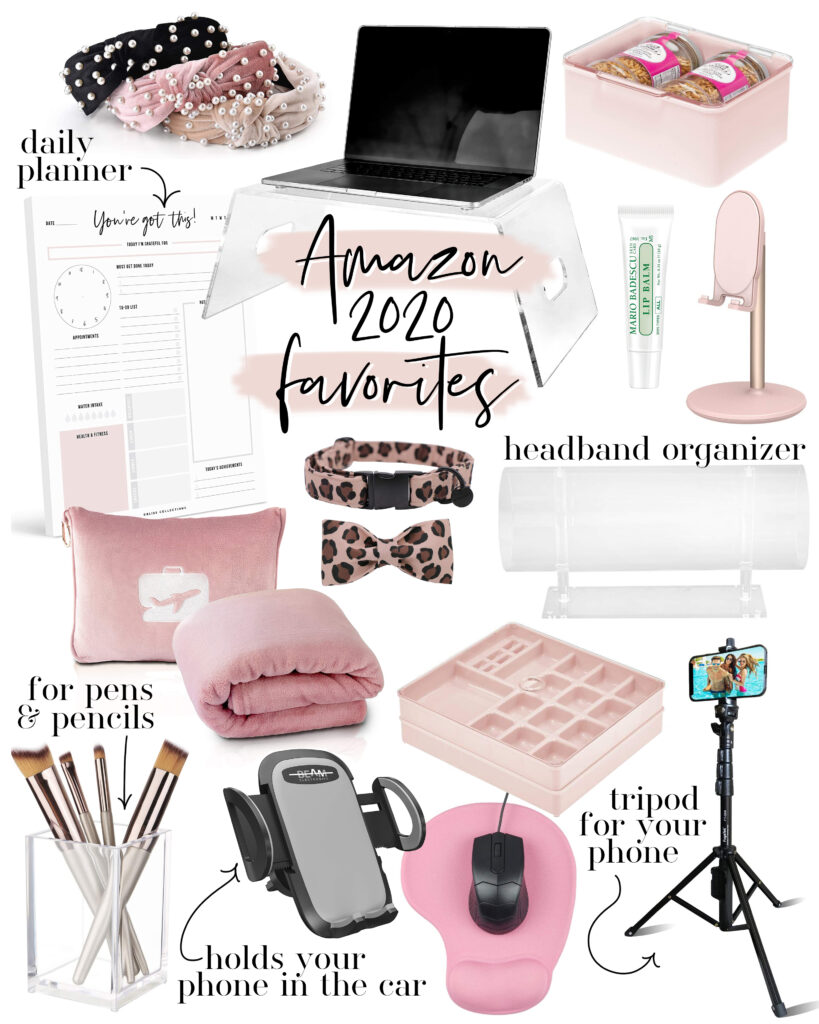 pearl headbands // laptop desk // storage container with lid // daily planner // Mario Badescu lip balm // iPhone holder // travel pillow // leopard dog collar // headband organizer // jewelry organizer // acrylic pencil cup // car phone mount holder // mousepad // phone tripod
Daily Planner // This planner has become a LIFE NECESSITY for me! I sit down every morning to write out my appointments and To-Do list. I love that there's a spot for "what I'm grateful for" and a place for tracking my water intake, health and fitness, and meals. This planner helps keep me accountable for all of my personal and professional goals, and I would be lost without it!
Mario Badescu Lip Balm // I placed several orders for this Mario Badescu lip balm over the past year. It has become my #1 favorite as far as lip balms go! I struggle with dry/flaky skin in general, and my lips are no different. They are constantly dry and it's a bad habit for me to pick at them (gross, I know). I didn't notice any improvement in my lips until I started using this lip balm! I apply it at night and wake up with soft lips, and I use it throughout the day. This past Christmas, Chris got me the same lip balm in the "mint" flavor and OMG – it might be my new favorite!
Travel Pillow // Even though I did not do as much traveling this year, this travel pillow still came in handy for car trips. I originally got it for airplane travel, but it ended up being incredibly useful in the car! When it's zipped up it forms a little pillow, or you can unzip it and unfold the blanket. It is SOOO soft and was really nice to have in the car on road trips this year.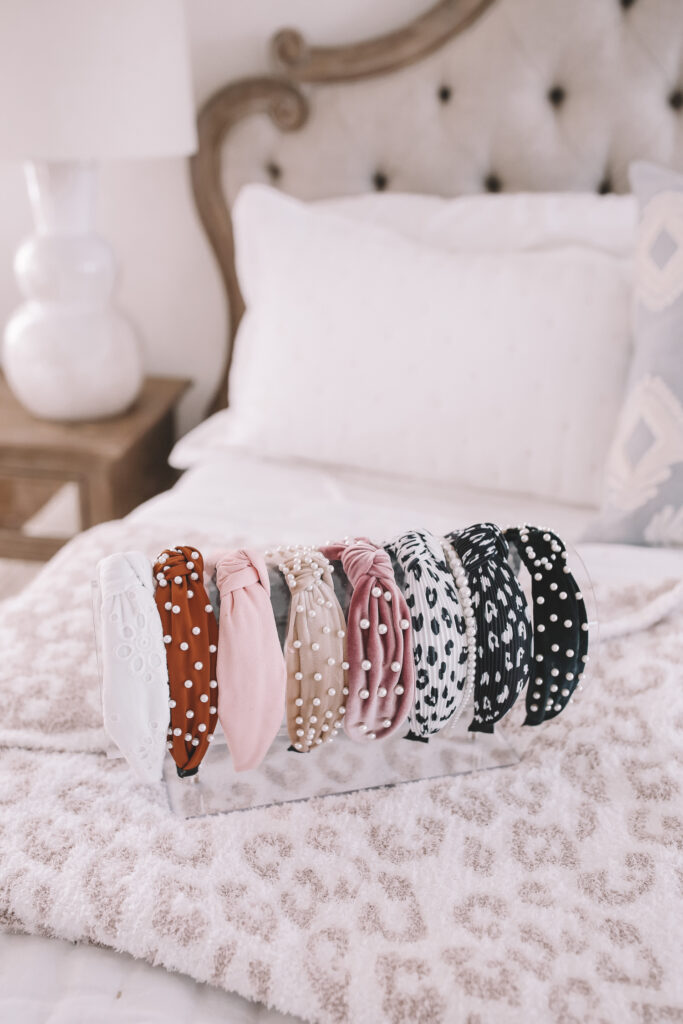 Headband Organizer // 2020 was also the year of getting my house more organized, starting with my closet! If you're anything like me, you have a zillion headbands and nowhere to store them. Enter: this acrylic headband organizer. Not only is it extremely useful, but it looks pretty sitting out in your closet, too. As far as headbands go, these were by far my favorites. They don't squeeze your head too tight or cause headaches and they're affordable!
Acrylic Pencil Cup // Although the picture on Amazon shows this acrylic cup as a makeup brush holder, I use it for pens and pencils at my desk. It's chic!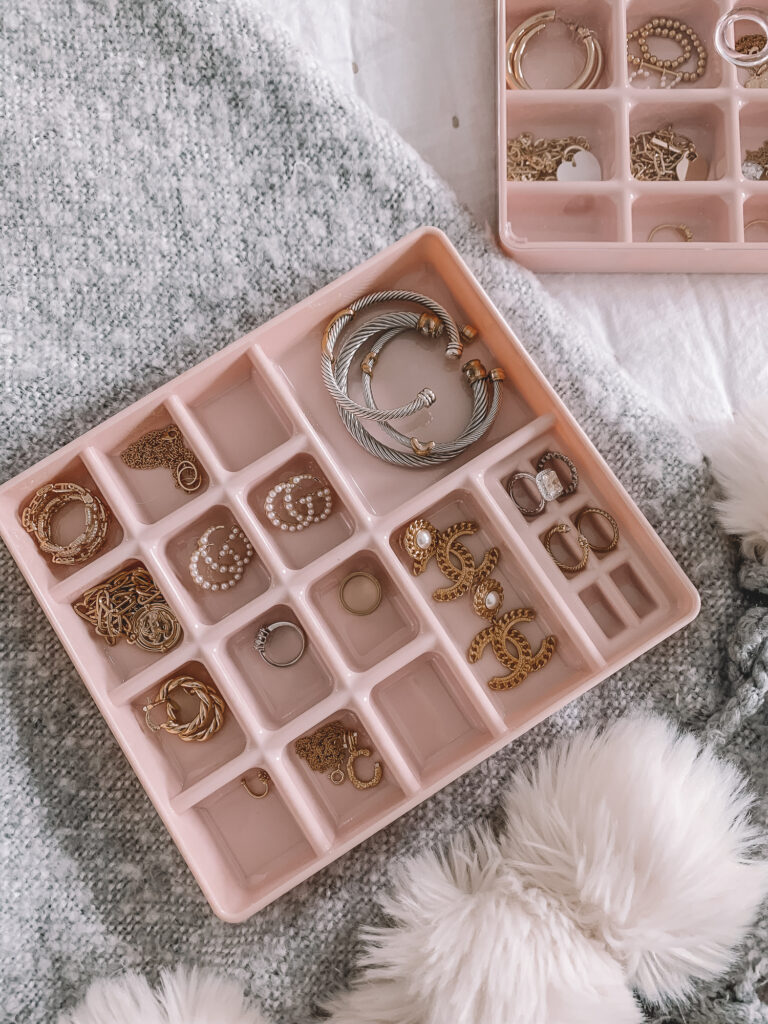 Jewelry Organizer // These stacking jewelry organizers are GORGEOUS and so incredibly useful. The pink is sold out right now but keep checking back, because Amazon restocks them often. They come with a clear lid so that you can see exactly what's inside. Not only are they functional, but they look pretty sitting out in your closet too!
Car Phone Holder // This thing has been a LIFESAVER this year! My brother was actually the one who found it on Amazon, and I ordered one as soon as I saw his. And then my husband ordered one after he saw mine, haha. It's so nice if you are using your phone's GPS or Google Maps to navigate somewhere because you can glance down without taking your eyes away from the road. It attaches to any air vent in your car (I attach it to the one beside my steering wheel). Also definitely not the use it was intended for, but I've also used it to film hands-free instastories when I'm in the car… if you're an influencer, it's worth it just for that!
Mousepad // This mousepad saved my desk from getting all scratched up this year, and the soft padding saved my wrist.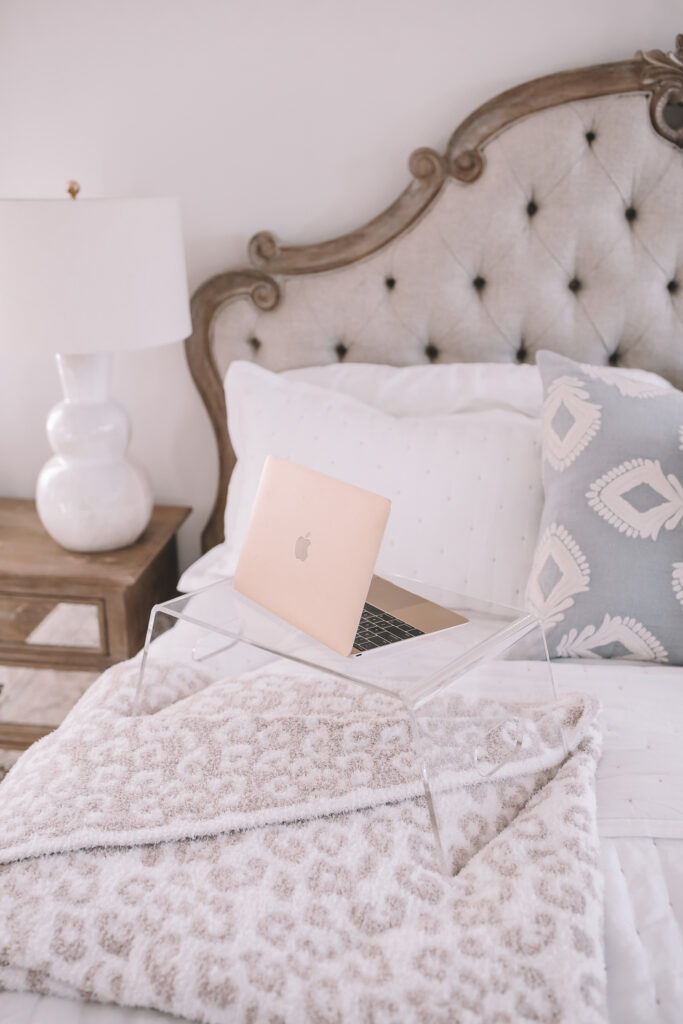 Laptop Desk // This laptop desk has been one of my number one items during pregnancy. I've spent so many mornings and evenings working from bed since it was WAY more comfortable than my desk chair! The lap desk is also nice because there's room to rest a coffee or drink (or snack) on it, too.
Phone Tripod // Another item that I used over and over and over again this year – the phone tripod! This thing is SO useful if you need to take a picture or video on your phone but you're by yourself. It comes with a handy dandy remote control so that you can start and stop video and take pictures from far away. I use it mostly for filming instastories when I am applying makeup and need to use two hands!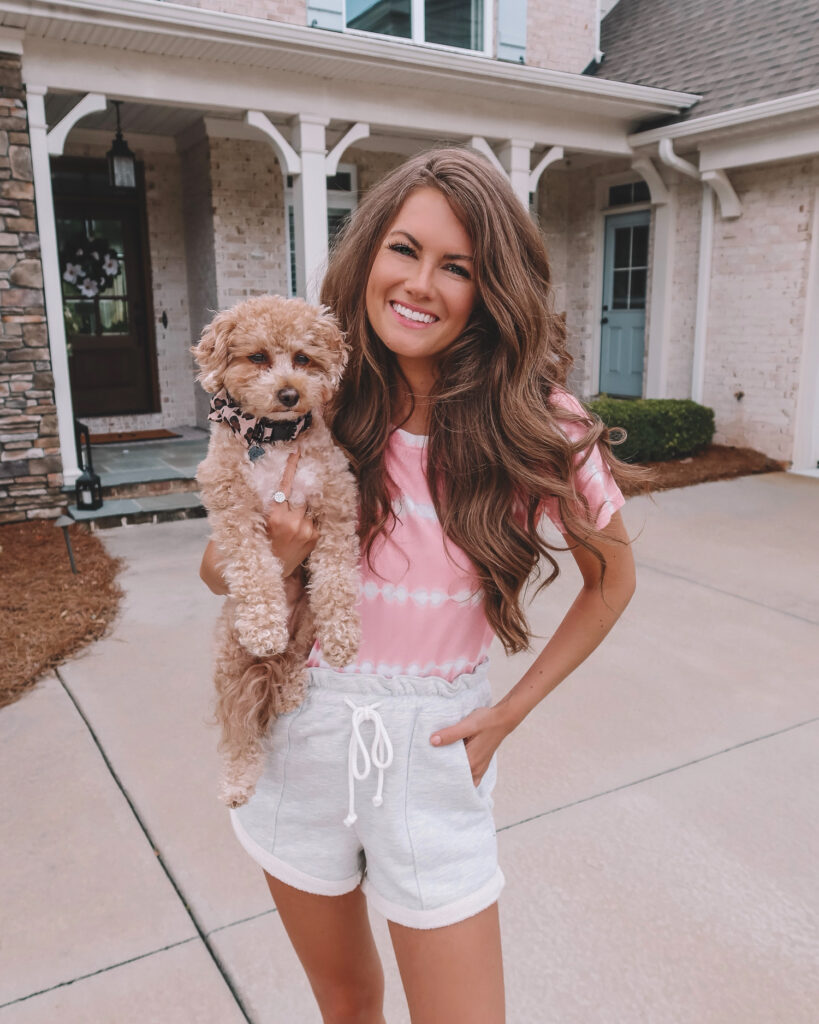 Leopard Dog Collar // This might be a weird one, haha, but I LOVE this dog collar I got for Winnie! She has worn the same one all year long. It goes with all of the seasons! It's just now starting to get a little worn looking, so I went ahead and ordered a second one. She wears the XS.
I'd love to hear if there's something you ordered and love from Amazon!! xoxo