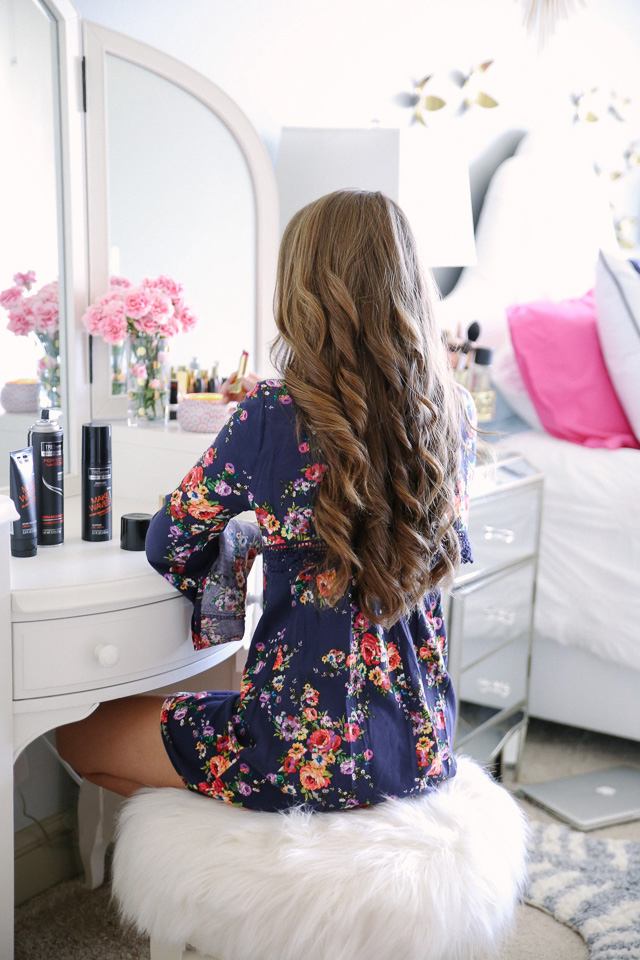 A few of my most-asked questions from readers include how do you curl your hair? and how do you keep your hair healthy? Today, I'm going over every little detail of my haircare… including how to keep your hair healthy and make it grow long, and even how many times I shampoo it per week. At the bottom of this post, you'll find a YouTube video showing exactly how I curl my hair!
To preface this post, let's just say that I didn't always have the healthiest hair. In middle school, I got blonde highlights and straightened my hair almost every single day before school… I remember it looking almost like straw :/ It wasn't until I stopped highlighting my hair, let it dry naturally and seriously started conditioning it that I noticed a huge difference. So if your hair is not super healthy right now – there's hope! Let's start with some Q&A questions…
Q: How often do you shampoo your hair?
A: I wash and condition my hair around 2-3 times per week… it depends on what I have going on, but I definitely don't wash it every day. (FYI I take a bath or use a shower cap on days when I don't wash my hair!) Not shampooing every day is actually really good for your hair – there are a lot of natural oils in your hair that make it healthier and shinier and you strip your hair of these oils every time you shampoo. I typically wash mine at the beginning of the week… once I blow dry it and curl it, I won't have to for a few days. Sometimes I touch up the curls with a curling wand if I have an event that day/night, but that's it.
Q: What shampoo and conditioner do you use?
A: I like to switch up my shampoo and conditioner a lot so that my hair doesn't get too used to one product – it does better that way! Right now I'm using
L'Oreal Everpure shampoo
and
conditioner
that I picked up from Target. I've used L'Oreal's Everpure line for a few years and really love their products because they're really gentle and moisturizing. During the summer I was using
L'Occitane's repairing shampoo
and I really love that too – I'll probably go back to using it once I finish my current products.
Q: Do you recommend taking vitamins for hair growth?
A: I have heard mixed reviews on vitamins – they work for some people, and don't work for others. I recently started using
this brand
from Amazon after reading an article raving about them. I used them for almost one full month and didn't see much difference so I stopped – then the next month my hair grew like crazy – so I ordered some more! They contain Biotin as well as a bunch of vitamins (Vitamin C and E in particular), so they are really good for you regardless.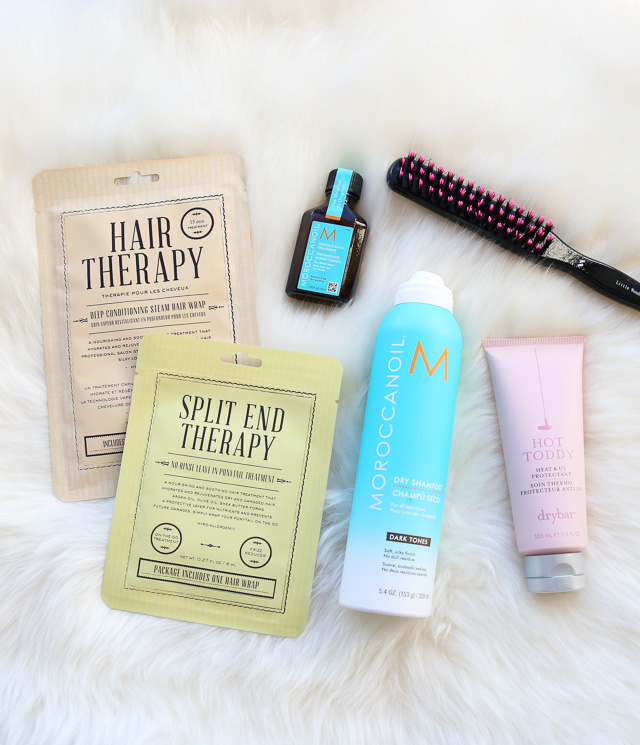 Q: Do you use a heat protectant?
A: Yes! Heat protectants are my best friends – especially because I blow dry and curl my hair so often. I really like
this one
(shown above in the pink bottle). I apply it before blow drying, it protects your hair from heat up to 450 degrees.
Q: Can you recommend some good deep conditioner?
A: I'm a HUGE fan of deep conditioners… I apply them once a week and I think they're the main reason my hair stays pretty healthy. I love both
this deep conditioning wrap
and
this wrap for split ends
. They really do work – the split end wrap is pretty cool because you just slide it over your ponytail and keep it on for 15 minutes. I'll clean or answer emails while it's conditioning my hair!
Q: What's one hair product you can't live without?
Definitely
this Moroccanoil Treatment
(shown above in the small brown bottle – I had to buy more because I ran out of my other bottle!). A little bit goes a long way, so this product will last you a long time. I apply it before blow drying my hair, and sometimes use a small amount on dry hair to tame flyways and condition split ends. It's truly a miracle worker!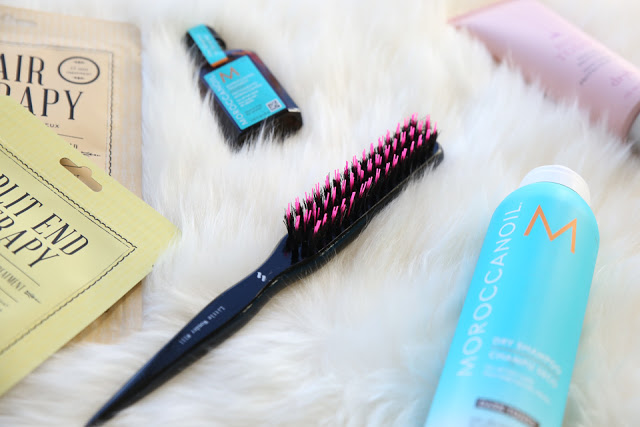 Q: Any tips for growing out your hair?
Taking care of your body by exercising and eating the right foods is actually the best way to make your hair grow… Make sure you're getting enough protein and vitamins in your diet. I've also heard that brushing your scalp with a wire-bristled brush can help stimulate the hair follicles and promote hair growth. I try to brush mine with
this brush
(shown above) for about five minutes every night. Also – they say you're supposed to get a trim every six weeks, but I totally don't follow that rule. Don't get a trim unless you need one, otherwise you're just preventing your hair from getting longer!
Q: What dry shampoo do you use?
I use
Moroccanoil Dry Shampoo
in the "dark tones" since my hair is brown (they also make one for you lighter haired gals!). I use it a lot, especially if I want to get away with not washing my hair another day. A good tip is to apply it at night if you know you're not going to shower the next morning, so your hair can soak it up all night.
Q: Do you wear hair extensions?
Nope! I don't wear hair extensions currently and never have. 🙂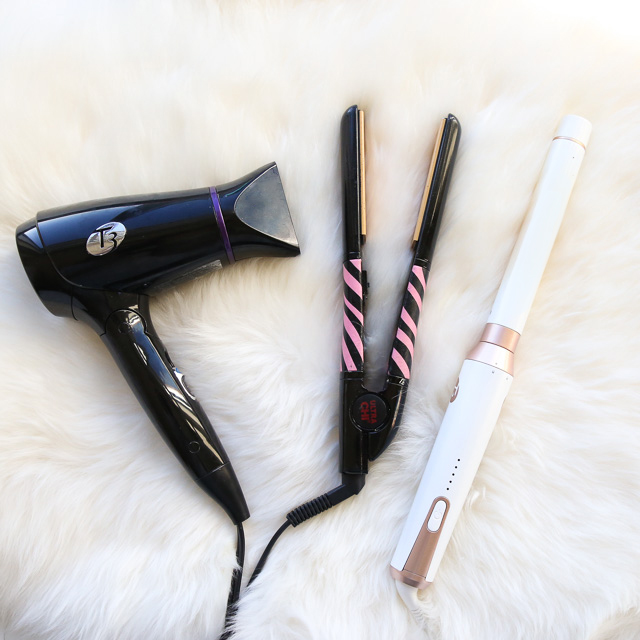 Q: What heat products do you use to blow dry, straighten, and curl your hair?
To blow dry, I use
this travel sized hair dryer
– it's incredibly powerful for it's size, and I love that it folds up to become even more compact. It's perfect for travel! To straighten my hair, I use a
Chi 1″ straightener
– mine is super old, so there are probably some better ones out now. And finally, to curl my hair I use
this T3 curling wand
with the 1″ attachment. It really is an amazing curling wand… it's an investment, but definitely worth it.
Q: How do your curl your hair?
Woohoo, final question! I actually filmed a YouTube video on New Year's Eve while I was getting ready… it's much easier to show you guys how I curl my hair, rather than try to type out how to do it. Sorry if I'm awkward on camera, but hopefully this video helps some! The curling wand I use is
here
, and the Conair Pro Hair Clips I show in the video can be found
here
.
Don't forget to subscribe to
my YouTube channel
! 🙂
If I didn't answer your hair question, feel free to leave yours in the comment section & I'll reply back to you!
Thanks for reading!
xoxo
SHOP THE POST:

JavaScript is currently disabled in this browser. Reactivate it to view this content.