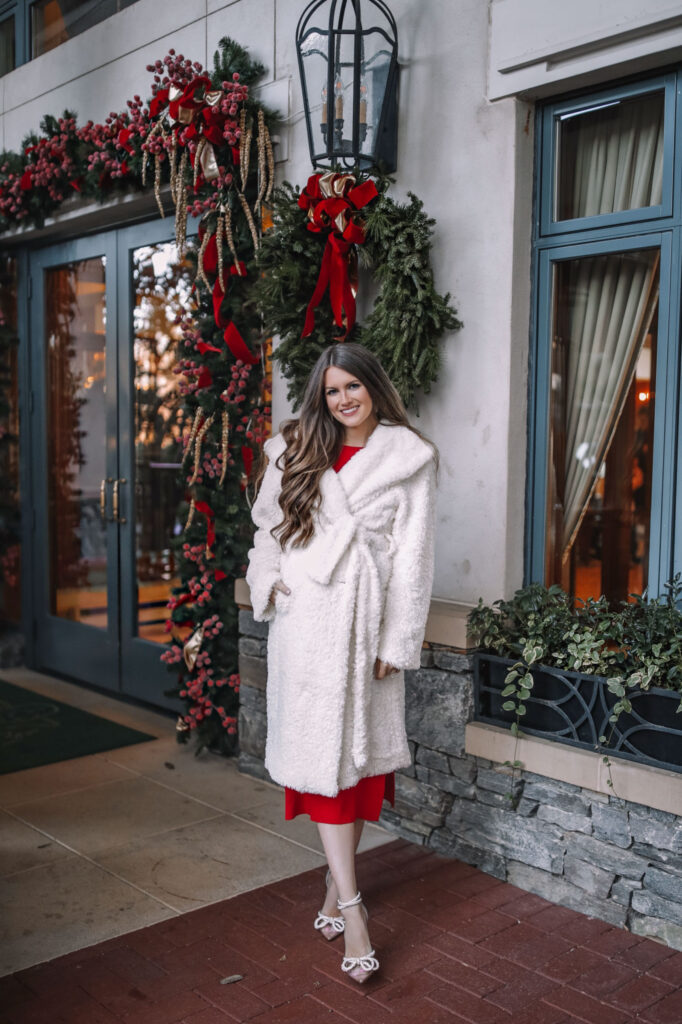 This past weekend, my family and I took a little road trip to Asheville, NC, to spend the weekend at the Biltmore! We had a wonderful time and were basically in Christmas HEAVEN! Everywhere you looked, the Inn was decked out with Christmas decor, trees, sparkling lights and poinsettias. I wore an entire Walmart outfit for dinner one night – this Free Assembly red sweater dress was super comfortable (especially on my big bump, lol) and I love the small details, from the slit in one side to the tiny bows adorning the wrists. It was freezing outside (literally – it was 32 degrees), so I paired it with this faux fur jacket – the perfect Christmas-y combination (I fit in very well with all the decor, haha). Kennedy had a blast, too, she was running around screaming, "Ho, Ho!" whenever she saw a picture of Santa!
We are home from our trip and gearing up for Christmas this week. I am feeling a bit overwhelmed, actually… there is SO MUCH to do before Christmas Day! I am still finishing up my shopping, have tons of wrapping, my brother's birthday, a few visits with friends, and my mom and I are still planning to make Christmas sugar cookies (a tradition!). Please send help!!! I hope your stress levels are a little lower than mine this year! 😛
P.S. If you're still in need of a Christmas or NYE outfit, check out Walmart's New Arrivals for holiday dressing – there are TONS of pretty sparkles and velvet options, for kids too!
xoxo
*Thanks to Walmart for sponsoring this post