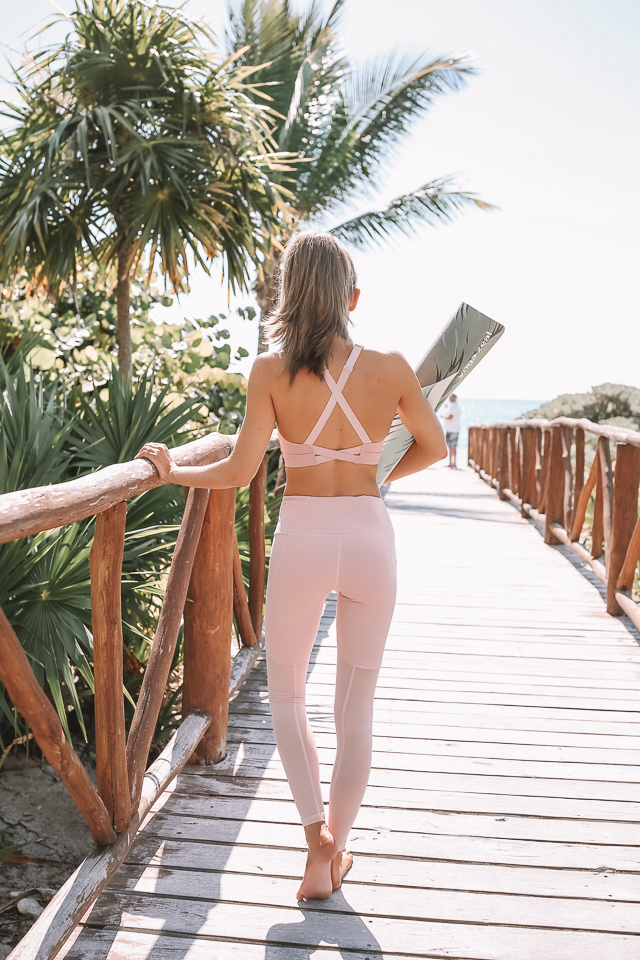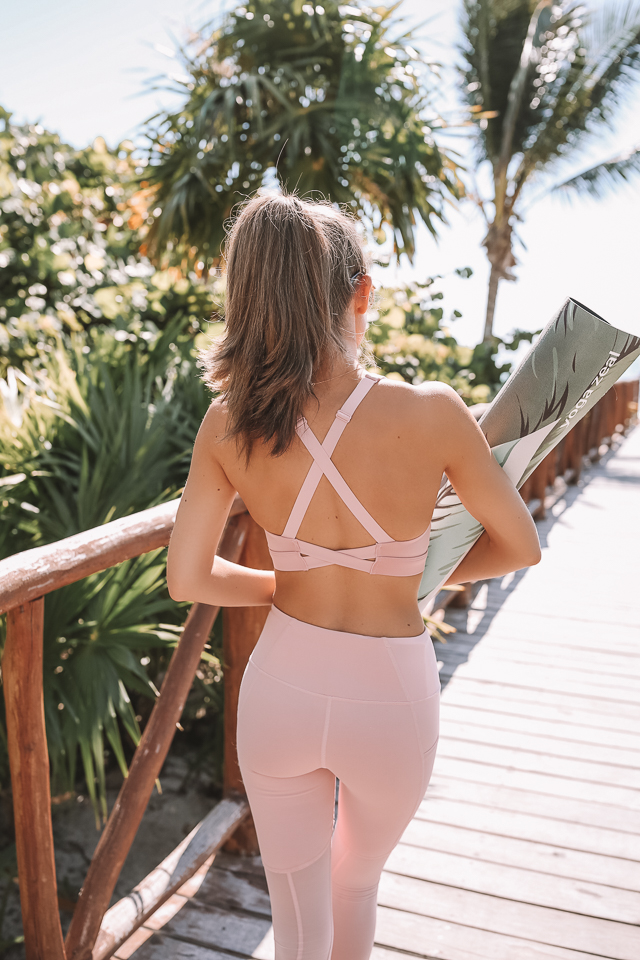 You guys know that I've been trying to eat really clean and up my workouts lately (#sweatingforthewedding) and one thing that's always been hard for me is continuing to do that while traveling. When I was younger, I would PIG OUT on vacation, thinking of it as a time to treat myself (and go overboard!), and I would come home feeling bloated and sluggish. While I definitely think you should indulge some on vacation, I actually enjoy working out and eating healthy on a trip – when I feel my best, I'm able to get the most out of the trip (and I feel more confident in a swimsuit!).
Here are a few tips and tricks I've learned over the years that help me feel healthier and fitter while I'm traveling….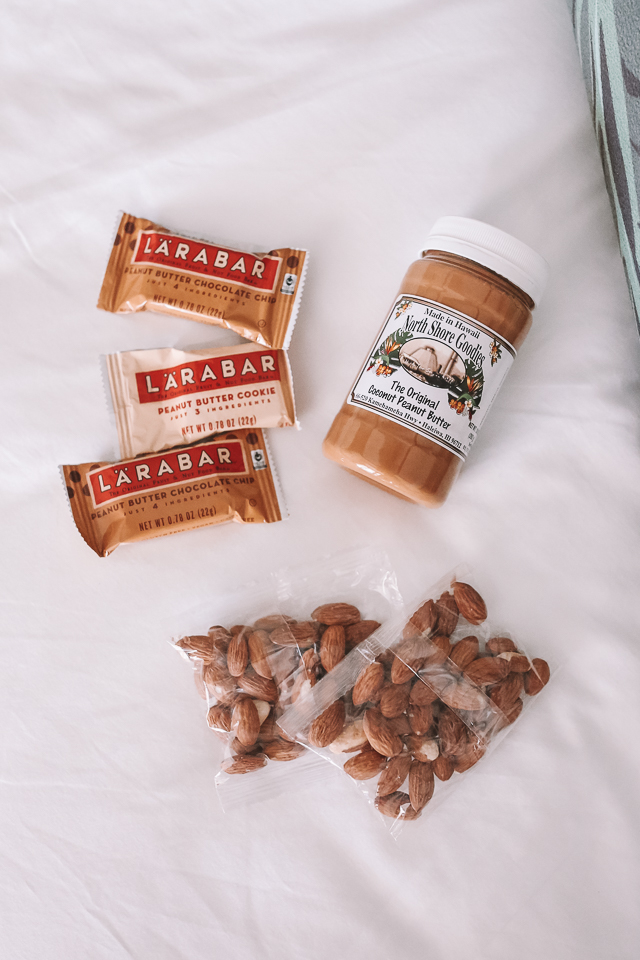 1. Bring your own snacks
No matter where I'm traveling, I always bring my own healthy snacks with me. You never know what kind of snacks will be offered in the hotel room (if any), and I like to be prepared. Trust me, if you don't have healthy snacks with you then it will be incredibly tempting to eat the M&Ms and Snickers in your hotel snack bar!! My favorite snacks to travel with are nuts (I like almonds and cashews) and mini Larabars (they are yummy bars made with only a few simple ingredients). I have also been bringing this
North Shores peanut butter
with me everywhere I go – I add it to oatmeal in the morning, and I also like to eat a scoop of it after a workout – it's sooooo good!
2. Start with a healthy breakfast
I always try to start my day with a healthy breakfast, and this doesn't change when I'm traveling. The one change I make while on a trip is that I'll order room service…. I loooove ordering room service – it feels like such a treat to eat your breakfast in bed! An egg white omelet filled with veggies is a good option for breakfast, or oatmeal (I add my own peanut butter to it!). I also always order the fruit plate if they have that available too, along with lots of coffee!! Breakfast really sets the tone for my day, especially if I start it out right.
3. Tailor your meals to your destination
Before your trip, do a little research and seek out the best dishes in each country you plan to visit. For example, if you're headed to Paris, definitely indulge in a fresh-baked baguette or a nutella crepe. In Tokyo, you have to have sushi. On my trip to Mexico a few weeks ago, I had lots and lots of fresh fish and guacamole! Traveling is an experience, and you don't want to miss out on that. Just make sure to keep it in balance – I like to eat a healthy breakfast and lunch so that I can splurge a little on dinner and dessert!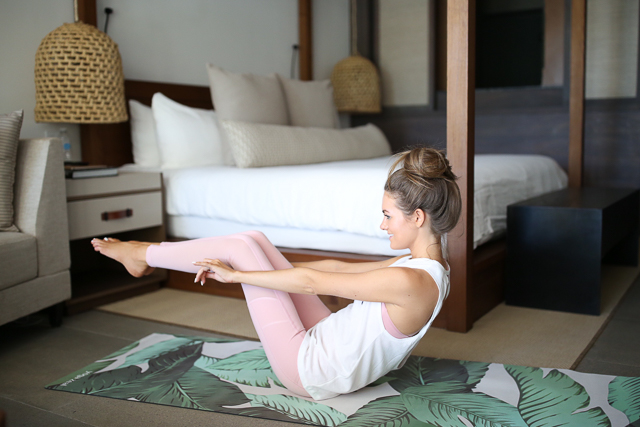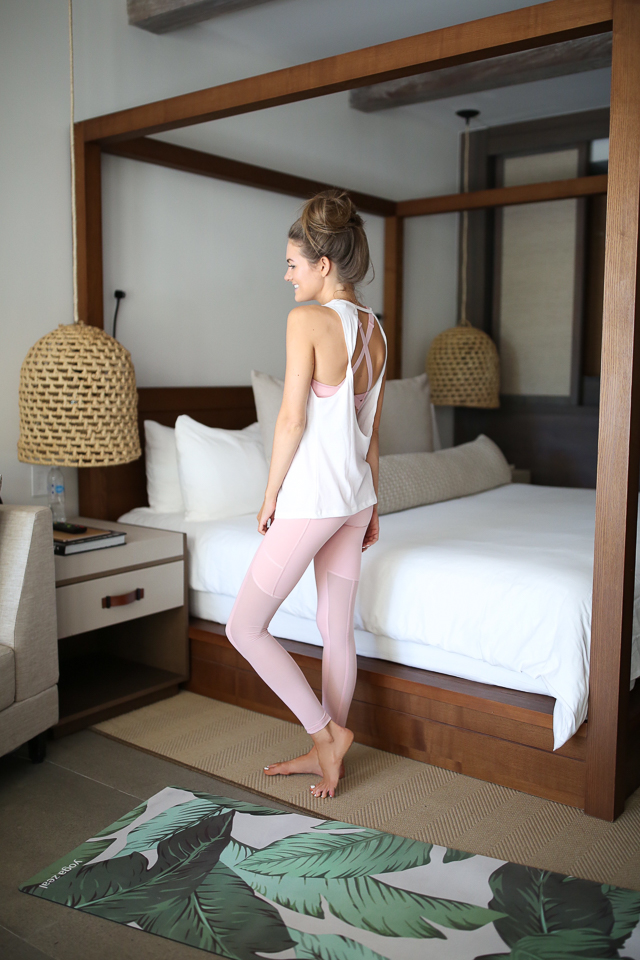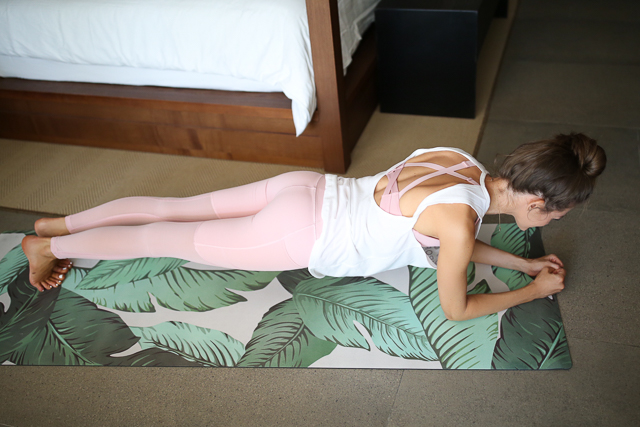 4. Squeeze a workout in
I love waking up a little earlier on vacation to squeeze in a good workout. I sometimes bring my 
yoga mat
 with me when I'm traveling so that I can do some exercises in the room. I like to do 1-minute planks, push-ups, squats, and some ab exercises and these are actually really easy to do in a hotel room! YouTube videos are also great to watch if you need some guided workouts (
this 15-minute butt workout
is KILLER!). If you're staying at a resort, odds are they have some workout classes you could attend, like yoga on the beach. These classes are really fun because you're working out, but it doesn't feel like it because you're in a beautiful place!
5. Be adventurous
Traveling gives you the chance to try new things – take advantage of some of the cool excursions that your hotel offers like ziplining, swimming in cenotes, paddle boarding, etc. Also – get out and explore by foot! I love exploring the resort we're staying and walking all over. If we're staying in a safe town, we walk all over the town exploring (and usually scouting out good photo locations). If you're near the beach or pool, go for a swim and take a long walk on the beach.
6. Water and sleep!! 
Yes, you're on vacation, but getting enough water and sleep are still ESSENTIAL to your health. Traveling can be really rough on your body, and so can being out in the sun if you're body isn't used to it. Stock your car, purse or hotel room with bottles of water and drink them throughout the day. Even if I do have an alcoholic drink, I'll order a water right alongside it so that I can stay hydrated. Sleep is also super important on vacation, I try to make sure to get 7 to 8 hours of sleep every night to feel my best.
How about you guys? I'd love to hear your tips for having a healthier vacation!
SHOP THE POST:
JavaScript is currently disabled in this browser. Reactivate it to view this content.