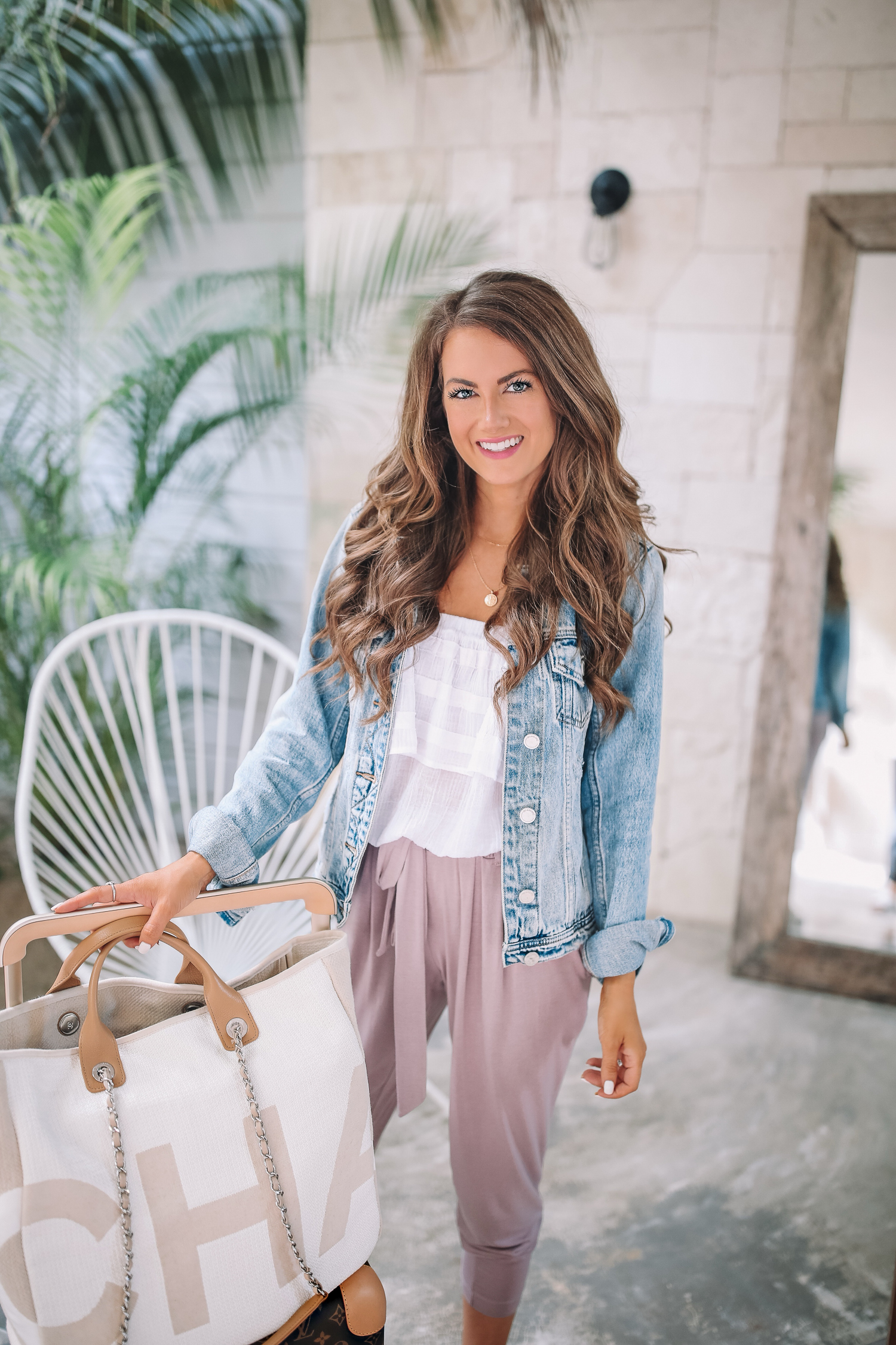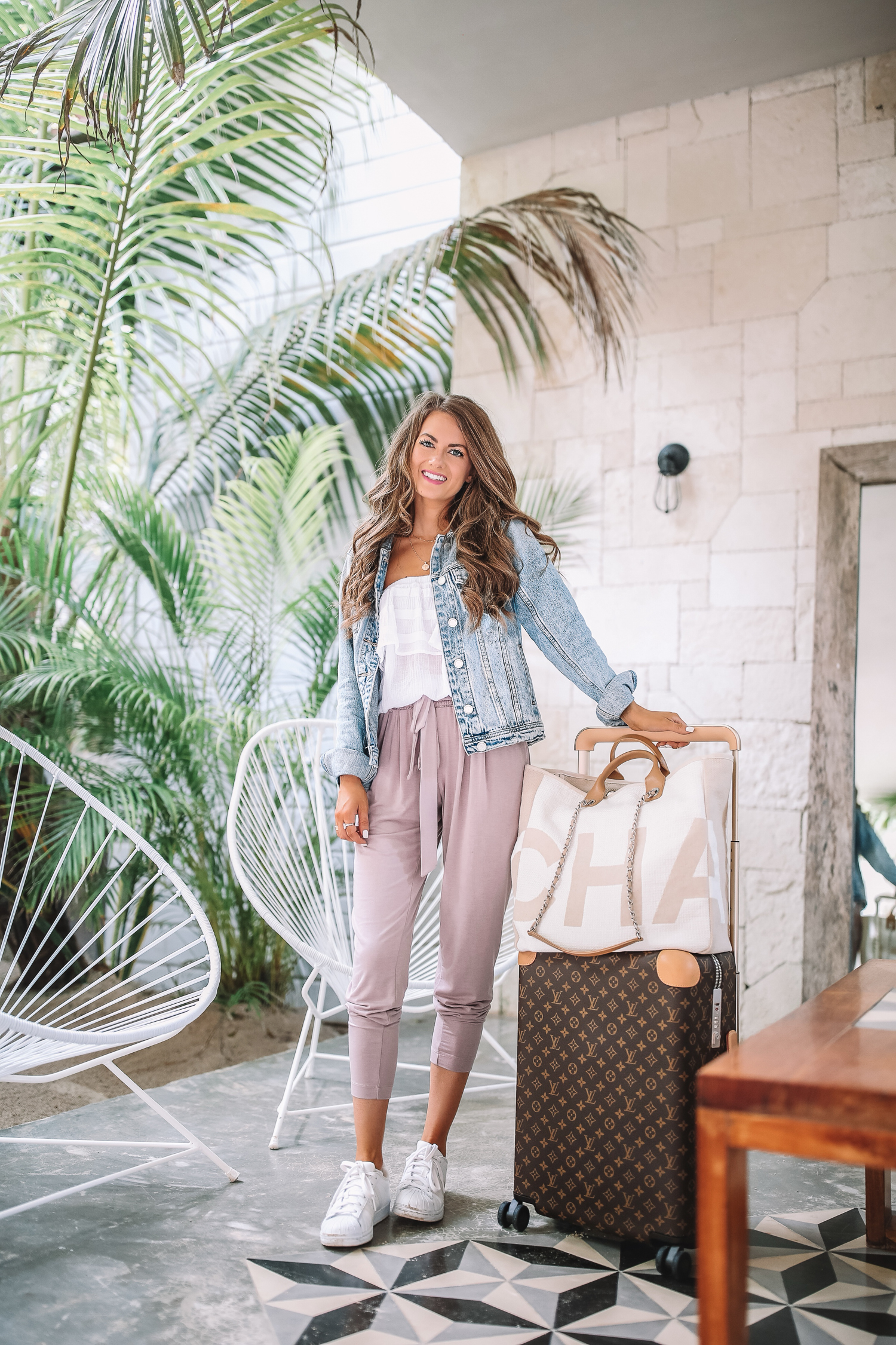 Good morning and happy start of a new week, you guys! I woke up feeling so positive this morning because we had a productive weekend and the weather is finally improving this week. Tuesday and Wednesday are supposed to be in the 70s! Today I'm sharing my travel outfit that I wore home from Tulum. These high-waisted joggers are the perfect pants to travel in because they're SO comfortable, but fashionable at the same time. I can't stand wearing an uncomfortable outfit when I travel, so you'll usually find me in joggers and tennis shoes. This jean jacket goes with pretty much every outfit and is nice to have on the plane since it can get chilly!
In addition to my travel outfit, I wanted to share some of my top travel necessities. So far in 2019 I've been to Hawaii, England and Mexico and I brought all of these with me on each trip!
A Trtl pillow
I first heard about the Trtl pillow from my friend Gracie, and when I saw her using it in the airport I got my computer out and placed an order right then and there! This neck pillow takes up virtually zero space in your bag (unlike the traditional travel pillows which can be bulky) AND it's so so so comfortable. It's made of soft fleece and wraps around your neck securely to hold your head in an ergonomic position on the plane. I also really like that it's machine-washable!
A sleep mask
I own this silk sleep mask in the light pink color – I've definitely gotten my money's worth from it because I use it all the time, both at home and while I'm traveling. It's made of silk, which is really important – the silk fibers are extra gentle on your eyes and eyelashes. And don't worry – you will never wake up with creases from this sleep mask.
My Favorite Apps
There are a few apps that I really love for traveling. The first app – TripIt – has completely changed my life and the way I travel (and if you travel a lot, you need it too!). TripIt organizes all your travel plans into one place, with all the info you need such as dates, times, confirmation numbers, flight times, etc. You simply forward your confirmation emails to plans@tripit.com, and the app creates a master itinerary for each of your trips. The thing I really love about this app is that you can access it even when you don't have internet access (i.e. if you're on an airplane or in a foreign country!). The app even shows maps of the airports you are flying in and out of, making it incredibly easy to navigate and find your next gate. After using this app, I don't think I could travel without it.
The other app that I really I love is the YouTube app – I looove watching YouTube videos but I always thought you couldn't watch them on the plane since the internet service is not good enough to stream videos. Well guess what you guys, with the YouTube app you can download videos ahead of time and then watch them whenever you want – even on a plane! If I know I'm going on a trip in a couple of days, I will download a bunch of videos from my favorite YouTubers so that I can watch them on the plane.
My Beauty Kit
I alway pack a little bag in my purse with some beauty essentials. I'm obsessed with these eye serum masks for your under-eyes, as well as this jade roller – I don't even use it with a face cream or serum, I use it by itself. It has a cooling sensation and helps with lymphatic drainage so you don't walk off the plane with a puffy face. I promise it works! I always pack a nourishing lip balm as well as hand lotion for moisturizing on the plane.
Tea Bags
This one might sound a little odd but hear me out 🙂 I always pack my own tea bags with me on the plane because they are SOOOO good for de-bloating! When the flight attendants come around and distribute drinks, I always ask for hot water and then just use my own tea bags to make tea. My favorites are peppermint tea, ginger tea and this detox tea – they're great for digestion and water-retention. I noticed a big difference in my bloating when I started bringing along my own teas on flights.
If you have any travel essentials that we need to know about, let me know in the comments!