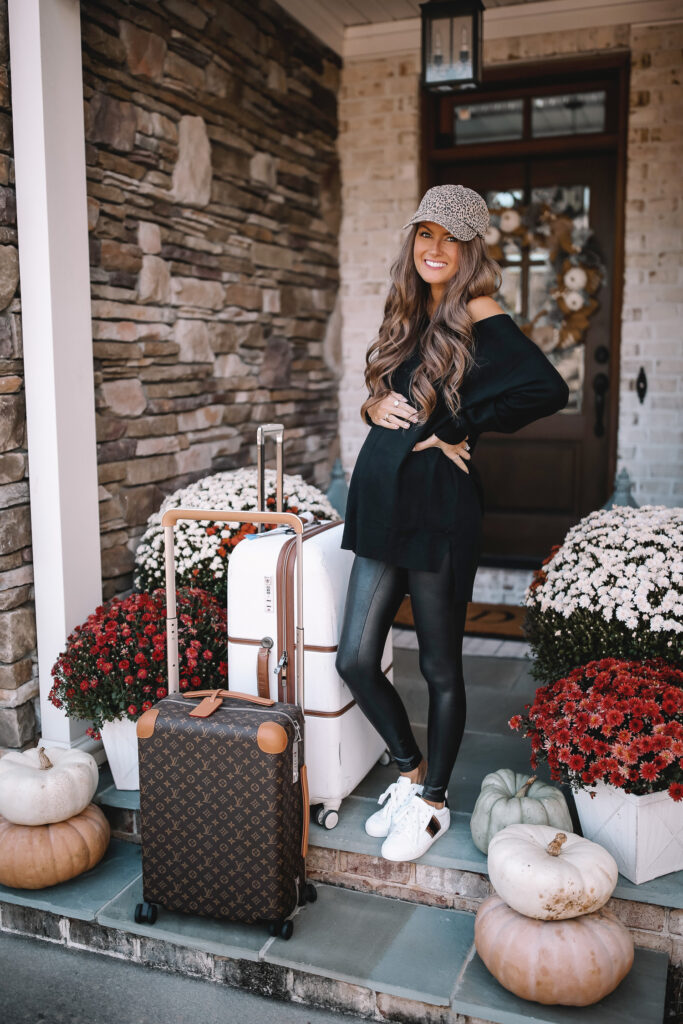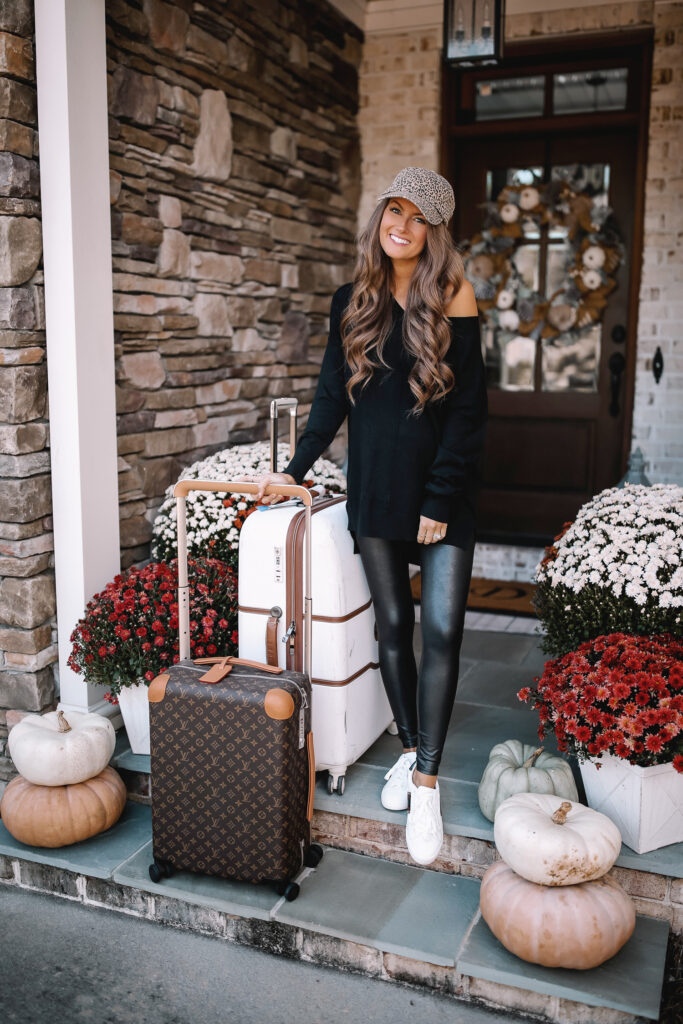 Hello, friends! Yesterday we completed a 14 hour road trip and bunch of you guys had questions about how it was to travel while pregnant. I will say that I had to prepare a little extra this year to try to make it as comfortable as possible, but it really wasn't bad! Especially because we split the trip up into two days. 🙂 We got to our destination today, and aside from my back being a little sore, I honestly have no complaints! Here are all of the things I did to stay healthy while road tripping…
1. Wear Compression Socks and Comfy Clothes
One of the biggest concerns with traveling while pregnant is maintaining blood flow. When you're pregnant, your circulation isn't very good… and if you're sitting still for a long time, like you would on a road trip, your circulation can be even worse, which can lead to swollen legs, feet and ankles. To prevent this, my friend recommended wearing compression socks in the car, so that's exactly what I did! I bought these from Amazon and they worked great. Not only do compression socks improve circulation and prevent swelling, but they also help your legs feel more rested on travel days.
As for comfortable clothes… I think we all know that comfy clothes on a road trip are a MUST! I can't stand to wear anything that's too tight on my stomach right now, and if you are wearing something tight, it feels one thousand times worse while sitting in the car. I wore regular leggings for 10 minutes in the car the other day and ended up with indigestion and acid reflux. Never again. For this road trip, I invested in these Spanx maternity leggings and wish I had done so sooner! The legs fit like normal, but the stomach part is SO stretchy and comfortable, it feels like you're wearing nothing but air.
2. Get Out and Stretch Often
Stop pretty often so that you can get out of the car and walk around. We stopped every two hours or so at a rest stop, and I walked around and did a few stretches in the parking lot! Stopping every two hours helps get blood flow back into the lower half of the body to avoid complications like deep vein thrombosis, which pregnant women are at a higher risk of developing.
3. Do Small Exercises in the Car
It's important to stay moving… even in the car! My chiropractor told me to keep my pelvis moving a lot, even while driving. She said to swivel my hips left and right, forward and back to keep anything from locking in place, and to help my spine stay in alignment (I saw her on Tuesday right before my trip). Some other small exercises you can do (even while driving) include engaging your glute muscles for fifteen seconds at a time, working up to one minute. If you're not driving, try some calf exercises by putting both feet flat on the floor of the car and performing 20 heel raises with each leg.
4. Stay Hydrated!
It might seem counterintuitive to drink a lot of water while you're driving (since you might need to stop and pee a lot) – but trust me, it is better to stay hydrated! There is a link between dehydration and uterine contractions, which makes keeping on top of your water intake crucial. I kept a water bottle by my side in the car all trip long.
5. Pack Healthy Snacks
Healthy (but yummy!) snacks are definitely a road trip essential, and especially when you are nourishing for two! Having a tote full of healthy snacks in the car will also keep you from stopping at a McDonald's for french fries on the way (that is my biggest temptation on a road trip hahah). I packed honey crisp apples, peanut butter, organic trail mix, dried mango, and my favorite popcorn in the car and ate every few hours (since that's how often I am hungry these days). Oh and I also baked some loaded chocolate chip oatmeal cookies ahead of time, too… not exactly "healthy," but delicious nonetheless. 🙂