It's an exciting week here in the Dorsch household because football season is starting this weekend! I have to admit, Chris is the bigger football fan, but I'm excited about it too because it's one of the very first signs of fall! Even though we don't get to attend many games anymore, we still love celebrating at home with some tailgate-worthy snacks. A lot of tailgate food is pretty heavy, so I always like to make a lighter option to enjoy, too. Here are a few of my favorite healthier recipes to bring to your next tailgate! And… Go Tigers!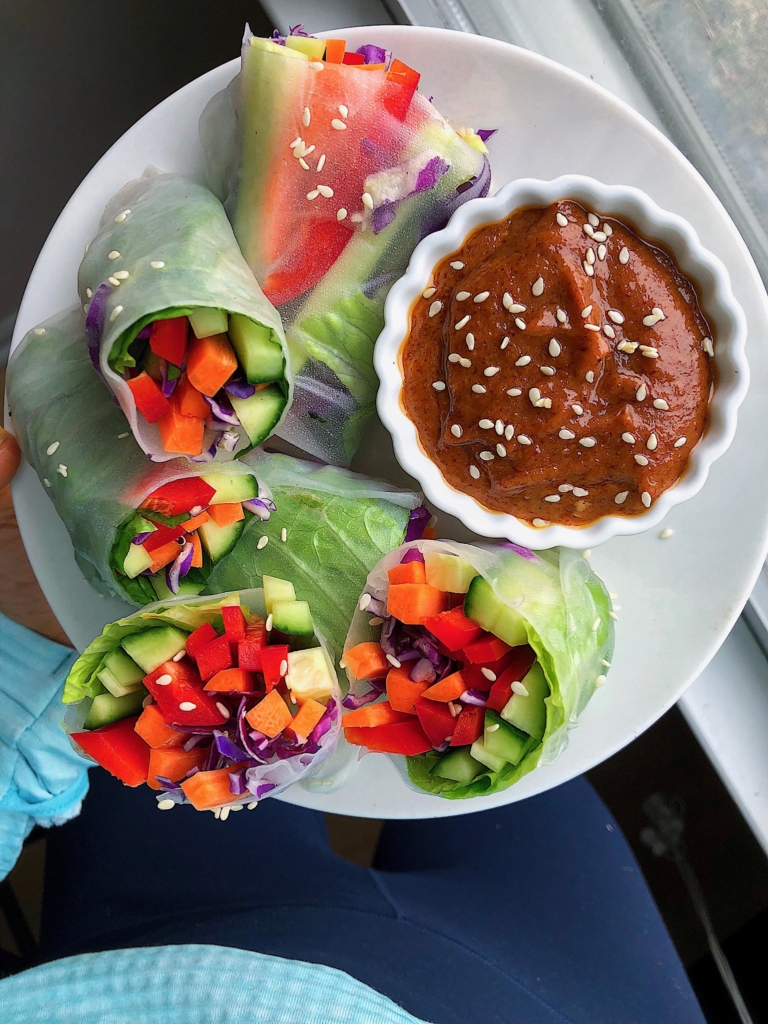 Veggie Spring Rolls with Spicy Peanut Sauce
photo via Choosing Balance
This is probably the healthiest recipe included in this round up because these spring rolls are packed FULL of veggies. It's basically a little asian salad wrapped in rice paper- making them an easy to eat finger food and the perfect addition to any tailgate menu. They were a hit at my family tailgate last year because the veggies add a ton of crunch, the edamame adds a little extra protein and the spicy peanut sauce adds a kick of flavor. I love how I can make these spring rolls ahead of game time because they aren't served warm and I can go to Trader Joe's to pick up everything I need (minus the rice paper) for this recipe!
Spicy Peanut Sauce Ingredients
2/3 cup creamy peanut butter
2 Tbsp. fresh ginger, grated
1/2 cup coconut aminos
2 Tbsp. white rice vinegar or apple cider vinegar
2 Tbsp. honey
3 Tbsp. sesame oil
1/2 tsp. crushed red pepper (You can leave the red pepper out if you prefer less spicy foods.)
Spicy Peanut Sauce Instructions
Grate the ginger root.
Put all the ingredients in a blender and blend until smooth.
Pour sauce into a small serving bowl and set aside.
Spring Rolls Ingredients
1 package of spring roll wrappers
1 bag of Trader Joes's organic shredded green and red cabbage
1/2 cucumber, thinly sliced
2 Tbsp. white rice vinegar or apple cider vinegar
1 red pepper, thinly sliced
1 bag of Trader Joe's shredded carrots
1 bag of Trader Joe's organic romaine hearts
1 bag of Trader Joe's frozen shelled edamame
1 bunch scallions, thinly chopped
1 bowl of spicy peanut sauce.
Sesame Seeds
Spring Rolls Instructions
Wash and prepare produce- thinly slice the cucumber, pepper and scallions. And tear 8 romaine leaves in half longways, so that you have a total of 16 romaine "sheets". Set aside.
Place the cucumber slices in a small bowl and toss with the vinegar.
Steam edamame according to package.
Fill a large bowl (big enough to fit the rice wrapper) with water.
Set up your prepping station by making sure all the ingredients are easily assessable.
Soak a sheet of rice paper for 30 seconds to 1 minute.
Remove and add to a flat surface.
Add a romaine leaf, a pinch of cabbage, a pinch of shredded carrots, a few cucumber slices, a few red pepper slices, a spoonful of edamame.
Use a fork to drizzle the peanut sauce on top and then sprinkle a few scallions and sesame seeds over everything.
Fold in the two ends of the wrap and then roll it until it's closed all the way. Place the spring roll on a serving dish.
Repeat steps 6-10 until all the wrappers are used.
Serve with a small bowl of the remaining peanut sauce or place in the refrigerator until ready to enjoy!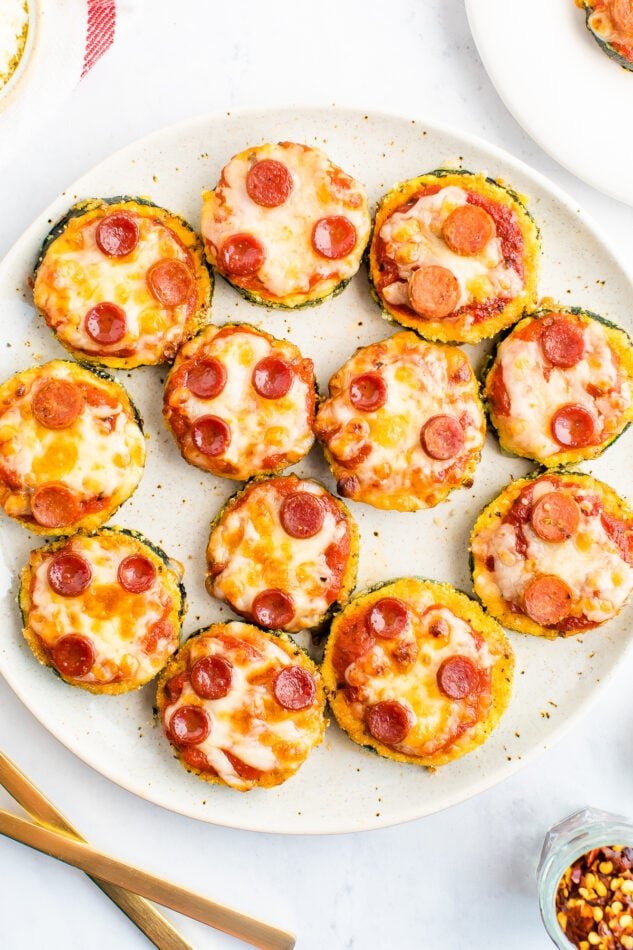 Zucchini Pizza Bites
recipe via Eating Bird Food
How cute are these little pizza bites?! They remind me of the frozen ones we used to eat as kids, but these are A LOT healthier for you! Not only are these made without all the yucky preservatives, but the "crust" is made from zucchini slices adding a little extra serving of veggies to your tailgate spread! These Zucchini Pizza Bites will certainly be a hit for the adults and the kids watching the game!
Ingredients
2 medium zucchinis
1 egg, whisked
¾ cup almond flour
¼ tsp. garlic powder
½ tsp. salt
2 tsp. Italian seasoning
⅓ cup pizza sauce, scant ½ Tbsp. each
¾ cup shredded mozzarella cheese
2 Italian Chomps meat sticks, thinly sliced
Instructions
Slice each zucchini in 1/4 inch thick rounds, trying to keep them all around the same size.
Line two baking sheets with parchment paper and grab two shallow bowls. Whisk the egg in one bowl and mix together almond flour, garlic powder, salt and Italian seasoning in the other.
Dip each zucchini slice into the egg wash and shake off any excess before sprinkling the almond flour mixture on each side of the zucchini. Don't dredge the zucchini in the almond flour mixture or it will start clumping.
Place coated zucchini pieces onto prepared baking sheet and repeat with remaining zucchini slices until done.
Bake at 400°F for 30-40 minutes, flipping half way through. Remove from oven.
Turn oven to broil and add pizza sauce, cheese and mini pepperonis to each pizza bite
Broil for 4-5 minutes total or until cheese is bubbling and turning golden brown. Remove from oven and cool.
Sprinkle on crushed red pepper and Italian seasoning for serving, if desired.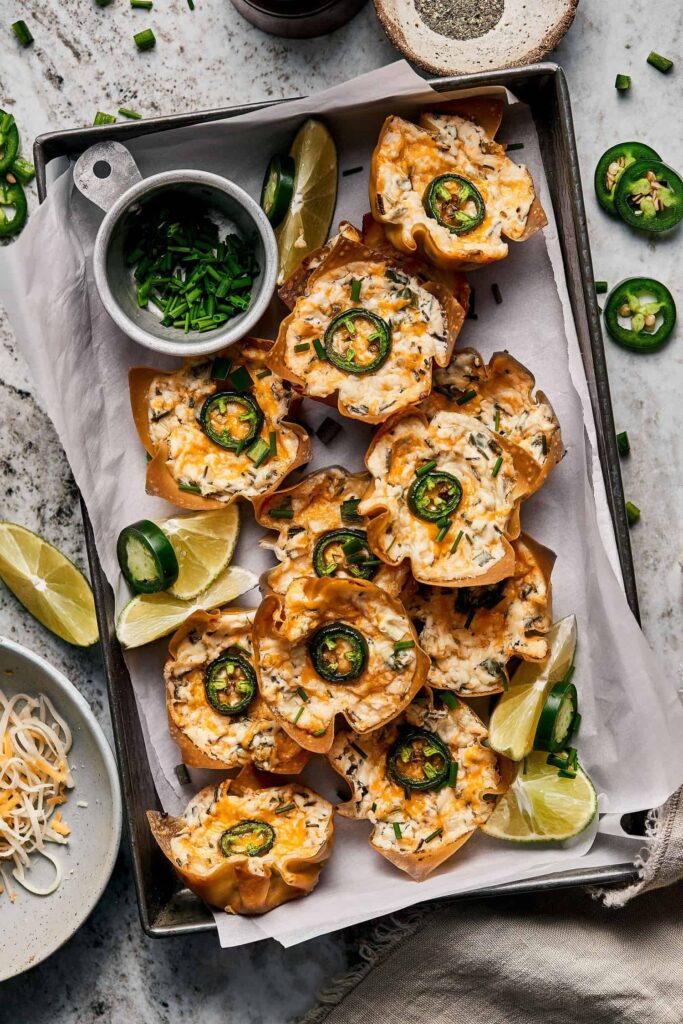 Jalapeño Popper Wonton Cups
recipe via KaleJunkie
If you really want to be a hit at the tailgate, you have to make these these Jalapeño Popper Wonton Cups because they are just as delicious as they are beautiful! The wonton crust is nice and crunchy and the filling is loaded with creamy cheese that just melts in your mouth. Then the extra spice from the jalapeños really take these poppers to the next level! KaleJunkie always has the best flavors in her recipes. These are also SUPER easy to make and they travel well to the game – that's a win-win in my book!
Ingredients
24 wonton wrappers
8 ounces cream cheese
1/2 cup cheddar cheese, shredded
1/2 cup mozzarella cheese, shredded
1/4 cup chives, chopped
1/4 cup scallions, chopped
1/4 tsp ground black pepper
1/4 cup chopped jalapeños, plus extra slices to top each popper
Instructions
Start by preheating your oven to 350 F.
Next, grease a muffin tin with avocado oil and place a wonton wrapper inside. You may want to use two wrappers per cavity, for a thicker "crust".
Brush each wonton with more oil (or a little bit of butter) and bake them in the oven for approximately 6 minutes, or until the wonton wrappers turn slightly golden.
While the wontons are baking, prepare the filling: in a medium bowl, add in the cream cheese, cheddar cheese, mozzarella cheese, chives, scallions, black pepper, and the jalapeños, and mix until well combined.
Once the wontons are done, let them sit for a few minutes to cool.
Then, scoop some of the cream cheese mixture into each wonton cup.
Add a little more shredded cheese on top of each cup, and a slice of jalapeño (if desired).
Bake for 20 minutes, serve immediately, and enjoy!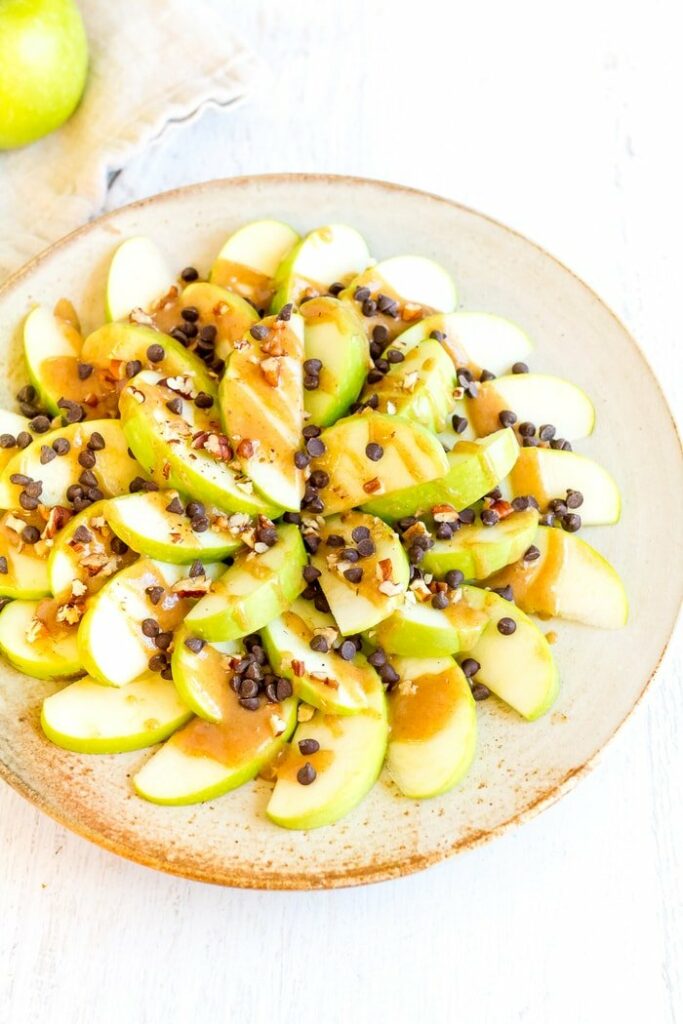 Apple Nachos with Date Caramel Sauce
recipe via Eating Bird Food
Okay, I had to add a healthy dessert to this lineup because a tailgate isn't complete without a little something sweet! And since nothing says "tailgate" quite like nachos, these apple nachos are a must for your next game day! The star of the show in this recipe is the Date Caramel Sauce, which has zero added sugar because it's completely sweetened by the dates – another genius creation by Eating Bird Food! If you want to make these ahead of tailgate time, make sure to place the apple slices in a bowl with one tablespoon of lemon juice and one cup of water, let them soak for five minutes, then drain and rinse them to prevent the apples from browning.
Date Caramel Sauce Ingredients
16 medjool dates, pitted
1 tsp. sea salt
1 tsp. vanilla extract
¾ -1 cup unsweetened almond milk
Date Caramel Sauce Instructions
Add all ingredients (starting with ¾ cup almond milk) into a high powered blender or food processor and blend until mixture is smooth and there are no date chunks detectable.
Add more almond milk, 1-2 Tbsp. at a time, if needed to help the blending process or to thin the caramel.
Use immediately or store in the fridge for later.
Nacho Ingredients
2 Tbsp. date caramel sauce
1 apple, sliced
1 Tbsp. chocolate chips, or cacao nibs
1 Tbsp. chopped pecans
Nacho Instructions
Wash and slice the apple, leaving the skin on. Add apple slices to a plate in a single layer, if possible. 
Drizzle date caramel sauce on top of the sliced apples.
Sprinkle on chocolate chips, chopped nuts and any other toppings of choice.
Which one looks best to you?!
xoxo