Good evening!
I've noticed the blog trend "What I'm loving Wednesdays" and I thought I'd go along with it. There are so many random things going through my head right now, this is a great way to share them without having to make them tie together.
1. The number one thing I'm loving right now: having free time! My past couple days have been spent laying out by the pool…
You think with all the free time I could have given myself a pedicure..
And I've really been enjoying having a kitchen! I've been whipping up all sorts of things. Here's some examples..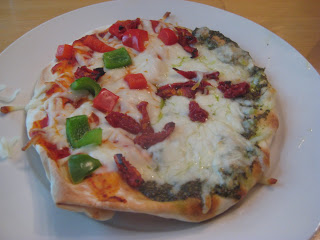 Half pesto, half marinara pizza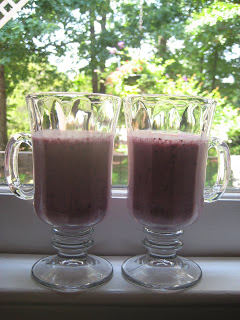 Post-workout smoothies
Waffles – made with my grandfather's secret recipe!
Pretty soon I'll be heading back to Chapel Hill to start my internship and my summer school class, so right now I am enjoying being able to relax and do whatever I feel like! Especially after a really stressful semester.
2. I'm also loving this product: Hope in a Jar.
I've been using Hope in a Jar for about a month now and I can honestly say that I am OBSESSED with it! My skin usually gets dry from the acne medicine that I use, and this lotion is very lightweight but extremely moisturizing at the same time. It gives my skin a natural glow, and I now feel comfortable going without makeup.
3. My sun hat from JCrew.
I actually found this at the JCrew outlet, but it was a couple months ago so I'm not sure how much I paid for it. I've been wearing it out by the pool and it's so cute, but it also provides a ton of coverage so my face doesn't get too much sun (my face is very prone to getting burned in the sun). I love it!
4. Larabars!
I got this HUGE pack at Sam's Club, and it includes the flavors Apple Pie, Cherry Pie, and Cashew Cookie. These bars make a great snack after I've had a tough workout and help provide energy when I'm lagging. And the best thing about them? Each bar has less than FIVE ingredients. Forreal. The Cherry Pie flavor is made of dates, almonds, and unsweetened cherries. That's it! It makes it easy to eat all-natural and not only that but they're veryyy tasty. If you haven't had them before, you should try the Cookie Dough flavor (one of my faves).
5. 8 Minute Abs!
http://www.youtube.com/watch?v=sWjTnBmCHTY
Have ya'll seen this before? You have GOT to watch this video. This 8-minute video was made in the 80s, but it is such a good workout for your abs! (And hilarious, just look at their outfits and the funny things they say – "You can do it, gang!"). I've been exercising to this video a lot lately, and the great thing is that it only lasts 8 minutes. You can easily do it right when you wake up, or before you go to bed, for a study break, etc. After a couple of weeks, you will notice a huge difference in your ab muscles.
6. I feel like this list could go on forever and ever (I'm loving a lot of things right now), but I should probably wrap it up. The final thing I'm loving is my Nook from Barnes & Noble.
I received my Nook for my birthday last summer, as well as a super-cute Kate Spade cover for it! I used it a lot during the school year because I downloaded some books for school on it (one of my political science textbooks was available on it, as well as a slew of novels that I needed to read for an English class). The thing that I love about the Nook is that you have access to thousands of novels at the touch of your fingertips, and you can download the first chapters of any book for free, to see if the first couple of pages capture your attention. It's amazing! As I mentioned in my last post, I'm looking for a great book to read. A few of you recommended The Help, so I'm planning on downloading it tonight and digging in.
If I won't be able to blog for a couple days, I apologize! I will be in Georgia until Saturday with some of my sorority sisters, having fun by the lake! But I'll be back soon enough, hopefully with some pictures and a suntan! 🙂
Love, Caitlin