Happy Thursday!
Sorry if this post seems a little… random. Because it I'm not going to lie, it's going to be a random one. This week, I'm all over the place. I moved into my new house in Chapel Hill yesterday and cleaned my grandparents' house all day today (for money, of course), and this weekend will be filled with events for my cousin's wedding.
There are three things on my blogging agenda for today…
1. This Salad
The Strawberry Poppyseed and Chicken Salad from Panera is back for the summer! It's my all-time favorite salad ever, topped with pineapple chunks, mandarin oranges, strawberries, blueberries, pecans and grilled chicken, and drizzled with a delicious poppyseed dressing. My grandfather brought me one for lunch today and I had forgotten just how good it is. And for only 340 calories, it's a winner. I suggest you head out to Panera right now and get yourself one.
2. This Summer Trend
I'm in love with this summer's trend of resin bangles. I found several the other day at Belk that I'm in love with, including these two white and red geometric resin bangles (for only $8.99 each!).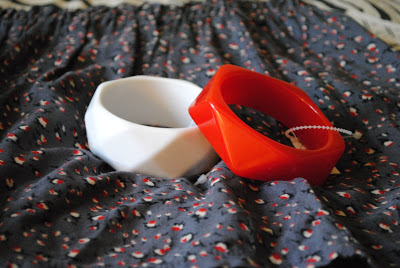 They are cute and basically indestructible, since they're made of plastic. I was even more excited when I realized that my red bangle looks exactly like the Marc Jacobs one..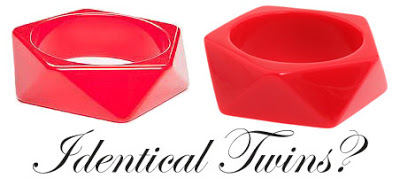 Don't they look exactly the same? Oh yeah, except for that weird… triangular thingy… on the Marc Jacobs..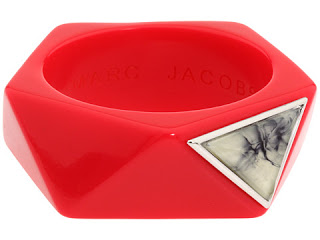 It's okay. I like mine better (and it doesn't hurt that mine was $52 less).
3. This Book
I downloaded Water for Elephants on my Nook after seeing the movie, and finished it a couple nights ago. I loved the movie, but my love for this book is equally as much. The book is captivating, and gives you a lot more insight into the characters' lives than the movie did. Some of it is a bit… shocking… but I would definitely recommend it! I could barely put it down!
Now to explain the title of this post…
While in the midst of writing this post, it started hailing so hard that I'm scared our skylights are going to break. It sounds like there are rocks falling from the sky. Not kidding. I'm actually kinda scared. I like thunderstorms in the summer but not HAILSTORMS, good gracious.
I ran downstairs real quick and…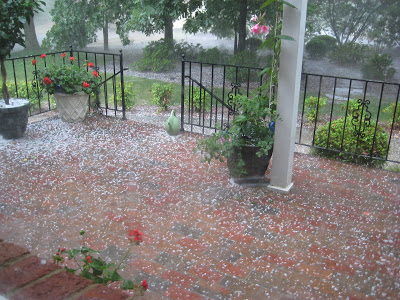 My backyard when the hail first began
thought it might have been snowing. Nope, just chunks of ice.
EEK, that thunder is a little too loud for me, I'm about to turn this baby off and HIDE!
Love, Caitlin
PS. Stay tuned for an upcoming blog post tonight… I need your help with a decision I have to make!