Good morning, friends!! I wanted to share an Ocean Isle Beach Travel Guide today (along with all the outfits I wore while I was there). My family has been visiting Ocean Isle since before I was born – so I have literally been going there every summer my entire life! It feels like my second home – and it's one of the only places in the world where I'm truly able to relax. I have such good memories from our summers there growing up, that it feels like such a safe, happy place when I'm there.
If you're interested in visiting, read on for my family's favorite restaurants and things to do in Ocean Isle!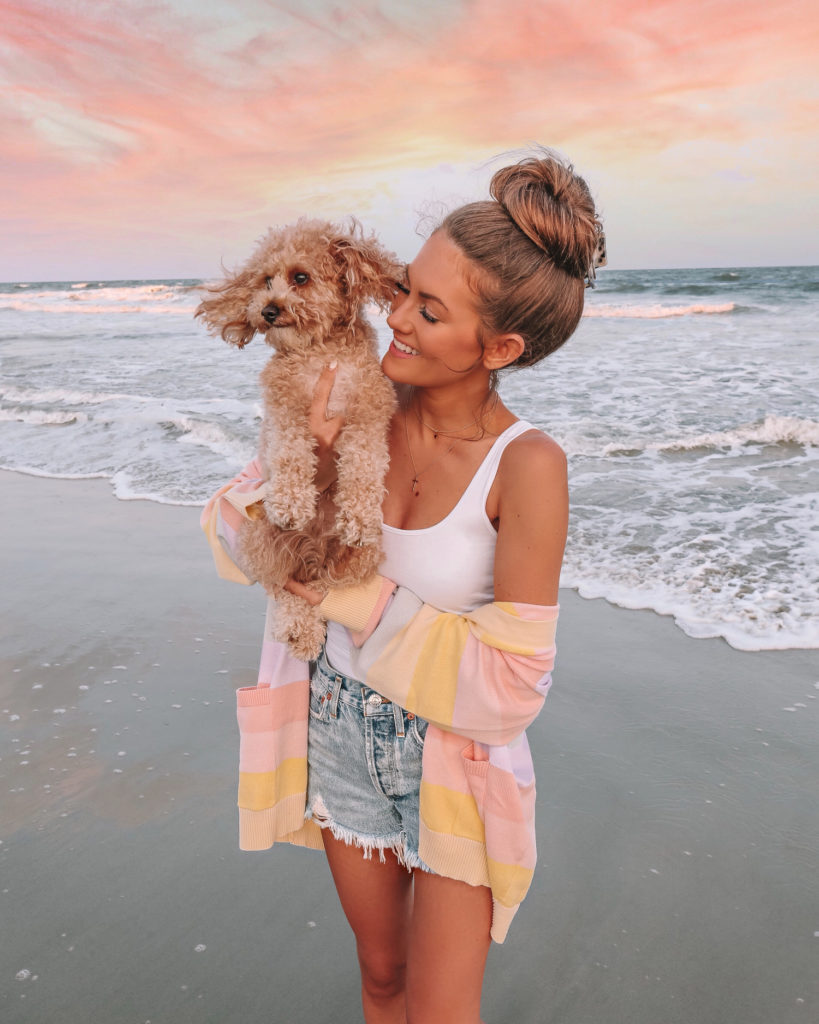 white tank // jean shorts // rainbow sweater, similar but more affordable here and here // The Darling Detail cross necklace and star choker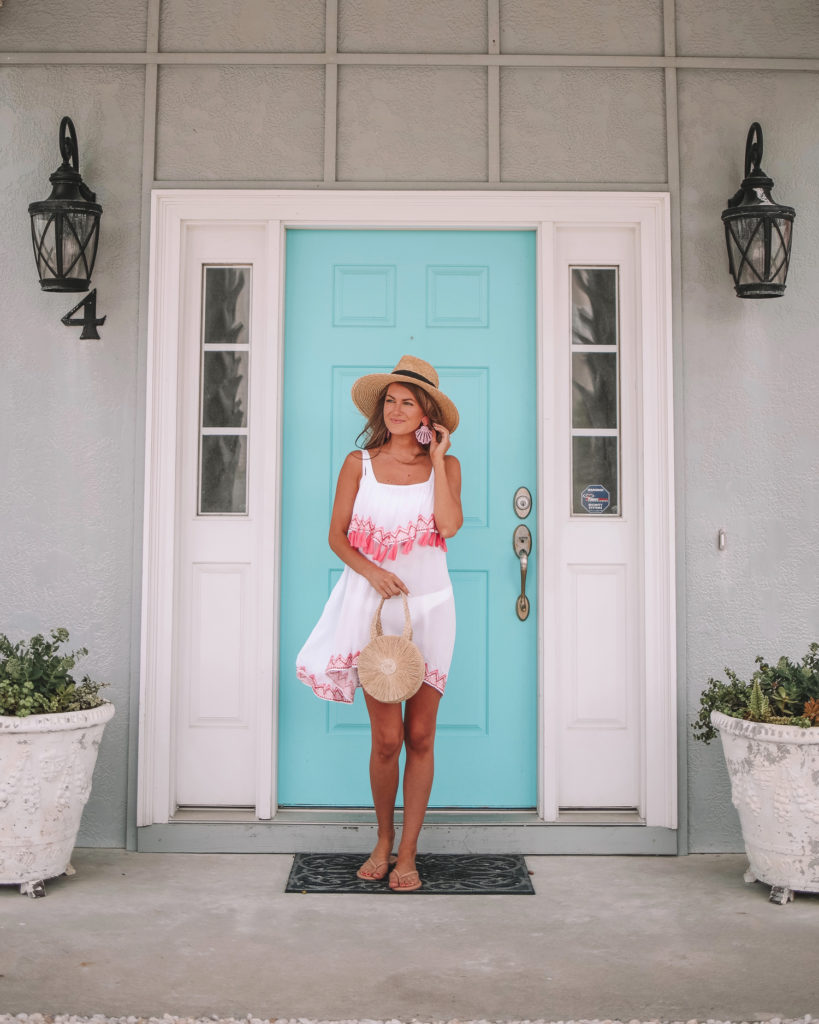 tassel cover-up // seashell earrings // straw bag // Brixton straw hat // TKEES sandals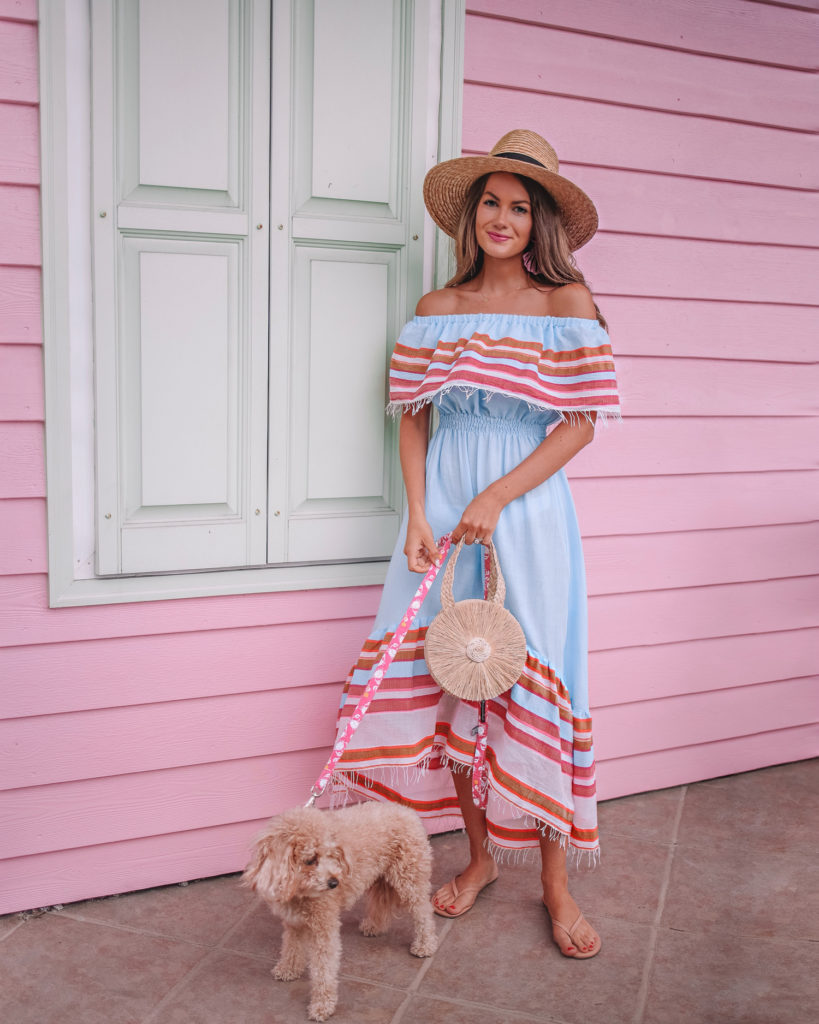 Brixton straw hat // seashell earrings // maxi dress cover-up // straw bag // TKEES sandals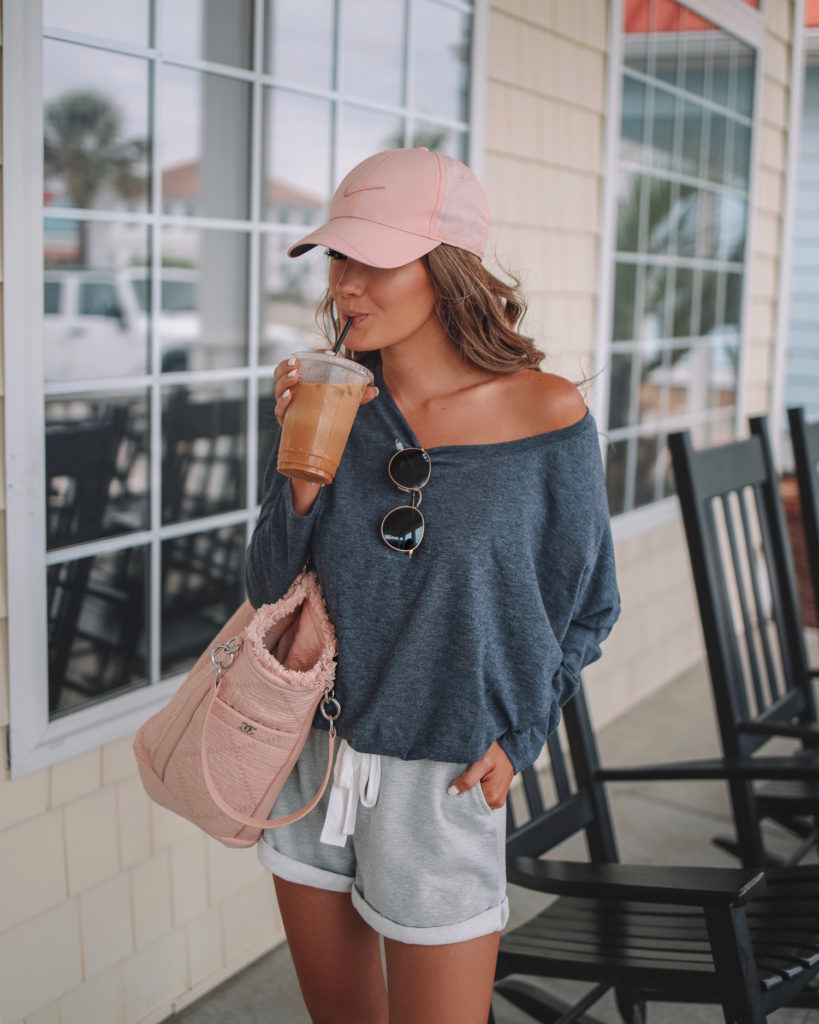 pink Nike hat // Rayban sunglasses // Eberjey sweatshirt, also sold here // sweatpants shorts, similar here // Chanel bag, similar here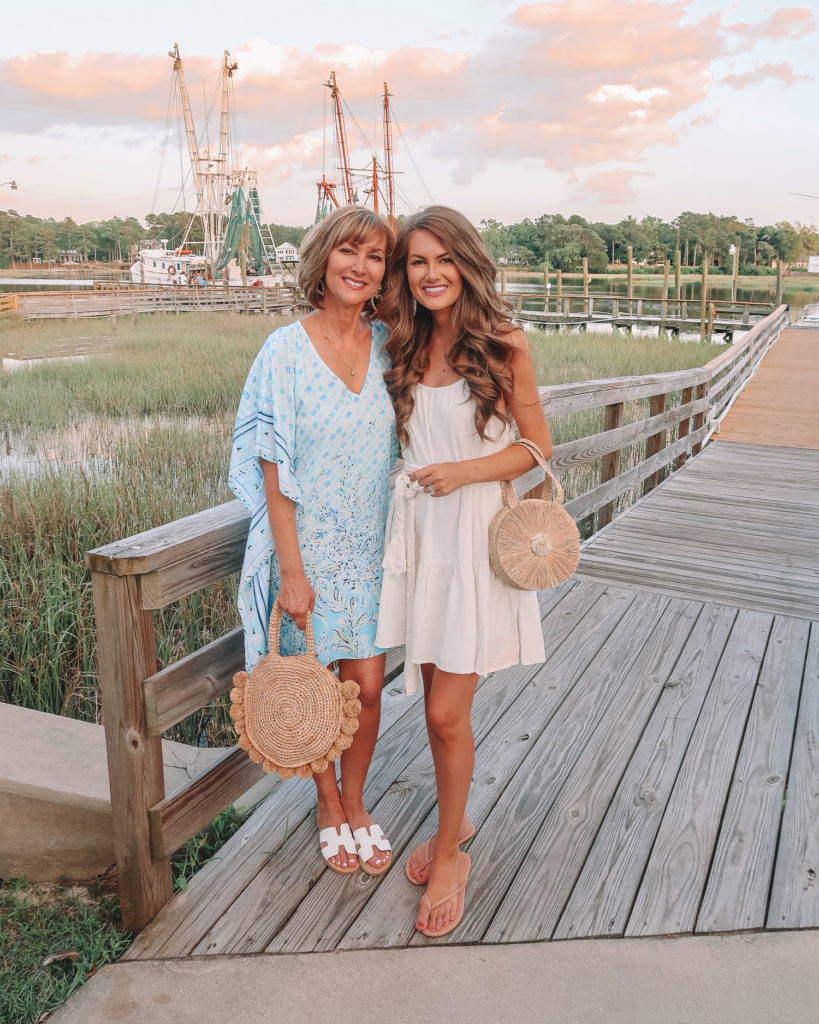 On my mom: Lilly Pulitzer dress // straw bag // white sandals // On me: white dress // straw bag // TKEES sandals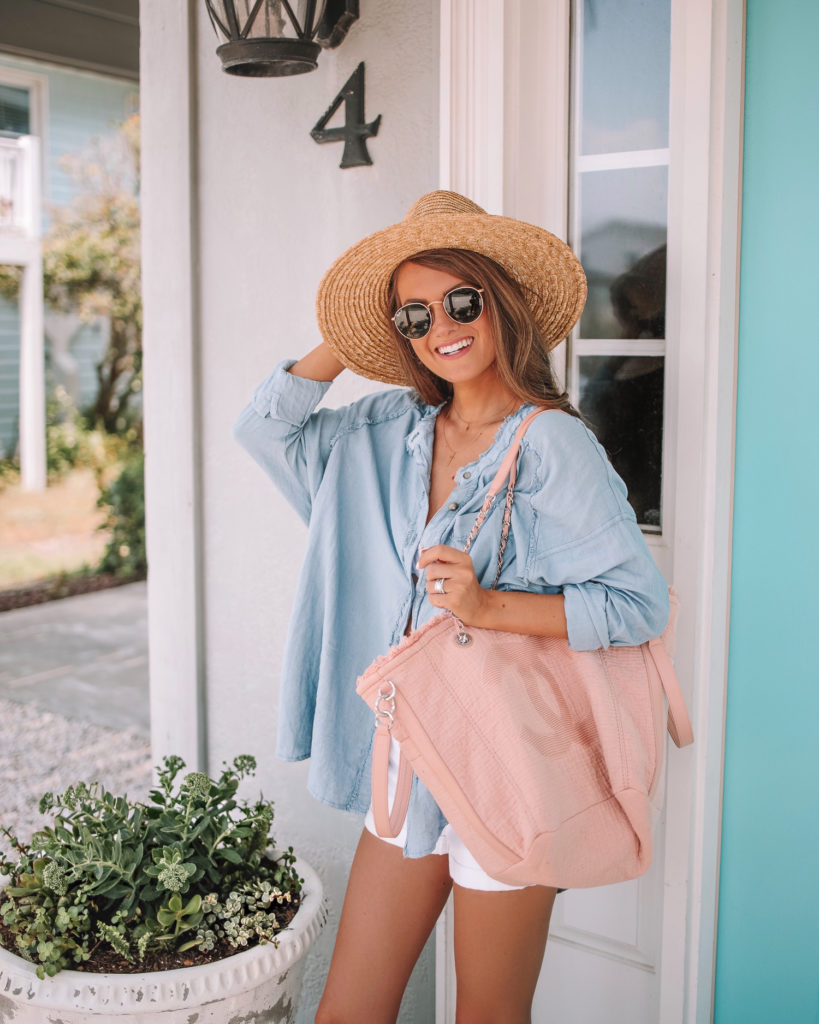 Free People top (comes in four colors!) // white denim shorts // Brixton straw hat // white bathing suit top and bottoms // Rayban sunglasses // TKEES nude sandals // Chanel bag, similar here
Where to Stay
A RENTAL! My family always rented a house for a week every summer. We rented through several different companies throughout the years: Sloane, Cooke and McClure are the best. You should also look at VRBO! Chris and I own a beach condo and we do rent it out through VRBO, however it's already fully booked for the summer! We plan to do a few renovations in the fall, and then I will share the rental link with you guys so you can rent it too 🙂
Where to Eat
BREAKFAST/LUNCH
DRIFT COFFEE & KITCHEN: We looove Drift Coffee for both breakfast and lunch! They have amazing avocado toast (called an "Avocado Smash") and a Market Breakfast Bowl that is super healthy and delicious with egg, avocado, sweet potato, greens, quinoa, baby tomatoes. Plus their coffee is AMAZING. It's nice to either walk or ride your bike here for breakfast!
BAGEL DOCK: Bagel Dock is actually located in Calabash but it's worth the drive. This place is definitely not healthy haha but it's tasty! They have a zillion flavors of cream cheese and really fresh bagels with tons of options for lunch and bagel sandwiches.
THE PURPLE ONION: This is a local secret that we discovered many years ago 🙂 The Purple Onion serves amazing pastries and traditional breakfast items, as well as burgers, sandwiches, salads and soups for lunch. My favorite is the Purple Onion Cafe Salad with a side of sweet potato fries! If you go here for lunch you HAVE to order a slice of cake. Check out the "cake refrigerator" when you walk in the door – there are tons of different kinds, all mouthwatering.
DINNER
SHARKY'S: Sharky's has been an Ocean Isle Beach staple for more than 30 years! Tucked under the Ocean Isle Beach bridge, the restaurant has a large indoor dining area as well as outdoor dining that overlooks OIB's beautiful waterfront views. My family loves the Shark's Teeth and any of their seafood. The Tropical Shrimp Salad is BOMB, and I always order it with a beer followed by a slice of key lime pie.
OCEAN ISLE FISH COMPANY: Also known as OIFC, Ocean Isle Fish Company is a great place to grab a drink before dinner. They have a Tiki Bar located on the top with awesome views of the sound! My mom and I always order fun drinks in a coconut. We also love their store – they sell a bunch of cute T-shirts, kids toys and have a large selection of Yeti cups. If you stay for dinner, we think their food is just "okay" but we love the atmosphere and it does have an awesome view!
PROVISION CO.: This restaurant is actually located in Holden Beach, but we drive in every year for their amazing food! This was my favorite place for hamburgers and cheeseburgers in the entire world (back when I ate hamburgers haha). Try their onion rings – they are OMG so good.
CAPTAIN JOHN'S SEAFOOD HOUSE: Captain John's is our favorite place in Calabash for seafood! My parents and brother always get the seafood platter with deviled crab (I usually get a salad). You have to eat here if you like seafood – then stop at Callahan's next door to go shopping – they have a HUGE selection of trinkets, jewelry, decor and gifts. Even if you don't buy anything, it's so much fun to peruse!
BOUNDARY HOUSE: This is the nicest restaurant near Ocean Isle Beach… we go here for special occasions like my mom's birthday! It is sooo good – they serve buttery fresh croissants with every side salad and those are always my favorite part of the entire meal! They have amazing appetizers, seafood and my dad says their steak is phenomenal!
INLET VIEW BAR & GRILL: We love this place because it has great food and it's dog-friendly! Chris and I love taking Winnie, sitting on their outdoor patio and dining while looking out over the water. I always get a baked potato as a side because it's mmmm good!
What To Do
THE BEACH: The most obvious thing: enjoy the beach! The beach at Ocean Isle is really nice, we bring our own chairs and umbrella and set up camp for hours at a time. Sometimes we pack lunch in a cooler, other times we'll head back to the house for an hour to eat and take a break from the sun. Our trips always involve getting as much beach time as possible!
BIKE RIDE: Bikes are really easy to rent in Ocean Isle, and you can ride all over the island looking at the pretty houses! We like to ride our bikes to Drift Coffee in the morning for breakfast.
PUTT PUTT: There's a cute little putt putt place right next to the pier in Ocean Isle (you can't miss it – you will see it on your left when you drive onto the island!). Our family loves a good friendly competition, we always play at least once during our week at the beach.
YOGA: My friend Courtney told me about sunrise yoga on the beach, so we did it together a few weeks ago and it was SO fun! It's $10 per class, and you can see the schedule here. You don't even need a yoga mat, just bring your beach towel and you're good to go.
FARMER'S MARKET: There's a really cool little Farmer's Market that sets up shop next to the Museum of Coastal Carolina every Tuesday starting at 9 a.m. during the summertime. Although they don't have much produce, they do have a ton of local artwork, natural soaps, honeys and jams, and even some cute beach towels and beach bags.
CONCERTS & OUTDOOR MOVIES: If you're into music, you are in luck! OIB offers FREE concerts every Friday night from 6:30 to 8 p.m. All concerts take place in the lot next to the Museum of Coastal Carolina on the island. Bring a beach chair and your own drinks and get ready to enjoy the music (and do some dancing!). For kids, OIB also has free outdoor movie nights every Wednesday in the same lot. You can check the movie schedule here.
What To Pack
Most of the restaurants in Ocean Isle are pretty casual, but my mom and I love to dress up so we usually wear dresses and wedges to dinner every night. You certainly don't have to do that, though – we are usually the dressiest ones there! For a trip to Ocean Isle, you will definitely need to pack multiple bathing suits and cover-ups, as well as a beach bag, towels and sunscreen. For trips to Drift Coffee and bike rides around the island, pack a cute tee and some denim shorts. A pair of nice sandals is also a must!
Let me know if you've ever been to Ocean Isle and if you have any favorites! I'd also love to know if you're planning a trip there in the future – it's my favorite beach of all time, after all 🙂