Happy Monday!
As much as I love fashion, I also love working out. It can be very tough to motivate myself, though. I've tried a number of things.. such as setting my alarm to go off early in the morning or putting my tennis shoes out the night before. I even tried looking at a Victoria's Secret catalogue, thinking it would make me want to work out, but after looking at the models all I wanted was a cheeseburger.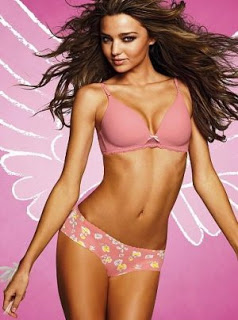 Miranda Kerr is beautiful, but I think she could use a trip to McDonalds.
So I think I've finally come up with the solution to make me want to work out! What's that, you ask? Drumroll, please. My secret is… Finding new workout gear. It's true! When I have some new shorts or a highlighter sports bra, I'm always dying to "show it off" in the gym. Having cute things to wear always makes me look forward to working out and helps motivate me to do something good for my body. Today, I put together a couple of outfits that I love that make me want to do some crunches.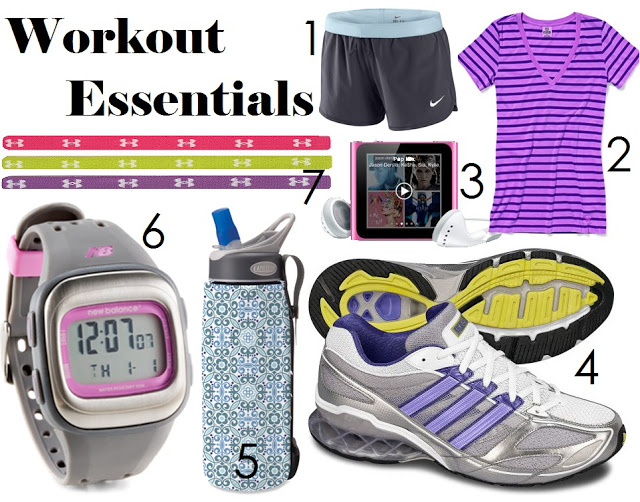 1. Shorts, Nike, $38
2. Striped V-Neck, Victoria's Secret, $17.40
3. Nano Ipod, Apple, $149
4. Shoes, Adidas, $75
5. CamelBak water bottle sleeve, REI, $10
6. Watch/Heart monitor, New Balance, $54.99
7. Under Armour headbands, Dick's Sporting Goods $11.99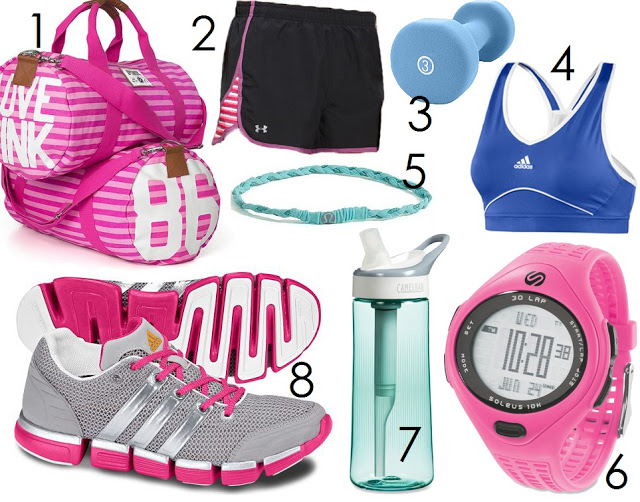 1. Gym bag, Victoria's Secret, $39.50
2. Under Armour shorts, Nordstrom, $29.99
3. Three pound weight, Dick's Sporting Goods ,$5.99
4. Sports bra, Adidas , $22
5. Braided headband, Lululemon , $12
6. Soleus 10K Watch, REI, $55
7. CamelBak water bottle, REI , $25
8. Shoes, Adidas, $75
I hope this serves as an inspiration for you, as well! 🙂
Love, Caitlin