Good morning! I wanted to get my Nordstrom Anniversary Sale shoe guide up as soon as possible, since many of you are able to shop the sale starting tomorrow (woohoo!). There were a LOT of options this year when it came to shoes… surprisingly, though, I only bought one pair of booties! I'm sharing the shoes I did end up taking home + my honest review of each. Read on for my reviews!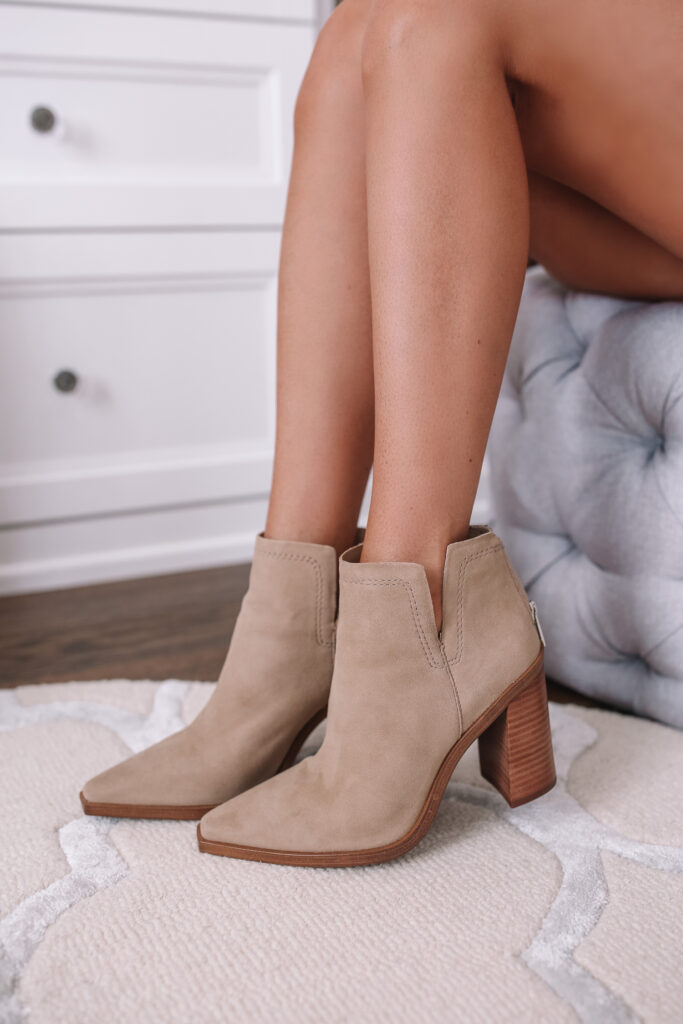 Sizing: TTS. I'm wearing a 7.
Quality: Can y'all believe that I only bought ONE pair of booties from the sale this year? These were the perfect color and matched with every single outfit I tried on in the dressing room. I brought back several other pairs to the dressing room and none of the other ones made the cut! This Vince Camuto pair is extremely comfortable, comes up high enough on your ankle to wear with both trendy cropped jeans and mom jeans, and they are the PERFECT color. You saw this pair of booties over and over again throughout this blog post, as they truly went with every single outfit!
Price: Originally $150.00, marked down to $99.90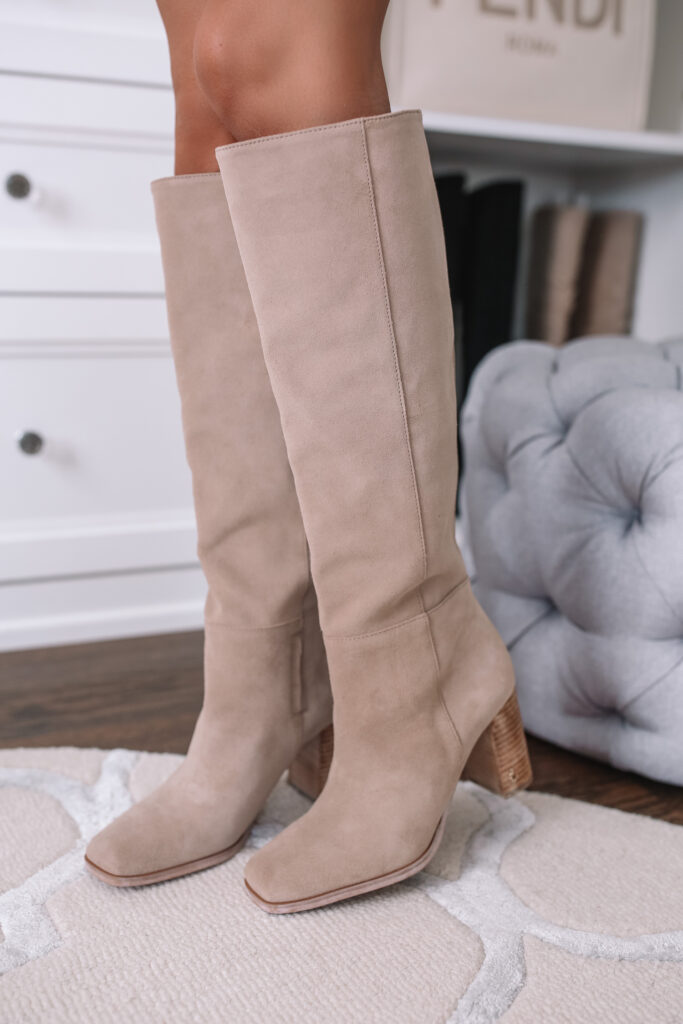 Sizing: TTS. I'm wearing a 7.
Quality: The color of these is really a standout – they are the perfect light camel color and they're incredibly high-quality, the suede is buttery soft to the touch. The squared-off toe is very on-trend, as is the wooden block heel. I would wear these with a sweater dress, black leggings or skinny jeans! The only downside of these is you will have to buy a suede protector, since the color is pretty light, I'd be scared that they would get scuffed up or stained from excessive wear. However, they are WORTH IT!
Price: Originally $225.00, marked down to $149.90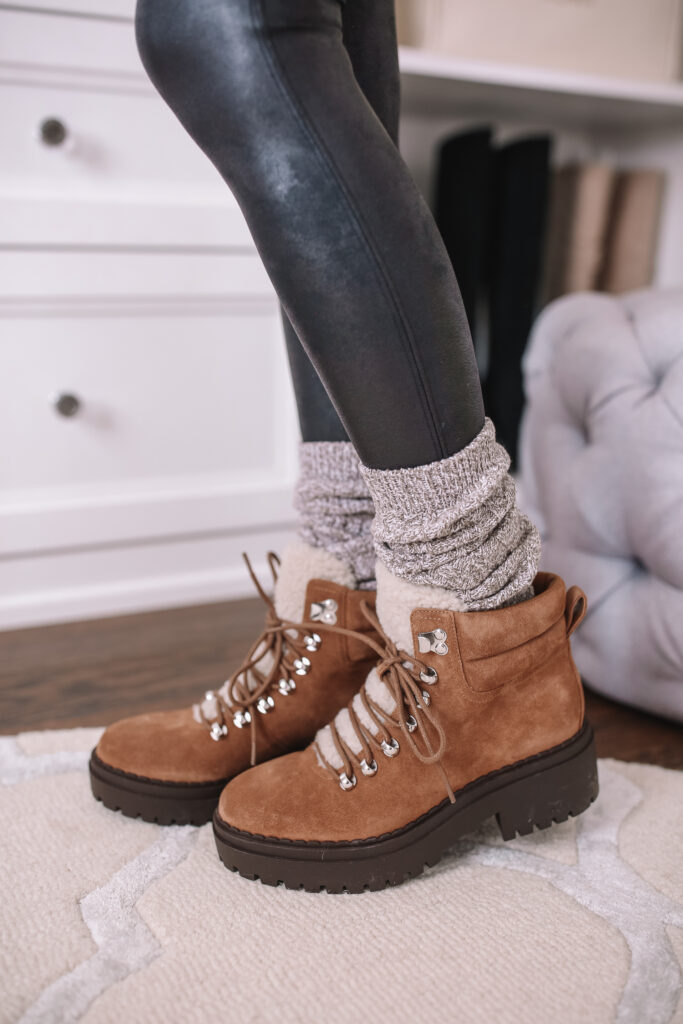 Sizing: These run a little big, size down half of a size. I'm wearing a 6.5.
Quality: These are very similar to the Marc Fisher Izzie boots that are my very favorite boots for fall and winter, yet the price is INCREDIBLE! I really cannot believe that these are $100 off. They look so cute with leggings and jeans and will keep your toes and feet nice and toasty. These have a thicker sole than the Izzie boots, which makes them look a little trendier in my opinion! I know it might feel weird to buy these boots in July, but I PROMISE you will be thanking yourself come October. (If you want to see some posts where I styled similar boots, check out this link.)
Price: Originally $249.00, marked down to $149.90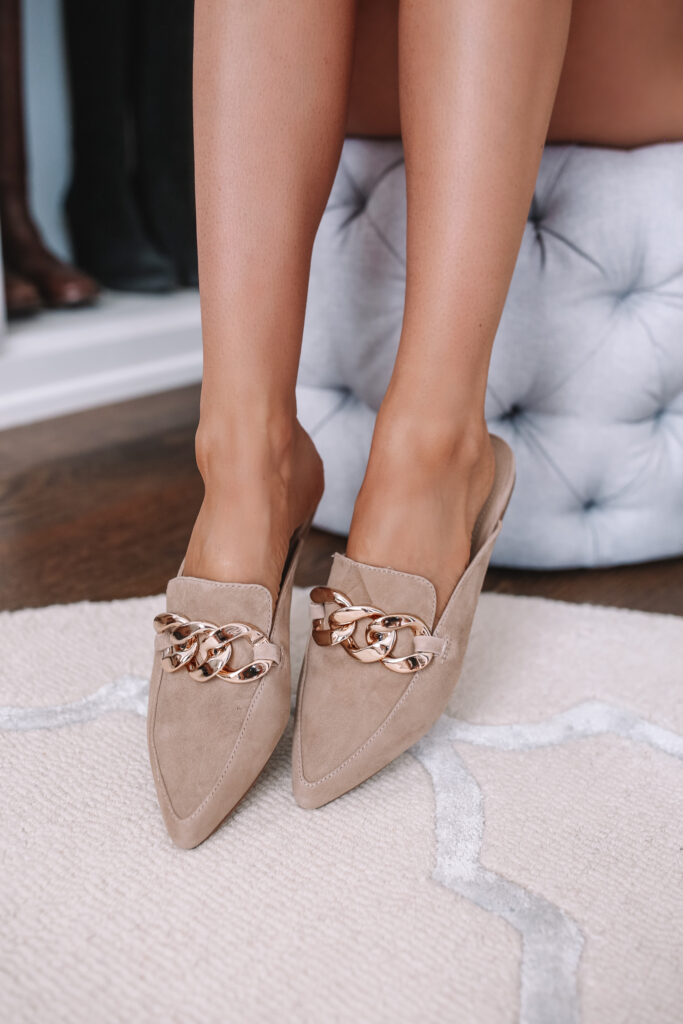 Sizing: TTS. I'm wearing a 7.
Quality: These mules are a nice update from the ones from last year – I love the big chain links, as they really make a statement! The color "tan suede" is the perfect color to pair with your entire fall wardrobe. They're also perfect to wear to work, especially if you have to be on your feet for long periods of time, since they're super comfortable.
Price: Originally $89.95, marked down to $59.90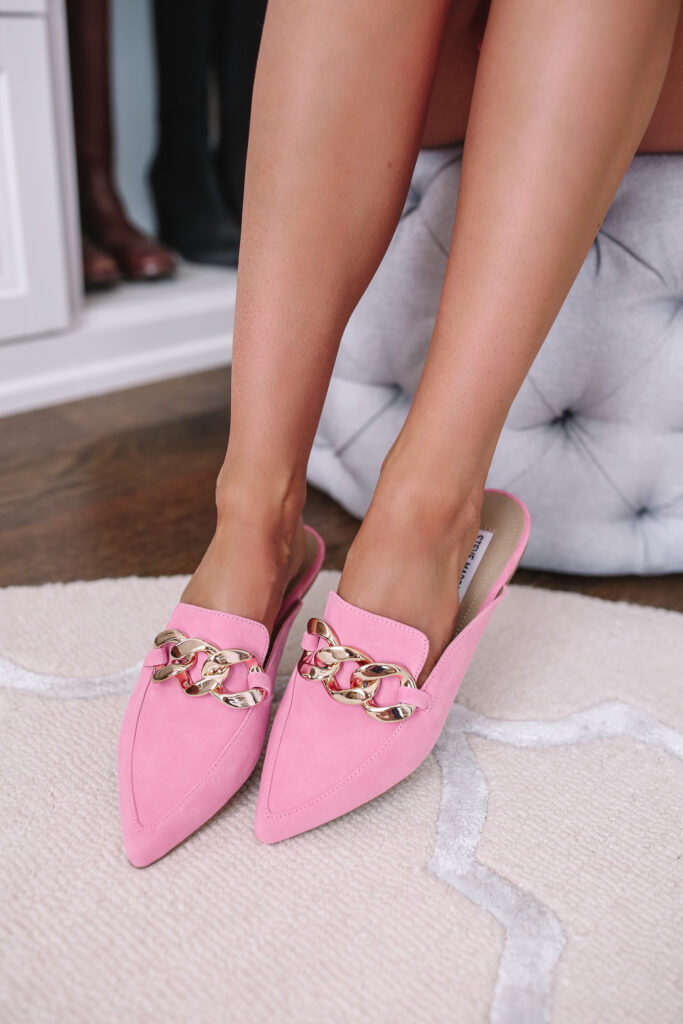 Sizing: TTS. I'm wearing a 7.
Quality: I also bought the mules in this bright, fun bubblegum pink color and couldn't be happier that I did. They are GORGEOUS in person. I know pink is not a typical fall color, but just imagine the outfits you could style with these! I am thinking they would look amazing with a really good pair of jeans and a chunky white sweater.
Price: Originally $89.95, marked down to $59.90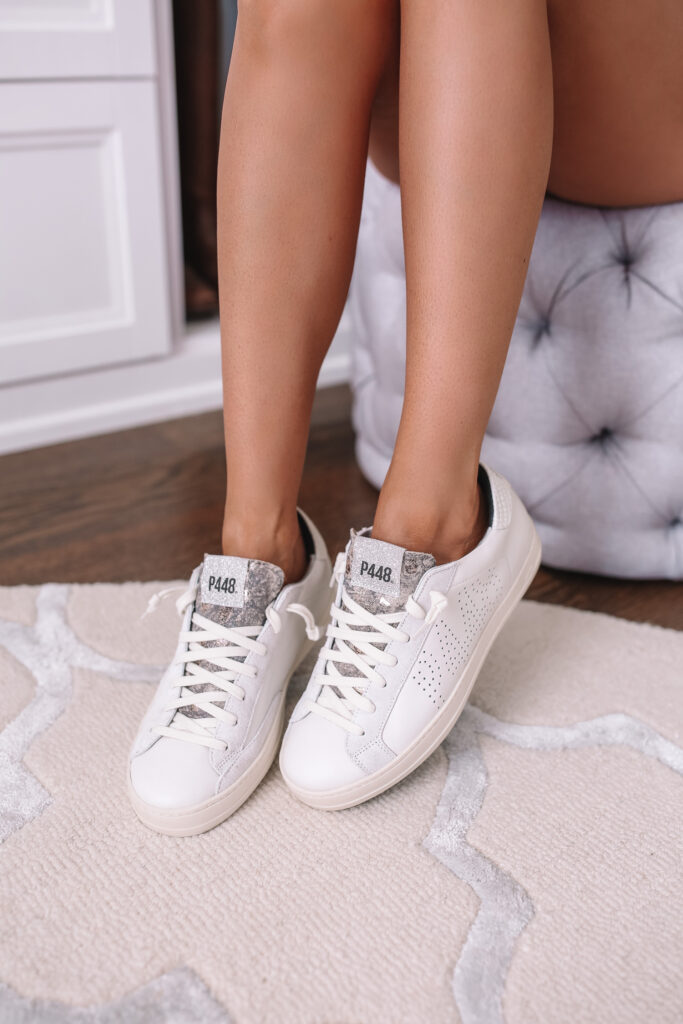 Sizing: TTS. I'm wearing a 7.
Quality: These low top sneakers are very similar to Golden Goose sneakers, if you're familiar with those! I really, really love how these look on – you can't tell from the photo, but the tongue of the shoe is glittery and looks sooo cute and girly! I've never worn this brand before, but I wore them around all day earlier this week and found them to be very comfortable. I did wear them with a pair of low-cut socks, so I can't speak to their comfort without socks!
Price: Originally $298.00, marked down to $199.90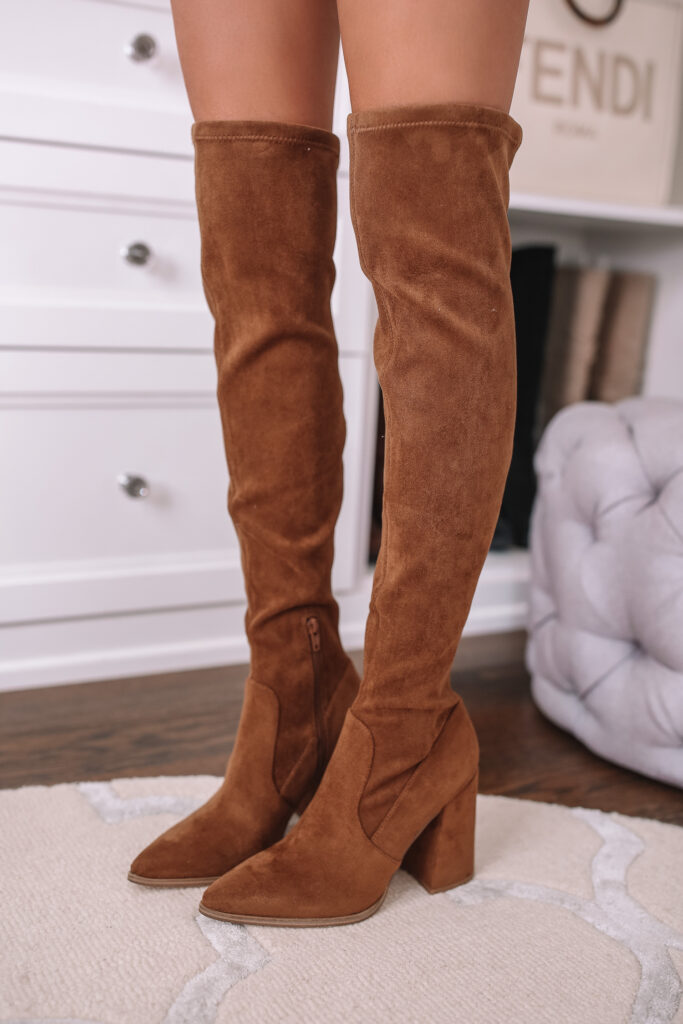 Sizing: TTS. I'm wearing a 7.
Quality: I really liked the rich cognac color of these over-the-knee boots, and knew I would want them come fall! They're made of a really soft microsuede, and I love how trendy they look with the flared block heel. They're a little loose on my legs just bare, but fit perfectly over a pair of skinny jeans (which is how I would most likely wear them).
Price: Originally $134.95, marked down to $89.90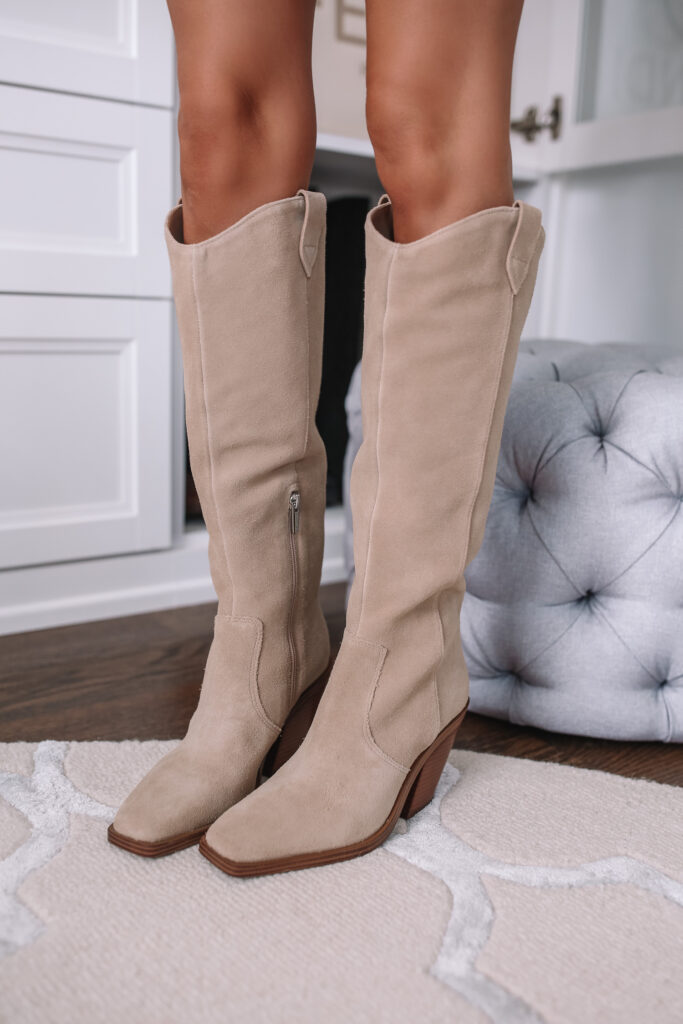 Sizing: TTS. I'm wearing a 7.
Quality: These tall suede boots have a bit of a western feel with their curved topline, almost like cowboy boots. I feel that they're a little more casual than the Sam Edelman ones (from the beginning of this post), but I found them to be SO comfortable and cute that I had to get them. They're actually more comfortable than the Sam Edelman ones, to be honest. With a 3 inch heel, they're also perfect to give me a little height.
Price: Originally $240.00, marked down to $149.90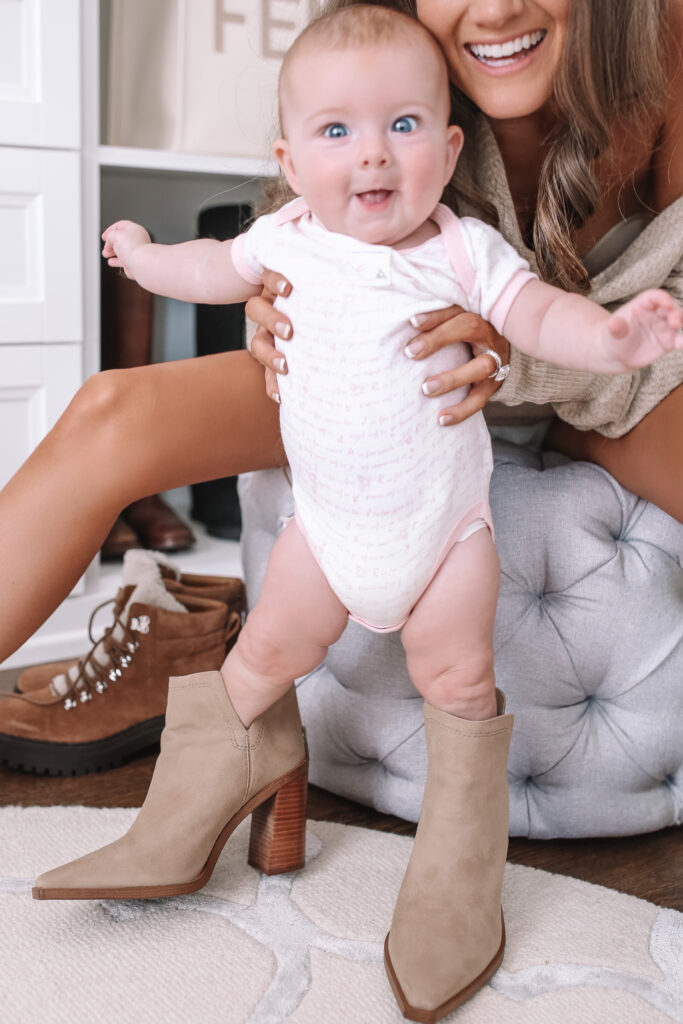 Fun fact, Kennedy was on my lap for all of the shoe photos 🙂 My brother snapped this one as a joke, and even though it's blurry and my bra is showing, I had to include it!!! Doesn't that smile just make your day a little better?
If you have any questions about the shoes, let me know! xoxo