The Nordstrom Anniversary Sale is HERE! Every year, the pieces that I buy during the Nordstrom Anniversary Sale are the pieces I end up wearing all fall and winter long. I end up wearing these pieces to death, because not only are they discounted prices (which means you save money!), but they're high quality items from brands you trust. This year, I was really pleased with the new items and the variety of styles. If you have any question at all about any of the items I bought, please let me know in the comments! I will be responding to comments and questions there.
My sizing and height for reference:
I often get asked my height and normal size to help you decide what size to order. I normally wear a size XS/S and a 25 in denim. If I say something is "TTS," that means "true-to-size" and means that I just got my usual size. As for height, I am 5'3 and a half (that extra half inch matters! 😉 )
Without further ado… here are my Nordstrom Anniversary Sale picks!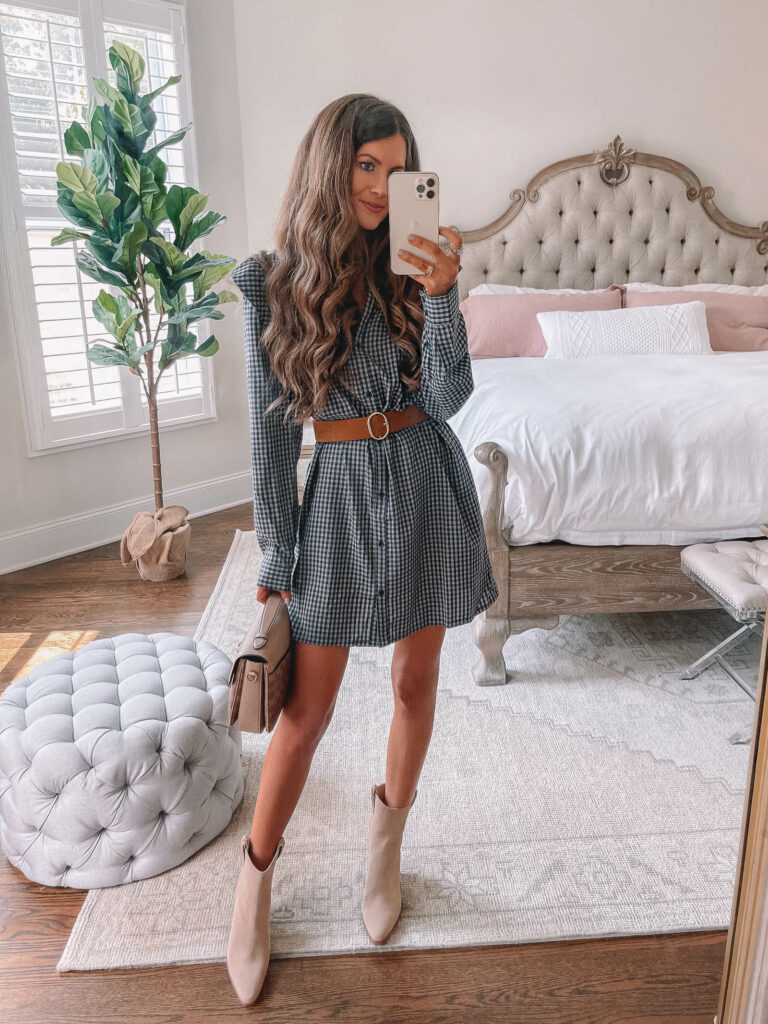 Sizing: TTS, I'm wearing size XS
Quality: This dress is a perfect transitional dress as we move into fall, and great quality too! It has a gorgeous plaid print and is not see-through at all. It has pretty ruffles on the shoulders and buttons all down the front. I decided to style it with a belt because it's a *tiny* bit long for my 5'3 frame.
Price: Originally $79.00, marked down to $49.90
Sizing: TTS, I'm wearing size 7.
Quality: These are the PERFECT booties to wear with dresses! They definitely have a western vibe (which is trending for fall), and the pointed toe make them very flattering to your legs. They have a 3.5″ heel, which is pretty tall for a bootie. Despite the height, they are very comfortable to walk around in!
Price: Originally $225.00, marked down to $149.99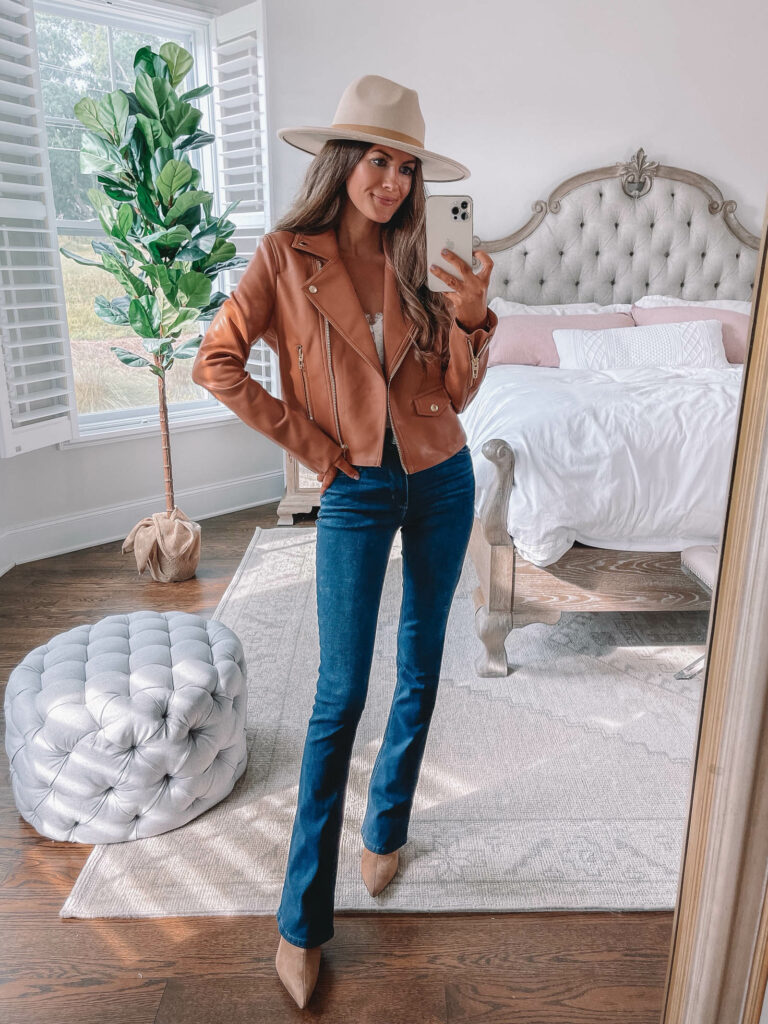 Sizing: TTS, I'm wearing size XS
Quality: I can NOT believe the price of this faux leather moto jacket! It looks and feels like a designer jacket, and if I saw someone else wearing it out, I would think it cost at least a couple hundred dollars. It's very thick and nice quality, but the best thing about it is the fit! It is cut perfectly to be incredibly flattering to every body type. The camel color is also so pretty in person. I plan to wear this with jeans, white pants and dresses.
Price: Originally $98.00, marked down to $59.99
Sizing: I'm wearing size 0. If in between sizes, size down.
Quality: These jeans ended up being my favorite denim purchase from the Nordstrom Anniversary Sale! My mom actually tried them on first, and I loved them so much on her that I had to go get a pair for myself. The dark wash and flared leg are extremely flattering and make your legs look a mile long. The material is soft and does have some stretch to it, that's why I recommend sizing down if you're in between sizes. Side note – I found that these jeans went with every single top I tried on in the dressing room!
Price: Originally $78.00, marked down to $49.99
Sizing: TTS, I'm wearing size 7.
Quality: These are the perfect ankle boots to wear with jeans! Since they're pretty slim around your ankle, they fit perfectly underneath jeans (especially those with a flared hem) and you can't see a thing. The color "medium natural" is a beautiful cognac shade!
Price: Originally $169.00, marked down to $99.99
Quality: This is going to be my go-to hat this fall and winter!! I absolutely love the color of this wool hat, it somehow went with almost every single fall outfit that I purchased from the #nsale. It's made of a thick, sturdy wool and has a nice suede ribbon that wraps around the crown.
Price: Originally $49.00, marked down to $31.90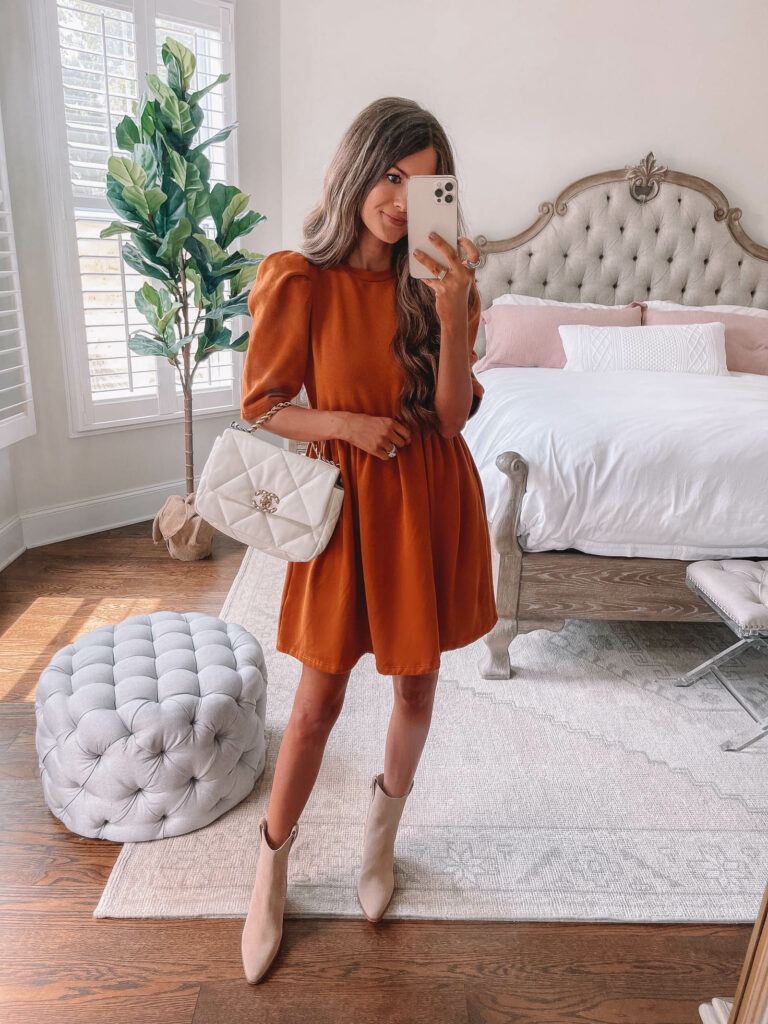 Sizing: TTS, I'm wearing size XS.
Quality: This dress is a steal! While it looks super cute, it's actually one of the most comfortable dresses I've ever worn – and that's because the inside is made of a super soft fleece. Imagine wearing your coziest, softest sweatshirt… but it looks like this! The puff sleeves are also very figure-flattering.
Price: Originally $75.00, marked down to $49.90
Sizing: TTS, I'm wearing size 7.
Quality: These are the PERFECT booties to wear with dresses! They definitely have a western vibe (which is trending for fall), and the pointed toe make them very flattering to your legs. They have a 3.5″ heel, which is pretty tall for a bootie. Despite the height, they are very comfortable to walk around in!
Price: Originally $225.00, marked down to $149.99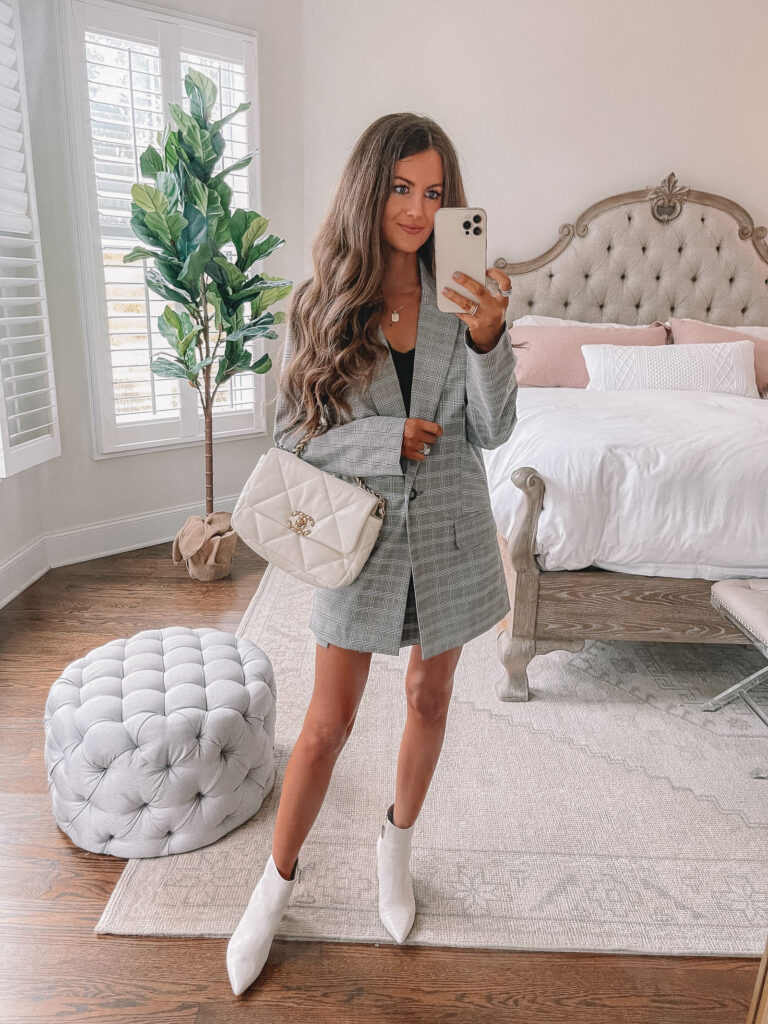 Sizing: I'm wearing size XS. The fit is a little oversized, but it's supposed to fit this way!
Quality: This plaid blazer is very high quality and the color in person is a beautiful light grey. It pairs perfectly with this matching plaid miniskirt and I love that it's the exact same length – when paired together, the blazer looks almost like a dress (which is a trending look right now). You could also easily pair this blazer with black pants or a pair of jeans.
Price: Originally $118.00, marked down to $79.99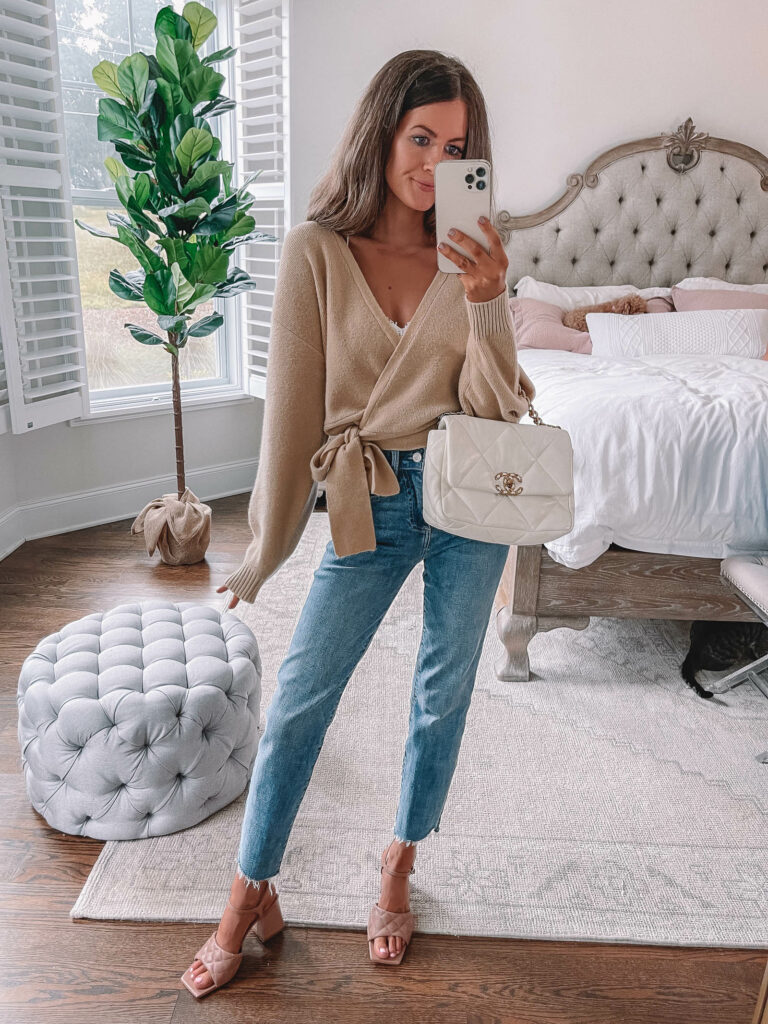 Sizing: TTS, I'm wearing size XS.
Quality: Obsessed is an understatement! This wrap sweater is super soft and cozy, the material is very thick and would definitely keep you warm in the fall. When worn alone, it does come down pretty low in the front, so I recommend wearing a lace tank or bralette underneath.
Price: Originally $82.00, marked down to $54.99
Sizing: TTS, I'm wearing size 25.
Quality: These cropped jeans are the perfect length for booties (even though I'm wearing sandals above, haha). They're a beautiful blue color in person and look gorgeous with lots of different colors. The hem is a little frayed, which definitely adds a "cool" factor.
Price: Originally $128.00, marked down to $85.90
Sizing: TTS, I'm wearing size 7.
Quality: These heels absolutely look designer, the quilted pattern really reminds me of Chanel! Not to mention the trendy square toe. I loved these so much that I had to have them in two colors, and I kept reaching for them over and over while trying on clothes. They are such a classic, beautiful sandal and the quality is incredible – I cannot believe they're less than $50!
Price: Originally $69.95, marked down to $49.99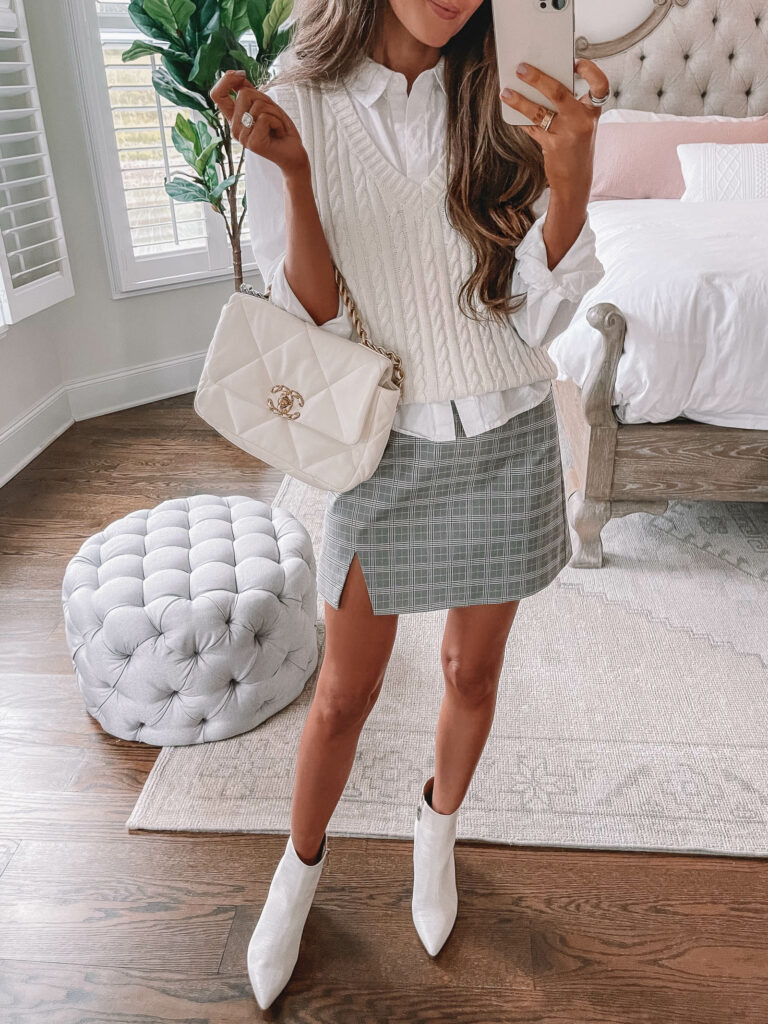 Sizing: TTS, I'm wearing size XS.
Quality: This sweater vest is a wardrobe essential for this upcoming fall! It features a V-neck and a thick cable knit pattern. It comes in a couple of colors but I personally love this one – it's what I call a "crisp" ivory, it is not yellow at all and looks great paired against pure white, like the white button-up above. You can also wear this sweater vest alone with jeans or a skirt!
Price: Originally $49.00, marked down to $28.99
Sizing: Runs a little big, I'm wearing size XS but could have sized down.
Quality: Although the sizing is a tiny bit off, the quality of this plaid miniskirt is great (the same quality as the matching plaid blazer). It has a small slit in the left side and is not too short! This will look so cute paired with sweaters in the fall.
Price: Originally $68.00, marked down to $39.99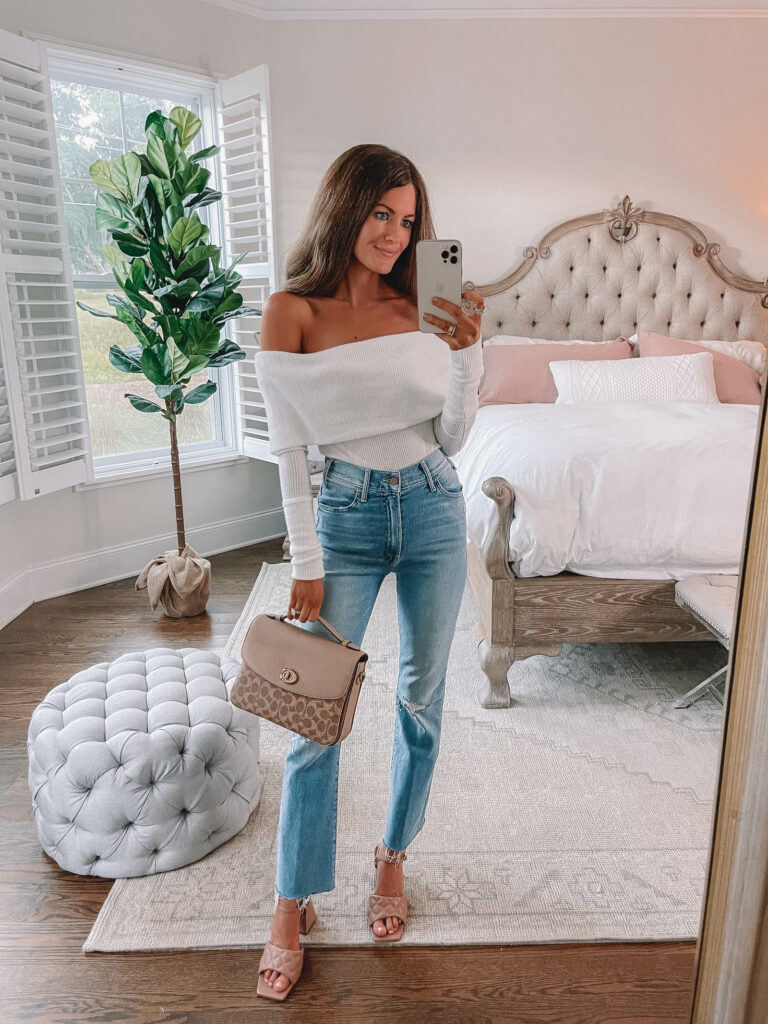 Sizing: TTS, I'm wearing size XS.
Quality: This is one of the softest off-the-shoulder tops I own! It's Free People, and it definitely lives up to the brand's reputation. It's made of a high-quality, thick material and is super soft to the touch. The fabric is slightly ribbed.
Price: Originally $68.00, marked down to $44.99
Sizing: TTS, I'm wearing size 25.
Quality: I love MOTHER jeans and always get so excited to see them included in the Nordstrom Anniversary Sale! These designer jeans fit like a glove and are incredibly flattering with a raw hem and slight distressing on the knees.
Price: Originally $238.00, marked down to $158.90
Sizing: TTS, I'm wearing size 7.
Quality: These heels absolutely look designer, the quilted pattern really reminds me of Chanel! Not to mention the trendy square toe. I loved these so much that I had to have them in two colors, and I kept reaching for them over and over while trying on clothes. They are such a classic, beautiful sandal and the quality is incredible – I cannot believe they're less than $50!
Price: Originally $69.95, marked down to $49.99
Quality: Believe it or not, this COACH bag is the only handbag I purchased from the Nordstrom Anniversary Sale this year! I really love it, too – it has a vintage feel to it, and can be carried by the top handle or you can attach the shoulder strap. I found that this bag went with sooo many of the fall outfits from the sale this year! The neutral color and pattern are so pretty, and the interior has multiple pockets to keep your essentials organized.
Price: Originally $350.00, marked down to $199.99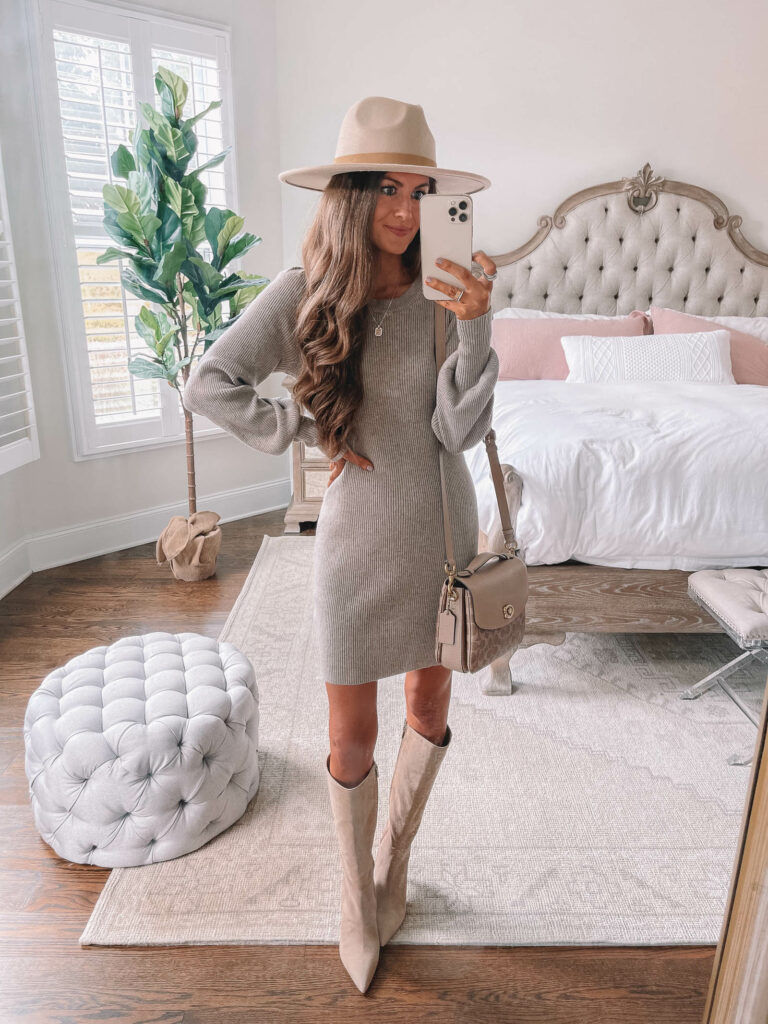 Sizing: TTS, I'm wearing size XS.
Quality: This ribbed sweater dress is a wardrobe staple! You can style it so many different ways, with different shoes, and if you need an entirely different look, just add a scarf. This one in particular is really thick and nice, definitely worth the $99 price tag that is the original price. It is a slightly darker color in person than it appears online – I like the color better in person. The material is slightly ribbed and has fun detailing at the wrists.
Price: Originally $99.00, marked down to $59.90
Sizing: TTS, I'm wearing size 7.
Quality: These boots are SO flattering, I am obsessed with how they look! The pointed toe makes them very elongating, and the "tortilla" color is the perfect neutral to go with all your fall outfits. The only negative thing I have to say about these boots is that the zipper on them does not slide very easily! I would expect a better quality zipper from Vince Camuto, especially because these boots are not cheap! All things considered, I still think they are worth the purchase because of how beautiful they look on.
Price: Originally $249.00, marked down to $149.90
Quality: Believe it or not, this COACH bag is the only handbag I purchased from the Nordstrom Anniversary Sale this year! I really love it, too – it has a vintage feel to it, and can be carried by the top handle or you can attach the shoulder strap. I found that this bag went with sooo many of the fall outfits from the sale this year! The neutral color and pattern are so pretty, and the interior has multiple pockets to keep your essentials organized.
Price: Originally $350.00, marked down to $199.99
Quality: This is going to be my go-to hat this fall and winter!! I absolutely love the color of this wool hat, it somehow went with almost every single fall outfit that I purchased from the #nsale. It's made of a thick, sturdy wool and has a nice suede ribbon that wraps around the crown.
Price: Originally $49.00, marked down to $31.90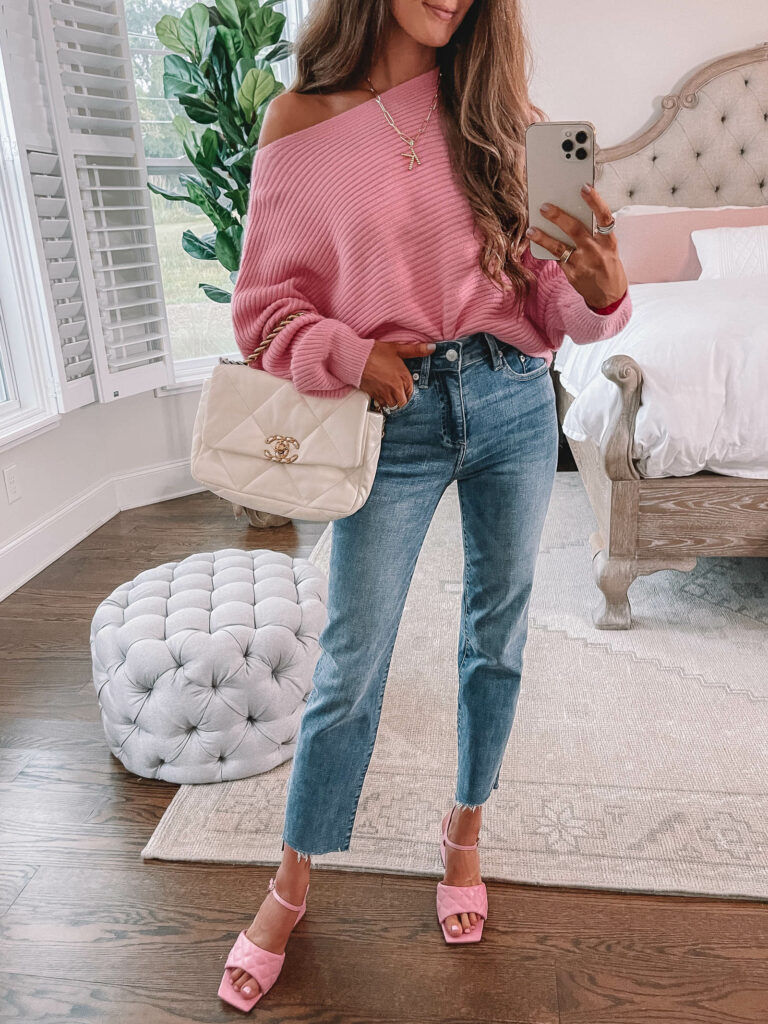 Sizing: TTS, I'm wearing size XS.
Quality: I bought this dolman sleeve sweater in several different colors, including this beautiful bright pink! The material is very soft and thick and would certainly keep you warm in the cooler months. Although the website does not show this as an off-the-shoulder sweater, you can easily pull down one side to create this look.
Price: Originally $59.00, marked down to $38.90
Sizing: TTS, I'm wearing size 25.
Quality: These cropped jeans are the perfect length for booties (even though I'm wearing sandals above, haha). They're a beautiful blue color in person and look gorgeous with lots of different colors. The hem is a little frayed, which definitely adds a "cool" factor.
Price: Originally $128.00, marked down to $85.90
Sizing: TTS, I'm wearing size 7.
Quality: These heels absolutely look designer, the quilted pattern really reminds me of Chanel! Not to mention the trendy square toe. I loved these so much that I had to have them in two colors, and I'm OBSESSED with the pink. I kept reaching for them over and over while trying on clothes. They are such a classic, beautiful sandal and the quality is incredible – I cannot believe they're less than $50!
Price: Originally $69.95, marked down to $49.99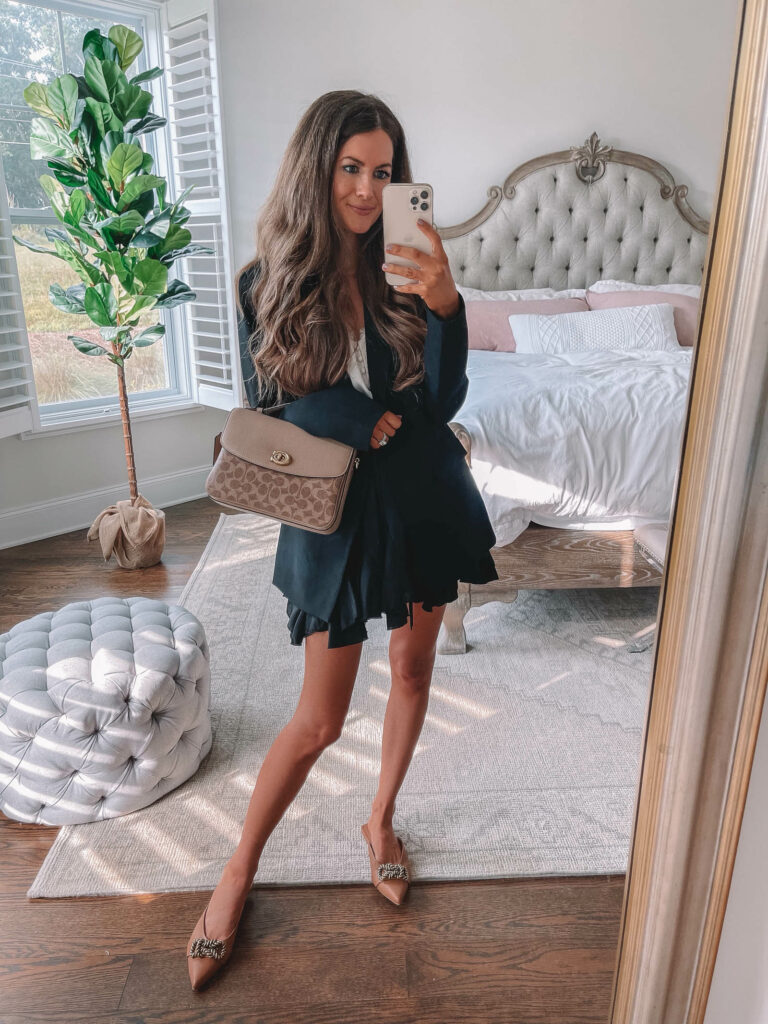 Sizing: TTS, I'm wearing size XS.
Quality: If you need a good basic, fitted blazer – this one is it! It looks like it has been custom-tailored because it fits so well and is so flattering. You could wear this so many different ways in a corporate setting, but it will also easily take you to brunch or happy hour with the girls. I personally love the "city chic" look by pairing a blazer with a flouncy skirt.
Price: Originally $79.00, marked down to $49.90
Sizing: TTS, I'm wearing size 7.
Quality: Of all the flats I've ever worn, these seriously might be my favorite! The way they're cut is very flattering on your foot, and they feel like designer shoes, worth much more than their $49 sale price tag. The roped buckle at the front of the shoe adds a classy, beautiful flair.
Price: Originally $69.95, marked down to $49.99
Quality: Believe it or not, this COACH bag is the only handbag I purchased from the Nordstrom Anniversary Sale this year! I really love it, too – it has a vintage feel to it, and can be carried by the top handle or you can attach the shoulder strap. I found that this bag went with sooo many of the fall outfits from the sale this year! The neutral color and pattern are so pretty, and the interior has multiple pockets to keep your essentials organized.
Price: Originally $350.00, marked down to $199.99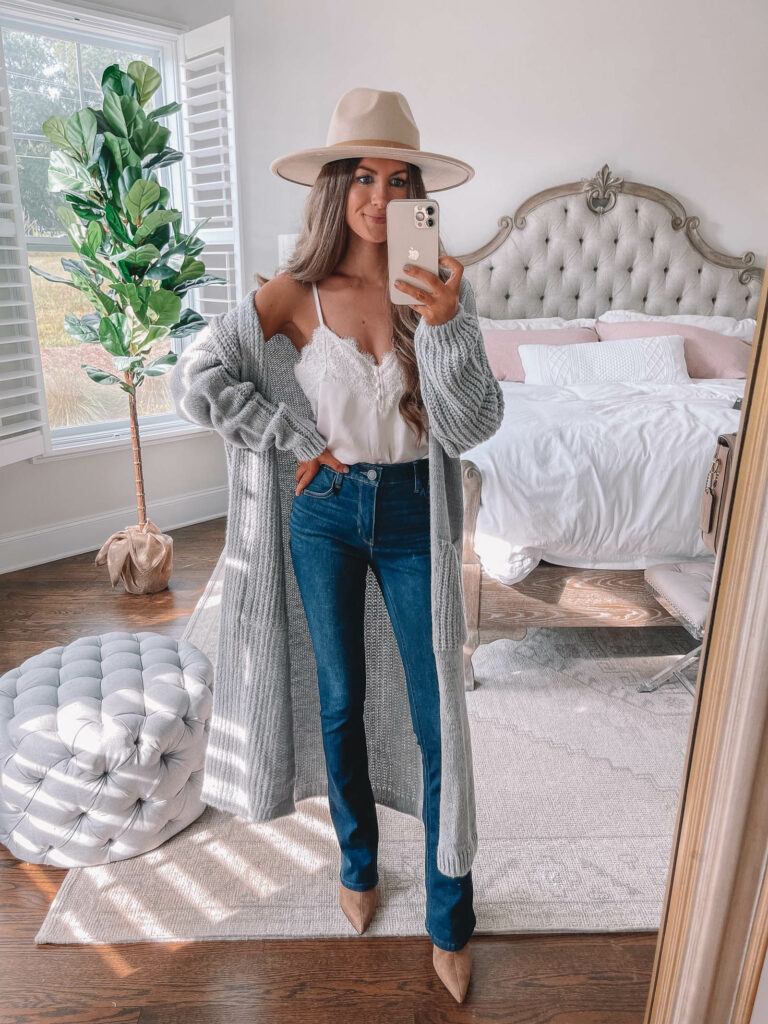 Sizing: TTS, I'm wearing size XS.
Quality: This is without a doubt one of my favorite pieces from the Nordstrom Anniversary Sale this year! This cardigan is so thick, it feels like a designer cardigan that is worth at least a couple hundred dollars. I love the varying stitchwork on this cardigan. It has nice pockets and comes in four different colors (I bought three out of the four!).
Price: Originally $68.00, marked down to $49.99
Sizing: I'm wearing size 0. If in between sizes, size down.
Quality: These jeans ended up being my favorite denim purchase from the Nordstrom Anniversary Sale! My mom actually tried them on first, and I loved them so much on her that I had to go get a pair for myself. The dark wash and flared leg are extremely flattering and make your legs look a mile long. The material is soft and does have some stretch to it, that's why I recommend sizing down if you're in between sizes. Side note – I found that these jeans went with every single top I tried on in the dressing room!
Price: Originally $78.00, marked down to $49.99
Sizing: TTS, I'm wearing size 7.
Quality: These are the perfect ankle boots to wear with jeans! Since they're pretty slim around your ankle, they fit perfectly underneath jeans (especially those with a flared hem) and you can't see a thing. The color "medium natural" is a beautiful cognac shade!
Price: Originally $169.00, marked down to $99.99
Quality: This is going to be my go-to hat this fall and winter!! I absolutely love the color of this wool hat, it somehow went with almost every single fall outfit that I purchased from the #nsale. It's made of a thick, sturdy wool and has a nice suede ribbon that wraps around the crown.
Price: Originally $49.00, marked down to $31.90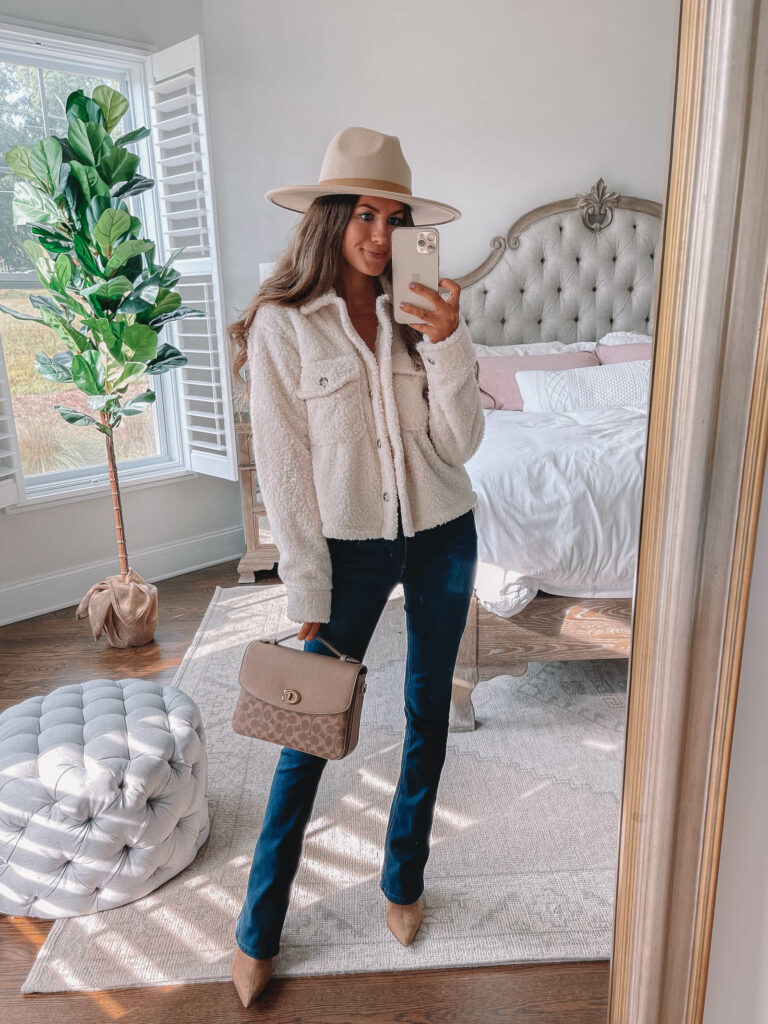 Sizing: TTS, I'm wearing size XS.
Quality: This shirt jacket feels more like a coat to me, it is soooo warm and fuzzy! I honestly can't believe the price point, either. It has working pockets on the front side and nice, big tortoise buttons. It looks great with denim.
Price: Originally $49.00, marked down to $35.99
Sizing: I'm wearing size 0. If in between sizes, size down.
Quality: These jeans ended up being my favorite denim purchase from the Nordstrom Anniversary Sale! My mom actually tried them on first, and I loved them so much on her that I had to go get a pair for myself. The dark wash and flared leg are extremely flattering and make your legs look a mile long. The material is soft and does have some stretch to it, that's why I recommend sizing down if you're in between sizes. Side note – I found that these jeans went with every single top I tried on in the dressing room!
Price: Originally $78.00, marked down to $49.99
Sizing: TTS, I'm wearing size 7.
Quality: These are the perfect ankle boots to wear with jeans! Since they're pretty slim around your ankle, they fit perfectly underneath jeans (especially those with a flared hem) and you can't see a thing. The color "medium natural" is a beautiful cognac shade!
Price: Originally $169.00, marked down to $99.99
Quality: Believe it or not, this COACH bag is the only handbag I purchased from the Nordstrom Anniversary Sale this year! I really love it, too – it has a vintage feel to it, and can be carried by the top handle or you can attach the shoulder strap. I found that this bag went with sooo many of the fall outfits from the sale this year! The neutral color and pattern are so pretty, and the interior has multiple pockets to keep your essentials organized.
Price: Originally $350.00, marked down to $199.99
Quality: This is going to be my go-to hat this fall and winter!! I absolutely love the color of this wool hat, it somehow went with almost every single fall outfit that I purchased from the #nsale. It's made of a thick, sturdy wool and has a nice suede ribbon that wraps around the crown.
Price: Originally $49.00, marked down to $31.90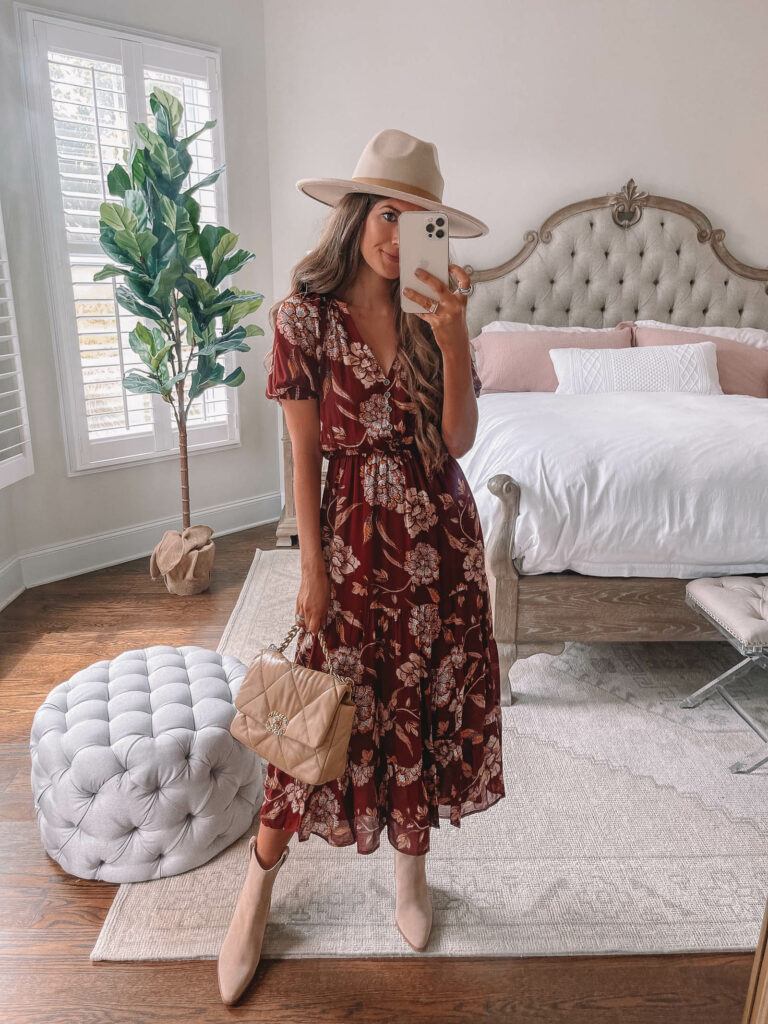 Sizing: TTS, I'm wearing size XS.
Quality: This dress was a little outside the box for me, but I love it! It looks great with a few "western" accessories like a hat and booties. It is double lined, super flowy and features a gorgeous autumn floral print.
Price: Originally $119.00, marked down to $69.99
Sizing: TTS, I'm wearing size 7.
Quality: These are the PERFECT booties to wear with dresses! They definitely have a western vibe (which is trending for fall), and the pointed toe make them very flattering to your legs. They have a 3.5″ heel, which is pretty tall for a bootie. Despite the height, they are very comfortable to walk around in!
Price: Originally $225.00, marked down to $149.99
Quality: This is going to be my go-to hat this fall and winter!! I absolutely love the color of this wool hat, it somehow went with almost every single fall outfit that I purchased from the #nsale. It's made of a thick, sturdy wool and has a nice suede ribbon that wraps around the crown.
Price: Originally $49.00, marked down to $31.90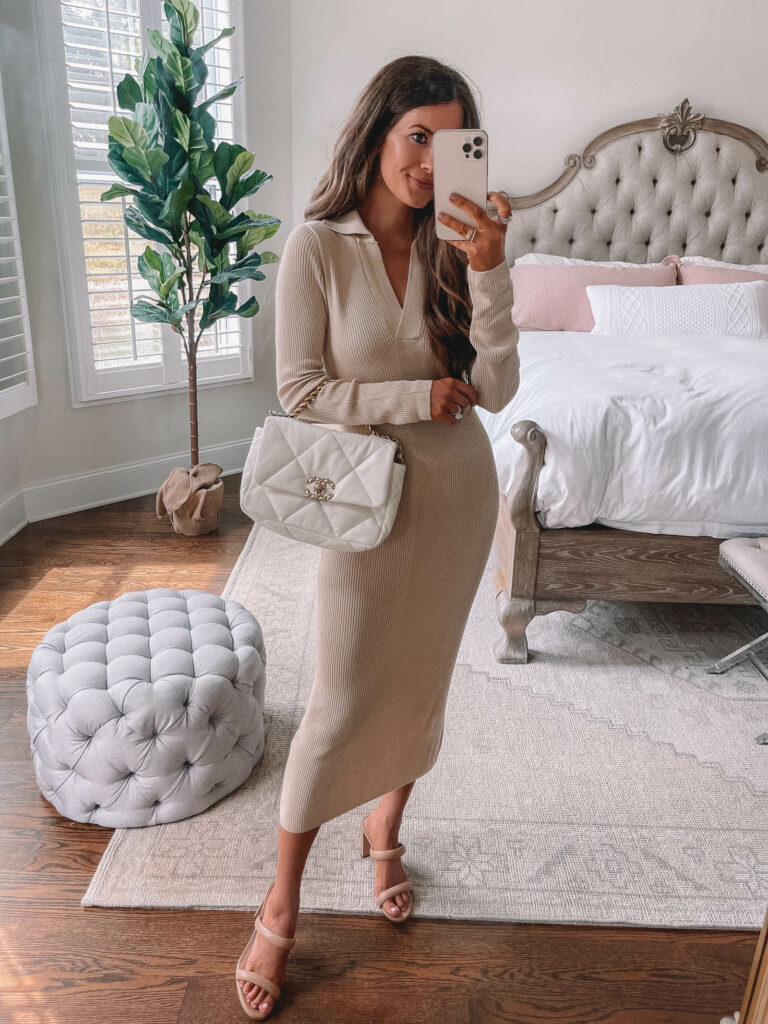 Sizing: TTS, I'm wearing size XS.
Quality: This is the PERFECT "cool girl dress" to transition from summer to fall. You can wear it with a pair of neutral sandals for the rest of summer, then switch over to booties and a moto jacket come autumn. The length is great, even for short girls like me! The material is ribbed, super soft and is not too tight – a major pet peeve of mine.
Price: Originally $55.00, marked down to $36.99
Sizing: TTS, I'm wearing size 7.
Quality: This classic leather sandal is a great transitional shoe as we head into the cooler months. The neutral color can be worn easily with both summery dresses or denim and sweaters. The fit is very comfortable, after all Veronica Beard is an awesome designer! They are made of high-quality leather and are built to last you for years to come.
Price: Originally $325.00, marked down to $229.99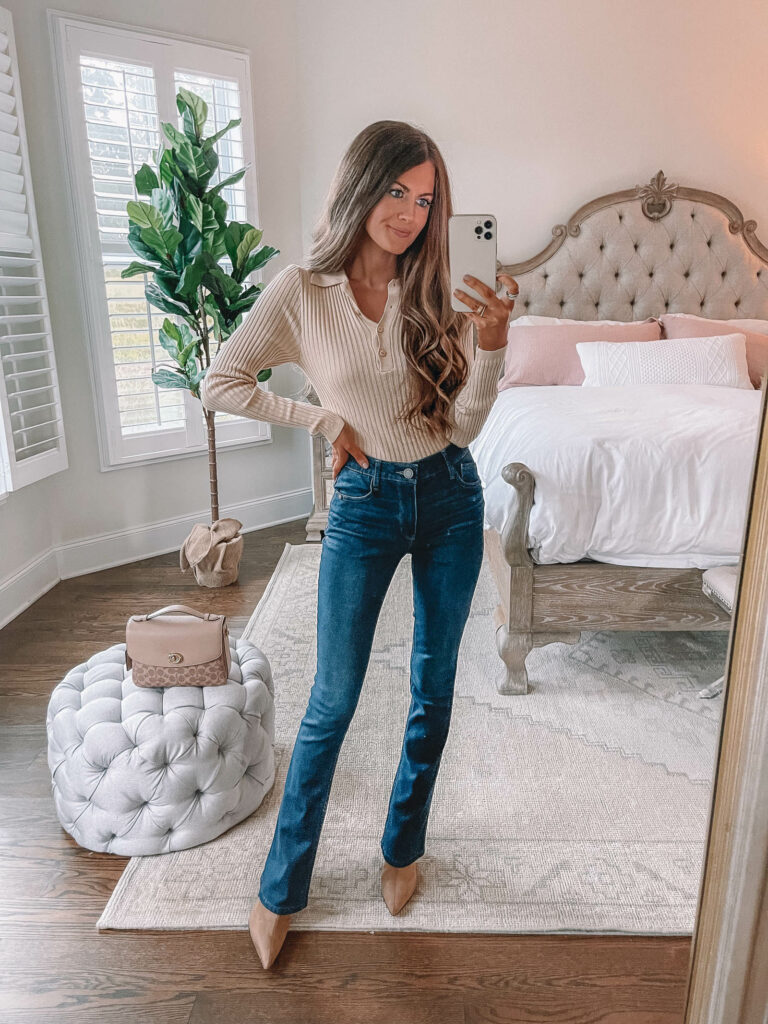 Sizing: TTS, I'm wearing size XS.
Quality: This ribbed long sleeve polo screams 70's chic to me, and I love it! It has four working buttons and is made of a nice, soft material. The neutral color ensures that it looks great with all different washes of denim.
Price: Originally $39.00, marked down to $25.99
Sizing: I'm wearing size 0. If in between sizes, size down.
Quality: These jeans ended up being my favorite denim purchase from the Nordstrom Anniversary Sale! My mom actually tried them on first, and I loved them so much on her that I had to go get a pair for myself. The dark wash and flared leg are extremely flattering and make your legs look a mile long. The material is soft and does have some stretch to it, that's why I recommend sizing down if you're in between sizes. Side note – I found that these jeans went with every single top I tried on in the dressing room!
Price: Originally $78.00, marked down to $49.99
Sizing: TTS, I'm wearing size 7.
Quality: These are the perfect ankle boots to wear with jeans! Since they're pretty slim around your ankle, they fit perfectly underneath jeans (especially those with a flared hem) and you can't see a thing. The color "medium natural" is a beautiful cognac shade!
Price: Originally $169.00, marked down to $99.99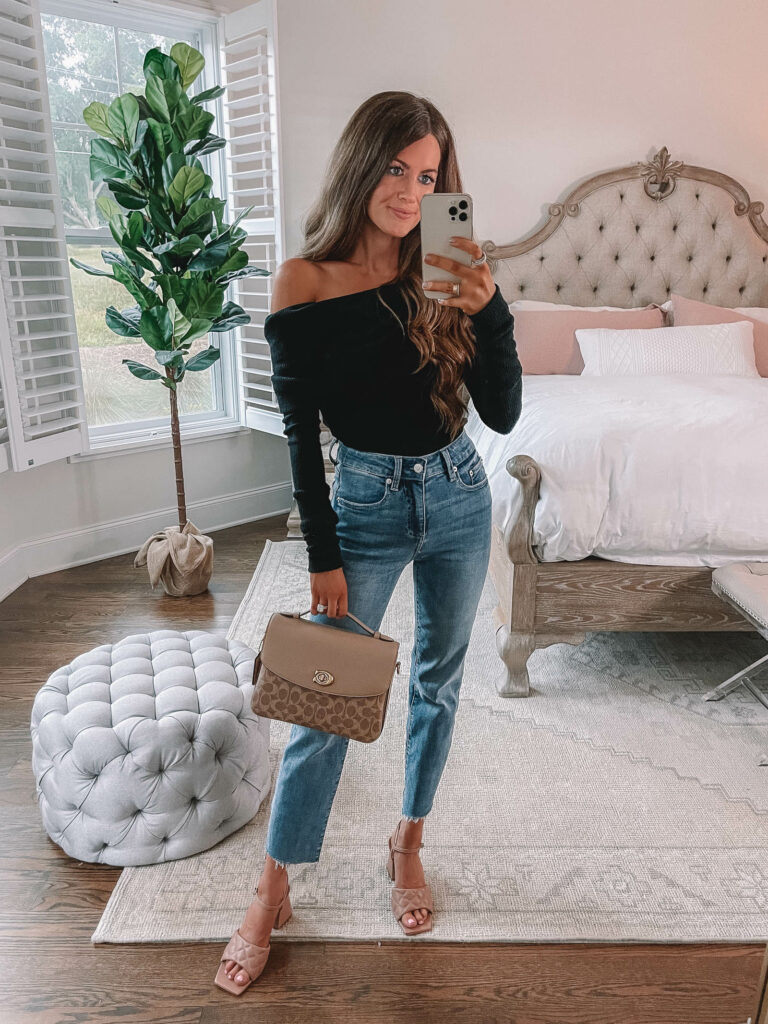 Sizing: TTS, I'm wearing size XS.
Quality: This is one of the softest off-the-shoulder tops I own! It's Free People, and it definitely lives up to the brand's reputation. It's made of a high-quality, thick material and is super soft to the touch. The fabric is slightly ribbed.
Price: Originally $68.00, marked down to $44.99
Sizing: TTS, I'm wearing size 25.
Quality: These cropped jeans are the perfect length for booties (even though I'm wearing sandals above, haha). They're a beautiful blue color in person and look gorgeous with lots of different colors. The hem is a little frayed, which definitely adds a "cool" factor.
Price: Originally $128.00, marked down to $85.90
Sizing: TTS, I'm wearing size 7.
Quality: These heels absolutely look designer, the quilted pattern really reminds me of Chanel! Not to mention the trendy square toe. I loved these so much that I had to have them in two colors, and I kept reaching for them over and over while trying on clothes. They are such a classic, beautiful sandal and the quality is incredible – I cannot believe they're less than $50!
Price: Originally $69.95, marked down to $49.99
Quality: Believe it or not, this COACH bag is the only handbag I purchased from the Nordstrom Anniversary Sale this year! I really love it, too – it has a vintage feel to it, and can be carried by the top handle or you can attach the shoulder strap. I found that this bag went with sooo many of the fall outfits from the sale this year! The neutral color and pattern are so pretty, and the interior has multiple pockets to keep your essentials organized.
Price: Originally $350.00, marked down to $199.99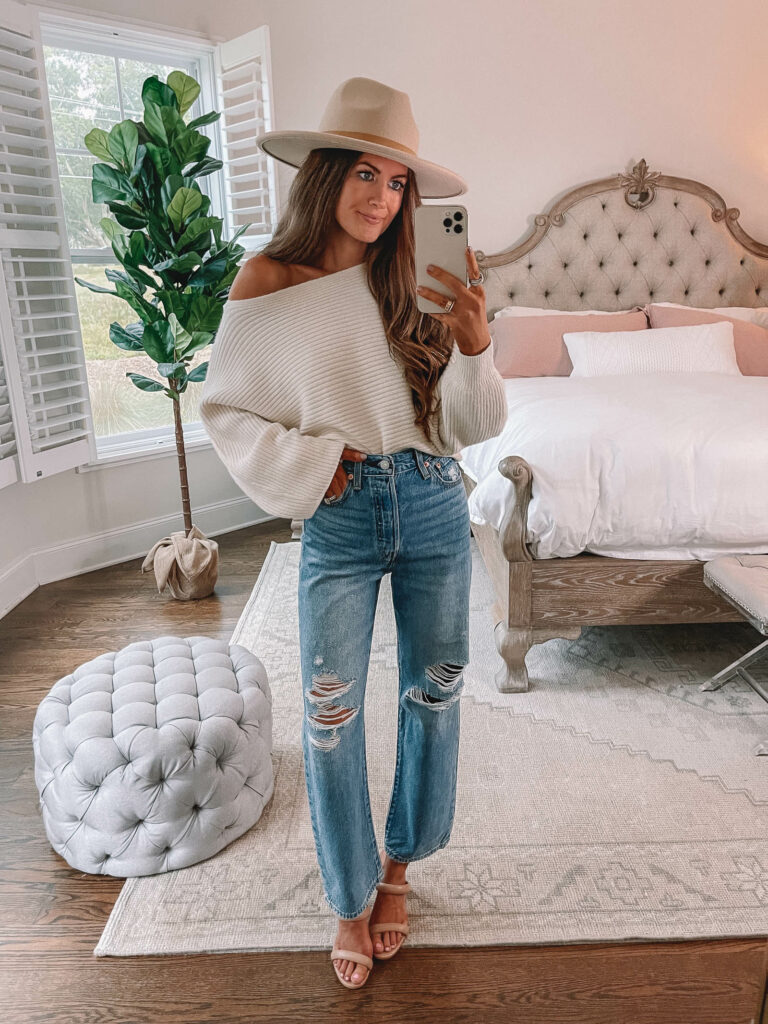 Sizing: TTS, I'm wearing size XS.
Quality: I bought this dolman sleeve sweater in several different colors, including this beautiful neutral color! The material is very soft and thick and would certainly keep you warm in the cooler months. Although the website does not show this as an off-the-shoulder sweater, you can easily pull down one side to create this look.
Price: Originally $59.00, marked down to $38.90
Sizing: Size down one, I'm wearing size 24.
Quality: I wanted to try out some "different," trendy jeans this year, and I ended up loving these Levi's! They're high-waisted with wide, straight legs and distressing on the knees. They look great both with heels and booties.
Price: Originally $108.00, marked down to $69.99
Sizing: TTS, I'm wearing size 7.
Quality: This classic leather sandal is a great transitional shoe as we head into the cooler months. The neutral color can be worn easily with both summery dresses or denim and sweaters. The fit is very comfortable, after all Veronica Beard is an awesome designer! They are made of high-quality leather and are built to last you for years to come.
Price: Originally $325.00, marked down to $229.99
Quality: This is going to be my go-to hat this fall and winter!! I absolutely love the color of this wool hat, it somehow went with almost every single fall outfit that I purchased from the #nsale. It's made of a thick, sturdy wool and has a nice suede ribbon that wraps around the crown.
Price: Originally $49.00, marked down to $31.90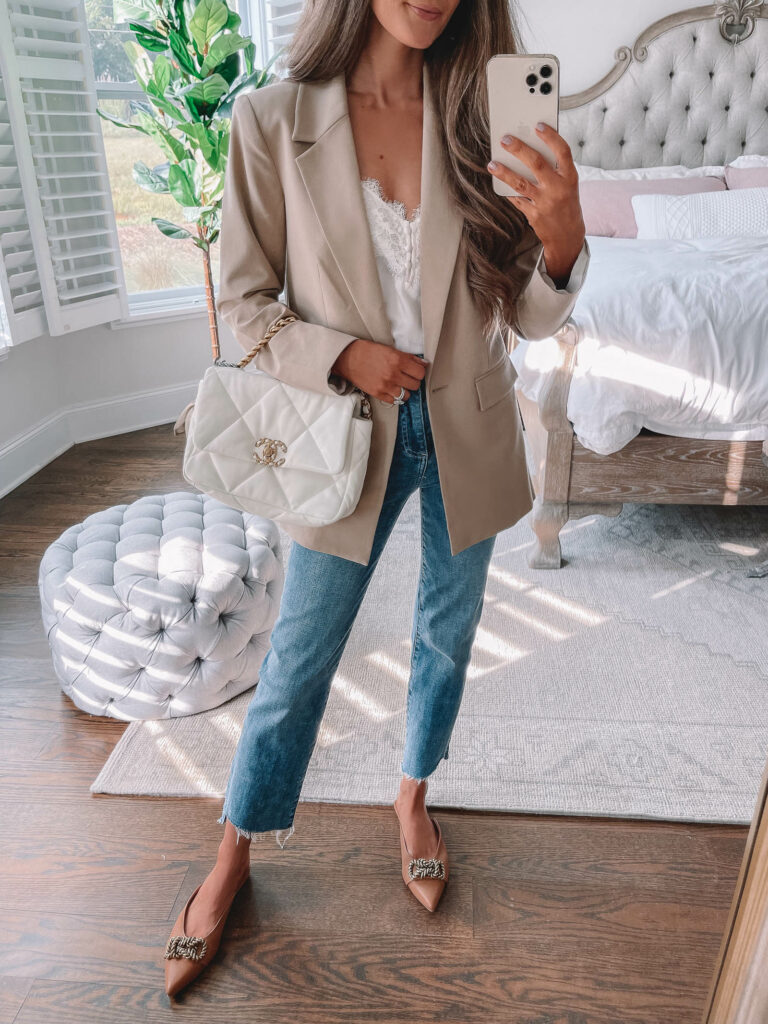 Sizing: TTS, I'm wearing size XS.
Quality: If you need a good basic, fitted blazer – this one is it! It looks like it has been custom-tailored because it fits so well and is so flattering. You could wear this so many different ways in a corporate setting, but it will also easily take you to brunch or happy hour with the girls. I personally love the "city chic" look by pairing a blazer with a flouncy skirt or tennis shoes.
Price: Originally $79.00, marked down to $49.90
Sizing: TTS, I'm wearing size 25.
Quality: These cropped jeans are the perfect length for booties (even though I'm wearing sandals above, haha). They're a beautiful blue color in person and look gorgeous with lots of different colors. The hem is a little frayed, which definitely adds a "cool" factor.
Price: Originally $128.00, marked down to $85.90
Sizing: TTS, I'm wearing size 7.
Quality: Of all the flats I've ever worn, these seriously might be my favorite! The way they're cut is very flattering on your foot, and they feel like designer shoes, worth much more than their $49 sale price tag. The roped buckle at the front of the shoe adds a classy, beautiful flair.
Price: Originally $69.95, marked down to $49.99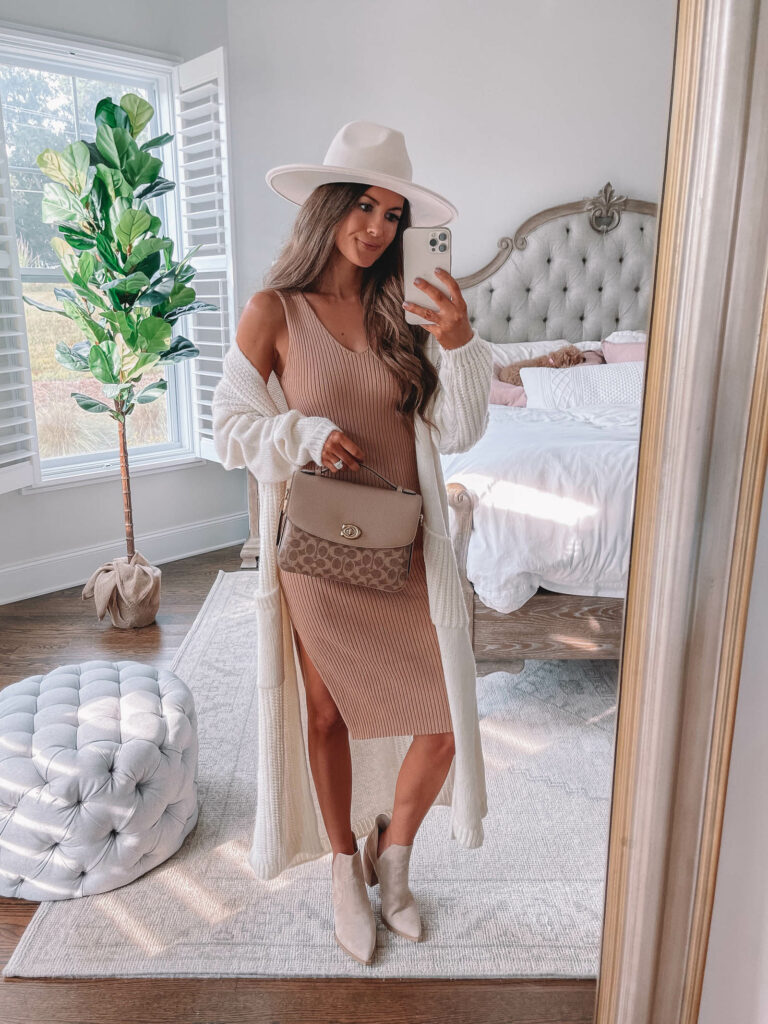 Sizing: TTS, I'm wearing size XS.
Quality: This is without a doubt one of my favorite pieces from the Nordstrom Anniversary Sale this year! This cardigan is so thick, it feels like a designer cardigan that is worth at least a couple hundred dollars. I love the varying stitchwork on this cardigan. It has nice pockets and comes in four different colors (I bought three out of the four!).
Price: Originally $68.00, marked down to $49.99
Sizing: TTS, I'm wearing size 7.
Quality: These booties have a chunky block heel and the western feel of a cowboy boot. The "sand suede" color is a little lighter in person than it appears on the website – is really is beautiful! If you decide to get these booties, I would also invest in a suede protector simply because the color is so light. I would hate for dark jeans to rub off on them!
Price: Originally $139.95, marked down to $94.99
Quality: This hat feels designer but is a great price point. It is "one size fits all," but has a ribbon inside that allows you to tighten it to your liking. It comes in four different colors, and I actually purchased three out fo the four! I love this hat so much and really like how it fits my head – I know that sounds weird, but I tried on a lot of different hats from the Nordstrom Anniversary Sale and this one definitely looked the best!
Price: Originally $49.00, marked down to $31.90
Quality: Believe it or not, this COACH bag is the only handbag I purchased from the Nordstrom Anniversary Sale this year! I really love it, too – it has a vintage feel to it, and can be carried by the top handle or you can attach the shoulder strap. I found that this bag went with sooo many of the fall outfits from the sale this year! The neutral color and pattern are so pretty, and the interior has multiple pockets to keep your essentials organized.
Price: Originally $350.00, marked down to $199.99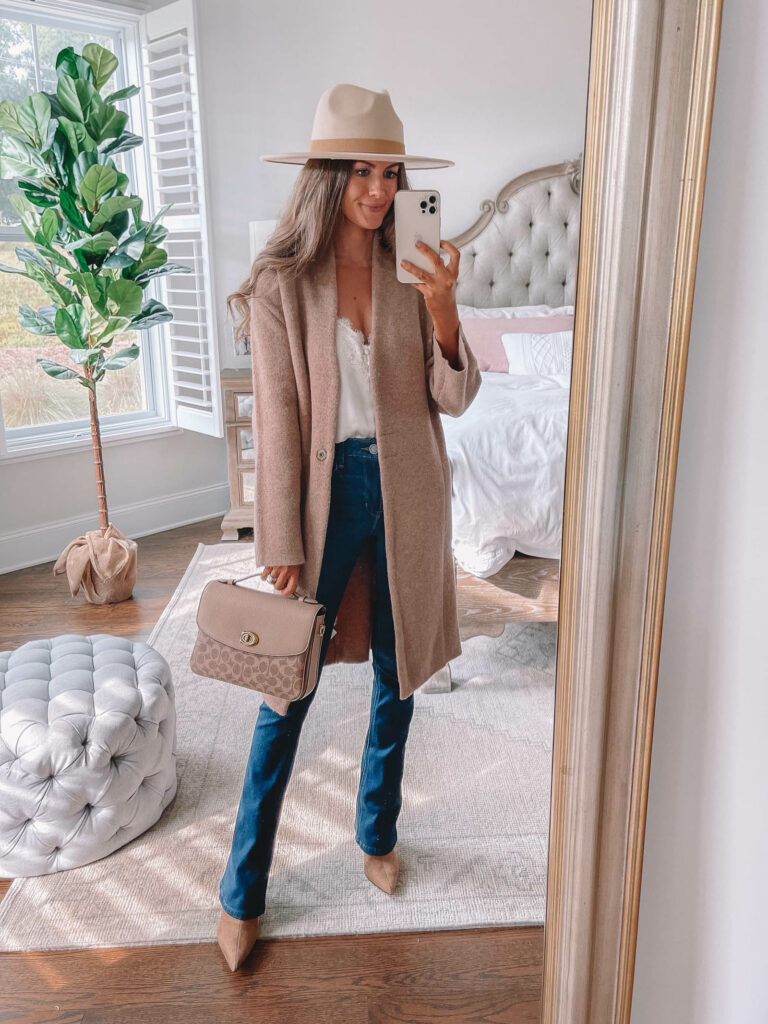 Sizing: TTS, I'm wearing size XXS.
Quality: The "coatigan" was the most expensive thing I bought from this year's Nordstrom Anniversary Sale, and in my opinion it was worth it! It's made of merino wool and is also almost $200 off. I love Vince, their products are known for being some of the highest quality around – and the same goes for this cardigan coat. It is SO thick and warm and could definitely replace a coat this winter.
Price: Originally $545.00, marked down to $354.99
Sizing: I'm wearing size 0. If in between sizes, size down.
Quality: These jeans ended up being my favorite denim purchase from the Nordstrom Anniversary Sale! My mom actually tried them on first, and I loved them so much on her that I had to go get a pair for myself. The dark wash and flared leg are extremely flattering and make your legs look a mile long. The material is soft and does have some stretch to it, that's why I recommend sizing down if you're in between sizes. Side note – I found that these jeans went with every single top I tried on in the dressing room!
Price: Originally $78.00, marked down to $49.99
Sizing: TTS, I'm wearing size 7.
Quality: These are the perfect ankle boots to wear with jeans! Since they're pretty slim around your ankle, they fit perfectly underneath jeans (especially those with a flared hem) and you can't see a thing. The color "medium natural" is a beautiful cognac shade!
Price: Originally $169.00, marked down to $99.99
Quality: Believe it or not, this COACH bag is the only handbag I purchased from the Nordstrom Anniversary Sale this year! I really love it, too – it has a vintage feel to it, and can be carried by the top handle or you can attach the shoulder strap. I found that this bag went with sooo many of the fall outfits from the sale this year! The neutral color and pattern are so pretty, and the interior has multiple pockets to keep your essentials organized.
Price: Originally $350.00, marked down to $199.99
Quality: This is going to be my go-to hat this fall and winter!! I absolutely love the color of this wool hat, it somehow went with almost every single fall outfit that I purchased from the #nsale. It's made of a thick, sturdy wool and has a nice suede ribbon that wraps around the crown.
Price: Originally $49.00, marked down to $31.90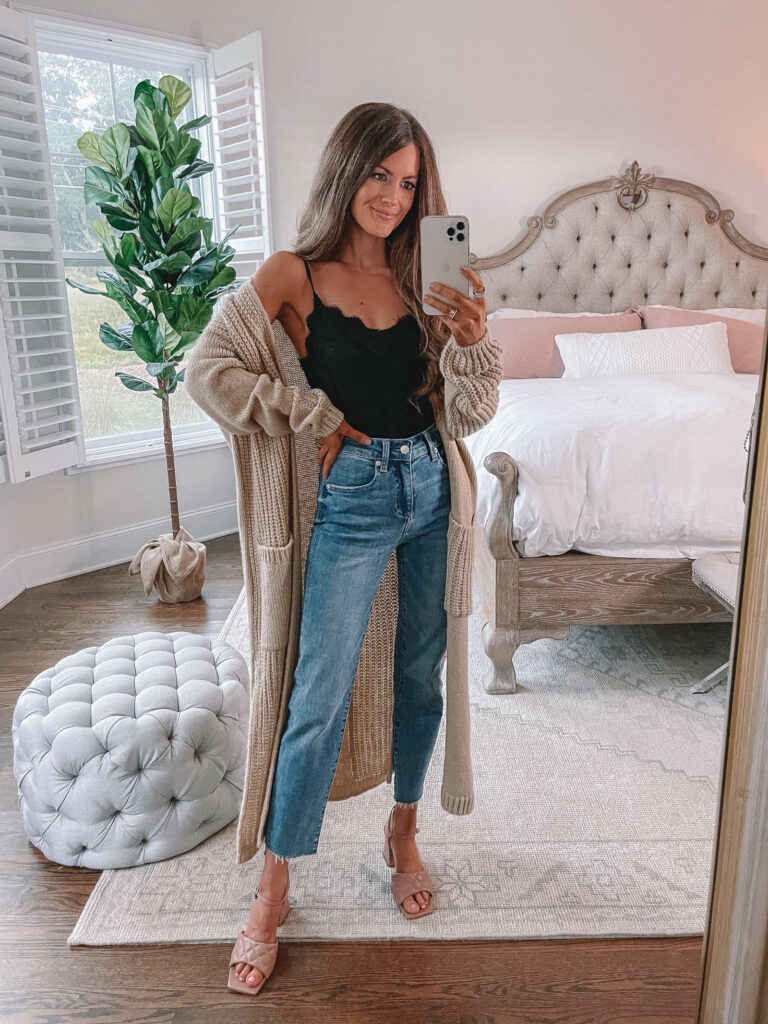 Sizing: TTS, I'm wearing size XS.
Quality: This is without a doubt one of my favorite pieces from the Nordstrom Anniversary Sale this year! This cardigan is so thick, it feels like a designer cardigan that is worth at least a couple hundred dollars. I love the varying stitchwork on this cardigan. It has nice pockets and comes in four different colors (I bought three out of the four!).
Price: Originally $68.00, marked down to $49.99
Sizing: TTS, I'm wearing size 25.
Quality: These cropped jeans are the perfect length for booties (even though I'm wearing sandals above, haha). They're a beautiful blue color in person and look gorgeous with lots of different colors. The hem is a little frayed, which definitely adds a "cool" factor.
Price: Originally $128.00, marked down to $85.90
Sizing: TTS, I'm wearing size 7.
Quality: These heels absolutely look designer, the quilted pattern really reminds me of Chanel! Not to mention the trendy square toe. I loved these so much that I had to have them in two colors, and I kept reaching for them over and over while trying on clothes. They are such a classic, beautiful sandal and the quality is incredible – I cannot believe they're less than $50!
Price: Originally $69.95, marked down to $49.99
Let me know if you have any questions in the comment section and I'll get back to you there! 🙂