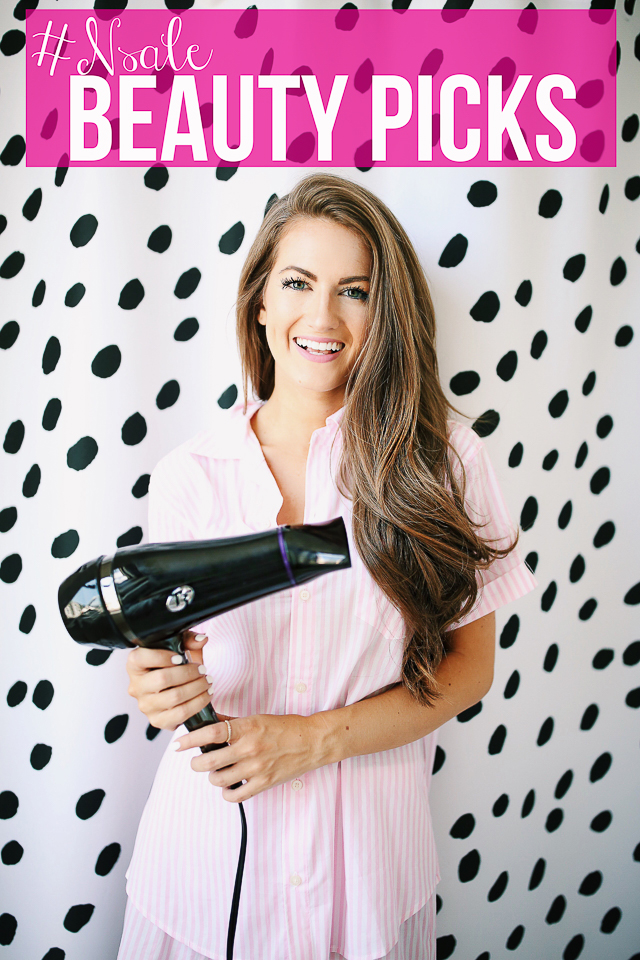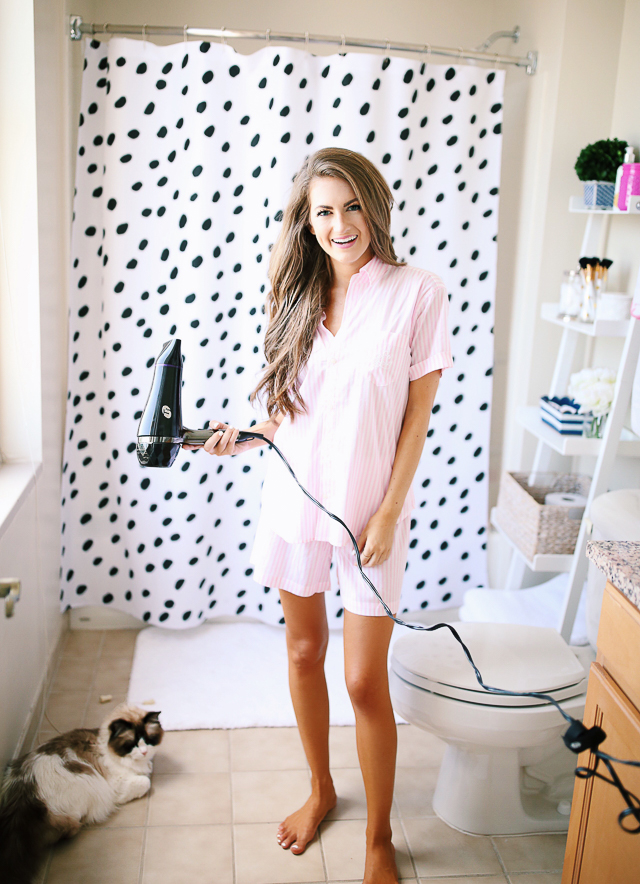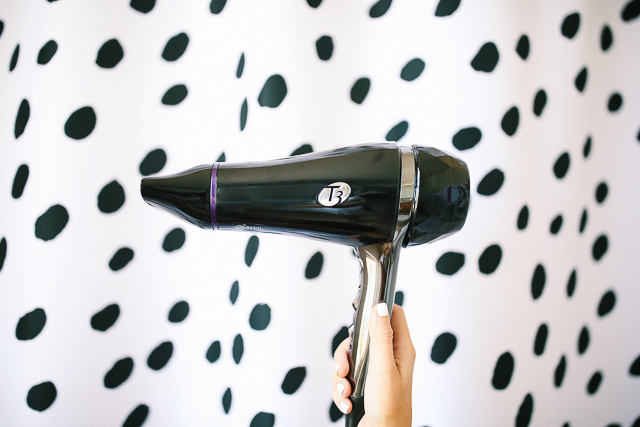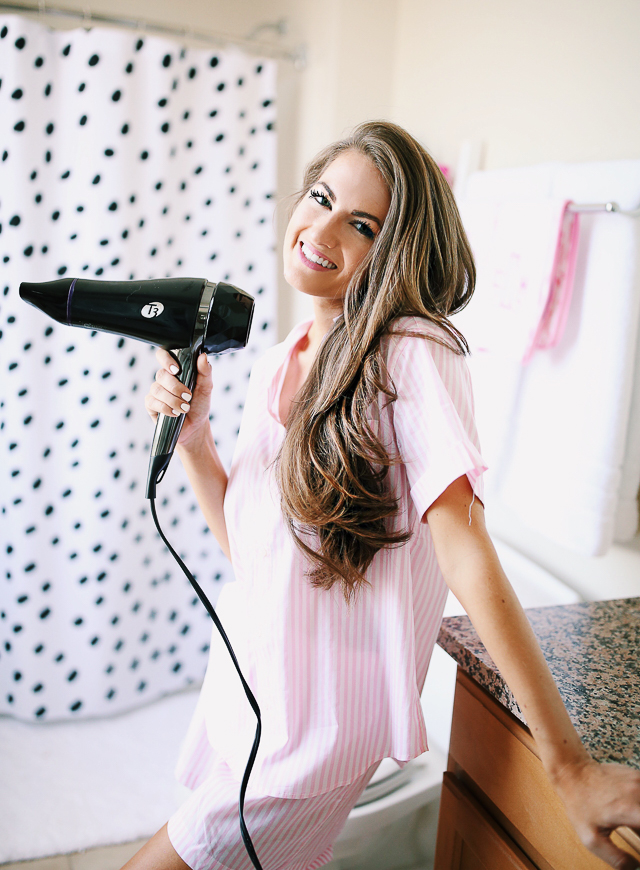 Ralph Lauren PJs, similar sleep shirt
HERE
(it's included in the #NSale) //
T3 hair dryer
If you guys are like me, on the first day of the Nordstrom Anniversary Sale I spend the entire day rushing to buy clothing, shoes and accessories that I'm afraid may sell out (some popular tops & a ton of blanket scarves have sold out already!). Since the beauty items tend to stay better stocked, I usually wait to shop those a few days after the sale opens. I didn't get a chance to look until last night, and I have to say, there are some really good beauty items in the Anniversary Sale right now. I've become more of a beauty junkie in the past couple of years so a bunch of these items are really exciting – especially the prices!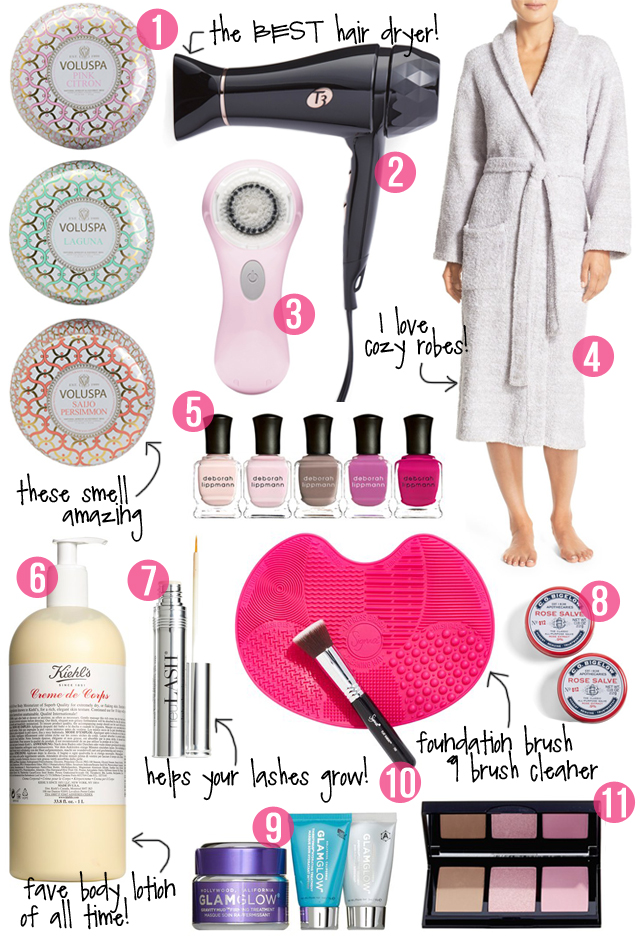 one // Voluspa candle trio
Every single year I buy one of these Voluspa candle trios during the Nordstrom Anniversary Sale, and they're always one of my favorite purchases! They are the BEST smelling candles and they make the entire room smell good (I hate when you light a candle but can only smell it if you stick your nose up next to it!). They also last quite a long time and come in cute colored tins that look pretty sitting out on your countertop or nightstand.
two // T3 Featherweight 2 hair dryer
I used this T3 travel dryer for about a year and a half before adding the full-size T3 dryer to my collection. I SWEAR by T3's hair products (their curling wand is the only wand I'll use on my hair!). I was so excited to see the T3 Featherweight hair dryer in this year's #NSale because not only does it dry my hair incredibly fast, but it also uses ion technology, which helps your hair retain natural moisture – so it's actually better for your hair than other dryers. T3 products are usually pretty expensive, but this hair dryer is going for LESS than the cost of the travel dryer – that's a steal!
three // Clarisonic Mia
I received a Clarisonic for Christmas one year and I contribute my clearer skin partly to using it twice per week. The Clarisonic cleans your pores at a deeper level than a face wash is able to… and helps your skin absorb the skincare products you apply afterwards. Plus let's be honest, they're really fun to use!!
four // Barefood Dreams cozy robe
I actually have this robe in my cart right now! I love, love, love waking up and putting on a fluffy robe to make my coffee and do my devotions. It just feels so luxurious and cozy!
five // Deborah Lippmann nail polish set
Deborah Lippmann makes some of the highest quality nail polish I've ever used (it's like "designer" nail polish so think of it as Essie on steroids). This kit has five beautiful colors from the perfect neutral to a really pretty pink and purple.
six // Kiehl's Jumbo Creme de Corps
This body lotion is hands down THE best body lotion of them all. Yes, it's kind of expensive, but the bottle is HUGE and lasts for an entire year. I apply this right after the shower when my skin isn't completely dry, and my skin stays moisturized all day.
seven // Lash Enhancing Serum
I have never tried this product, but I've heard they really do work! The #NSale is offering a deal for the purchase of two tubes of lash enhancing serum. From the reviews, it seems like customers are happy with the product, and their eyelashes are longer!
eight // Rose Salve lip balm
I keep this Rose Salve lip balm in my nightstand and apply it ever single night before bed – it is my favorite lip balm of them all. (Don't believe me? I even included it in my "Best Beauty Buys of 2015" blog post). Nordstrom is offering three lip balm tins for $11, which is a steal (and you'll be stocked for the whole year!).
nine // GlamGlow face mask set
GlamGlow is known for making some of the best face masks on the planet – face masks that really reach into your pores and pull out all that gunk and dirt hiding there. The Gravitymud treatment that comes in this kit is really fun to use – it changes color from white to a metallic chrome and then peels off, leaving firmer skin and smaller pores underneath. If you are a beauty YouTube junkie, you've probably seen this one before!
ten // Sigma Beauty foundation brush & brush cleaner duo
Two of my favorite products in one! I use the F80 flat kabuki brush to apply my foundation every single day – it's the best foundation brush I've ever used and really gives your skin an airbrushed look. I also own this brush cleaning glove that makes it sooo quick and easy to clean your makeup brushes (which is an important part of your skincare routine). The cleaning glove has different textures and grooves built in that are designed to clean your makeup brushes more effectively. Together, the two for these would cost more than $50, but Nordstrom has the duo on sale for only $34!
eleven // Bobbi Brown cheek set
Bobbi Brown makes the best cheek products on the market… I have sworn by her blushes for years and years. So I'm super excited to try this new cheek set – it includes a bronzing powder, illuminating bronzing powder and a blush (in the color "pretty pink" – one of my faves) along with a mini face blender brush. Just take a look at the product picture online – the colors look GORGEOUS and were created to complement each other.
Are you buying any beauty products from the sale? I'd love to know! If you haven't already, be sure to check out my review of all the clothes/accessories/shoes I purchased from the Nordstrom Anniversary Sale here (and enter my $1,000 gift card giveaway!).
SHOP THE POST: