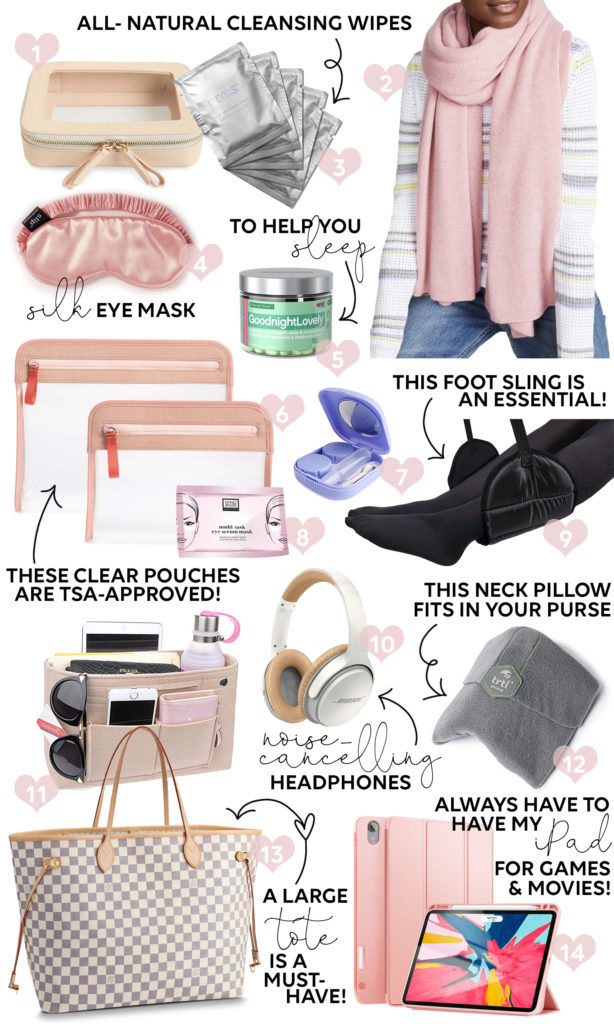 Good morning and happy Monday from JAPAN, you guys! My mom, brother and I are all in Japan because my brother used to live here, and he has been begging us to visit for quite some time now! He loves Japan so much: the culture, the food, the people, the public transportation, and has been wanting to show us everything he loves about it. And both my mom and I do really love it (more about that later!); however, the one thing we don't love is the 14-hour flight over here, haha! I put together this little list of items that were ESSENTIAL on the flight – believe it or not, all of these fit in my Louis Vuitton Neverfull GM tote. Trust me, if you are on a flight longer than 10 hours, YOU NEED EVERY SINGLE ONE OF THESE!
one // This clear travel case is perfect for stowing toiletries that you'll need on the plane, and it's TSA-approved! (When they ask for you to take out your liquids during security, you can just take out this little bag and place the whole thing in the bin.) I keep a couple of different things in here: my contact case and solution, glasses, hand lotion, facial cleansing wipes, a small tub of moisturizer and any medicine that I'm bringing with me on the trip.
two // Ok this travel scarf is a NON-NEGOTIABLE for me! Yes, it's expensive, but it's cashmere, SO soft and warm, and you will use it over and over again. It can double as a blanket or pillow on the flight, and if it's cold where you are headed, you will thank me later! Both my mom and I have taken turns wearing this scarf in Japan (it's been surprisingly cold here!). It comes in a bunch of colors, I also really like the grey one, here.
three // These Ultimate Makeup Remover Wipes are so nice because they're completely all-natural. I like to take my makeup off on the plane (sleeping in your makeup can cause clogged pores and breakouts!) but I don't want to pack an entire bottle of face wash. These wipes are so nice because you can pull them out and use them while in your seat on the plane. They're made with coconut oil so they do a really great job of getting off all your makeup while still being gentle on your skin. Plus, my skin feels SO moisturized after.
four // I have had this same silk sleep mask for three years now – it is worth the investment! I like using this on the plane to block out all of the light. On our flight to Japan, a little girl next to me kept opening the window shade and letting sunlight into the dark cabin – this sleep mask was a lifesaver and allowed me to sleep on the plane! Plus, the silk is really gentle on your eyes and eyelashes – and you'll never wake up with wrinkles.
five // I brought these Goodnight Lovely vitamins with me on the plane to try to help induce sleep – and they worked! They're packed with melatonin to help your body naturally feel sleepy, and hyaluronic acid for healthy, moisturized skin. This is a double whammy vitamin because I always get dry skin from being on a plane overnight, and I felt like these vitamins really helped!
six // More clear pouches – but they are seriously so useful to keep in your bag! I like this bigger one for keeping cords and chargers – this trip I packed my iPhone cable and charger, my iPad charger and my computer charger, and this case was the perfect place to keep them.
seven // Ok how cute is this little portable contact lens case?! It even comes with a small vial that you can fill with contact solution. It's pretty inexpensive so I'm not sure how durable this case would be, but it's really nice to have for the purpose of using on the flight. I absolutely can not sleep in my contacts, so taking them out on the flight is a must for me before I can fall asleep! This little travel case makes it so you don't have to bring a huge bottle of contact solution with you.
eight // I've shared these with you guys before, but these under-eye patches are another must-have on long flights. I pop these on under my eyes about an hour before we land to help de-puff and energize the skin around my eyes. They really work!! I feel like I look way less tired and puffy when I get off the plane after using these.
nine // This foot sling is a lifesaver, and I have my mom to thank. She found them on Amazon and ordered three so that each of us would have one on the flight. You hook the sling onto the tray table, and it allows you to rest your feet in it (you can adjust the height to your liking). Usually my legs and knees will throb on the plane because you can pretty much only keep them in one position for several hours straight, but this sling really helped immensely! I tucked my feet into it and put my bent legs at an angle (almost like I was laying in bed) and was actually able to sleep this way! It's a little difficult to explain but hopefully you guys get the gist.
ten // This one is a no-brainer. Noise-cancelling headphones are so nice because they cancel out the sound of everything and everyone around you! I couldn't even hear the plane engine or flight attendant announcements with these puppies on – which made sleeping much easier. They are also nice for watching movies and shows on your iPad.
eleven // This felt purse organizer is really nice for keeping all your goodies organized within your purse or tote bag. I ordered one for my Louis Vuitton Neverfull and couldn't imagine life without it! There are a ton of little pockets and compartments for organizing your phone, pens, notebook, makeup, etc. I use this in my everyday life too, not just for travel!
twelve // I've blogged about this neck pillow before, but it's the best one I've ever used! It's not very big, so it's super easy to pack or stuff in your purse or carry-on.
thirteen // A large tote is my bag of choice when flying! For this Japan trip, I wanted to pack lightly since we would be getting on a lot of trains and subways. I didn't even bring a carry-on bag! I brought along my Louis Neverfull GM tote and it was large enough to fit all of my necessities.
fourteen // Before this trip, Chris and I bought the 11″ iPad Pro (for us both to use), and I definitely wanted to bring it along on the flight! Most international flights have TVs these days, however there are a few that don't, and I didn't want to run the risk of getting a plane without them! I downloaded both the Netflix app and the YouTube app – both allow you to download movies and YouTube videos to your iPad that you can watch offline. I've recently been addicted to the show "Selling Sunset" on Netflix so that's what I watched the entire trip to Japan! Back to the iPad, I bought this case to protect it and I really like it – there's even a little spot for the Apple pencil.
If you guys have discovered any must-have travel necessities, I'd love to hear in the comments! Let me know! xoxo