Hey!
This is just a quick post – I was surfing the internet in my last class and came across these JELLY JACK ROGERS and had to share! I have a pair of jelly sandals from J Crew, and I love them, but these Jack Rogers are to die for! Hmmm, maybe my mom will buy me some for finishing up the school year. Whaddya think?
I'm loving the pink and the white pairs! But really – they're all cute. And the great thing about them is that they're cheaper than normal Jack Rogers, for $68 a pair.
Do you remember when jelly shoes used to be big? I was about five years old, then, and had a pair of these: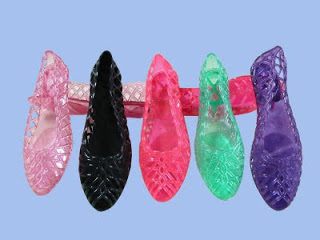 Yikes! It's funny how things come back in style. 🙂
Is there anything from the 80s or 90s you want to come back in style? My hair is really curly when I let it go natural, and sometimes I think I was born in the wrong decade.. I would have fit right in with the "big hair" trend of the 80s.
Have a great day, everyone!
Love, Caitlin