In honor of the first day of fall, I put together a list of my 2013 fall essentials. From riding boots to black skinnies, these are all items that every girl needs in her wardrobe!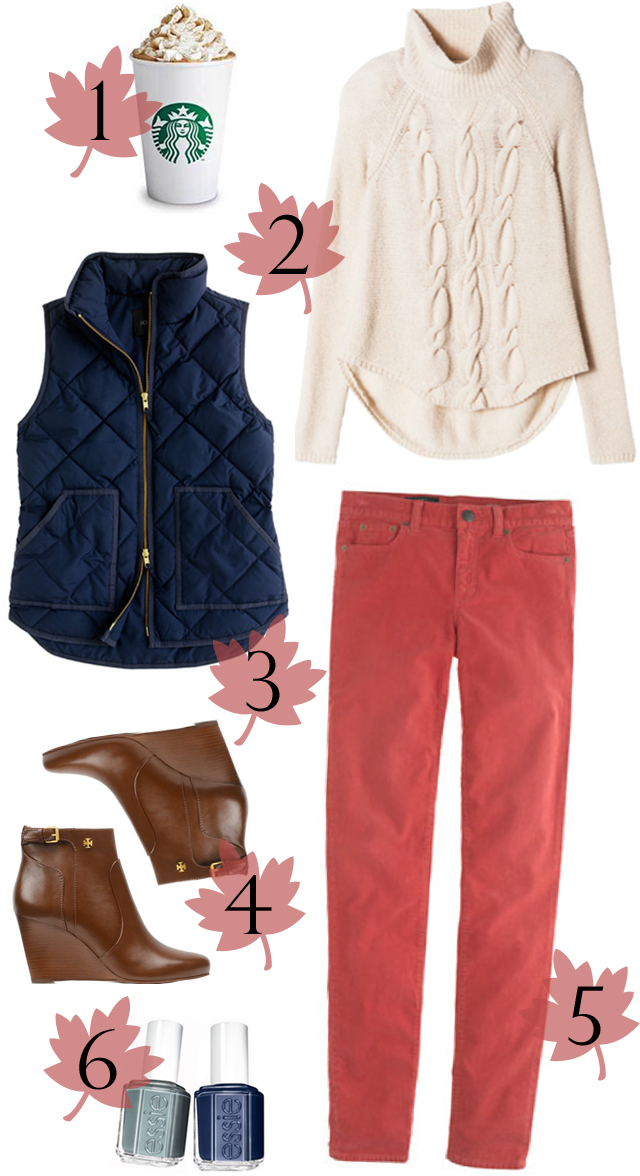 one. So this isn't really a clothing item, but Starbucks is certainly a fall staple (and honestly, that little cup goes with any outfit!). There's nothing better than a warm drink in your hand when the weather is crisp and cool. My two favorite drinks right now are the Marble Macchiato and the Salted Caramel Mocha. Yum!
two. Every girl needs a cozy knit sweater in her closet this fall. The cream color goes with everything – jeans, colored cords, skinnies, etc – and makes a great layering piece.
three. I've always loved a gorgeous puffy vest, not only for its chicness, but also for it's ability to keep you warm! Unlike a huge jacket, vests are easy to take on and off and a great way to spice up your fall wardrobe.
four. A pair of wedge booties are great for pairing with skinny jeans and jeggings. Plus, they elongate your legs and are actually pretty comfortable.
five. Colored cords are fabulous, simply because of their comfort. The great thing about cords is you can wear almost any shoe with them: riding boots, pumps, ankle boots or flats are all game with these pretty pants.
six. Essie's fall nail polish line is out of this world amazing. I seriously want every color in the collection! I picked up vested interest a few weeks ago and it's the prettiest shade of green. Next on my list is this gorgeous navy color, after school boy blazer.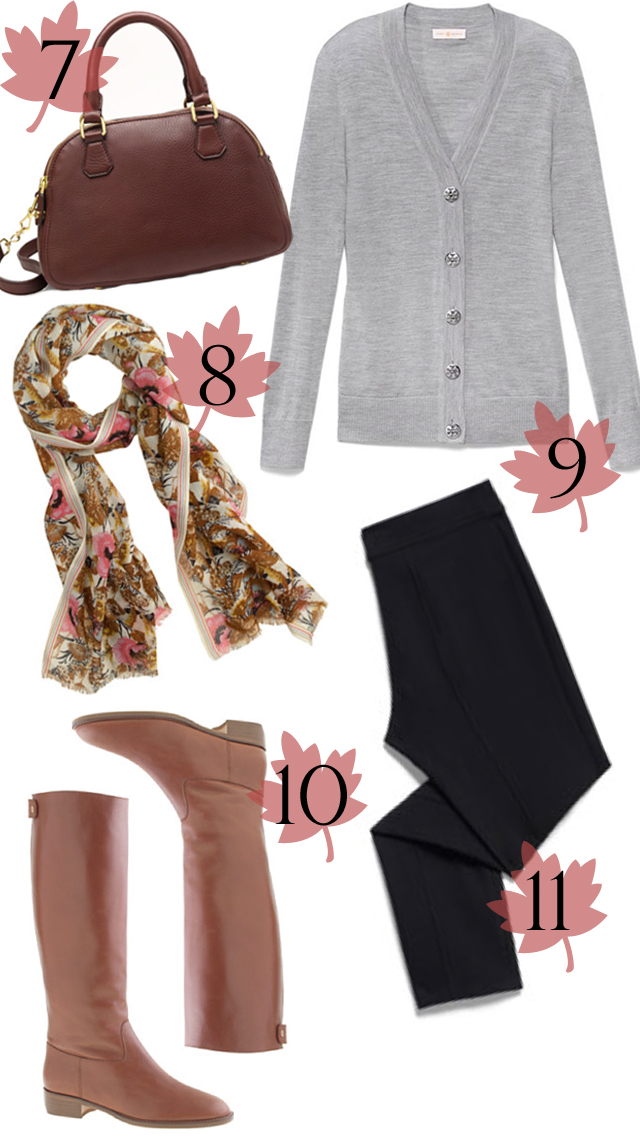 seven. A great leather satchel is a timeless piece that will never go out of style. I love this one because you can carry it as a crossbody or by the handles (versatility is key!). Pick a neutral color that will go with a lot of different outfits.
eight. A printed scarf can add a whole new element to a simple outfit.
nine. This is probably my favorite item for fall – an oversized cardigan! I like mine oversized so I can layer sweaters underneath. They are also great for pairing with dresses and even skirts.
ten. Riding boots are still here and going strong. Try experimenting with riding boots this fall – pair them with a dress and tights, or even white pants. They are also super comfortable.
eleven. I love black skinnies because they go with everything and I mean everything! You can easily wear them to class, work and out for drinks afterward. Riding boots and black skinnies are pretty much a match made in heaven.
They great thing about all of these items is you can create so many different looks from them – and that's why I consider them to be wardrobe staples.
What are your fall wardrobe staples?